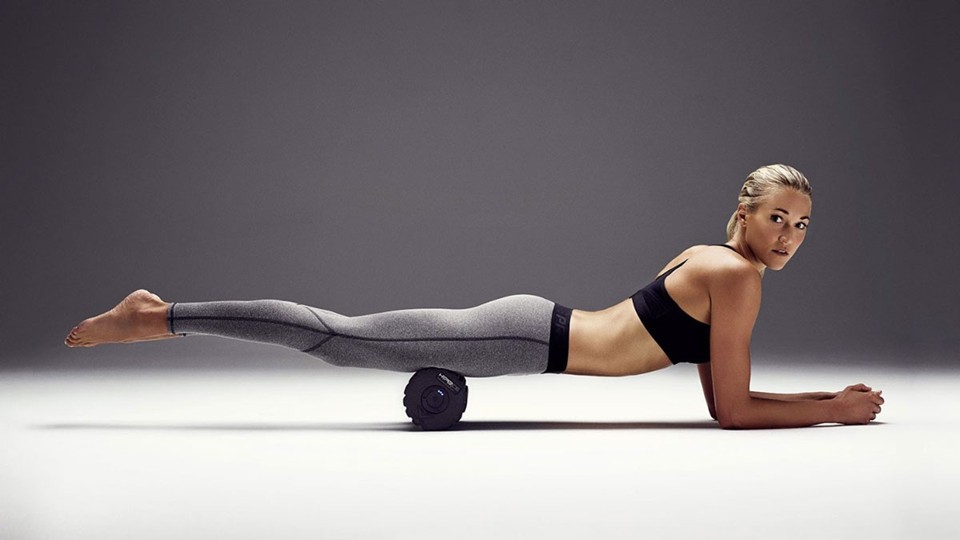 Stretch Goal
NEW ADDED INCENTIVE: If we reach $250K by the end of our campaign we will design and provide a complimentary VYPER Sport (insulated) Bag (for those who pledged for a VYPER). This will carry BOTH a VYPER and our "Staple" Ice Compression Device. The Image above represents the general concept of what the bag will look like. (International orders- please add a $15 pledge for shipping if you would like the bag, and we make it to $250K). NOTE: The VYPER will deliver in November, a perfect and original holiday gift! (Value of sport bag between $49.99-$59.99).
STRETCH GOAL SURPASSED!!
If a foam roller is a sword, the VYPER is a lightsaber…
Inside The VYPER
The Future of Foam Rolling
Blake Griffin using The VYPER
"As an athlete I am always looking for the best tools and technology to help keep my body healthy. The VYPER prepares my body for training and helps my muscles recover after games. It is an essential part of my routine and enables my body to perform at the highest level through the grind of a long season. - Blake Griffin, NBA All-Star
"I'm always looking to challenge and push my body to the next level. The VYPER helps me prepare my body so I can train at a high level and helps me recover faster so I can get back at it the next day. I use the VYPER every day to keep my body in peak condition." - Adrian Peterson, NFL MVP
"As an athlete you learn quickly that your performance isn't just dependent on training but also what you do to recover afterwards. Following my injuries, HYPERICE became a huge part of my daily routine. I'm excited to work with them on driving the science in their newest innovation, the VYPER." - Lindsey Vonn, Olympic Gold Medalist
"Hyperice is a company that I truly believe in. I feel like they are always on the forefront of recovery and injury prevention innovation. The VYPER is that futuristic product the world needs to experience, it has actually improved my ability to perform, I can't say that about too many things."- Troy Polamalu, NFL All-Pro Safety
The HYPERICE Story:
As far back as I can remember, I have always had a passion for sports, fitness and science. From my own experience as an athlete, I studied the science of the body and learned that maintaining a healthy body is essential to an athlete's performance. Several years ago, I set out to create a brand whose products would improve athletic performance by enhancing recovery and preventing injury. In order to develop products of this caliber, I collaborated with some of the world's best athletes and trainers so that the products would meet their standards. Together, our goal was to create a series of products that would be a set of tools athletes could use to recover faster from training and competition, and prevent injury by keeping the body in proper balance. I would go on to name the brand after our first product- the HYPERICE: The most advanced portable ice compression device on the market.
I have provided what I believe is relevant information on my company and the success of our first Ice Compression Technology Device, only to demonstrate to you, (our Kickstarter backers), that I (we) can truly innovate, and truly deliver on our promises. I hope you will share my excitement and vision.
I am now ready to launch our latest and most exciting innovation, and am using Kickstarter to do so. I believe this cutting-edge and multipurpose fitness device will be even more innovative than our first device, and I believe it will be undoubtedly one of the most widely used recovery, movement enhancement and injury prevention devices in sports and fitness today; the VYPER by HYPERICE. What is most important and exciting about this device is that it can benefit anyone who takes pride in staying active and improving their well being. This campaign gives us the opportunity to bring the same cutting edge technology enjoyed by the world's most elite athletes to everyone from the weekend warrior to the aspiring superstars of tomorrow. The VYPER is all about making the body move and feel it's best and we are using Kickstarter to help us put it in your hands! - Anthony Katz, HYPERICE Founder
The First Innovation by HYPERICE: Ice Compression Technology
The use of ice, or cryotherapy, has been a primary approach for many years. Today cryotherapy use continues to be a proven and beneficial adjunct to managing injury. It is proposed that applying cooling to injury minimizing the inflammatory response and improving recovery. HYPERICE Ice Compression Technology has taken icing and recovery to the next level.
Each HYPERICE device is composed of two parts that work together as a system to maximize cold and compression and deliver optimal cold therapy. These two components consist of the Ice Cell, with patented Air Release Technology and the Ergonomic Compression Wrap, specifically designed for every major body part.
ESPN The Magazine- 2011 (Photo by Chip Litherland)
HYPERICE Key Milestones:
2010: Anthony Katz creates HYPERICE, with a vision to build the world's first recovery performance brand.
2010-2012: HYPERICE first product developed, Ice Compression Technology. Developed with Aerospace Company, Marton Precision.
2011-2012: Elite athlete product testing (Ice Compression)- Lebron James, Blake Griffin, Troy Polamalu, Hope Solo and Rudy Gay.
2012: HYPERICE named "Gear of the Year" in Men's Journal Magazine. Blake Griffin joins the HYPERICE athlete roster.
2013: Adrian Peterson (post- ACL surgery), is referred Ice Compression Technology by fellow Oklahoma Sooner Blake Griffin. Adrian joins the HYPERICE athlete roster, then wins NFL MVP award.
2013: HYPERICE conceptualizes the VYPER, begins product testing and early development.
2014: HYPERICE wins prestigious Brand of the Year 2014/15 at the World's largest sporting goods trade show, ISPO.
2014: World-renowned sports science expert Dr. Mike Clark joins HYPERICE to lead the company's Scientific Advisory Board. Olympic Gold Medalist Lindsay Vonn joins HYPERICE athlete roster, while recovering from her knee-injury sustained skiing pre-Olympics.
2014 (JULY): HYPERICE launches Kickstarter campaign to begin production of VYPER. Looks to bring this innovation to Kickstarter backers, professional athletes and all of those whom are active.
HYPERICE in the News:
HYPERICE Key Media
ESPN: "Will HYPERICE Replace Plastic Ice Bags" http://espn.go.com/blog/playbook/dollars/post/_/id/3460/will-hyperice-replace-plastic-ice-bags
FOX Sports: "Adrian Peterson Nearing Return From Surgery" http://msn.foxsports.com/north/story/vikings-peterson-nearing-return-from-january-surgery-040914
Minnesota Vikings.com: "Adrian Peterson: A Day in the Life" http://vimeo.com/89946047
USA Today: "Blake Griffin and Hyperice, Talking Your Tech" http://www.usatoday.com/videos/tech/2012/10/30/1669993/
What They Are Saying
Introducing The VYPER!
Adrian Peterson using the VYPER
I am using Kickstarter to bring to life what I believe will be one of the most exciting, innovative and widely used recovery, movement enhancement and injury prevention devices in sports and fitness today, the VYPER by HYPERICE. The VYPER is a cutting edge and first of its kind fitness, performance and recovery device, which uses a rechargeable high powered lithium ion battery, (the same type of battery that powers a Tesla), to deliver optimal frequency at three speeds through a high-performance air injected (eco-friendly) polypropylene shell, (think high-end materials in the shape of a foam roller, add significant vibration). The VYPER benefits from the combination of compression (pressure) and vibration to improve the body's overall performance, enhance recovery, flexibility, range of motion to reduce injury and improve your overall well-being.
After all the years of wear and tear on the body you lose range of motion and flexibility, I wanted to regain this range of motion so I could do the things I used to do. The idea for VYPER came to me because I wanted to create a tool that would help me move better, and help others move better. If I could accomplish this I would enhance the quality of life of all of those who were active.
The first 4 prototypes were (and are currently) being used by Adrian Peterson, Blake Griffin and Lindsey Vonn, The great thing about the VYPER is that it can be used everyday by anyone who is active. Keeping the body in proper balance is essential in maintaining health, achieving optimal performance and overall well-being.
The VYPER by Hyperice
I have developed VYPER in collaboration with one of the most highly respected physical therapists in sports, a team of engineers, and some of the most elite athletes on the planet. I am now using Kickstarter as a vehicle to bring this project to reality. My hope is that I can significantly improve the health, wellness and quality of life for ALL of those, like me, who engage in an active and healthy lifestyle.
VYPER Specs and Features:
Engineered to deliver high intensity and high frequency vibration into the body
All digital circuitry controls 3 speed settings
Eco-friendly, German-made outer shell transfers maximum vibration
Rechargeable lithium on batteries give over 2 hours of use per charge
VYPER Benefits:
Loosens and lengthens muscles, increasing range of motion and flexibility
increases circulation, ideal for warming up the body before physical activity
Helps reduce muscle soreness and stiffness for better recovery
Effective tool for myofascial release
Keeping the body's soft tissue (muscles, tendons, ligaments, fascia) loose is essential for maintaining flexibility and range of motion. While foam rollers can help the body stay loose, adding vibration with the intensity and frequency of The VYPER takes the whole experience to another level. The VYPER has been used by the world's best athletes to warm up and recover from training and competition. It can be used by anyone who wants to move better. If a foam roller is a sword, this product is a lightsaber.
Dr. Mike Clark, Founder of Fusionetics and global leader in the athletic performance and sports medicine industry is now leading and developing HYPERICE's Scientific Advisory Board. Dr. Clark is a world-renowned expert in human movement science and brings to HYPERICE his innovation and leadership in human performance optimization and rehabilitation. Dr. Clark has integrated sports science and cutting-edge technology in the testing and development of all HYPERICE innovation. Dr. Clark's focus here is to continue to advance effective solutions in decreasing injury, optimizing performance, enhancing recovery to improve the health and wellness of all.
"After advising HYPERICE over the last year, I'm excited to help launch what will be one of the most innovative and meaningful products of its kind, the VYPER." - Dr. Mike Clark
The VYPER offers people of all ages and sport levels the benefits from the combination of compression (pressure) and vibration to improve the body's overall performance, enhance recovery, flexibility, range of motion to prevent injury and thus improve overall well-being.
Here is a more comprehensive overiew of the science behind The VYPER: http://hyperice.tumblr.com