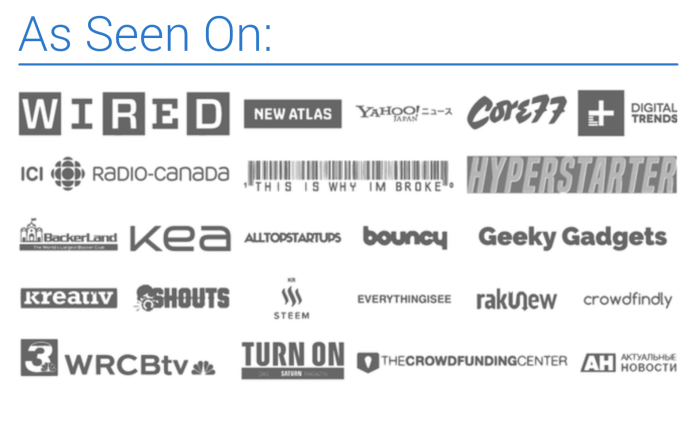 UNOBRUSH™ is the world's smartest toothbrush that delivers a refreshing clean to your mouth, teeth, and gums.

It combines an:
ergonomic mouthpiece
patent-pending 360-degree wrapping UNOfoam™
pulsing sonic vibrations
Enabling it to reach 99.9% of the surfaces and crevices on your teeth – cleaning your entire mouth in just 6 seconds.
But we didn't stop there.

To ensure your teeth stay clean and protected, we knew we needed to improve the toothbrush's cleanliness.
We designed the UNOBRUSH™ docking station to sanitize the mouthpiece with UV light after every use, preventing the buildup of harmful bacteria that compromise the health of your teeth and gums.
Demonstration of the connector and UNOfoam sliding onto Base Module.
The problems with the modern toothbrush seem endless:
Toothbrushes only clean 40% to 80% of your mouth and despite their elementary form, are surprisingly difficult to use.
Most people do not use dentist-recommended brushing techniques, brushing too soft, too hard, or not long enough, leaving their teeth covered in cariogenic plaque or causing severe gum damage.
The modern human diet of processed foods is more harmful to our teeth and gums than most people think, increasing the time it takes to brush your teeth.
UNOBRUSH solves every problem that regular toothbrushes have, caring for your teeth 2X better in a hassle-free manner. It cleans every single tooth's surface and interproximal crevices in six seconds, applying the perfect amount of friction and pressure to achieve a 99.9% clean, thereby liberating you from the hassles of our twice-a-day toothbrushing routine


It took several years of hard work to get UNOBRUSH™ where it is today. We began with a critical evaluation of the toothbrush's materials – and honed in on its nylon bristles.
Knowing this material couldn't possibly be the most effective, we scoured the globe in search of the materials that would simultaneously clean teeth, protect gums, eliminate plaque and overcome widespread issues caused by incorrect brushing techniques.
Through extensive R&D, clinical trials, research and hundreds of material tests, we developed UNOfoam™, our patent-pending medical-grade sponge-like material that's optimized specifically for oral hygiene.
UNOfoam™ is engineered from high-density polyurethane and embedded with micro-ridges coded in a criss-cross pattern to create micro-cleaning friction powerful enough to remove 99.9% of dental plaque and delicate enough to gently stimulate and protect your gums from the long-term dangers of gingival inflammation.
Its unique cell structure and density simultaneously transfer vibrations while staying pliable enough to mold and form around each tooth, coupling 360-degree Wrap™ technology and intense sonic movement – a revolutionary pairing unheard of in the oral care industry that works to lift the oral plaque from your teeth surface and stimulate the gums.
To ensure UNOfoam™ could fit every mouth, we used advanced 3D tooth mapping™ technology to achieve a one-size-fits-all mouthpiece that reaches 99.9% of surfaces regardless of the size or shape of your mouth. Because of UNOfoam™'s yielding structure, not only does it form to every mouth, it forms to every tooth, wrapping around each one individually to clean the distal, occlusal, buccal, mesial and lingual surfaces simultaneously.
We often get questions about the cleaning power of UNOfoam™ when compared to traditional bristles; in both medical studies published in the British Medical Journal by Dr. Marino, Dr. Hannigan and Dr. Haywood of the Cardiff University School of Dentistry, Cardiff, UK, and our tests, UNOfoam™ is as effective or more effective than a traditional toothbrush – but that's only when a toothbrush is used properly.

Since most people use incorrect and even harmful brushing techniques, UNOfoam™ is proven to be more effective at cleaning teeth, while also protecting gum health.

UNOfoam™ also overcomes the need to choose between soft, medium and hard-bristled brushes, another dental hygiene decision many people get wrong.

While the American Dental Association recommends soft-bristled brushes, the mere option to purchase medium- and hard-bristled brushes leave many people with damaged gums that are subject to gingivitis and periodontal disease.
It's these distinct differences and our obsession with detail when perfecting UNOfoam™ that have made UNOBRUSH™ a revolutionary force in the dental industry. The same way an Olympic athlete trains to shed a millisecond off of their race, UNOfoam™ optimizes the toothbrushing experience, providing anti-cavity protection in a way toothpaste, mouthwash, and chewing gum never have.
The development of UNOfoam™ could single-handedly revolutionize at home oral care; never before has a material been developed and perfected to optimize and expedite brushing the way UNOfoam™ does.

However, it wasn't enough for us (do you see a trend?)

We paired UNOfoam™ with sonic vibrations and Fluid-Wave™ technology that work together to flow toothpaste between every tooth and below the gum line, getting into places a manual toothbrush can't reach.
Finally, to ensure your teeth stay clean and protected, we knew we needed to improve the toothbrush's cleanliness. Today's toothbrushes collect germs and grime that circulate throughout your bathroom and transfer that bacteria to your mouth.

We designed the UNOBRUSH™ docking station to sanitize the mouthpiece with UV light after every use, preventing the buildup of harmful bacteria that compromise the health of your teeth and gums.
It's easy to add slots to the Docking Station. Here's an example of how the Docking Station for the family looks.
You can order new UNOfoam™ for $3 each. They last one month each.
You won't have to worry about running out of UNOfoam™, as we are introducing a subscription service.

With both our looks and wellness riding on our oral hygiene, it's no wonder one recent MIT study found most people would rather live without a car than without a toothbrush.

Having a bright smile alone can improve our confidence, our sense of self-worth, and our overall attractiveness. Our teeth are central to a healthy life and positive self-image.
On the other hand, poor oral health has been linked to:
heart disease
premature birth
diabetes
endocarditis
Despite the central role that the toothbrush plays in daily life around the world – and despite the dramatic advancements made in other areas of modern society – the toothbrush remains the most outdated device in today's homes.
It hasn't significantly evolved since it was first fashioned out of bone and pig hair. While we've swapped out those products for less offensive plastic and nylon bristles, structurally the toothbrush hasn't evolved. We've added bells and whistles (Bluetooth, vibration, timers, sensors and more) without addressing the toothbrush's inherent flaws; current toothbrushing is inefficient, inconsistent, and time-consuming because it (regardless of being with a manual or electric brush) always has one shortcoming.
This shortcoming is the fact that we have to manually hold and guide the toothbrush ourselves, leading to individual brushing patterns that are inconsistent, random and imprecise. This leads to instances where we spend too much time brushing certain sections, or we jump around with the toothbrush not spending enough time on other parts because we try to multitask during this critical job.

Meanwhile, people spend thousands of dollars on cosmetic procedures to straighten, whiten, shape and perfect their teeth and use outdated, ineffective practices to care for them.
It was from this shocking realization that UNOBRUSH™ was born. UNOBRUSH™ is revolutionizing at-home oral care.

We did not just make enhancements to the toothbrush; we reimagined it completely, making old designs obsolete by exclusively utilizing meticulously engineered materials and incorporating an ergonomic design while ensuring an optimized and expedited user experience.
We obsessed over the UNOBRUSH™ user experience, which led us to several product enhancements:
No-mess technology: we contoured the mouthpiece to prevent any dripping onto your clothes as you're rushed to get out the door.
Travel-friendly: the mouthpiece and handle pack up quickly and hold a charge for one week.
Water-resistant: able to withstand regular rinsing and splashing. While UNOBRUSH™ is water-resistant, it's not waterproof; please don't use UNOBRUSH™ in the bath – or the car.
In its construction, we disregarded the composition of the modern toothbrush entirely.

Pulling inspiration from gifted artists like Danish architect Arne Jacobsen and leading engineering influences like NASA shape technology, we crafted a sleek, sophisticated, and easy-to-use system that looks equally at home in a modern art museum or on a bathroom counter.
UNOBRUSH™ makes the world a better place to live.

We believe entrepreneurship comes with a responsibility to use your influence and innovation to benefit society. We take that role seriously, operating with a commitment to social consciousness and entrepreneurial ethicality.
UNOBRUSH™ is manufactured under strict fair-trade standards.

You can be confident every person involved in the UNOBRUSH™ production process – from parts manufacturers to product engineers – are treated with respect, compensated fairly, and guaranteed safe working conditions.
Using 95% less energy than a standard electric toothbrush, UNOBRUSH™ is the world's first green smart toothbrush. To put that in perspective, 100 apartments could be powered for an entire year after just 100,000 people switch to UNOBRUSH™.
40% of our company is powered from reusable energy sources to deliver positive carbon credit and reduce global CO2 levels, by the Paris Agreement.
All this means you're helping drive us toward a more sustainable world, just by upgrading your toothbrush.
Our R&D team has spent years developing and perfecting UNOBRUSH™, finding the best materials and formulas to optimize the brushing experience.
We're so confident in our product; we back it with a 1-year warranty. If you're not satisfied for any reason, send it back to us, and we will supply a new one.
UNOBRUSH™ was founded by Daniel Kristofferson and Andreas Dierks.
Daniel takes the lead on all of the UNOBRUSH's™ creative initiatives, including product design, marketing, and communications. He has a diverse creative background that includes iOS app development, short film production, and advertising.
Andreas is primarily responsible for strategic planning, commercialization, production and R&D planning. His extensive experience in online retailing, market development and product analysis inform his approach.
Renato is the lead mechanical engineer of UNOBRUSH™ who graduated from UFV, one of the most prestigious universities in Brazil. Renato has the responsibility for the design and development of the entire UNOBRUSH™ concept. With many years of experience with product development and design engineering, Renato has solved the many issues that arose in the creation of UNOBRUSH™.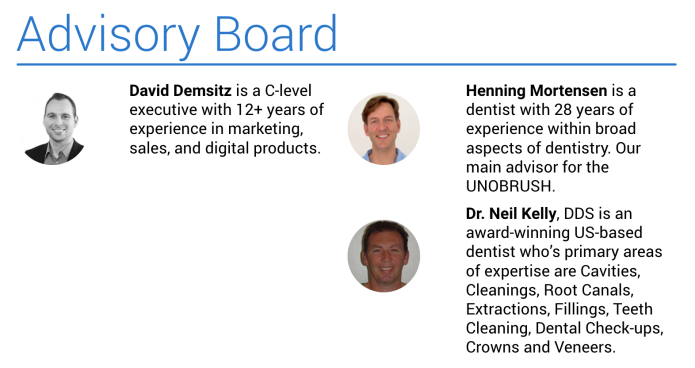 In our quest to shorten the time it takes to brush your teeth, we realized the toothbrushing experience hadn't changed in centuries.
Invented in the 1400s, the modern toothbrush looks and functions almost identically to the very first toothbrush ever designed. How had humans made no significant advancements in something everyone around the world does twice a day?
We became obsessed with the problem. We worked into the mornings doing sample research on the dental hygiene industry.
What we found was that most people don't brush correctly – we're all brushing too hard, too soft, or not long enough. A natural process we all learned in childhood was too hard to master and took too long.
Armed with this data, we began conceiving new approaches to oral care. Our team's obsession with user-friendly design, aesthetic, quality and efficiency drove us to explore a solution that cleaned all teeth at the same time and was simple to use. We also wanted something that added elegance – not clutter – to a bathroom countertop.
Thus, UNOBRUSH™ was born. After many rounds of prototyping, we have perfected the first UNOBRUSH model, and are now raising money to manufacture the first round of UNOBRUSH™ units.
We'd love for you to join us in revolutionizing how the world brushes.
Microsoft innovation cup 2016 IN 2016
UNOBRUSH won the Microsoft Student Innovation CUP for presenting the most innovative idea with the highest potential seen. The comments from the Microsoft jury board were: "The UNOBRUSH™ team has seen a real problem in people's everyday life, and their innovative product and business model can change the toothbrushing industry for good."
Innovative Business KEA 2017 In May 2017
UNOBRUSH™ were the winners of the government-sponsored funding competition INNOVATIVE BUSINESS SCHOLARSHIP. The purpose of the competition was to reward students at business schools and business academies who had combined a grand vision with a revolutionary product. AT UNOBRUSH™ we're particularly praised for our product's potential and the development stages we had reached and about innovative or developmental initiatives.
International Company Festival 2018
In April 2018 UNOBRUSH™ took home two awards at the International Company Festival. First for the most Innovative Product in Europa 2018, and for the most sustainable Business Model. The festival (ISCF) is one of the most prominent young company events in Europe gathering together more than 100 startup companies and their business advisers from entire Europe. We were proud to take part and even more pleased to win the two prizes.
Niels Bock Innovation Cup 2017 In December 2017
UNOBRUSH™ won the Niels Brock Innovation Cup. Niels Brock (the largest Business College in Denmark) sponsored the cup. Niels Brock has a vast network of top students, teachers, and connections in the international business world. UNOBRUSH™ won the competition for the most Innovative Business.

We'd love to talk to you about UNOBRUSH™ or answer any questions you have.
Facebook
Instagram
Website
Twitter