White rice the Japanese love.

However, it is saccharide contained in rice that is concerned to those who are restricted sugar for various reasons such as diet and health.
To such anata 【carcass cut rice cooker design】.
Easy to continue even those who have been struggling to limit carbohydrates up to now because they can cut 35% carbohydratesjust by cooking.
Of course the taste is still delicious so please be relieved.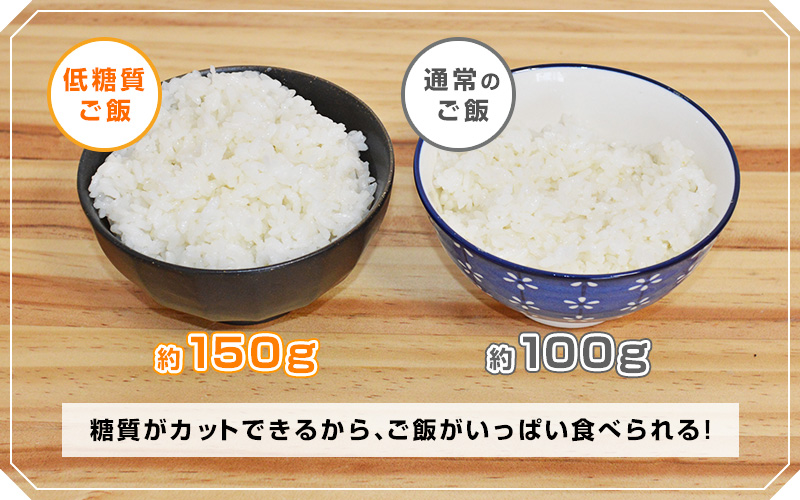 In the case of 150 g of rice (about 1 cup of tea bowl), the sugar content contained is surprisingly large, 55.2 g.
By cooking with this "carbohydrate cut cooker", up to 35% of carbohydrate can be cut, so even if we eat 150 g of rice, the carbohydrate content will be about 100 g of rice.
Recommended for those who like rice but can not eat much with sugar restriction ...! !
Please feel happiness that you can eat a little more rice than usual.
In "Lift control system" delicious as it is low sugar rice.
The next rice cooker has evolved the mechanism of dropping carbohydrates in two pots and a proprietary technology "lift control system" , furthermore the carbohydrate cut rate is also 35%!
It is also possible to cook regularly.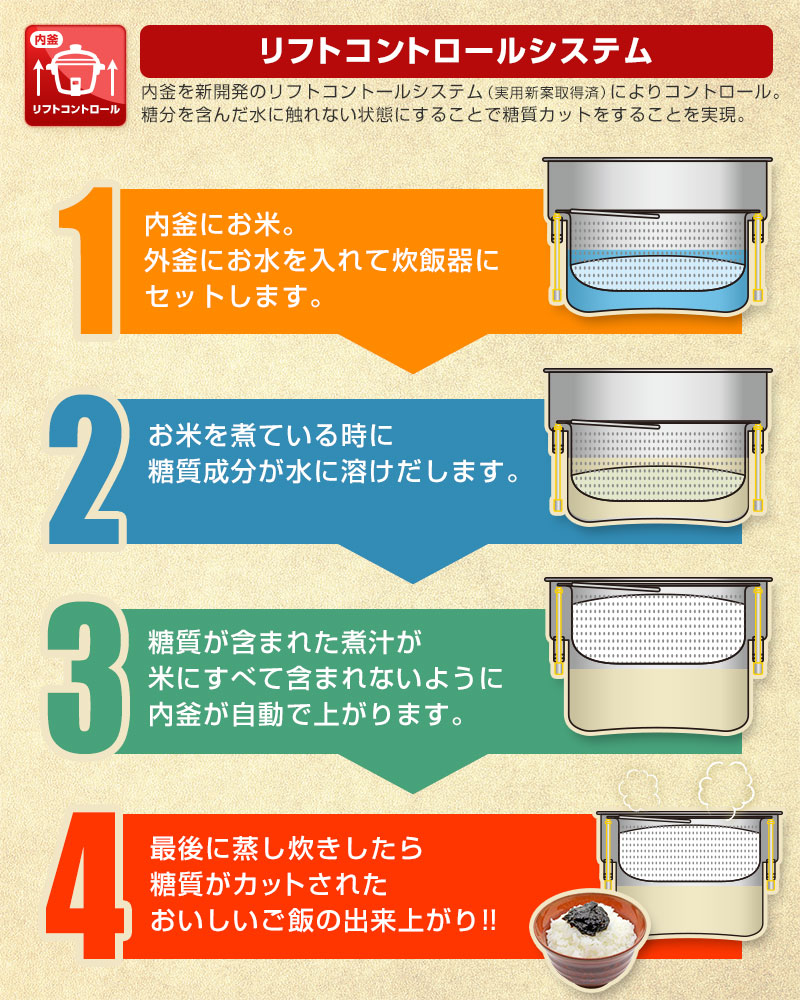 Rice in the inner pot and water in the outer kettle. When cooking rice, sugar components dissolve out.
In order to not contain all the broth containing that saccharide, the inner hook is raised automatically and cooked up.
These unique cooking mechanisms realize delicious rice with low sugar content and good texture.
Easy operation
Pursuit of ease of use with a simple operation panel.
Operation is performed with the touch panel at the top of the main unit.
It is a simple specification that anyone can operate easily even if not familiar with the machine.

Low sugar cook can choose from 3 types of hardness.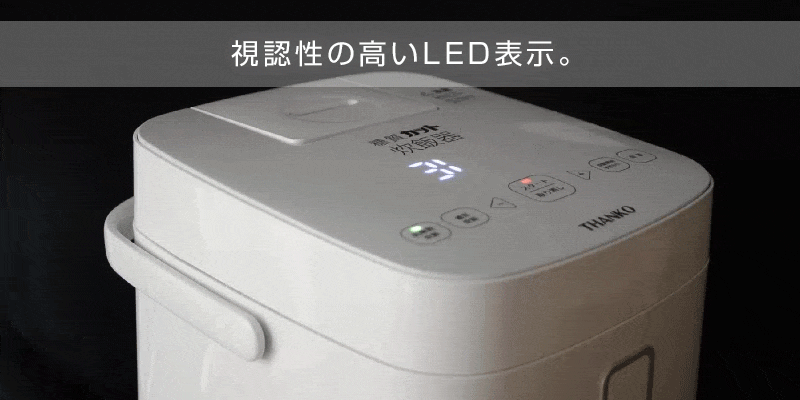 In addition to low sugar quality cooking, it also has basic functions such as cooking rice and reservation · heat retention, both of which can be set with one touch.

LED display is also well visible, simple and easy to understand, design is also perfect.
Ease to clean up again
Because less washing, it is easy to clean every day.
The mechanism of carbohydrate cutting has changed, the drain tray disappears, the number of washings decreases, and the time for cleaning up is greatly shortened!

In addition, it is easy to remove not only inner hook and outer hook but inner lid and steam mouth.
This makes it easy to clean every day! It became easier to use.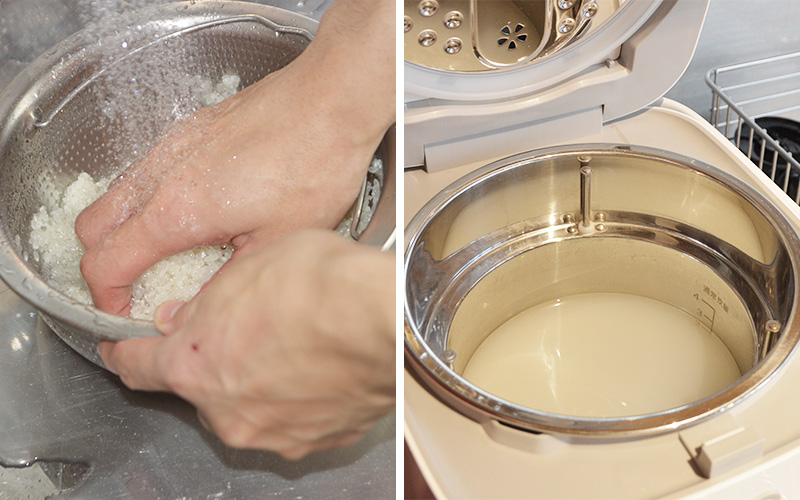 Because the inner pot is a monkey, it is convenient to wash rice as it is.

In addition, broth containing carbohydrates accumulates in the outer kettle, so it is easy to discard.
Pursuit of deliciousness after insulation!
Keep the temperature inside the cabinet uniform with the upper and lower W heaters, keeping the taste.
By keeping the inside temperature constant by the double heater under the outer kettle and the inside of the lid, it keeps the rice uniformly and prevents deterioration of the taste.
※ Thermal insulation switches automatically after cooking, keep warm for up to 24 hours.
※ You can warm again with one touch after 24 hours.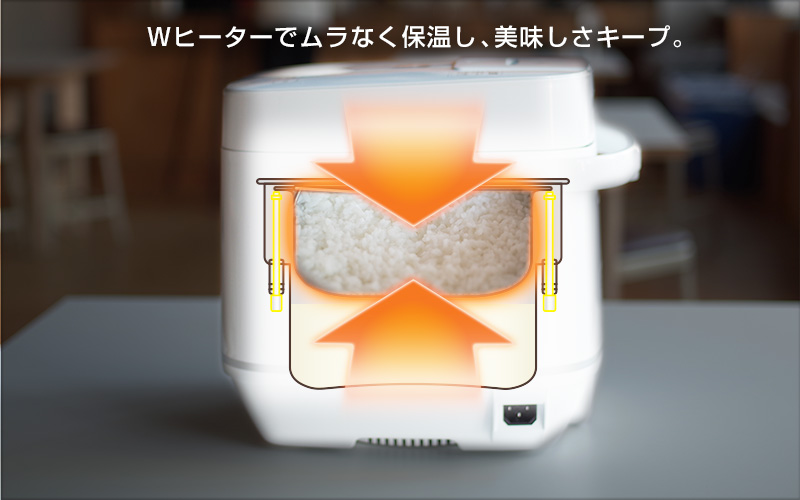 It evolved with customer's voice!