ARE YOU READY FOR A CHANGE?
How it works

Apply twice a day. The Tattoo-OFF cream penetrates the skin and gradually erases the tattoo ink.Tattoo-OFF works well on permanent cosmetics applied to cheeks, breasts, lip outlines, and eyebrows. Tattoo-OFF was developed to work on tattoo ink, not skin complexions.

tattoo removal, best tattoo removal, tattoo removal cream, laser tattoo removal, tat b gone, tattoo-off, wrecking balm, tattoo removal results, tattoo removal on u tube
Easy instructions are included with every order.

NO FUSS, JUST RESULTS
No appointments to keep. You easily apply it all by yourself in the comfort of your own home!


Tattoo-OFF delivers satisfying results, no matter the color, type and amount of ink used to create your tattoo.


Tattoo-OFF is the most advanced and researched tattoo removal formula available.

tattoo removal, best tattoo removal, tattoo removal cream, laser tattoo removal, tat b gone, tattoo-off, wrecking balm, tattoo removal results, tattoo removal on u tube
Tattoo-OFF's effective formula is hypo-allergenic and is fortified with natural botanicals:

· Aloe Leaf Juice – aids in healing skin


· Calendula Flower Extract – anti-bacterial, effective in healing


· Cymbopogon Shoenanthus – known for its astringent properties


· Lemon Extract – soothes skin and maintains moisture balance


· Orange Peel – effective skin care ingredient


· Rosemary Leaf – used for skin ailments and stimulates healing


· Sage Leaf – high in anti-oxidants
Tattoo-OFF Starter Pak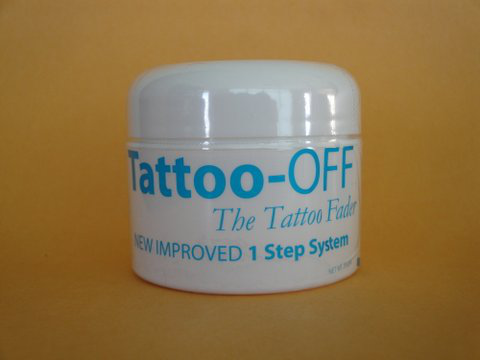 Please share your Stories and Testimonials. Email us at: info@tattoo-off.com
Wow, thank you so much this is fantastic. I have been using this for just 7 days on 2 tattoos and already they have started to fade. I am really excited. The black outline is now gray, some of the lines have almost gone. The colors are really fading too. I tIam shocked I really didn't hold out much hope that it would work. Just hope the carry on fading at this rat. If they do the will be gone in no time. Thanks so much
J Farby
A little more than 2 years ago I very successfully faded away with Tattoo Off a butterfly from between my breast. Since then I have parted with my ex fiancé and do not want his initials on my shoulder any longer. I was very upset and worried when returning to the Tattoo Off web site and found you had changed the formula that worked so well for me and made it a 2 part system.

After a few days of thought I decide to give it a try. Well my worry was for nothing. It worked great and took less time out of my day. My ex Fiancé initials are gone from my shoulder. Of course, my new boyfriend is happy too.
Judy G.
Thanks Tattoo-OFF. After using laser for way to long, I was left with a green outline. They told me that there was nothing more I could do for it until a friend pointed me in your direction. I didn't even know that this type of cream existed! Now I can wear flip flops and shorts without an ugly green outline around my ankle. that's awesome.
CA Girl
Lisa,
Thanks for the fast responce and for standing up for the product.

I was (to say the least) sceptical to the claim that this product would work – but I actually see quite good results even if I have not been using it as often as directed (I typically only have time to apply the cream once a day rather than two).
Thanks again and you can look forward to more orders from me!
Best regards, Magnus J
After 5 months I noticed superior fading. My tattoo was starting to disappear and I no longer had to worry about people looking at an ugly skull on the back of my neck. Living in Texas , its so hard to keep your hair down all the time. Now I'm cooler and a lot happier. Thanks!
Wendy H. Houston TX
I'm so happy I finally got rid of an ugly addition to my tattoos. I have a whole sleeve, and the newest part of it just didn't fit in with the rest of my art work. I had changed artist, bad idea! When I used Tattoo-OFF, I faded the ugly bit to the point where I could get a great cover up. Now I totally blend.
Big Jake
Call me old fashioned, but I rather be on the safe side and use only western-made products.
Not only do I start seeing results after just 6 weeks using Tattoo-OFF, I am so relieved they do NOT use foreign (Chinese) ingredients.

With that peace of mind I do not care how long it takes. I keep on going till my old tattoo is completely faded away.
Thank you Tattoo-OFF!
Lucy Linda W.
I am a waitress with a silly tattoo on my arm. Working the out-door terrace forced me to wear long sleeve shirts. And it gets hot here in So. Florida . Last year my mom gave me for my birthday an 8 Month Tattoo-OFF present. Thanks Mom, I am almost there to get myself some cool tops without sleeves.

I cannot believe it, I will be Tattoo-Free with Tattoo-OFF.
Alexia M. So. Beach
Tattoo-OFF