[Short BK]
Body: polyester, nylon, polyurethane coating agent: silicone, silk protein
[Short PK]
Body: polyester, nylon, polyurethane coating agent: silicone, silk protein
Leg-on® Men's Heel Care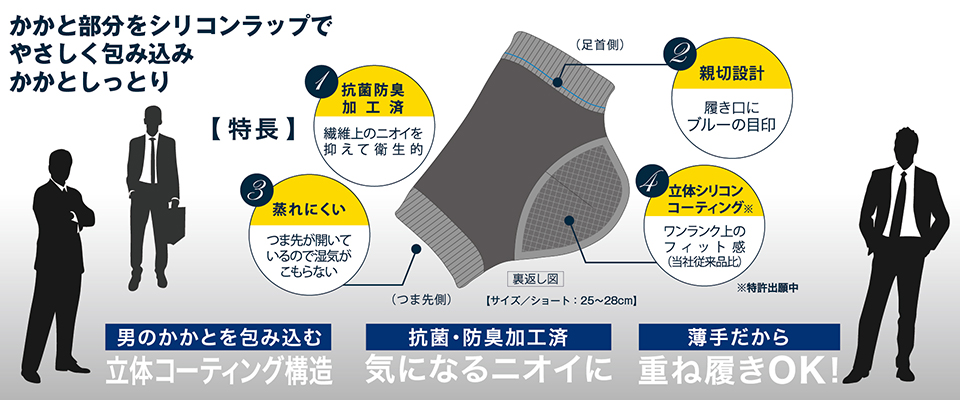 Features
The silk protein containing three-dimensional silicone coating makes it moist and warm.

Sanitary "Antibacterial deodorizing process" to suppress odors on fibers

Because the fabric is thin, it does not get motility even when wearing socks and other layers.

Mure also difficult to move fingers, comfortable "open toe" type of comfort.

Put a blue mark on the mouth (ankle side) and make it easy to understand the top and bottom.

It can be used cleanly since it can be used repeatedly for washing many times.
how to use
1. It

is more effective to drop horny with a file etc. when taking a bath.

2.

After bathing (in a clean condition), apply moisturizing cream, check the top and bottom (the blue mark is on the ankle side) and attach it.

The heel part is gently wrapped in silicone wrap, and moisturizing cream penetrates efficiently, moistening the heel.

Of course, even if you don't use cream, it's moist with the wrap effect.
Quality indication
[Male heel care BK]
Body: polyester, nylon, polyurethane coating agent: silicone, silk protein