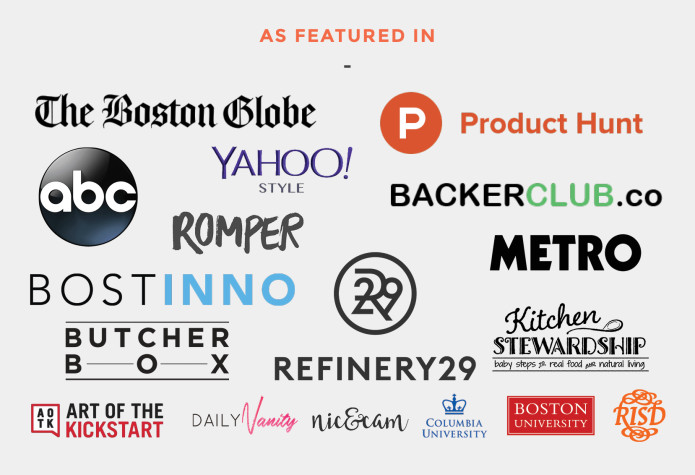 Why isn't sunscreen enough? It doesn't get applied or re-applied correctly, lets through too much skin-aging UVA radiation, and oftentimes it just doesn't give us the SPF claimed on the label.
Sundots fill in the gaps when other products let us down. They're the missing piece of our sun protection toolkit for skin health... and beauty.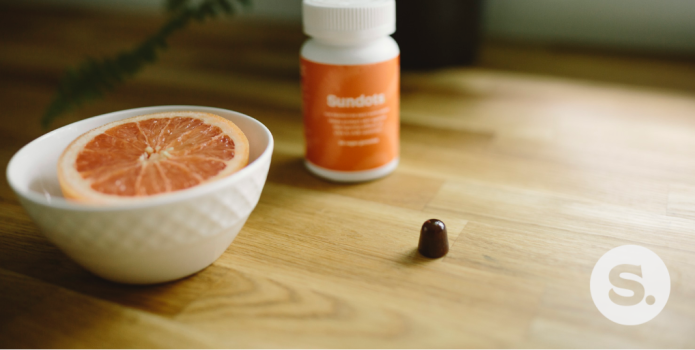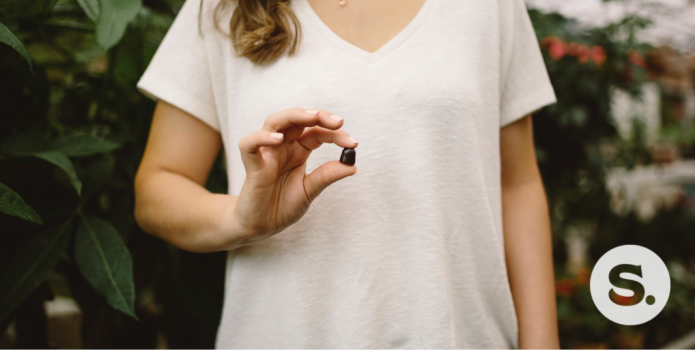 Sundots feature the active ingredient polypodium leucotomos, a fern extract from Ecuador studied for 30+ years for its sun protection and skin anti-inflammatory properties. The evidence is clear from over a dozen human studies - when taken every day like a vitamin, this fern helps to provide all-over protection from sun damage by strengthening your skin cells' ability to resist UV harm.
Polypodium has been used by traditional cultures in Central and South America for centuries. While oral traditions date back much further, the first written account is from the Spanish botanist and explorer Hipólito Ruiz in 1788.
More importantly, modern, blinded, human studies have shown polypodium's benefits. Here's how the Journal of Clinical and Aesthetic Dermatology summarizes the data: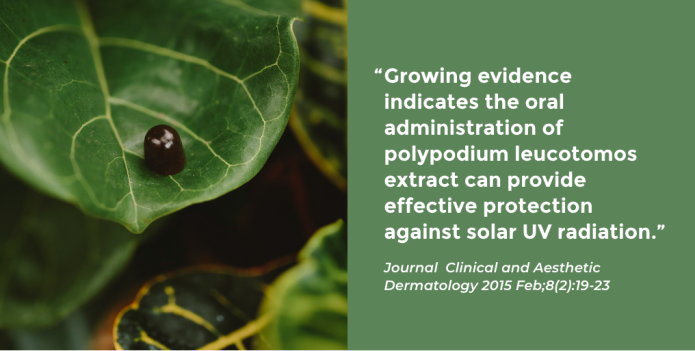 To get more specific, one of the strongest studies, from 2017, examined the effect of polypodium on patients' skin cells after exposure to UV radiation. The study found 76% fewer new sunburned cells in patients who took polypodium.



That's why we at Sundots care so much about sun protection - it's the key to both the skin health and the beauty benefits we care so much about.
Oh, and the flavor? A refreshing, lively citrus from all-natural organic orange oil.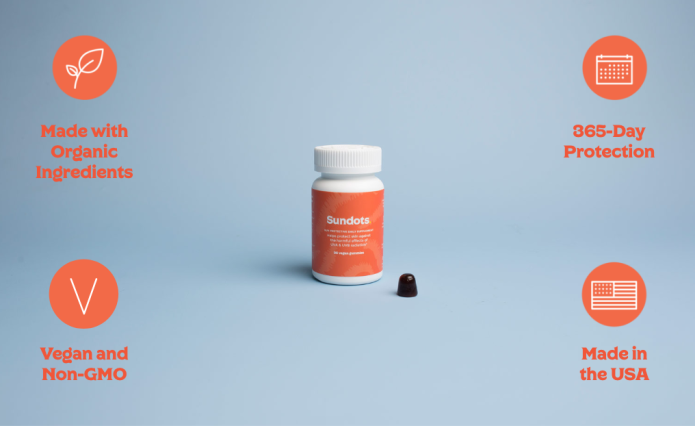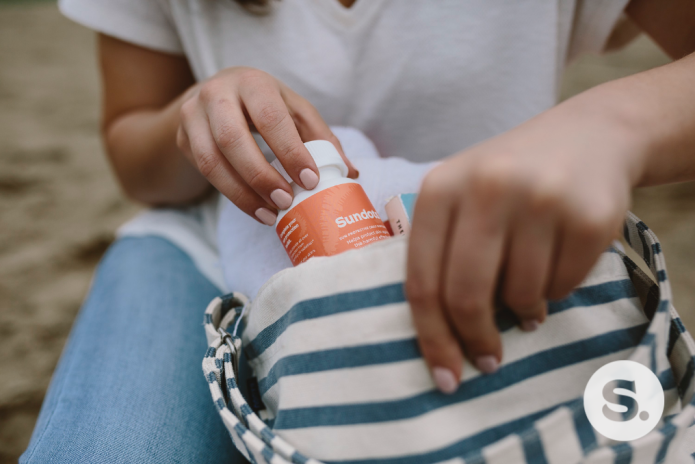 As a dermatology researcher at Harvard Medical School, Sundots co-founder Dr. Emilia Javorsky knew she, like everyone else, wasn't 100% protected from the sun. Scouring the science for better solutions, Emilia came across a little-known fern from Ecuador called polypodium leucotomos.
Digging into the research, she was struck by the quality of evidence supporting polypodium's use in helping to protect skin against the sun. More impressively, in discussion with her dermatologist colleagues, Dr. Javorsky found this fern extract was already broadly trusted and used in the insider dermatology community… but the word just wasn't getting out.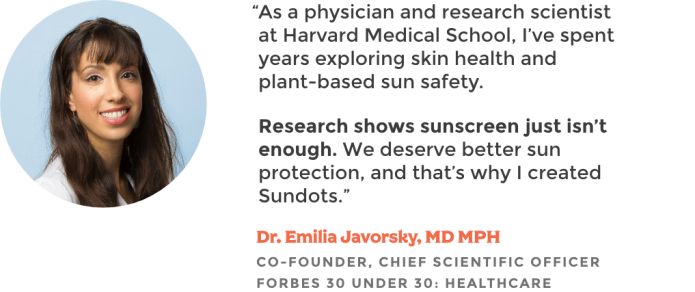 After finishing her post-doctoral research, Emilia met Sundots co-founder, Chris Tolles, a designer and entrepreneur with global experience leading consumer products with a positive impact.
Newly a father, Chris was actively facing the challenge of effective, nontoxic sun protection products for his family, and was immediately drawn to the rigorous science behind polypodium. Together, they're launching Sundots to bring the power of polypodiumleucotomos to the world in a convenient, tasty daily gummy.
Polypodium has been studied for decades. Over 30+ years of study and use, polypodium has been shown to be safe, even at doses much higher than Sundots. Here's what a review article in The Journal of the American Academy of Dermatology concluded: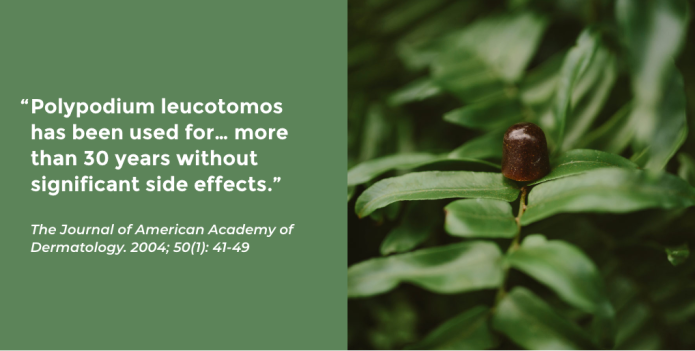 As a team, we care deeply about what we're putting into our own bodies, and we know many others do, too. That's why we're an open book when it comes to ingredients and sources. Take a look at how Sundots helps deliver sun protection and youthful skin with a 100% plant-based, all-natural ingredients list:


Sunscreen is not user-friendly:

It requires re-application every two hours, in a thick layer, and it's hard to not miss spots.

Sunscreen is weak against the skin-aging parts of light:

Sunscreen does not robustly block UVA and visible light. These parts of light are responsible for skin aging.

Some sunscreens just don't work:

A recent Consumer Reports study found, "one-third of tested sunscreens delivered less than half of labeled SPF protection."

Many sunscreens contain potentially toxic chemicals:

Most chemical sunscreens contain oxybenzone, which recent studies have linked to hormone disruption.
The plain science is that UV radiation is always a risk – it's not just sunny summer days at the beach that matter for our health. Even in winter, even in shade, and even through the glass of office windows or car doors, the sun is harming our skin.
Sundots helps fill the gaps because sunscreen just isn't enough. We need better protection, every day.
Why Sundaily Gummies?
According to the WHO, 90% of skin aging is caused by the sun.
Sunscreen just doesn't provide enough protection alone.
It wears off, doesn't get reapplied, can have less than the SPF claimed on the label, and doesn't provide robust protection against skin-aging UVA light.

The best sun protection regimen always includes sunscreen and UPF-rated clothing along with Sundots. Sundots are not a substitute for sunscreen; they help fill the gaps for year-round, full-body protection when sunscreen and clothing let us down. We need all the protection we can get!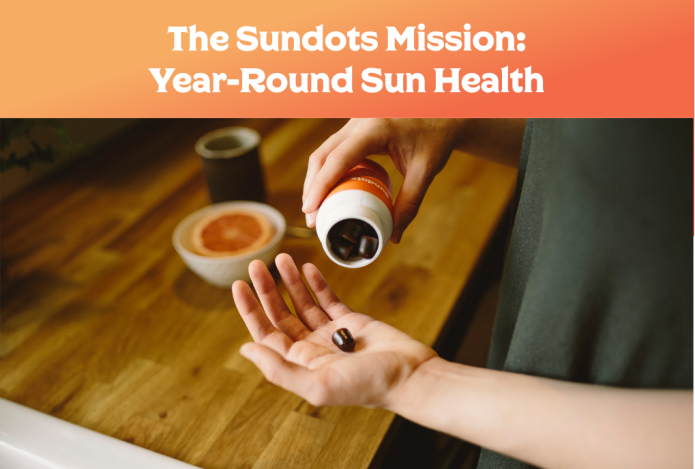 The Sundots team is focused on natural products for sun health, based on rigorous science, that let consumers take health into their own hands. More broadly, we believe that business can, and should, be a force for good in the world.
That's why we're a pending Certified B-Corp (the pending means we're less than one year old.) Inc. Magazine has called B-Corp certification "the highest standard for socially responsible businesses." That's our people.

Sundots' impact includes literally "giving back" to organizations doing work that's aligned with our mission. A percentage of your campaign support will go to one of two highly-rated nonprofits - your choice!:
The Nature Conservancy:

Our polypodium is from Ecuador, which faces many challenges of uncontrolled deforestation in the Amazon. The Nature Conservancy has been protecting natural resources and advancing sustainable economic development since 1951.

The American Association of University Women's STEM Program:

AAUM has fought for women's equity and education since 1881. Their specific programs in Science, Technology, Engineering, and Math support thousands of women aspiring to STEM careers with impact.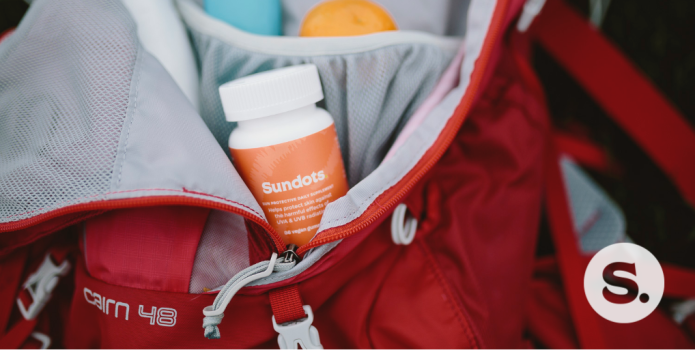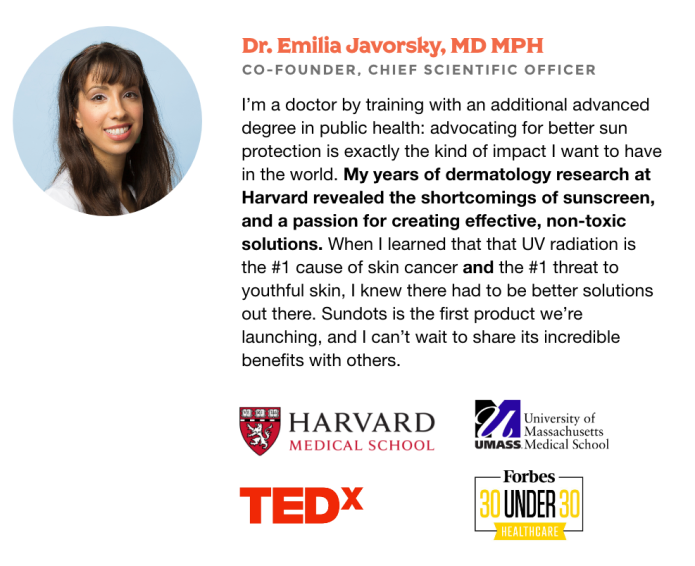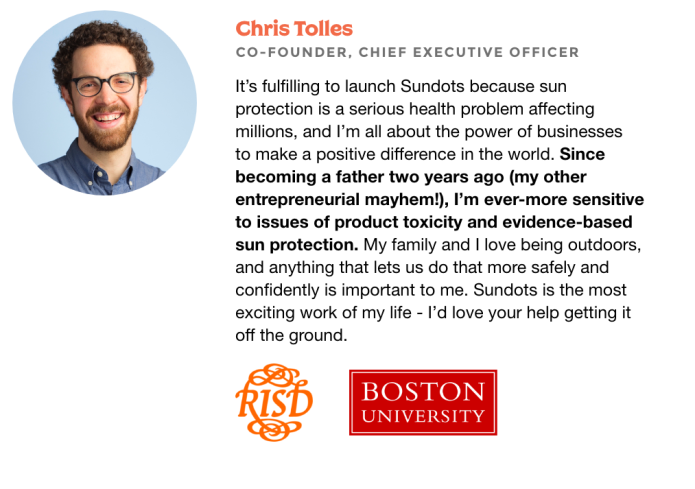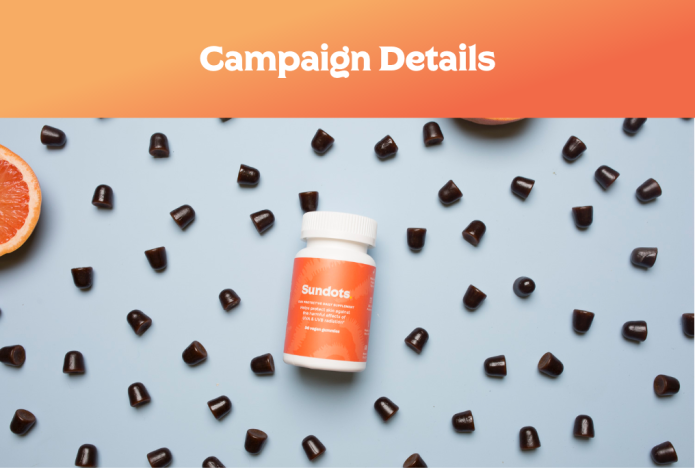 Sundots had an overwhelmingly successful launch campaign in March 2018 - over $100,000 raised on Indiegogo in our first 30 days!
We heard from many of our early community members that Vitamin D is an important part of their sun health goals, and endeavored to include Vitamin D in every bottle of Sundots if we hit $100k. And we did it! Sundots are shipping with Vitamin D from Day 1.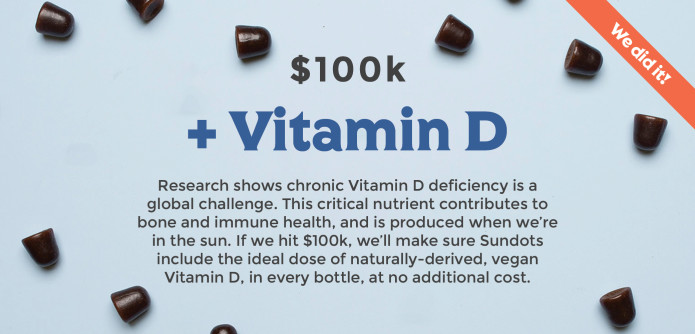 When we launched our Indiegogo campaign, we'd already done 99% of the hard work to ensure Sundots could be completed with exceptional quality and on-time, and we proved that by shipping to our first backers over a month early.
Sundots are currently shipping in real-time as new backers place their orders. If you back our campaign now, you'll get your Sundots within 2 weeks if you're in the USA, and 2-3 weeks if you're overseas!


If I take Sundaily gummies, should I still use sunscreen and UPF-rated clothing?
Absolutely. Sunscreen is the foundation of every strong sun protection regimen. The best sun protection comes from
a combination of Sundaily gummies, sunscreen, and UPF-rated clothing - we need all the protection we can get!
I have seen other products which use polypodium leucotomos marketed for health conditions like vitiligo, psoriasis, photosensitivity disorders, and other conditions. Will Sundaily gummies help with any of these issues?
No. Sundaily gummies are not intended to diagnose, treat, cure or prevent any disease.
What's the best way to take Sundaily gummies?
On normal days, take one gummy every day with your morning routine. On days with high sun exposure like the beach or golf, take a second gummy at midday.

What is polypodium leucotomos?
Polypodium leucotomos is a fern native to Central and South America investigated for decades for sun protection and anti-oxidant properties. Sundaily gummies use a highly refined polypodium leucotomos extract that can help to protect our skin against the sun's damaging rays.
Where can I read more about clinical studies of polypodium leucotomos?
There are dozens of high-quality studies on polypodium published over the last 30 years, that represent a strong foundation of our understanding of this remarkable fern. Here's a list of relevant studies: https://www.ncbi.nlm.nih.gov/pubmed/?term=polyp.... Feel free to reach out to us at help@getsundaily.com if you and have more specific questions about the research.
How did you determine the optimum polypodium leucotomos dose for Sundaily gummies?
The highest-quality human studies of polypodium have simulated very high intensity exposure comparable to a full summer day at the beach in direct sun - an acute dose that most people only see a few times per year. Those studies used a 2x 240mg dose of polypodium. We are using 1x that well-established 240mg dose based on the levels of UV radiation our customers are likely to encounter on an ongoing basis, since we're focused on everyday sun safety. That's also why we recommend a second gummy at midday for when we do have high-exposure days like golf, a long run, skiing, the beach, etc. Regardless of how many you take, Sundaily gummies are not a substitute for other forms of sun protection, and should always be used in addition to sunscreen.
What's on the Sundaily supplement facts and ingredients label?
How will I know that Sundaily gummies are working?
Multiple blinded, human studies, led by different teams, published in peer-reviewed journals, have demonstrated polypodium's effectiveness over the last 30 years. Sundaily gummies use 240mg of this evidence-based ingredient in every daily gummy.
With continued use, Sundaily gummies also have strong skin beauty benefits, as polypodium can help to repair skin at an accelerated rate. This means skin appears more youthful, even-toned, and with a smoother texture.
Do Sundaily gummies interfere with Vitamin D production?
No. The activity of polypodium is unrelated to the chemical mechanism of Vitamin D production. Plus, each gummy includes 200% of the recommended daily value of Vitamin D, a critical nutrient that studies have shown many people around the world are chronically deficient in.
Why do Sundaily gummies have Vitamin D in them?
Many Americans are chronically deficient in Vitamin D. A meta-analysis of the best-quality data suggests that about 40% of US adults do not have adequate vitamin D intake (reference), and studies of other parts of the world have produced similar results. Vitamin D deficiency is linked to poor bone health. Since Vitamin D is such an important nutrient, we're excited to include all-natural, vegan Vitamin D in every single gummy.
How did you determine the optimum Vitamin D dose for Sundaily gummies?
We follow the National Institutes of Health's (NIH) recommended dietary allowances (reference). The NIH Office of Dietary Supplements is the best authority for credible, science-based perspectives on holistic vitamin health. They recommend that all US adults supplement with 15-20 mcg (600-800 IU) of Vitamin D per day. Sundaily gummies have 20 mcg/800 IU in each daily gummy.
Why are there 36 gummies in a bottle?
On days with high sun exposure, like a day at the beach, on a boat, skiing, or on a hike, it's important to take a second gummy at midday. We include a few extra for each month. If you find yourself running out before your next shipment, just log in to your account and you can change the date of your next delivery, or email us at help@getsundaily.com and we'll take care of it.
Can I give Sundaily gummies to my kids?
Over 30 years of study and use of polypodium has established a strong safety profile for this all-natural ingredient. However, there have been no child-specific studies of polypodium. Therefore out of an abundance of caution, we recommend Sundaily gummies for those 12 years old and up. As with all supplements, if you are considering Sundaily gummies for your child of any age, consult with a doctor prior to taking Sundaily gummies.
Can I take Sundaily gummies if I'm pregnant or nursing?
Over 30 years of study and use of polypodium has established a strong safety profile for this all-natural ingredient. However, there have been no pregnancy-specific studies of polypodium. You should consult your doctor if pregnant or nursing before starting any new dietary supplement, including Sundaily gummies.
Do we really use sunscreen incorrectly?
Yes. Decades of research into how people use sunscreen have reached a shared conclusion: poorly. When we do use sunscreen, on average we only apply 25-50% of the amount of sunscreen required to achieve the SPF listed on the bottle (reference). Additionally, one 2017 study, published in the Journal of the American Academy of Dermatology, found that two-thirds of people at a state fair failed to apply sunscreen to their whole body (reference). Many other studies have measured our poor use of sunscreen in different ways, but with similar results.
Even worse, most of the time we do not wear sunscreen at all! One CDC study conducted in the summertime showed that only 14% of men and 30% of women reported regularly using sunscreen on exposed areas of skin (reference). Correct use of sunscreen is essential to every strong sun protection regimen - even when taking Sundaily gummies.
I've heard that sunscreens in the US are weak in UVA protection, even though they say "broad spectrum" - is this true?
Generally speaking, yes. European products have historically chosen sunscreen ingredients that feature better UVA protection. One 2015 study, as summarized by the Environmental Working Group, "found that U.S. sunscreens allowed, on average, three times more UVA rays to pass through to skin than European products" (reference).
Are there really potentially toxic chemicals in commercially-available sunscreen that I should be worried about?
Yes. As summarized by the Environmental Working Group, in 2015 "the Danish EPA reviewed the safety of active ingredients in [US] sunscreen and concluded that most ingredients lacked information to ensure their safety" (reference). The FDA has grandfathered many older sunscreen ingredients from the same safety standards that new ingredients must meet. The most concerning is oxybenzone, present in the majority of non-mineral sunscreens. You may have heard of oxybenzone in the news, as the US state of Hawaii has proposed a ban on this ingredient, and the US outdoor retailer REI has stated they will no longer carry sunscreens with oxybenzone in the future.
There are many sunscreens that do not use oxybenzone and related ingredients for sun protection. These alternative sunscreens are broadly referred to as "mineral" sunscreens, and commonly feature zinc as their active ingredient. Sundaily encourages the use of mineral sunscreens whenever you've got the choice.
That said, the potential toxicity concerns of chemical sunscreens are NEVER a good reason to not use sunscreen altogether. Sunscreen is always the foundation of a strong sun protection regimen.
I've heard of a Consumer Reports study that found many sunscreens lacked the SPF claimed on the label - what's the deal?
Since 2013, Consumer Reports has published annual data which compares a number of products' SPF claims against what is demonstrated in independent lab testing. The results?: "In CR's latest annual tests and ratings of 58 lotions, sprays, and sticks, 20 sunscreens tested at less than half their labeled SPF number" (reference). We recommend consulting Consumer Reports and other reputable, 3rd-party sources to ensure your daily sunscreen is included on their list of high-performing products.
If I haven't been paying attention to sun protection for much of my life, is it too late to stay safe in the sun?
No! Every bit of sun exposure causes harm to our skin, and there's no point at which it's "not worth it" to choose better protection. Any additional protection we get, at any point in our lives, affects our skin health and skin aging for the better.
Are Sundaily gummies FDA-approved?
Sundaily gummies are a dietary supplement and comply with best practices. Our gummies are manufactured in the USA, at an FDA-inspected and FDA-registered, pharmaceutical-grade facility. Our manufacturing facility is also certified by Oregon Tilth to be organic-compliant. Sundaily gummies are regulated as a supplement; the FDA does not provide "approval" of supplements. Your daily vitamin isn't "approved" either!
Where are Sundaily gummies manufactured?
Sundaily gummies are manufactured in the USA, at an FDA-inspected and FDA-registered, pharmaceutical-grade facility.
Are Sundaily gummies non-GMO, vegan, gluten-free, soy-free, cruelty-free, soy-free, nut-free, and dairy-free?
Yes. They are all those things!
Do Sundaily gummies contain any other ingredients, such as _______?
Sundaily gummies' ingredients are 100% disclosed on our product page and on the product label. If it's not on there, it's not in our gummies.
Why do Sundaily gummies include organic sugar?
Our product chemistry requires sugars to interact with pectin to form the gummy - otherwise, our gummies would just be a puddle of juice. Each gummy contains an almost insignificant amount of added sugar - less than 1 gram. That's less than the weight of a paperclip.
What are citric acid and sodium citrate, and why are they in Sundaily gummies?
Citric acid is derived from citrus fruits and helps stabilize the pectin (our apple-based thickener) and also adjusts our gummies' acidity. Sodium citrate is a type of salt made by adding a salt solution to citric acid, and also helps adjust acidity. Gummies cannot form without the perfect acidity, and different ingredients affect the recipe's acidity - that's why we need citric acid and sodium citration to help adjust.
Why isn't your polypodium leucotomos organic?
To our knowledge, there is currently no commercial source for organic polypodium leucotomos. This is something we hope to address in the future with our suppliers.
Do you ship internationally?
Yes. When you check out, you'll see shipping costs applied based on your location. You are responsible for paying any taxes and/or duties which apply in your country, as well as any shipping delays due to customs.