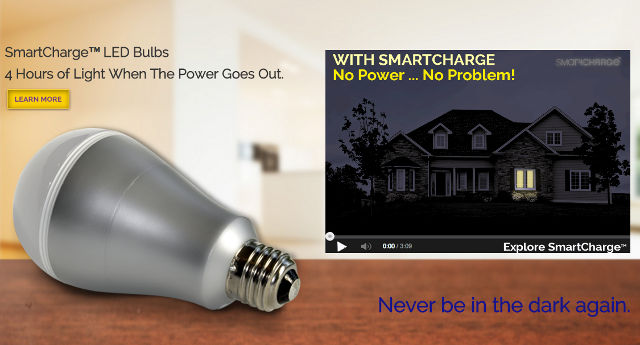 SmartCharge™ LED Bulb: No Power - No Problem
First of its kind, SmartCharge™ is an intelligent LED light bulb that truly provides peace of mind.
It works like a normal light bulb even during power outages. With proprietary patent pending Grid & Switch Sensor technology, the SmartCharge™ Bulb senses a power outage, recognizes the ON/OFF position of your light switch and allows control of the light even with no utility/grid power. When the power goes out, the lights go out. The garage door won't open, kitchen appliances won't work, and the lamps in your house are useless. But with the SmartCharge™ Bulbs, you'll never have to worry about being in the dark again. Your lights will continue to operate and even better, you can control them with your wall and lamp switches.
Simply Replace Your Old Bulbs
Simply replace any existing light bulb with a SmartCharge™ LED Bulb.
There's no extra wiring, no ugly control box, no remote control or expensive electrical installation required.
Never notice a power outage - Like nothing happened
With SmartCharge™ Bulbs, you won't even notice a power outage because the SmartCharge™ Bulb will continue to provide you with light. Turn On/Off your SmartCharge™ Bulbs by using the same light switch – it's like a power outage never happened.
"Turn ON/OFF From The Same Switch Even During Power Outage"
Seems Like Magic - But it's Our Grid & Switch Sensor Technology
The heart of the SmartCharge™ Bulb is our patent pending Grid & Switch Sensor technology. It is capable of distinguishing between a loss of power due to opening of the line switch and a loss of power resulting from a grid failure when the line switch is either open or close.
We put a battery, control technology, intelligence, CPU, memory, inverter, and a printed circuit board all inside the light bulb assembly to make it smart and efficient.
From the outside it looks like a normal LED light bulb.
Grid & Switch Sensor technology consists of three blocks:
A. Intelligent control circuit with grid sense and switch sense
B. Battery and battery charging circuit
C. Inverter along with few other elements
The result, an intelligent light bulb, which is immune to grid power. It always knows, even during a power failure, the wall switch position and turns the bulb ON or OFF based on that position.
If switch was ON when power failed, then the SmartCharge™ Bulb will remain ON.
If switch was OFF, the SmartCharge™ Bulb will remain OFF.
During a power outage, the switch still has control of the light bulb.
The following chart compares a SmartCharge™ LED Bulb to traditional bulbs in the market today:
Additionally, unlike other safety light bulbs that automatically switch on when the power goes out - regardless if you are in the room - the SmartCharge™ Bulb recognizes the light switch's position to conserve its power and only draws from the battery when needed (unlike other "emergency lights"). Once power is restored, the bulb's battery recharges itself to make sure you're ready for another power outage or emergency.
Energy Efficient – Environment Friendly - Long Lasting
The SmartCharge™ Bulb helps cut electricity usage for lighting by up to 90%, saving you money and reducing the impact on the environment.
SmartCharge™ Bulbs are also long lasting, rated up to 40,000 hours or 25 years of life.
Endless Use – Anywhere – Everywhere
Convenience at its Best
When the power goes out, the whole house goes dark except for rooms using SmartCharge™ Bulbs, which stay on, or are ready to be turned on in another room if needed.
"Peace of Mind" for Everyone
.
Be prepared for that test tomorrow.
You won't have to look for a flashlight, candles, or emergency lamp. You do what you do normally – just turn on the switch and the light comes ON.
SmartCharge™ is ideal for a porch light, because if the power goes out in your neighborhood, the light on your porch will stay ON.
Make neighbors wonder!
Evolution & Current Status
We started working on this technology about 2 years ago. After many iterations and prototypes, we have working samples.
We used standard LED lighting components and finished the design of our final version (industrial design, hardware & firmware). We worked extensively with our manufacturing partner to come with optimal design which is not only compact and elegant but takes care of all the issues in LED lighting like heat sink, optics and power management. We have finished our industrial design and tooling has started.
Our next step is to produce the first batch of SmartCharge™ Bulbs for UL listing and final testing. While our bulb is under the Underwriter's Laboratory (UL) approval process, we will start initial production planning.
The current version of the SmartCharge™ Bulb is limited to one bulb and one switch control. The ideal applications are table lamp, floor lamp, or overhead single bulb fixtures. It works for 2 way and 3 way switches but a switch can control only one bulb in the circuit. We are working on the enhanced technology where one switch can control all lights connected to it.
We have designed the bulb to work on 110 V - 240 V and it comes with E 26, E 27 and B 22 base socket types.
SmartCharge™ LED Lightbulb
SmartCharge™ Energy Efficient LED Light Bulb Model:#SC5
SmartCharge™ LED energy efficient light bulb supplies 4 hours of battery backup during a power outage. It works like a normal light bulb, and fits a standard fixture, but works during power outages.
SmartCharge™ Features:
Works with a Standard Light Fixture
4 hours of Light During a Power Outage
Built in Rechargeable Battery / Charges during normal use
Turns On/Off from the Switch During Power Outages
Energy Efficient, ROHS Compliant
Instant On
- Brightness – Minimum 350 lumen -Annual Energy cost – .80¢ USD-Color Temperature – 5000K -Wattage – 5.5 Watt -Bulb Voltage – 110-240V -40 Watts equivalent
-UL, CE, FCC, & ROHS certified
Frequently Asked Questions
What are the specifications of the SmartCharge™ LED Bulb?
Wattage - 5 Watt LED which is equivalent to 40 Watt Incandescent bulb
Lumen - 350
Operating Voltage - 110 V - 240 V
Base Type - E26, E27 & B22
Color Temperature - 3000K, 4000K & 5000K
Beam Angle > 120 degree
Dimmable - No
Battery Type - Rechargeable Li Ion Battery
Battery life - 4 hours of continuous use during power outage or back up mode
Battery charge time - 0 - 100% in 6 hours
Bulb Life - 25,000 hrs
Battery replacement cycle - 3 - 4 years
How long will the bulb stay on during a power failure?
4 hours of continuous use, or use the wall switch to use in increments of your choosing (4 hours total).
When do you expect to have to replace the built-in rechargeable battery?
Inside the bulb is a Li Ion rechargebale battery with 300-400 charging cycles. This battery may need to be replaced every 3-4 years, depending on use.
What is the life of the Bulb?
This is a LED bulb with rated life of more than 20 years.
Battery is Li-Ion rechargeable battery - Approximately 300 cycles of charging so about 3 years of life before need to be replaced.
Battery provides power for 4 hours of continuous use after a power failure.