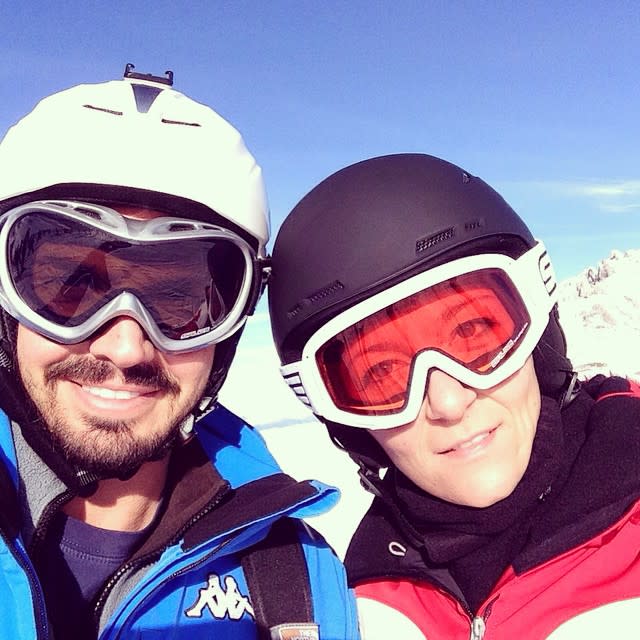 Well...as a skier, have you ever though why should you feel a sense of fatigue and frustration before the day on the snow has even began? When you have to carry sport equipment from the parking lot or from the hotel, up to the lifts (don't you??) transporting your skis (plus maybe your sons' or wife's) on shoulders.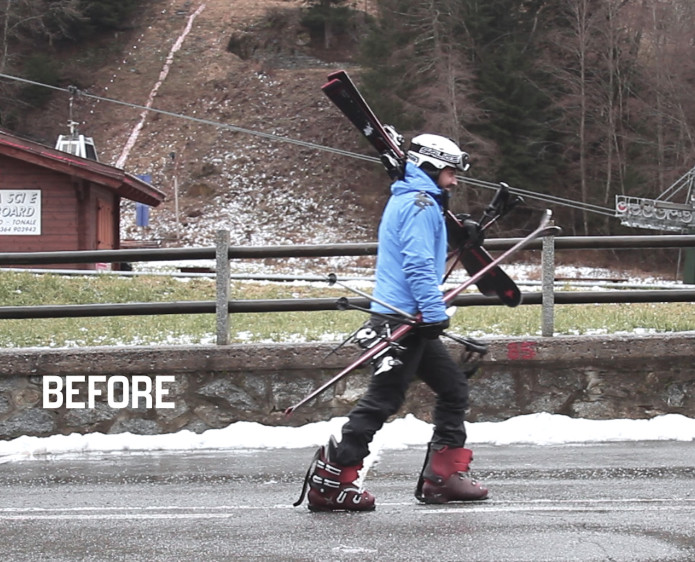 That's a quite tiring and dangerous operation, while also wearing ski-boots that are not the most comfortable shoes.
For this reason, we recognized the need for a new way of moving our skis simplifying every skiers' life.
Here comes SKIDDI: a small simple egg-sized device easy to use, suitable for all ages, even for kids, that will make you save energy and feel more confident on the icy and snowy roads.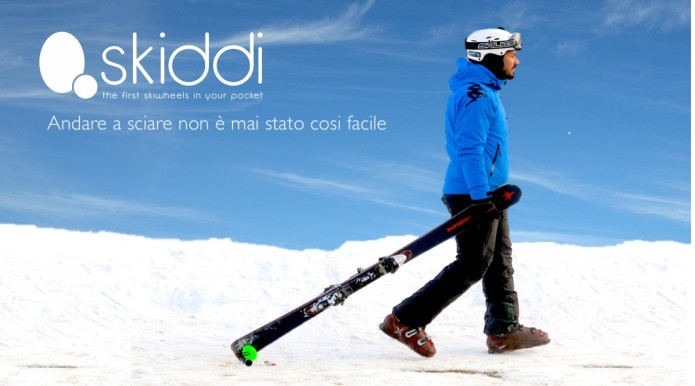 SKIDDI is a pocket-sized device that allows you, easily and fastly, to drag your skis as a trolley. And it's 100% MADE IN ITALY!
SKIDDI comes from a real need: to carry your skis in every situation, easily. You can use it whenever and wherever you want, and then bring it with you by storing it in your pocket.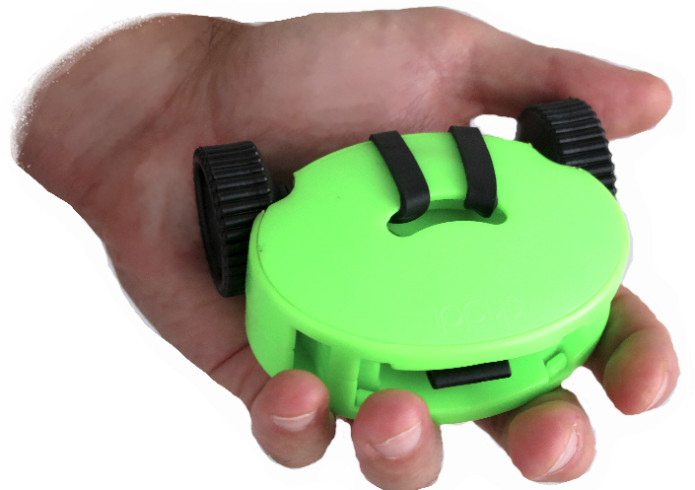 Every time you carry your skis you have to deal with certain unpleasant situations:
- Physical fatigue (specially with cold muscles);
- Fall or slip on the ice, possibly hurting you or people around you;
- Difficulty in holding the equipment (in addition to the skis you also carry ski poles, bags or backpacks);
- Damage to people or things due to uncontrolled movements of the skis (given their considerable size).
SKIDDI facilitates your daily movements when you go skiing by:
- Lightening the load of the equipment;
- Reducing the size of the equipment;
- Lowering the center of gravity.


SKIDDI is very lightweight (90 grammes, about 3 oz). Moreover it has been conceived to be stored into your pocket.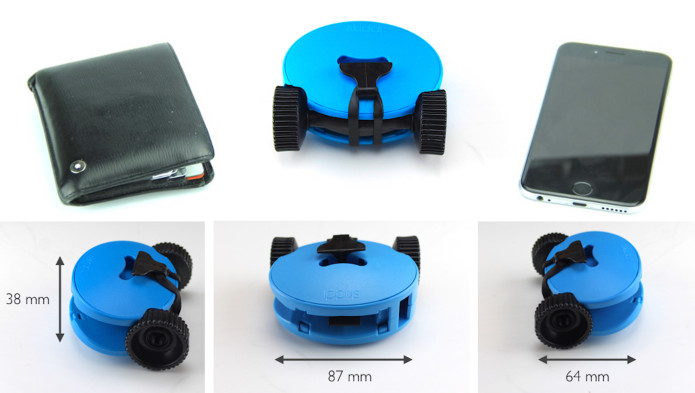 SKIDDI is lighter than your phone and smaller than your wallet!
SKIDDI is a plastic device produced by Injection Molding, and is made of 4 main parts:
1. BODY (ABS)
2. CADDIE –and WHEELS (NYLON PA66 + 30% FV)
3. CLOSURE SYSTEM (rubber EPDM, water resistance, UV resistance, >300% elongation after fracture)
4. EXTENSION: accessory for use SKIDDI with Twin-tip Skis

SKIDDI will be available in 6 amazing colors: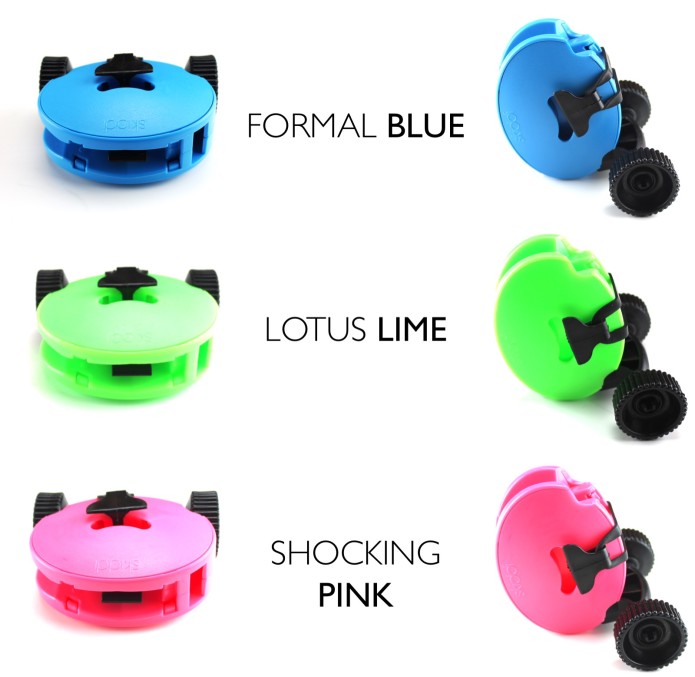 And any package includes your own SKIDDI, a useful waterproof pouch, the instructions card, and the TWIN-TIP SKIS Accessory.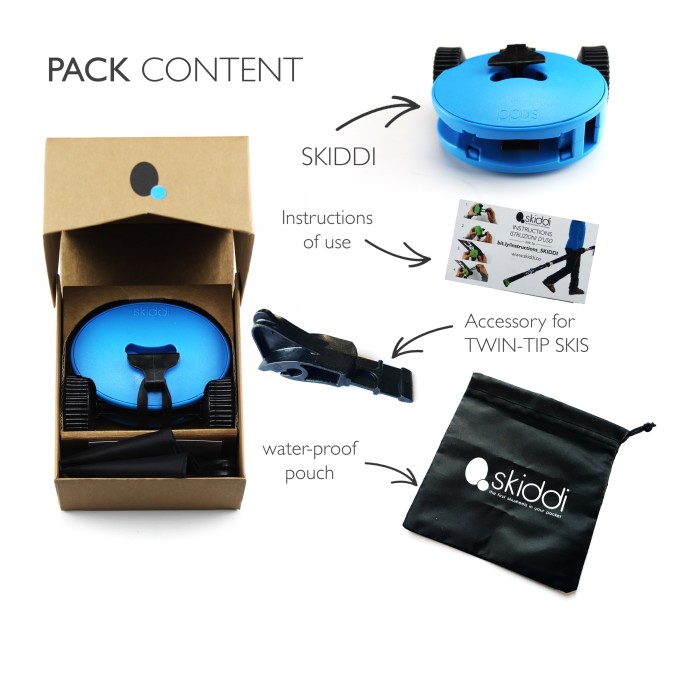 SKIDDI IS A SOCIAL GOOD plus MADE IN ITALY
We reached the goal to develop a full Made in Italy production, which comes through home-made self-prototyping and grows into a social impact project.
I choose to produce SKIDDI involving a main company (the manufacturer) that employs physically and socially disadvantaged staff. Even though production costs will be relevant if compared to those coming from Far East, I do believe that our generation must try to make business in a more social responsible way.