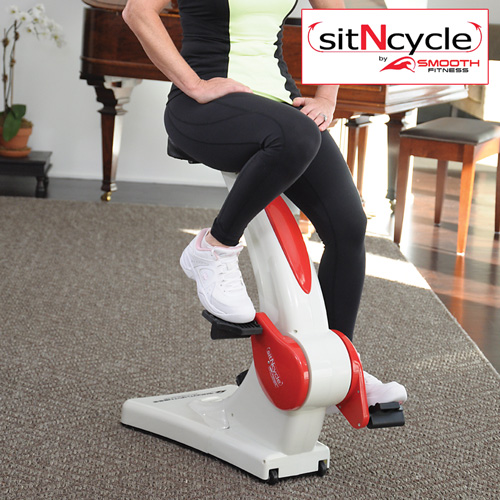 Features & Benefits
Burn as many as 500 calories per hour depending on your intensity level.
Large soft saddle shaped seat provides you with comfort and safety
Adjustable seat with secure locking mechanism
Large flat pedals with special grips holds your feet in place
Easy to turn adjustment dial with eight levels of resistance
Expertly engineered, stable, durable, max user weight up to 300 lbs
Portability and compact design makes it usable in any room or outdoors
Why sit when you can sitNcycle?
PORTABLE, VERSATILE, EFFORTLESS MOTION
The sitNcycle is a fun and convenient way to stay in motion effortlessly and get in the best shape of your life. The sitNcycle's versatility, ease of use, and core-engaging design makes it the ideal aerobic activity with resistance options ranging from minimal to workout level! With the sitNcycle you can burn calories throughout the day with minimal effort.
You'll get a continuous aerobic workout with your choice of 8 resistance levels plus the sitNcycle's unique hands free design forces you to sit up straight so you can strengthen your core while burning calories and losing weight! Advanced engineering provides you with a silky smooth ride while you multi-task watching TV, talking on the phone, using your tablet, or just reading a book or newspaper!
sitNcycle is lightweight at 34 pounds with convenient wheels so you can carry or roll it just about anywhere!