Backed by over 60 years of science, RaDoTech offers a new way to measure your health from home. In just a few minutes, RaDoTech scans your body and sends clinically tested results straight to your smartphone, so you know what's going on beneath the surface.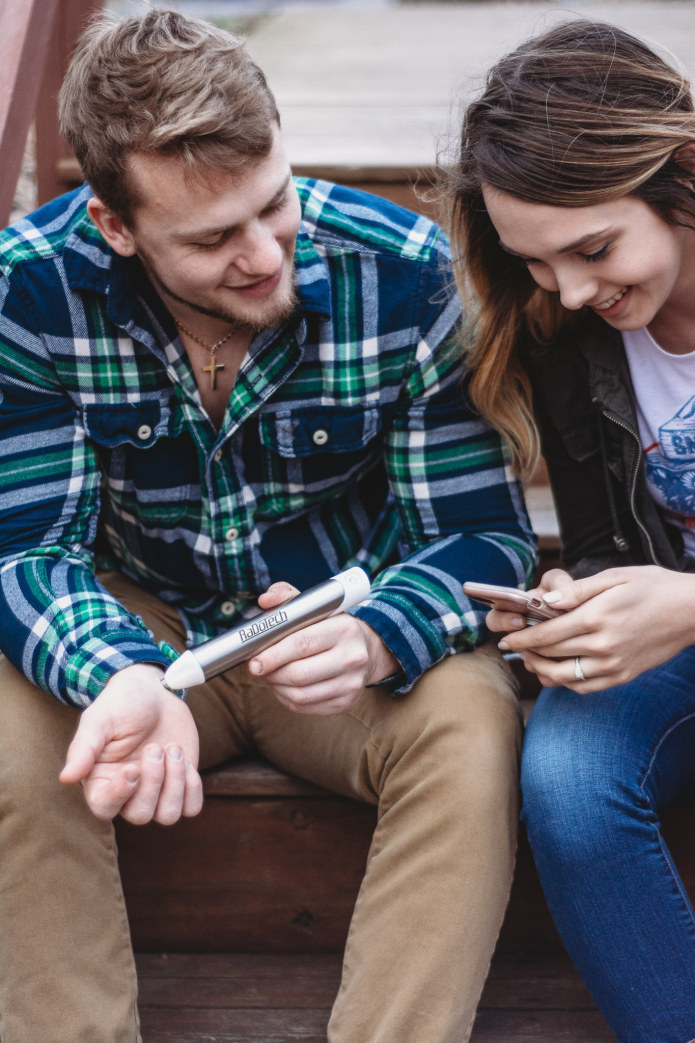 Imagine waking up every day knowing with certainty that you're healthy. I mean knowing down to the organ level that you can catch any problems before they become full-fledged issues.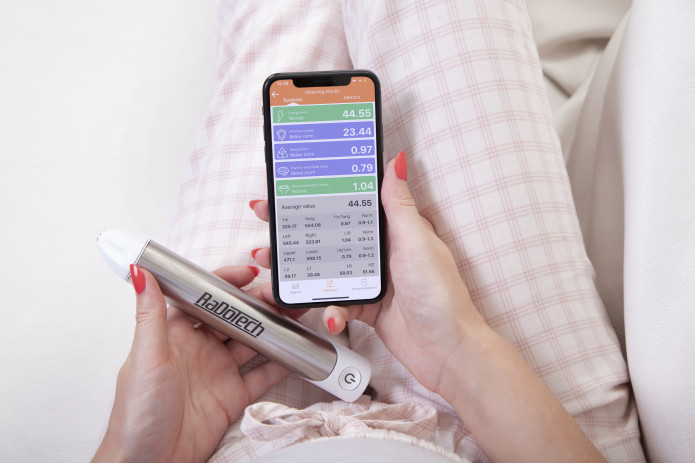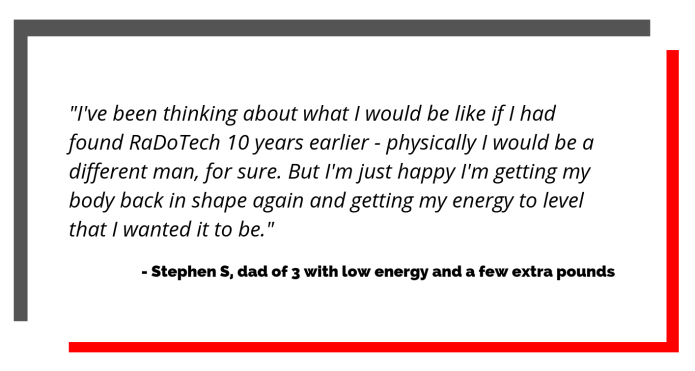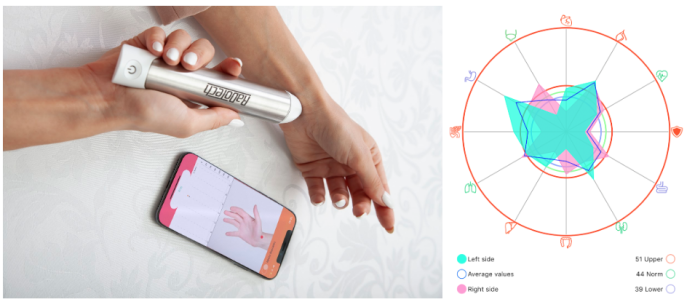 On our body, there are many acupuncture points. Our points lay on meridians, and each meridian is linked to a specific organ. RaDoTech scans the 24 points connected to your organs and systems in under three minutes and gives you a full profile of how well your body is operating beneath the surface.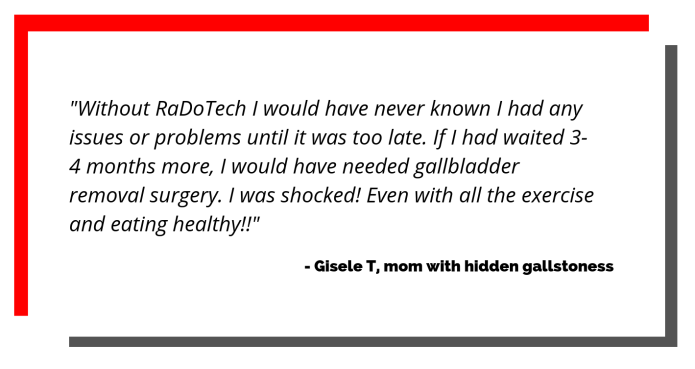 Blood tests? CAT scans? Trips to the doctor every time something feels off? Forget it. All you need to do is a simple full body scan from home (without exposing yourself to radiation and germy hospital rooms).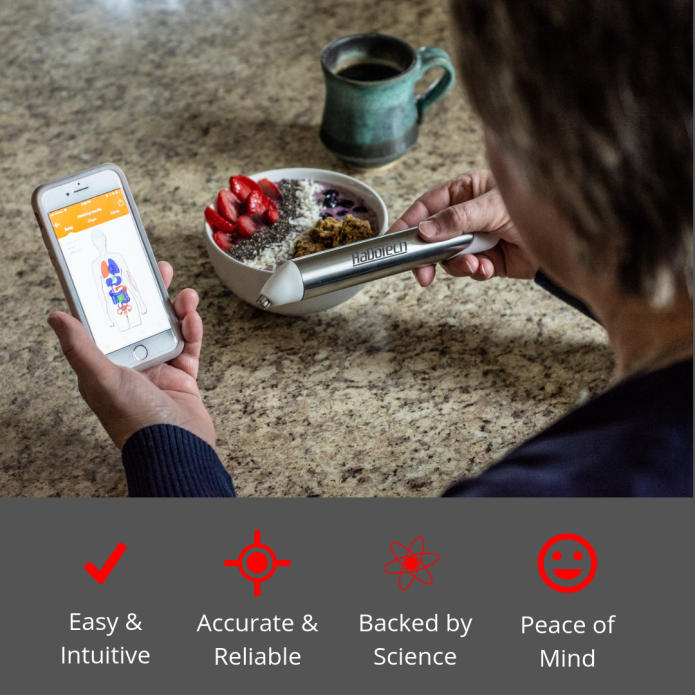 With RaDoTech you'll know how healthy you are and how to adjust your diet and workout routine to get the results you want.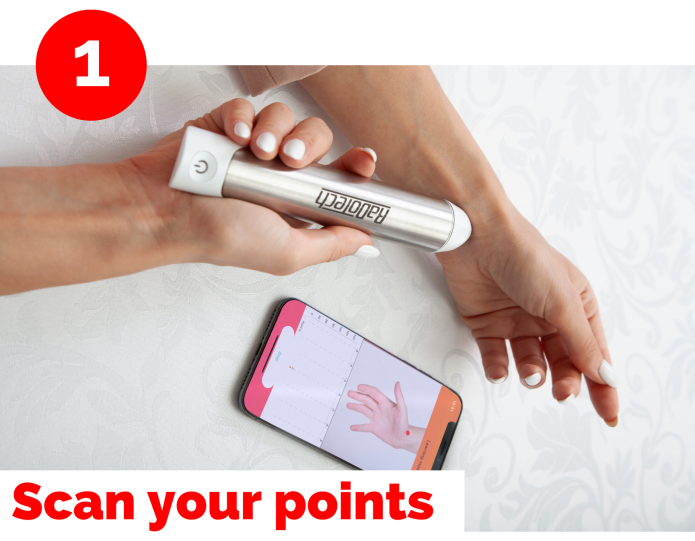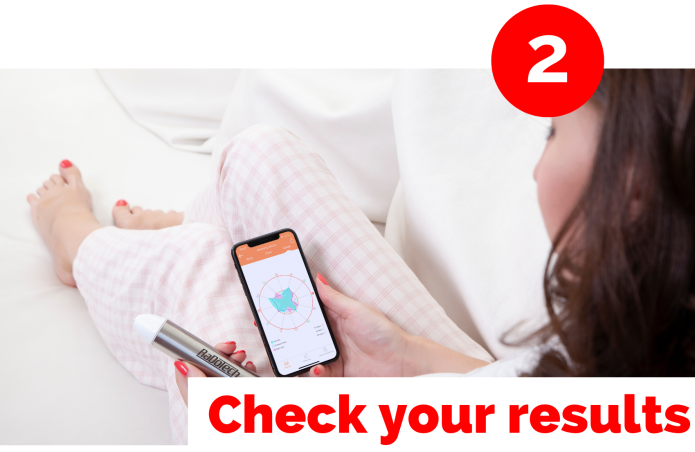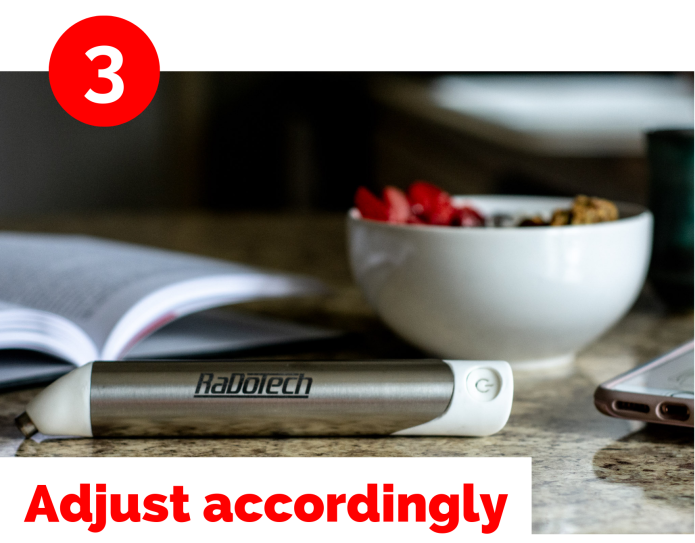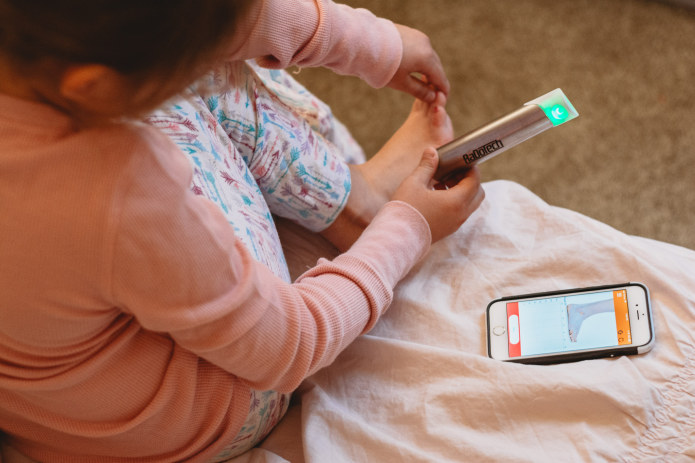 RaDoTech sends cutting edge functional body testing results to your smartphone to let you know exactly what's going on in your body.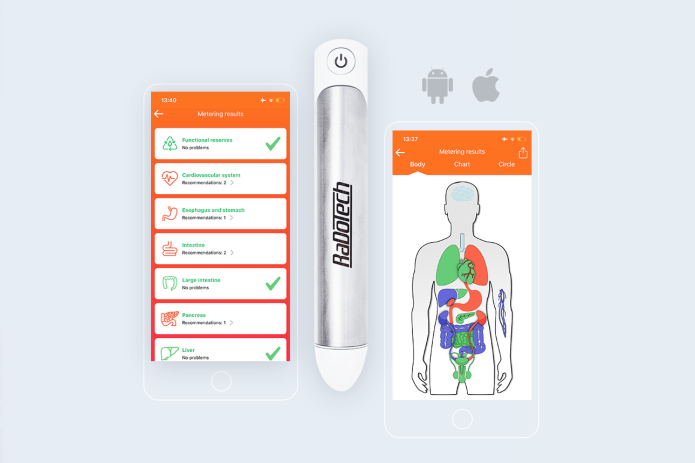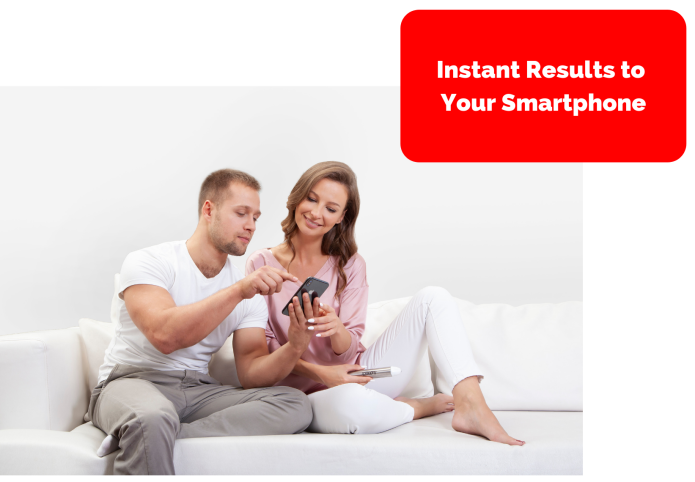 RaDoTech gives you real-time reports that pinpoint any problem right down to the organ and system level. It's like having your own personal full-body scanner at your fingertips.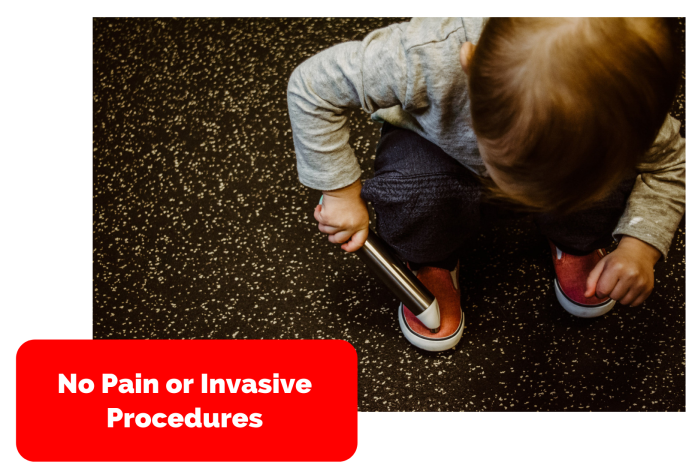 RaDoTech removes the need for invasive, inaccessible, and expensive procedures for tracking your health under the surface.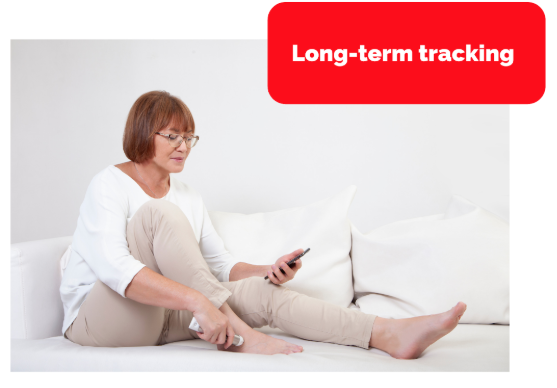 RaDoTech tracks your metrics over time to give you and your doctor a chance to customize your treatments.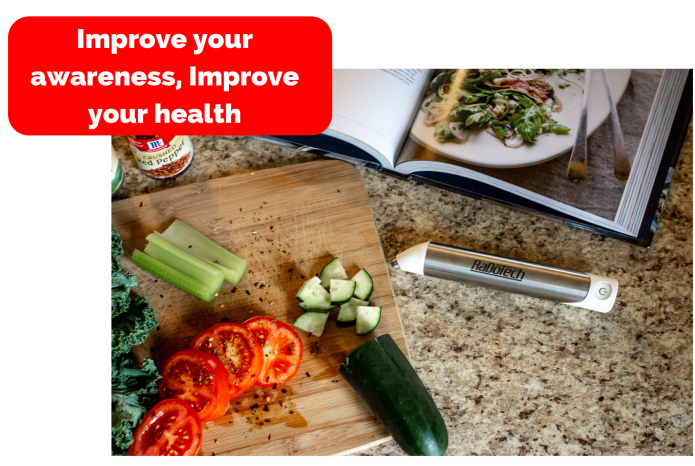 RaDoTech puts you on the path toward a healthier and more informed lifestyle. Through objective feedback from your body, it analyses your data and provides recommendations for improving your energy, quality of sleep, and your mental and physical performance.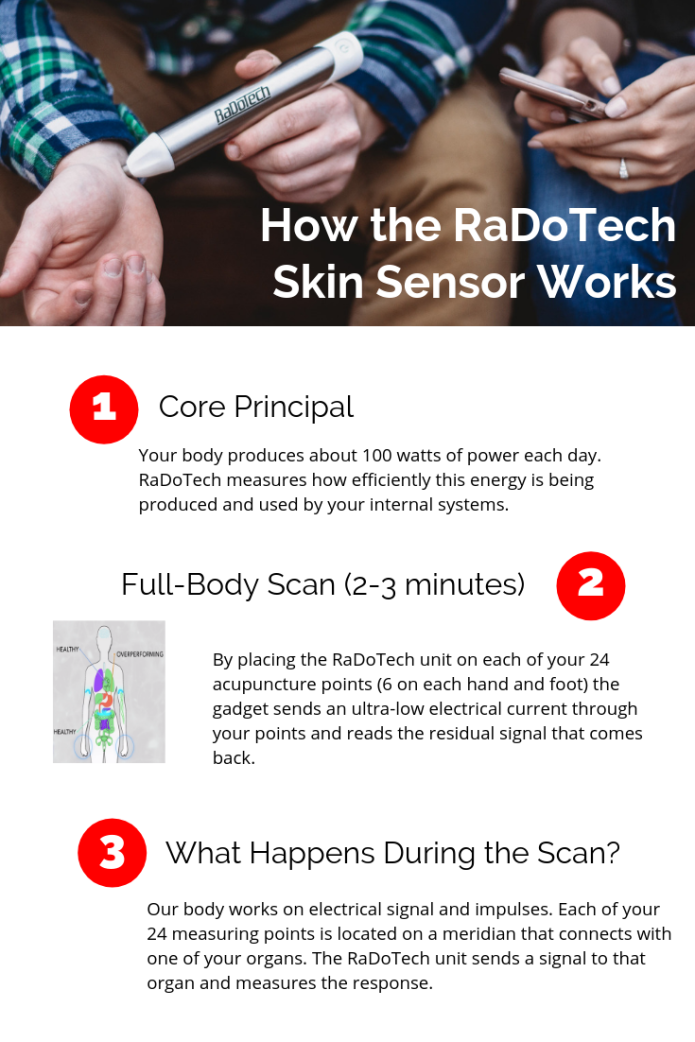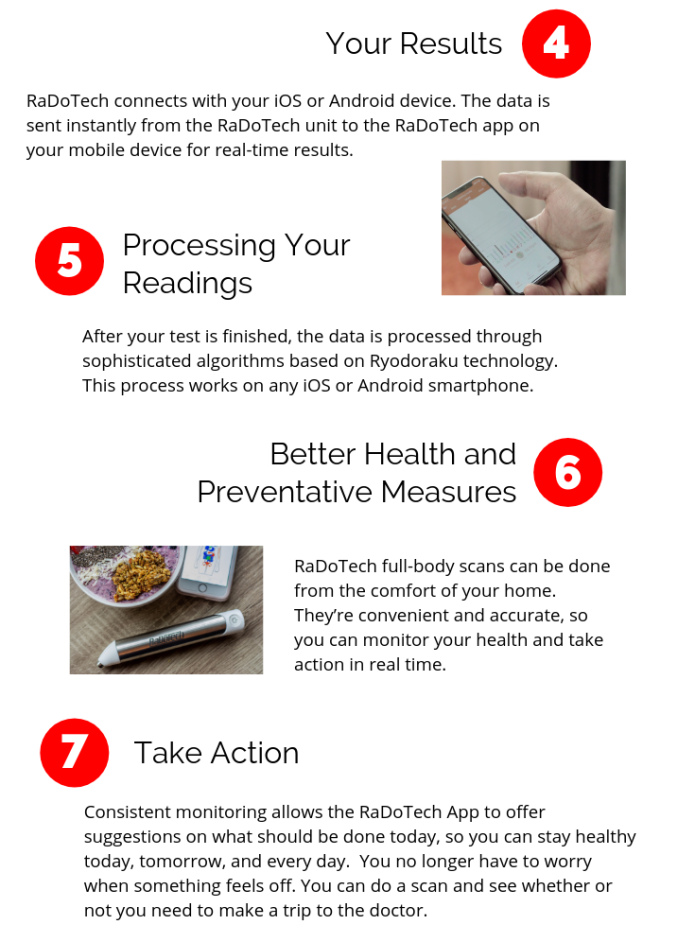 RaDoTech gives you the peace of mind to know when you need to visit a medical professional.

If you constantly see the same low readings on an organ… It's a good idea to not to wait for symptoms to surface; rather, you should make time to see a doctor.
It is important to understand that RaDoTech is not a tool for diagnosing illnesses. However, it will show you the state of your organs and whether you're predisposed to illnesses in the future if you do not get your results checked by a medical professional.

It does this by showing you whether or not you have organs that are overworking or deficient.

For example… If your kidneys are working at 60% and do not filter out all of your body's toxins, where do those toxins go? The toxins go into your blood and into other organs. This often leads to high blood pressure.
In regular medicine, your doctor will prescribe medicine to lower your blood pressure. But your kidneys are still suffering, so the real problem isn't being treated. Eventually, this leads to further heart problems.
With RaDoTech, we can see more than just the systems or an isolated organ. We can see the big picture and how our organs and systems are interacting on a functional level.


RaDoTech does not collect and keep your personal data together with the scans. All of the analytics are done in the cloud and return to your device so that only you can see it.





The interconnection between your account and the full-body scans are encrypted, which ensures safety and anonymity of your info in any scenario.

RaDoTech utilizes the Japanese concept of Ryodoraku, which was discovered by Dr. Yoshio Nakatani.
While measuring the electrical resistance of the skin in one of his patients with kidney disease, Dr. Nakatani found points along the patient's skin that measured increased electrical conductance (meaning he found a link between illnesses and above-average electrical flow).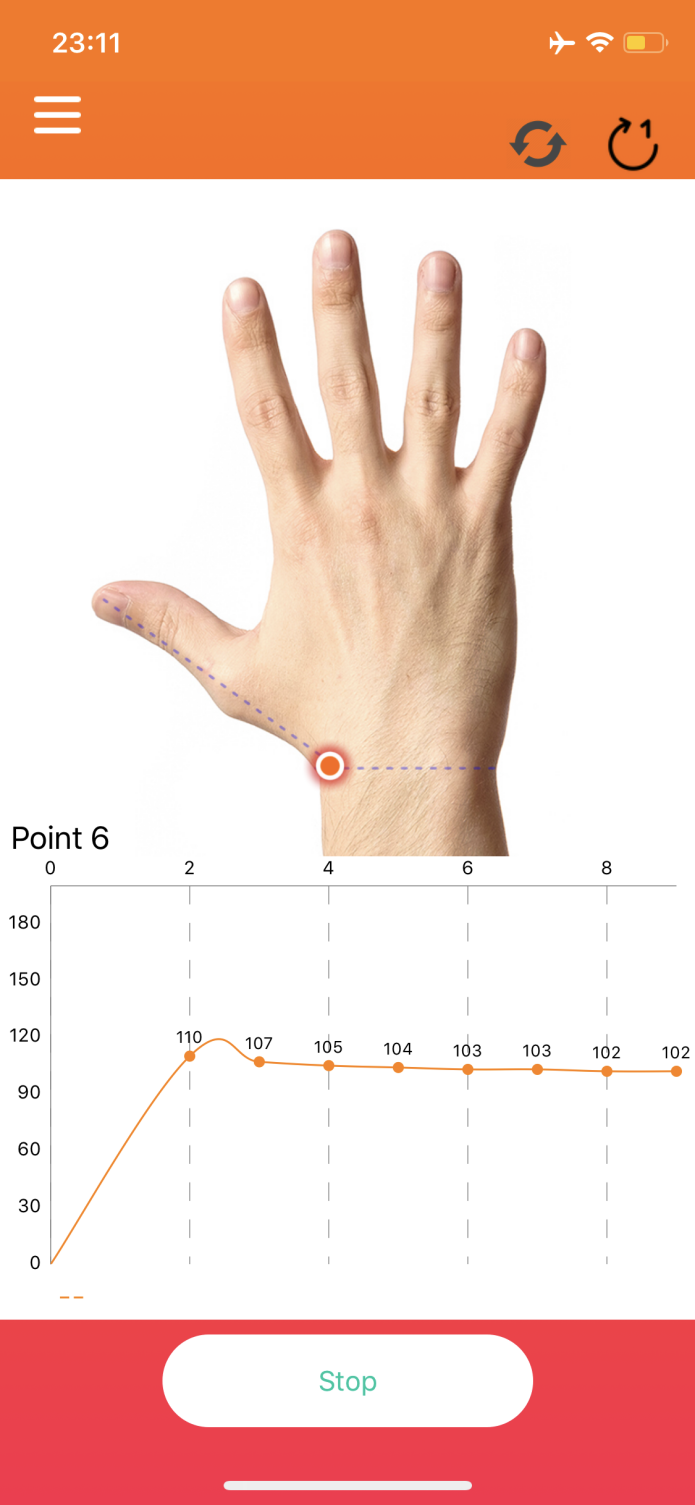 RaDoTech measures this flow and detects electric excesses/deficiencies and charts this information in an easy-to-read format.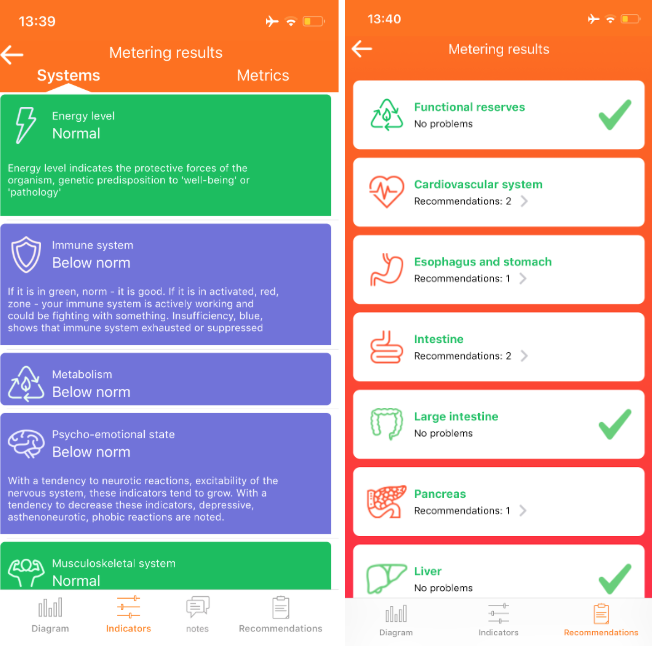 And then you'll be able to get personalized recommendations based on the activity profile RaDoTech gives you: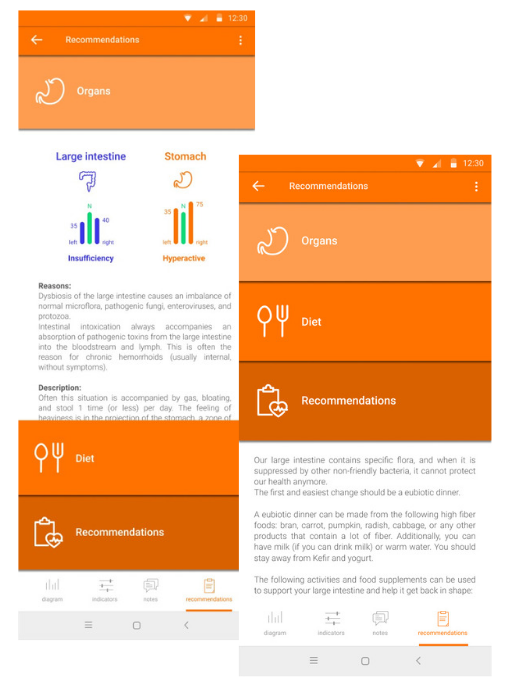 Case Study from a CEO traveling to India
"I travel quite a bit for work, and recently I got my "lucky ticket" to go to India.
Don't get me wrong - it's a nice country, and the people are awesome! But sanitation is not a strong suit in the area I visited.
It didn't take me long to get a stomach infection. To be blunt... I became well aquainted with the bathroom in my hotel (and everywhere I needed to go).
RaDoTech showed the issues with my stomach immediately, which wasn't surprising - I knew I had a stomach infection.
What did surprise me is that my kidney measurements were lower than my stomach...
When I realized my kidney numbers were low, I immediately scheduled a doctor's appointment. And I was just in time!
The infection had spread to my kidneys. The doctor said it would have turned into a much bigger problem if we waited for symptoms to show.
Without RaDoTech I never would have made the extra trip to the doctor (especially with the hectic business trip schedule).
Ultimately, RaDoTech saved precious time, money, and most importantly, my health!"
- Alex K.

RaDoTech gives you the peace of mind to know when you need to visit a medical professional. It also shows you whether or not your diet, workout routine, and overall lifestyle is optimized for your unique situation.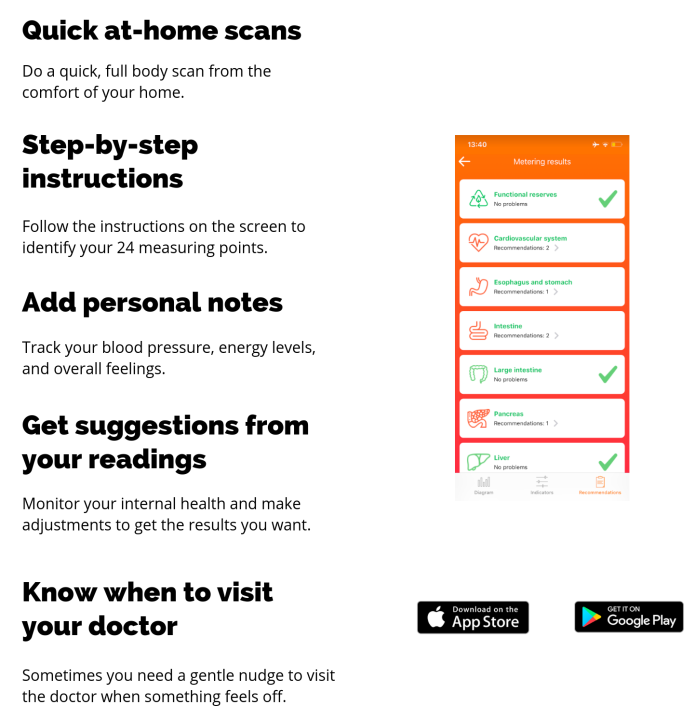 RaDoTech helps you provide more effective solutions, consultations, and training programs, so your clients achieve better results. RaDoTech provides real-time insight into clients' results, so you can monitor long term changes and offer remote monitoring and consulting.
RaDoTech opens new horizons for professionals and practitioners in a variety of fields listed below.

RaDoTech scans can be used in 2 scenarios:
1) while the client is in-office, or
2) while the client is away from the office.

Professionals can provide their clients with a portable RaDoTech unit, so the clients' health can be remotely monitored.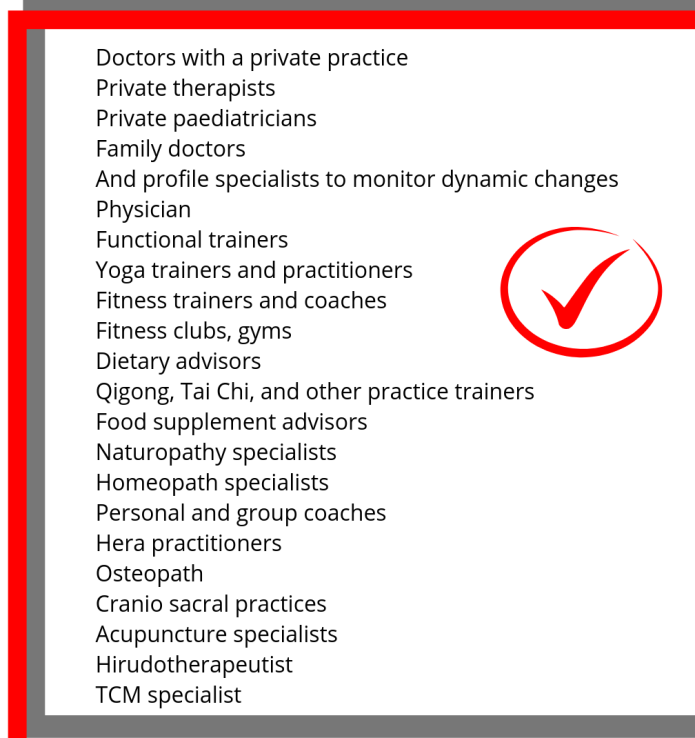 With RaDoTech you can monitor (in real time) the functional state of your clients' 12 organs / 5 systems and see the Chi metrics and professional readings of your client's body. We highly recommend using contrast tests to monitor and compare the functional health of the client in both active and calm states.

This allows you to clearly see what state is compensatory and best for each client. Additionally, situational or conditional monitoring allows you to track your client's reactions to concrete situations such as sports, activities, foods, practices, and food supplements.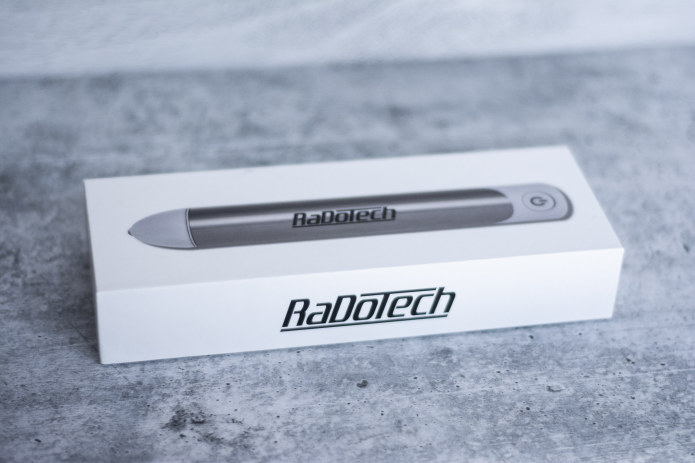 RaDoTech has a slim design that allows you to easily hold and transport it: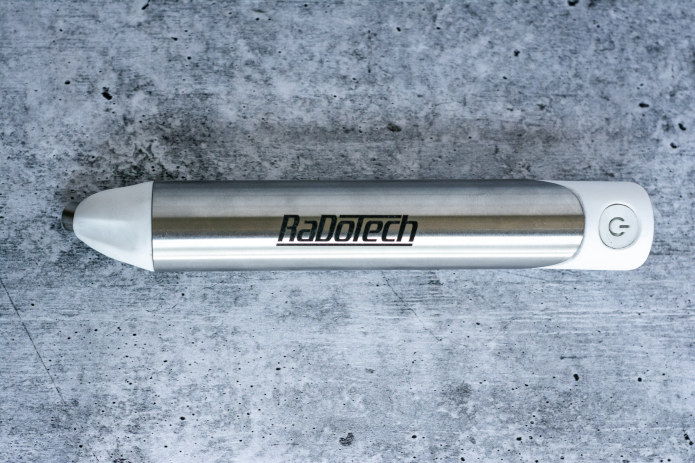 Each RaDoTech unit is built as a one-piece solid device for personal use. However, it also has an option for "assistance mode," so you can perform scans for family and friends who are unable to reach their hands and feet easily.

The active sensor at the tip and main receiving sensor are made from stainless steel and the ends of the unit are made from high-grade plastic.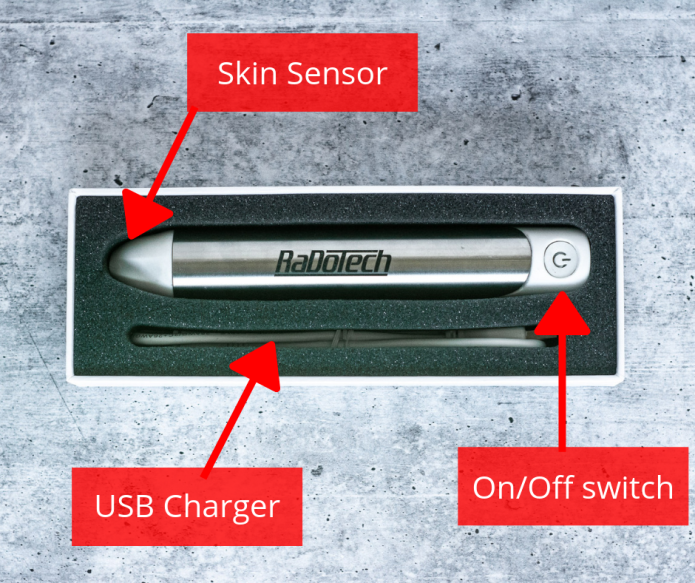 The brain of RaDoTech is based on PCB board with a Bluetooth chip and rechargeable accumulator.

Absolutely! RaDoTech uses a small (200 microamp) electrical pulse to detect body system inefficiencies. This is 1000x lower than levels that can be felt by individuals. In fact, it is so low, it has no effect on pacemakers or any other electrical implants. The electro scan is as easy and painless as touching your phone screen. So yes, this is safe for everyone in the family!