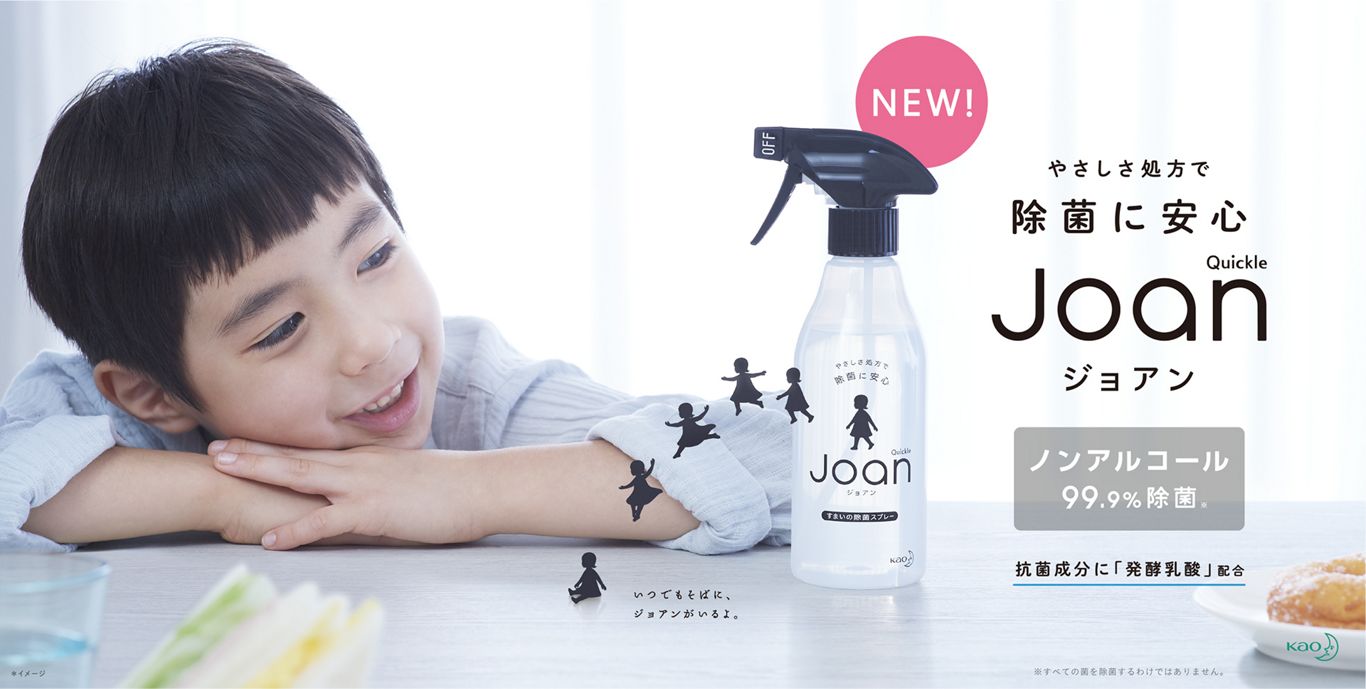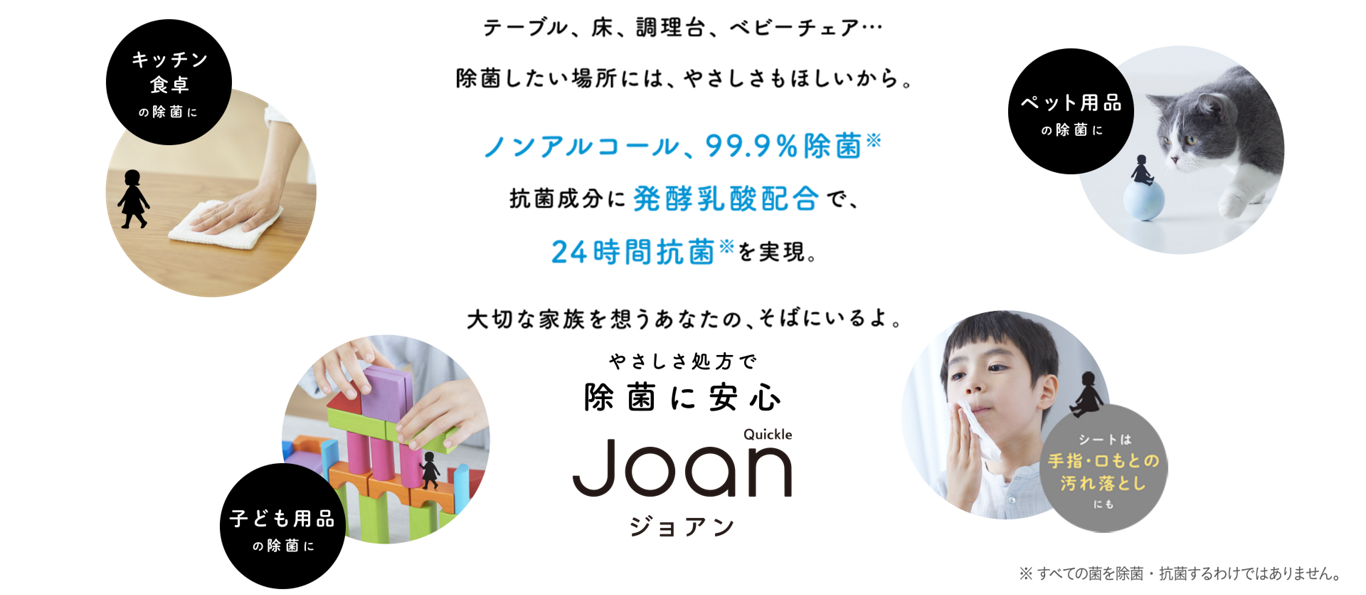 Cooking table / kitchen counter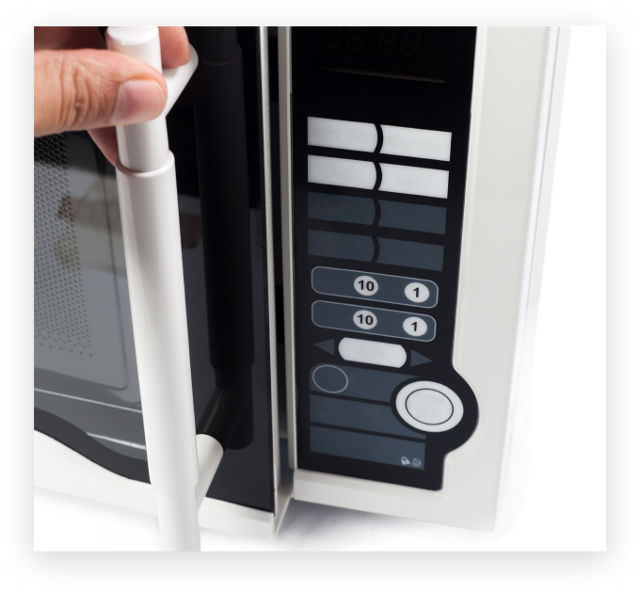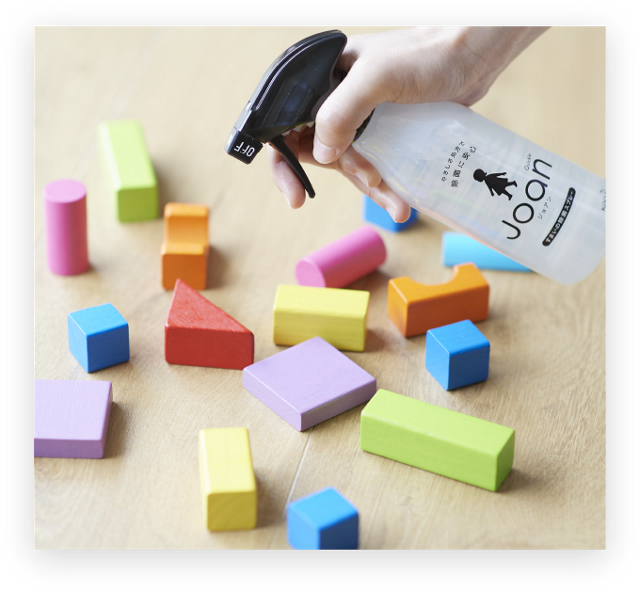 Children's goods
(Toys, baby chairs, play mats, etc.)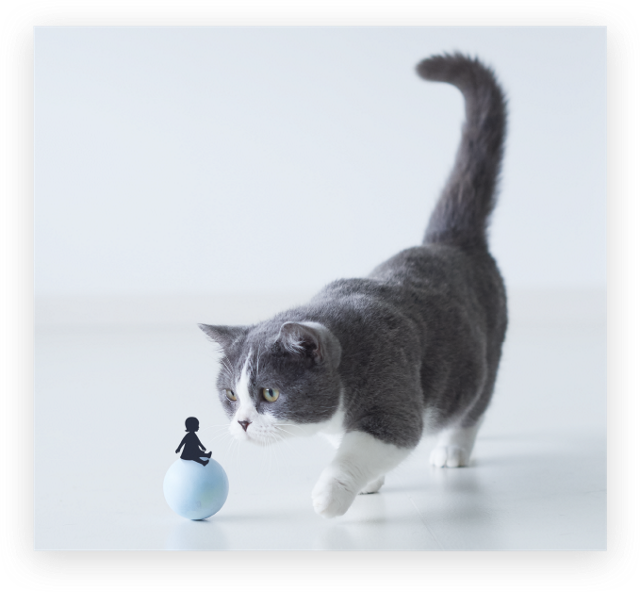 Pet Supplies
(Toys, cages, toilets, etc.)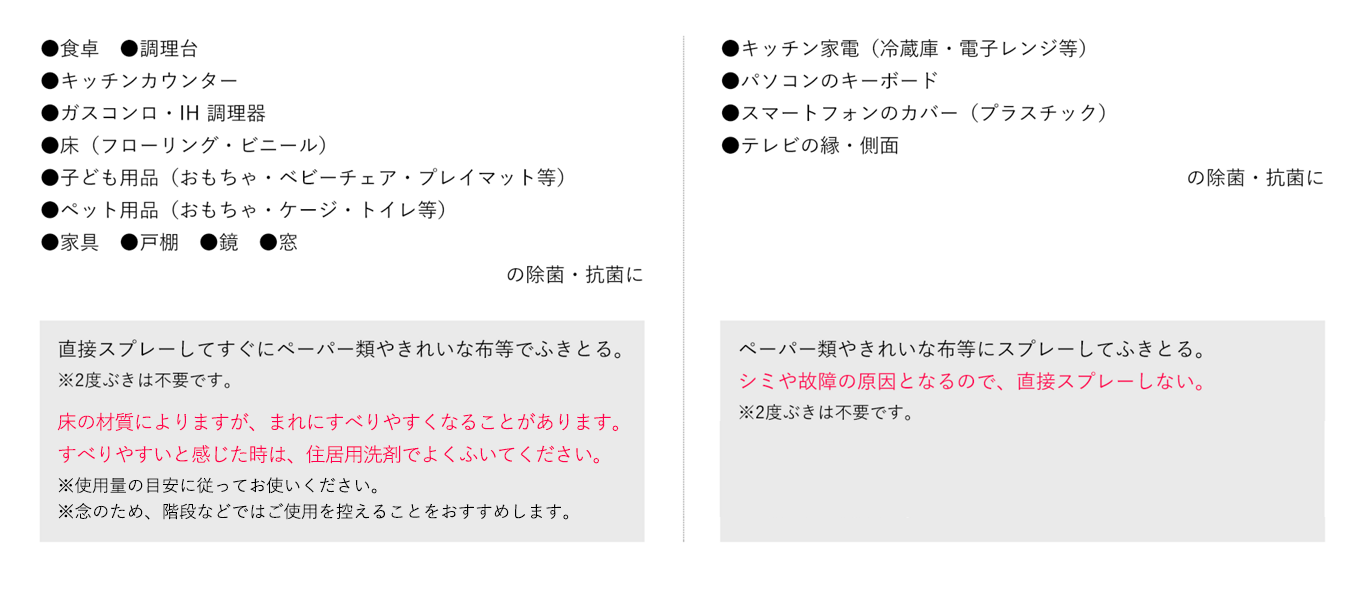 Quickle Joan disinfection sheet
2019/11/23undefined
Easy-to-use formula for easy disinfection.
Non-alcohol, 99.9% sterilization * & 24 hours antibacterial * . Contains lactic acid bacteria and fermented lactic acid.
It can be used widely for dining tables, floors, countertops, counters, kitchen appliances, children's goods, pet goods, etc. A prescription that considers the gentleness of the hands when wiping things around us. Same weak acidity as bare skin.
Unscented, easy to use for removing dirt around fingers and mouth.
* Not all bacteria are disinfected and antibacterial.

[House disinfection sheet]
70 sheets
Quickle Joan disinfection sheet lineup
Refill 70 sheets
(One company) Indication based on voluntary standards of the Japan Sanitary Material Industry Association
| | |
| --- | --- |
| Product name | Wet tissue |
| Dimensions / number | 140 mm x 160 mm, 70 sheets |
| component | Water, lactic acid, sodium benzoate, sodium hydroxide, benzalkonium chloride, DPG, simethicone |
Usage, usage, precautions, etc.
Use

For disinfection and antibacterial use ● Tabletop ● Cooking table ● Kitchen counter ● Gas stove / IH cooker ● Floor (Flooring vinyl)




● Child goods (toys, baby chairs, play mats, etc.)




● Pet supplies (toys, cages, toilets, etc.)




● Kitchen appliances (refrigerators, microwave ovens, etc.) ● PC keyboards ● Smartphone covers (plastic) ● TV rims / sides ● Furniture ● Closets ● Mirrors ● Windows

For removing dirt from fingers and mouth

Things that cannot be used

● Things that cannot be sprayed (white wood, furniture, wall materials, etc., in which water soaks)




● Things with indication that washing is not possible (stuffed toys, etc.)




● Urushi coating ● Copper and brass products ● Painted surfaces of automobiles ● LCD and plasma display screens ● Leather products

How to use

1.

Turn the bottle cap open and remove the seal.




2.

Pick up the leading edge of the sheet from the center of the roll.


3.

Pass the leading edge of the sheet through the opening from the inside of the cap.




4.

Close the cap tightly before using.

Be sure to close the lid after use.




Precautions for use

● Do not use for other purposes.




● Do not use around the eyes, mucous membranes, skin with hair immediately after hair removal, or where there is an abnormality such as a wound or eczema.




● Discontinue use if redness, itchiness, irritation, etc. appear, and consult a dermatologist.

Symptoms may worsen with continued use.




● Take care not to get this in your eyes.




● Since the sheet is insoluble in water, do not flush it into toilets.




● Do not store in places with high temperatures or in direct sunlight.




● Keep out of reach of children.




● If there is concern about discoloration, discoloration, and spots, try it in a place where it is not noticeable before using it.




● To prevent quality deterioration due to drying, close the lid properly after use.

Material of packaging container

Bottle: PP




Cap: PP




Label: PS


Film:

PE

, PP

Place of origin

Made in Japan

About publication information

* Based on the information displayed on the product.

(

Green letters

are supplementary information)


* The contents of the latest Kao products are displayed, but the latest products may be shipped before updating depending on the situation.




* Some characters in the image may be added to the text so that the information will not be insufficient even when listening to the reading software.
● Information on new and improved products is posted in principle at the beginning or mid-month of the month of release.
(Depending on the shipping status, it may be posted after shipping)
● In principle, products with limited sales periods, sales volumes, and stores / regions are not listed.
● In principle, discontinued products are marked with "discontinued products" two months before the end of sales at the store. In addition, it will be posted on this site until six months after the sale ends.
● Ingredients and usage may change due to product improvement. Before purchasing or using the product, check the information displayed on the product.
● Manufacturers' suggested retail prices are not set for products for which no price is stated. Please confirm the price at the store.
* Publication standards are subject to change.
* For inquiries about products not listed, please click here .
* Please see here for discontinued products that are frequently inquired even after the sale ends.