Your days of searching for a bottle opener are over now that it's attached right to the bottom of the drinking vessel you will use to consume it. The Pop 'n Pour is a beer mug that has a bottle opener right on the bottom of it. Simply place the beer mug over your beer bottle, crack it open, and pour it right in the mug, plus the bottle opener is magnetic so the caps will stick right to it instead of dropping on to your floor. Never again will you have to spend hours searching within each drawer in your kitchen for a bottle opener driving you into full on insanity rage before you end up smashing the bottle neck over the counter and consume your beer with shattered glass bits inside of it.
The Pop 'n Pour beer mug is made from glass with a stainless steel bottle opener that's flush with the bottom of the glass, is hand wash only, and will hold up to 24 ounces of liquid (2 beers). Check out the Pop 'n Pour beer mug in action via the video below.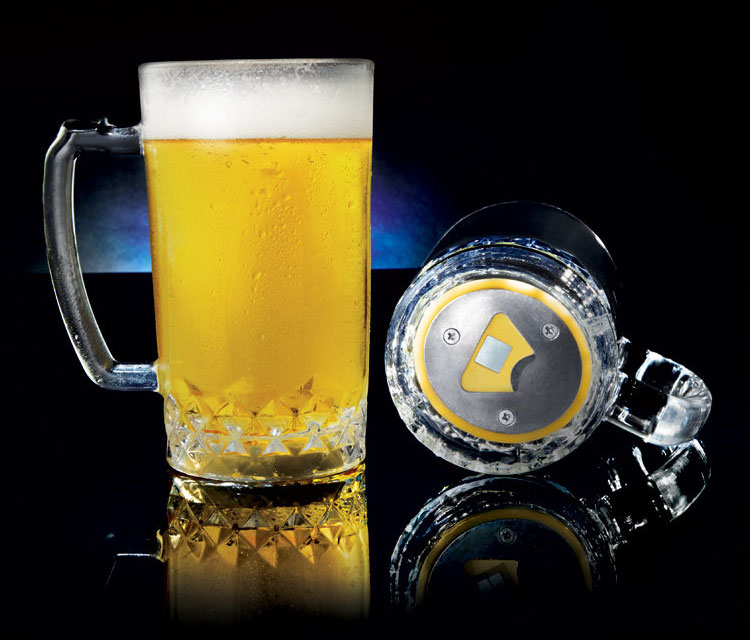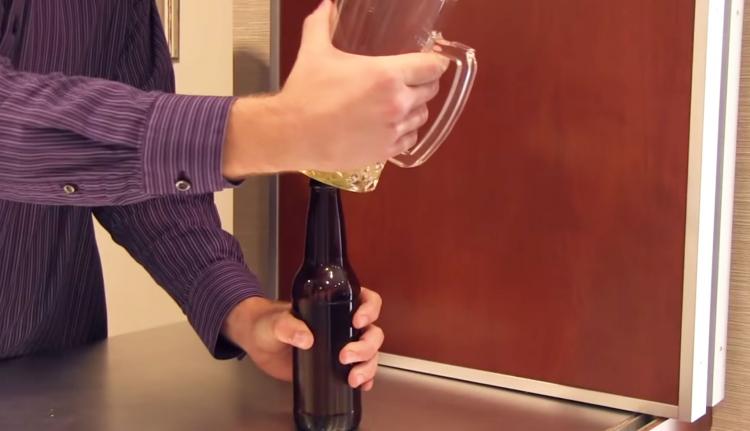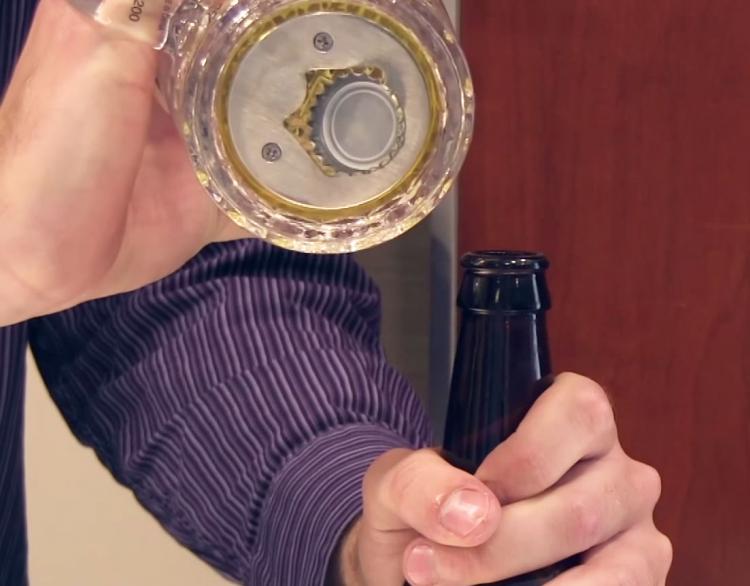 Never search for a bottle opener again!
Easy, fun and convenient—your bottle opener is always at hand
Stainless-steel bottle opener is flush mounted to the bottom of the mug
Opener is also magnetic, so caps won't fall off after opening
Real glass mug holds 24 ounces—that's two beers
The handy way to open and enjoy your beer.
Easy-to-use, fun and convenient, Pop 'n Pour is an ingenious mug/opener combo that's always at hand when you and your friends are ready for an ice-cold beer. The stainless-steel opener is flush mounted to the bottom of a real 24-ounce glass mug just waiting for you to pop open and enjoy your beer.

How to Pop 'n Pour:
Grab your favorite cold brew
Pop with your mug, keeping bottle upright
Pour up to 24 ounces—that's two beers
Toss your cap from the bottom of the mug
Repeat as needed for you and your friends

CAUTION: Always open by moving the bottle, not the mug, to avoid unintended beer spillage.


Features & specs
Capacity: 24 oz
Material: glass
Stainless steel opener
Integrated magnet "grabs" bottle caps
Diamond cut pattern
Hand wash only
What's this "Sneak Peek" all about?
A typical Vat19 product page contains far more information (photos, text, and possibly a video or two) than what is currently available for this product.
But don't worry, this page will get the full Vat19 treatment in short order!
Until then, however, we felt compelled to make this curiously awesome product available to you intrepid shoppers who can't wait to get your hands on our latest and greatest finds!
Yes, you can buy this product!
This product is available for purchase with absolutely zero restrictions. Our standard return policy will apply to your purchase.
The only thing "different" about this product is that the product page doesn't feature our standard in-depth treatment which encompasses additional (and awesome!) photos, description, and more often than not, a fantastic video.
We're bursting with awesome stuff!
Our hard-working buyers find cool stuff all the time, and we simply want to share it with you as soon as we can.
By creating this "Sneak Peek" page, we can give you a taste of what's awesome almost as quickly as we find it.
Frequently Asked Questions
Question: So... how do I find out when it's actually available for purchase?
Answer: If it's in stock (this will be noted at the top of the page), you can buy it! You don't have to wait until we add more pictures, text, and video.
Question: Why would I buy this now?
Answer: Sometimes you just can't wait to get your hands on something this curiously awesome!
Question: Why can't you just work harder and faster and do the "Vat19 Treatment" right away?
Answer: Simply put, we're a small company and we tend to find curiously awesome products a bit faster than we can take the photos, edit the photos, and write a thorough description.