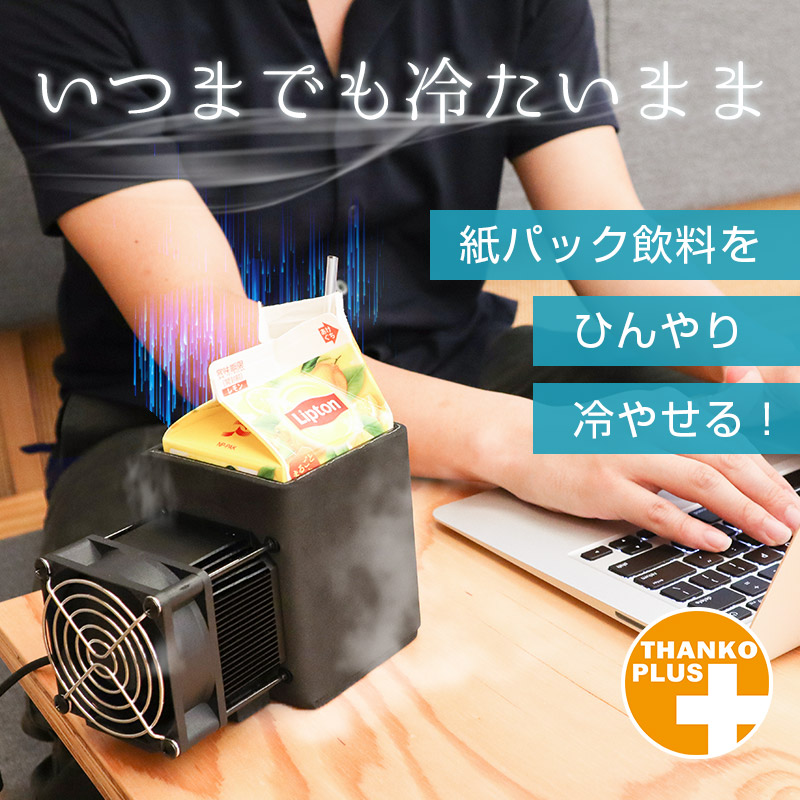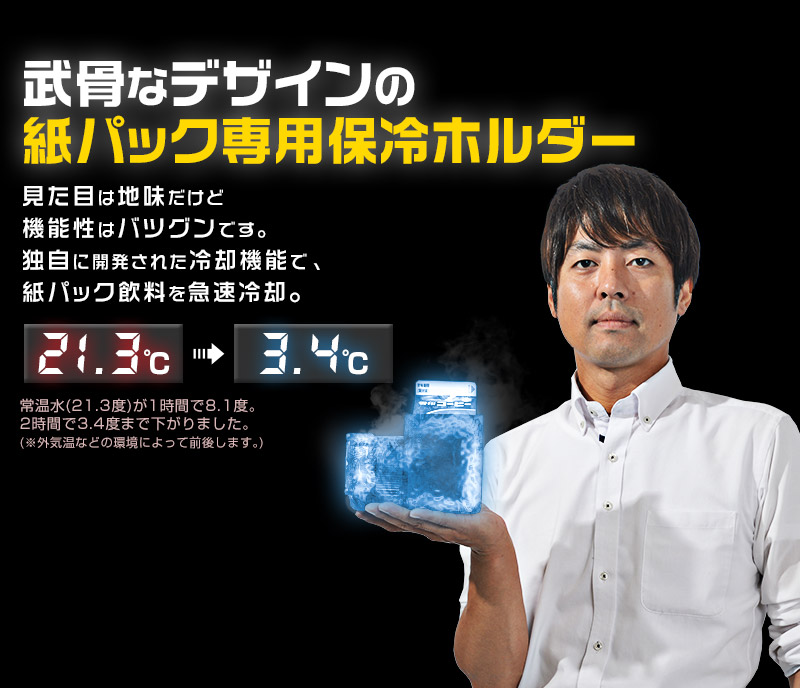 Paper-packed drinks are convenient, aren't they?

As well as tea and coffee, a lineup rich in milk and juice.
And cheap and delicious than anything!

Such a paper pack beverage is chilled to make it a product that will last for a long time.


Although it looks like a martial arts, it can not be said that it is fashionable or flattering,

The minute functionality is outstanding!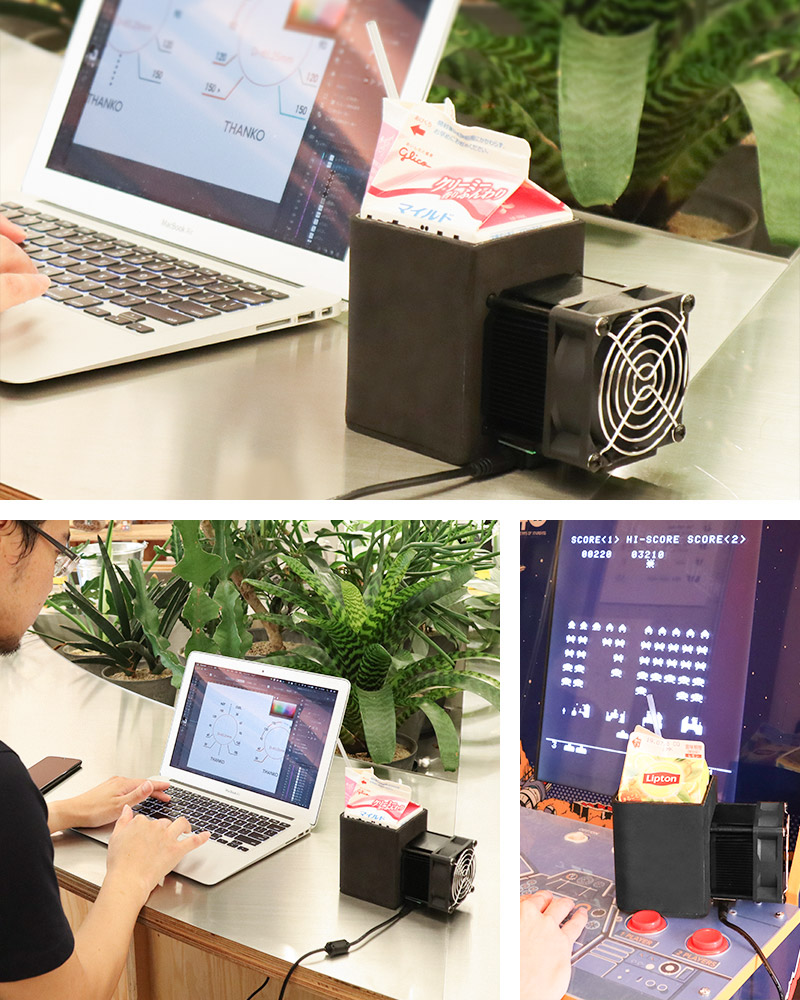 Paper-packed beverages are getting warm immediately and taste and freshness are halved.
.
.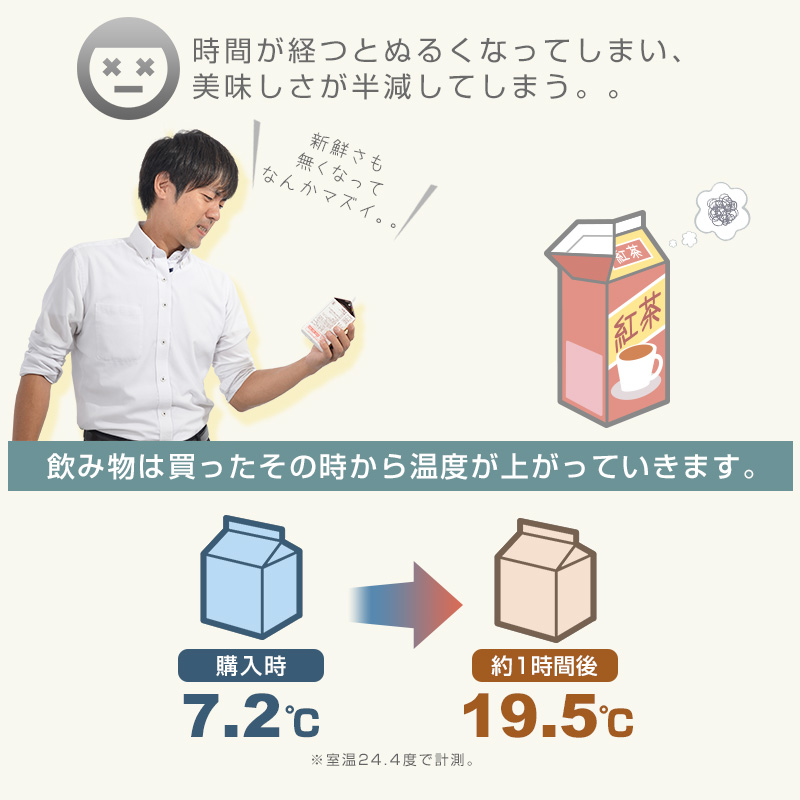 A delicious, packable paper pack beverage.

Such people's allies, paper-packed drinks, too long after buying it will become so slim that it will not taste good.
The bitterness gets stronger or sweeter. . .

However, it is not easy to put it in the refrigerator or put ice in it.
It is delicious all day long!
Fresh and durable!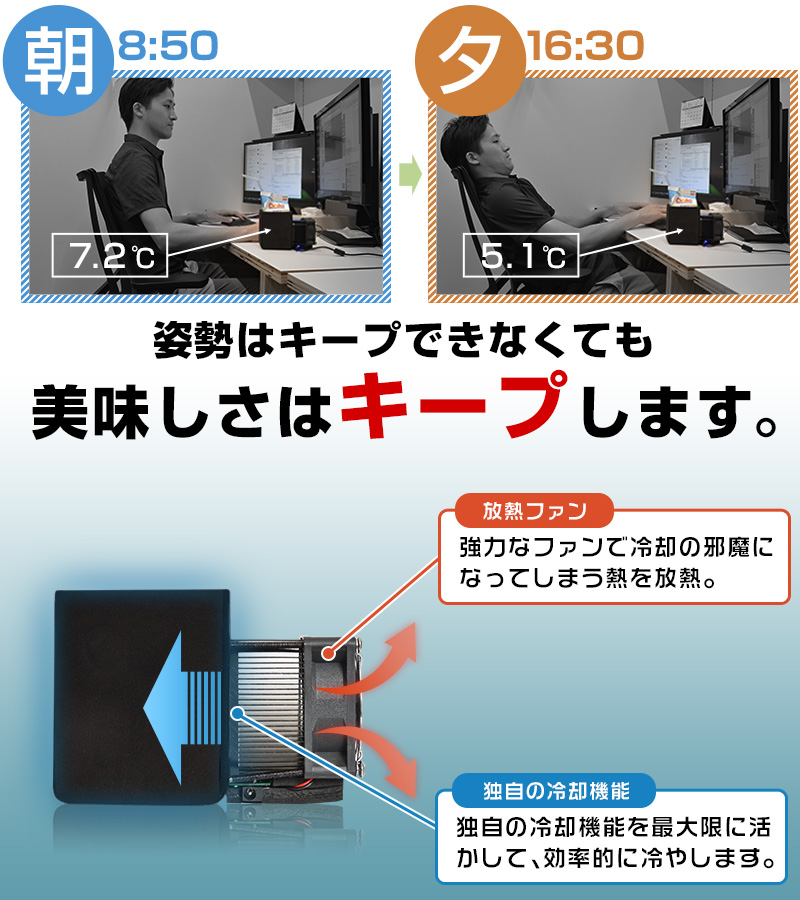 [Super cooled paper pack beverage in Kinkin "paper pack SUPER COLD BOX"] If you use paper pack beverage you can keep it delicious!

I am very happy that this tea and coffee I bought in the morning remain delicious and fresh even in the evening.

The secret of the delicious keep is a powerful cooling function and heat radiation fan!
Heat is dissipated with a powerful heat dissipating fan, and it cools efficiently by making full use of its own cooling function.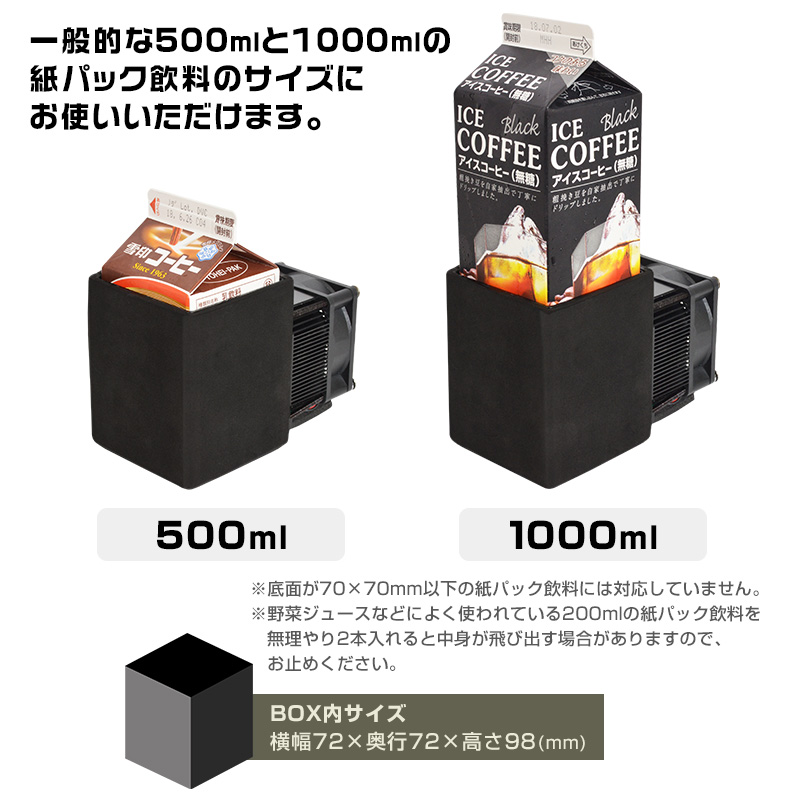 The compatible size can be used for general 500ml and 1000ml paper packed beverages.
※ We do not cope with paper pack drink that the bottom is less than 70 * 70mm.
※ The contents may jump out if you force two 200ml paper pack beverages, which are often used for vegetable juices etc., so please stop.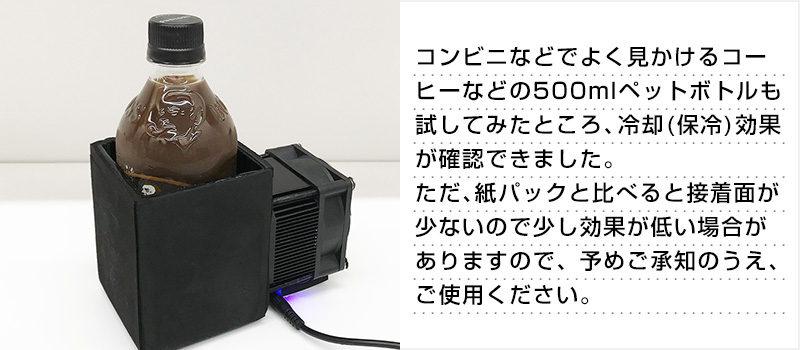 You can also use it for chocolate that is nice to put it on the switch and cool it down.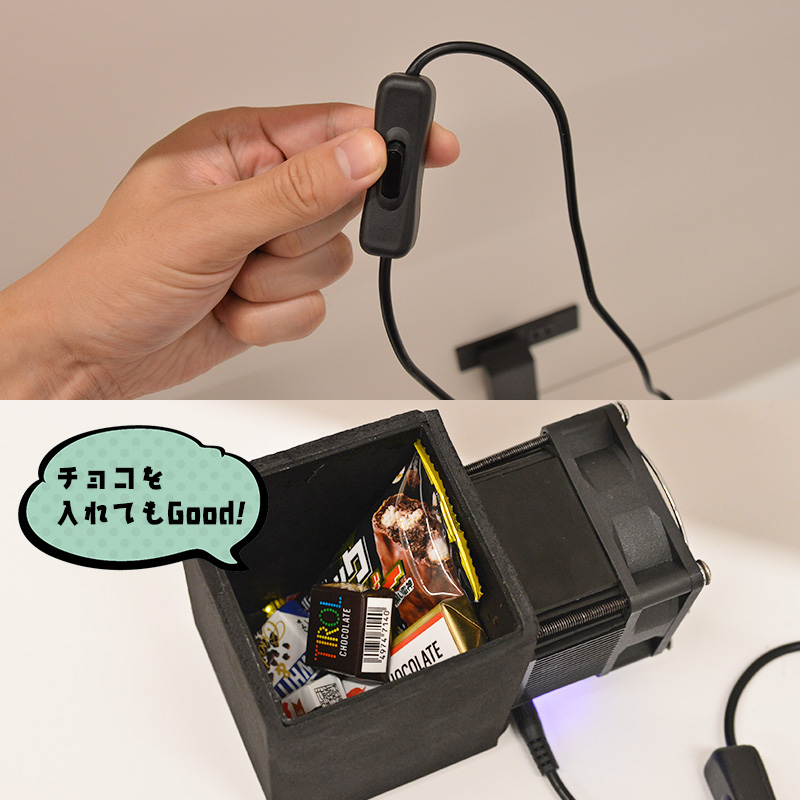 Operation is super easy just by switching on.

Moreover, as soon as the switch is turned on, the cooling part quickly cools, and the cooling effect can be felt in a short time.

Not only how to use the paper pack, it will spread depending on the idea ♪
If you like chocolate, you may try putting chocolate.
It becomes hard to melt even on a hot summer day, and you can taste cold chocolate.
▼ Please see how the internal temperature is rapidly cooled immediately after turning on the switc
Active in the office or at home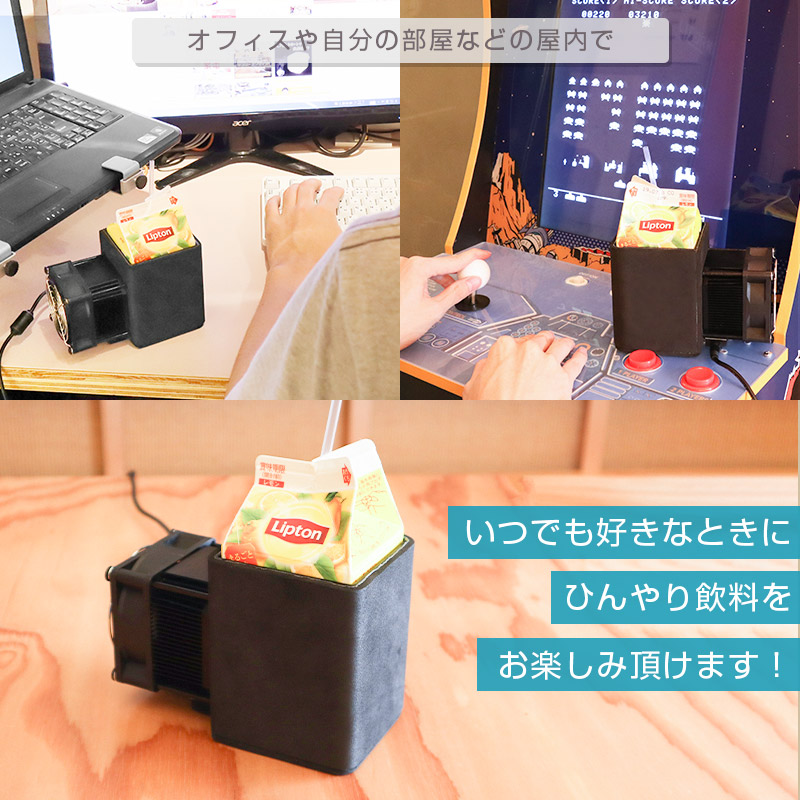 Recommended by all means for you who can not forgave paper packed beverages.
Of course the office is also very active in use at home!
Refresh yourself with a cold drink after concentration at work or game!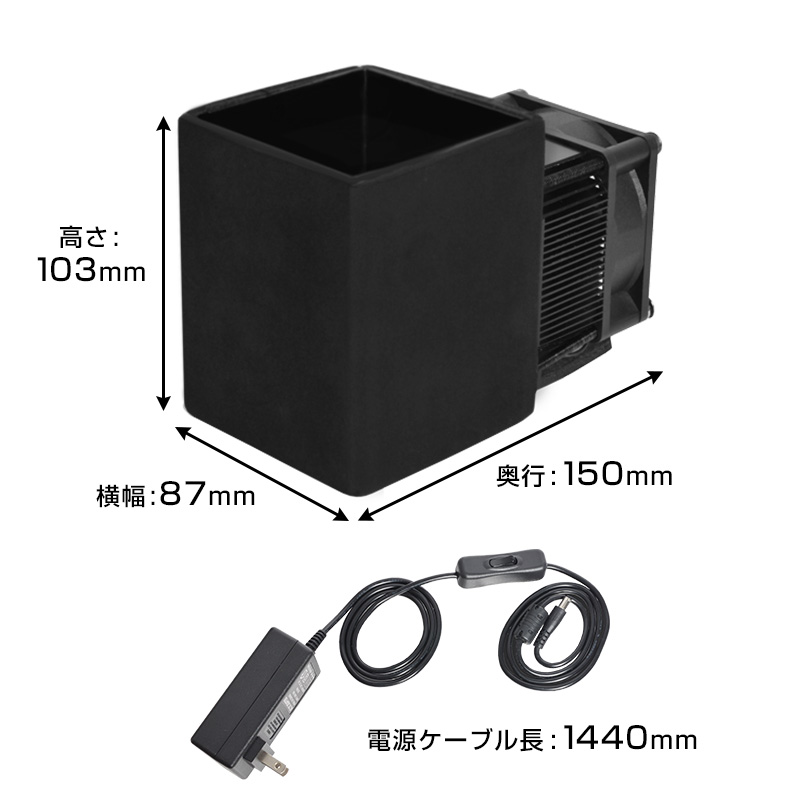 size

Body: Width 87 × depth 150 × height 103 (mm)




Inside box size: Width 72 × depth 72 × height 98 (mm)

weight

Body: about 466 g




Power cable: about 198 g

Contents

Main unit, AC power cable with switch (144 cm), Japanese instruction manual

Power supply

100-240V

Input voltage

12V / 4A

Rated power consumption

48W

temperature

About 0.1-18.0 degrees ※ We will fluctuate depending on the environment such as room temperature.

Fan volume

Approximately 48 db (measured from about 10 cm away)




※ It varies according to use environment.

Supported paper pack size

General 500ml / 1000ml paper pack beverage ※ It does not support the paper pack beverage of the bottom size 70 × 70mm or less.

Notes

※ Please do not use continuously for more than 8 hours.

Also, turn off the power and unplug the power cable except when using.




※ Please do not put water on the body or put water on it.




※ Because the heat-resistant fan may get hot, please be careful not to touch it with your hand or place something flammable.




※ Please be careful on the side of small children.




※ The damage / fault of the article which occurs when using this product is not covered by the compensation.




※ Please do not disassemble.




※ Please do not drop or give a strong impact.

Package size

Width 90 × depth 155 × height 108 (mm)

Weight (including package)

Approximately 720 g

Warranty period

6 months

Release date

2018/7/12
※ Specifications are subject to change without notice.