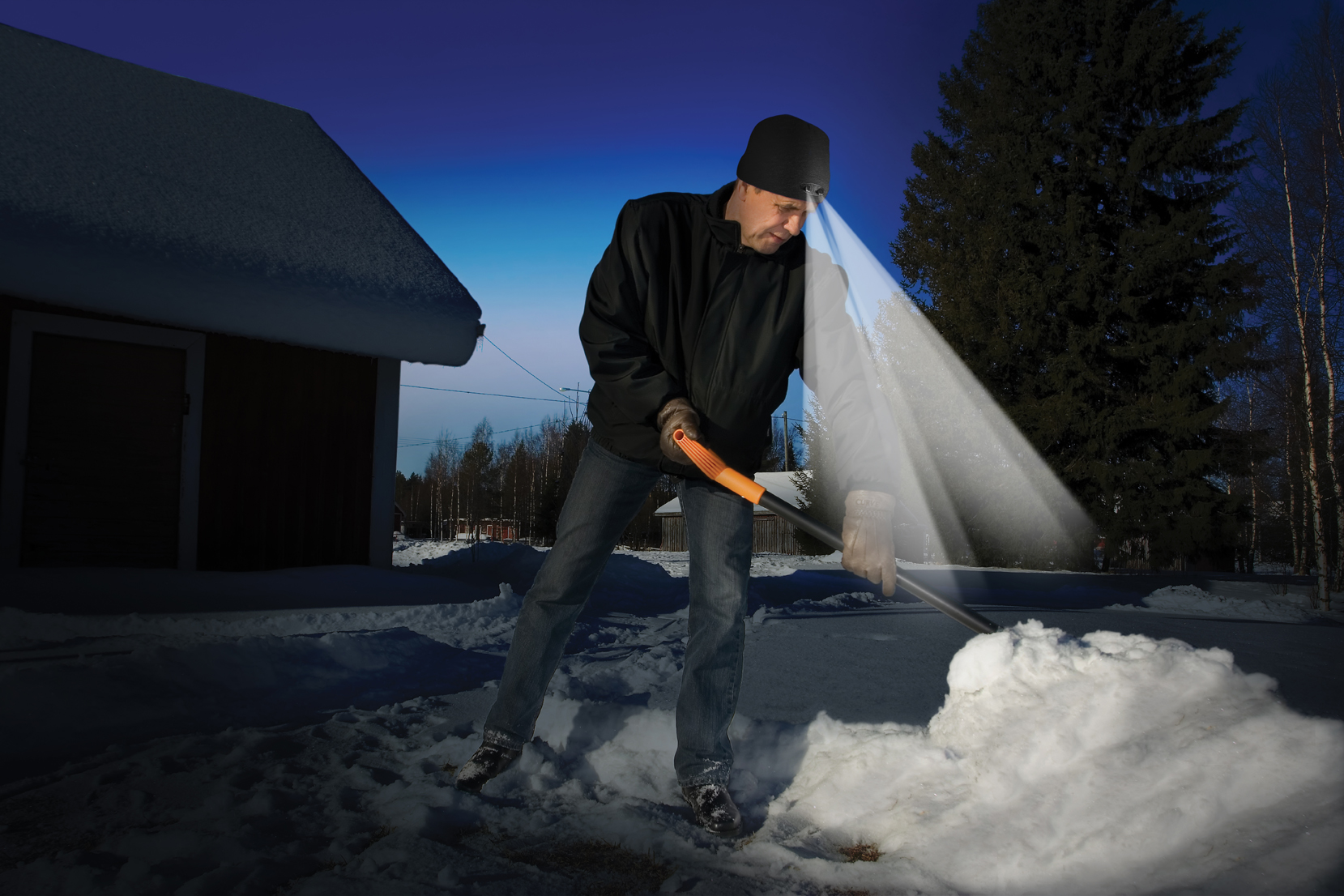 The Lighted Hat for Cold Winter Nights
---
Remember to choose a color from the list above. We regret that black, navy, and safety orange beanies are all sold out until late January.

Powercap LED lighted winter beanies combine the great Panther Vision electronics that you've come to depend upon with a premium compression fleece beanie-style hat (or what some might call a stocking cap) to light your way on cold nights. The soft, moisture-wicking lining pulls moisture away from your head to keep you warm and dry. The 4-LEDs provide more than 48 lumens of light. All of the beanies have a simple 2-position on/off switch hidden in the band, just above your left ear. Click it once to turn on all four lights -- two angled down at 55 degrees to shine where your hands are and two aimed forward to light the distance up to 42 feet away. Click it again to turn them off. The four CR2032 coin cell batteries (included) last up to 43 hours of continuous use (or 68 hours of realistic intermittent use) and are easily replaceable.
One size fits most heads. Panther's hats are not designed for small children. These hats can be embroidered or decorated with a heat-press transfer (we don't do that here, but you can find the service in your locality).
The "radiant orchid" (purple) beanie has a ponytail slot in the back.


About Volume Pricing
The discounts shown above apply to orders of identical lighted caps shipped to a single address. You may not mix and match colors or combine separate orders to attain these discounts. We often don't stock enough caps in every color to fill large orders. If you need more than we have, please use our Contact form to ask. We'll be happy to get as many as you need within a week or so. In fact, if you order in even dozens we can have your caps sent directly from the manufacturer to you. Volume price discounts may be changed or discontinued at any time without notice.

International Shipping Restrictions
In November 2012, the USPS relaxed its restrictions on shipping lithium "coin cell" batteries internationally to allow a limited number of batteries that are installed in products. We can't ship replacement batteries internationally, including to US military addresses (APO, FPO, DPO), because they are not installed in products. Some individual countries will not accept any packages containing batteries; we currently cannot ship any products containing batteries to Germany or Italy. Customers in those countries may still order our products, but we have to remove the batteries before shipping to you. Please consult this page to see your country's restrictions.


Need Extra Batteries?

Every Panther Vision beanie comes with batteries installed, and they'll last up to 43 hours of continuous operation. Tick the box above to add one 4-pack of Panther Power CR2032 coin cell replacement batteries each time you add a cap to your shopping cart. (If you are ordering multiple colors and want batteries for all of your caps, check the box each time you add more caps to your cart). You can find CR2032s at any store that sells batteries, but our Panther Power packages are priced very competitively, and adding batteries to your order will not increase your shipping charge.
If you'd rather be done with batteries altogether, check out our solar-powered Powercaps below.
We are not allowed to ship replacement batteries outside of the US, including US military addresses (APO, FPO, DPO).

Cleaning Your Beanie
Panther says that their beanies are machine washable. Take the batteries out first!
COLOR