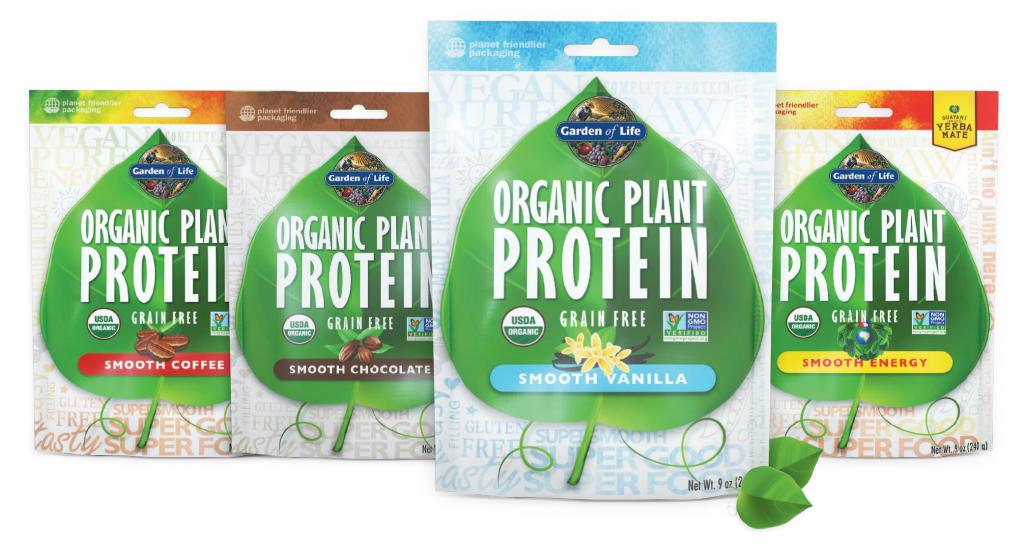 Organic Plant Protein
9 oz (240 g) of Protein
What is Organic Plant Protein?
Organic Plant Protein is a Certified USDA Organic and Non-GMO Project Verified plant protein supplement that is different to any other protein in the Garden of Life line. Organic Plant Protein is uniquely formulated to have superior taste and texture, ideal for anyone looking for a clean protein supplement that is free of common allergens such as gluten, grains, dairy and soy.
Key Benefits:
Unique Protein Blend - Organic Plant Protein is made with a new different innovative blend of certified organic proteins which gives it an exceptional smooth and creamy texture... with no gritty texture
Tastes Delicious – Designed for superior taste and texture when mixed just with water. Available in 4 mouth-watering flavors…Smooth Chocolate, Smooth Vanilla, Smooth Coffee (with Marley Coffee) and Smooth Energy (with Guayaki® Yerba Mate and added vitamin B12). All flavors are natural and organic, no artificial ingredients are used. Also tastes incredible with 8oz unsweetened almond milk.
Grain Free and Gluten Free - all Garden of Life proteins are labelled gluten free, however Organic Plant Protein is unique in that it does not contain any grains or brown rice, and is therefore the only GOL protein that is considered both grain free and gluten free.
Highly Digestible – Organic Plant Protein delivers highly digestible grain free plant protein with 13 enzymes and 1 billion CFU of probiotics. This is important for those people who have difficulty digesting grains.
USDA Organic Farms - Garden of Life is working closely with and supporting several family farms in North America and Canada to produce high quality clean proteins. Organic Plant Protein is made with a unique blend of seven nutritious plant proteins, five organic American seed proteins — organic pea seed, organic flax seed, organic cranberry seed, organic chia seed and organic pumpkin seed. We work with our farmers to ensure that these ingredients are top quality and the cleanest available.
2 African Super Foods - Moringa and Baobab are rich in protein, minerals and antioxidants. We purchase them through the African Hub to guarantee Fair Trade.
Excellent Source Protein – 15 grams of quality plant protein per serving with Complete Amino Acid Profile – ideal for growth, building muscles and repairing tissues.†
Over 3g Branched Chain Amino Acids (BCAAs). Great for athletes, pre- or post-exercise, and anyone who wants to boost protein intake.
Less than 1g Sugar*, 2g to 4g of Fiber and Only 100 Calories per Serving - ideal macronutrient profile for the health conscious and for weight management.†
Cleanest protein on the shelf with DUAL Certification - All Garden of Life proteins including Organic Plant Protein are dual certified, Certified USDA Organic, and Non-GMO Project Verified (Independent, third-party verification). This is a gold standard for Garden of Life, yet it is surprisingly rare in our industry at present.
Vegan Certified, Kosher - No Dairy, No Soy. No Artificial or Chemical Ingredients.
Your whole family will benefit from the uniquely blended macronutrient profile of Organic Plant Protein. OPP is both Certified USDA Organic and Non-GMO Project Verified to ensure you're getting the cleanest nutrition possible. With 15g per serving of complete protein and wholesome fiber, OPP has an incredibly smooth texture and delicious taste in a Paleo diet friendly formula.
4 Smooth Delicious Creamy Flavors.
USDA Certified Organic and Non GMO Verified.
High Quality Gluten and Grain free formula is easily digestible and delivers a complete amino acid profile.
Receive a free Blender Bottle Shaker Cup filled with packets of all 4 new flavors with any purchase.
A $28.00 value!

• Unique combination of 7 healthy organic plant proteins
• Complete essential amino acid profile, with 3 grams BCAA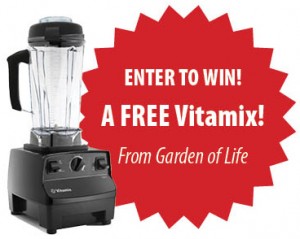 • High quality & highly digestible, well utilized in the body
• Delicious Flavor
• Incredible Mouth Feel
• Plant Based
• Gluten & Grain Free
• Truly CLEAN
Enter to win a FREE Vitamix with any Garden of Life purchase!