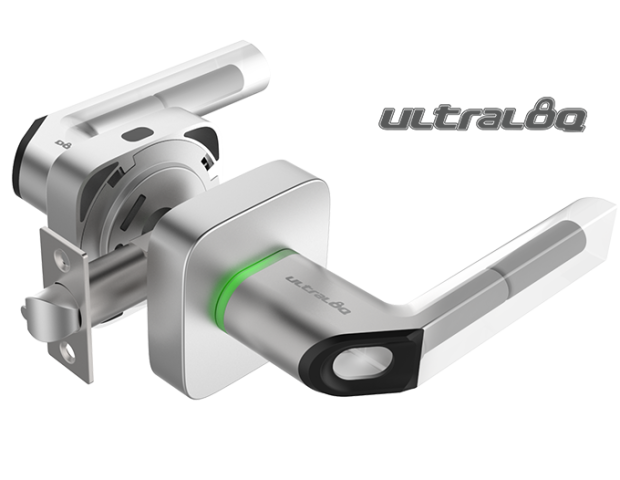 Versatile, affordable & user-friendly smart home security allows multiple ways to access and the flexibility to grant access remotely to completely control who comes and goes in your home.
With the Ultraloq UL1 Smart Home Lock, we've used our experience from our previous generations of key-less entry systems and kept everything from installation to daily use simple, convenient and user friendly.
---
Ultraloq Features at a Glance
UL1 is sleeker and smarter than our previous keyless entry system and packed with more technology.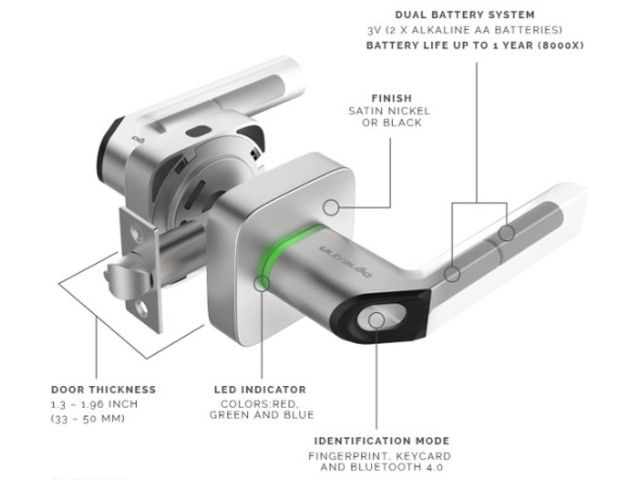 Ultraloq UL1 is engineered with the patent pending technology for the newest and highest grade security:
---
An Upgrade To Our First Generation
We've taken our first generation UL3 BT smart lock (pictured below) and packed more technology into a smaller design.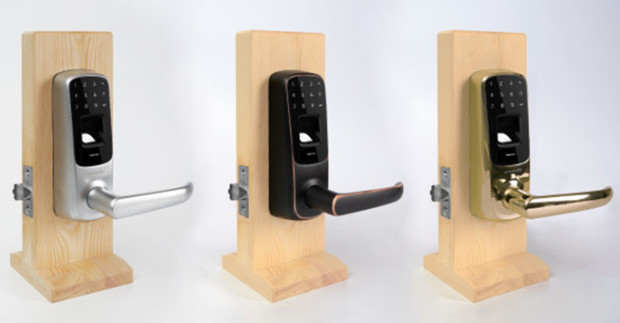 We've used our experience from retailing the UL3 model in Walmart and Home Depot to design our second generation key-less smart lock entry system with a few notable upgrades:
​

SIZE

- Smaller, more compact and discretely disguised as a traditional lock.

PRICE

- Cost half the UL3 and packs much more tech into a smaller body.

SETUP

- Install with 5 screws on nearly any door in your home or apartment.
---
Use Your Unique Fingerprint
Your fingerprint is completely unique to you. It cannot be stolen, forgotten, or impersonated, making for the utmost security. Ultraloq uses the most sophisticated biometric fingerprint technology available today for identification in half a second!
The fingerprint sensor will wake automatically once you place your finger on it and is conveniently positioned to accompany your natural hand position. One seamless action allows you to wake the sensor, read your fingerprint, and unlock your door.
Bluetooth Proximity Detection
The Bluetooth compatibility allows you to ditch your keys for your smartphone! Simply shake your phone while in connected range of 5m (16ft), and your door will unlock. Because you already carry your phone with you everywhere, we've made it even more useful. You'll never have to worry about losing your keys, forgetting combinations or unauthorized duplicating of your key.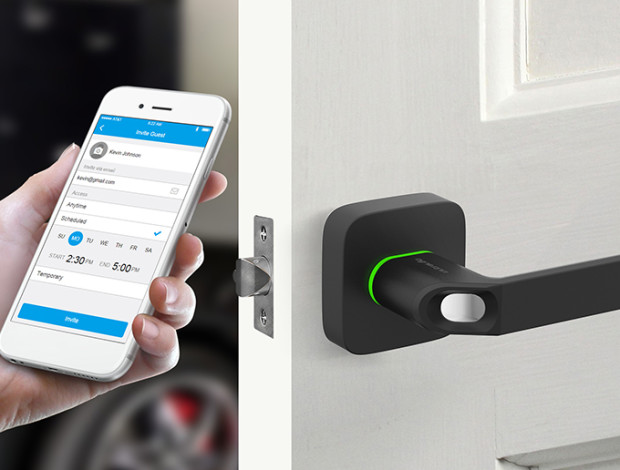 Quick Tap Entry
For those who don't use a smartphone, UL1 can be unlocked with a contactless key fob. Once you present the key fob in the vicinity of handle, the door will instantly unlock. This key fob utilizes 13.56MHz frequency smart technology for fast and accurate identification. If you ever lose your key fob, you can easily delete in the app so it will no longer have access.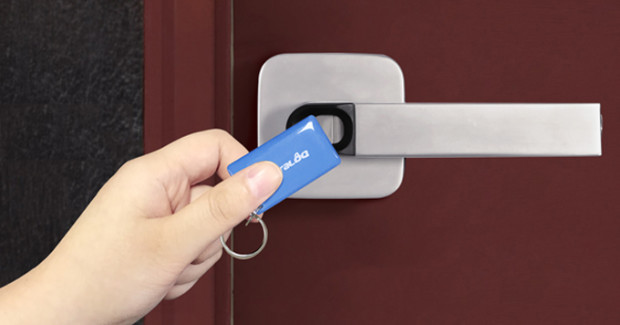 Monitor Access Remotely
The Ultraloq app is designed for iOS and Android devices and gives you easy door access and tracking abilities. Along with the Bluetooth shake to open function, you can view the access logs in the app for detailed information about who has opened your door, at what times, and how they gained access.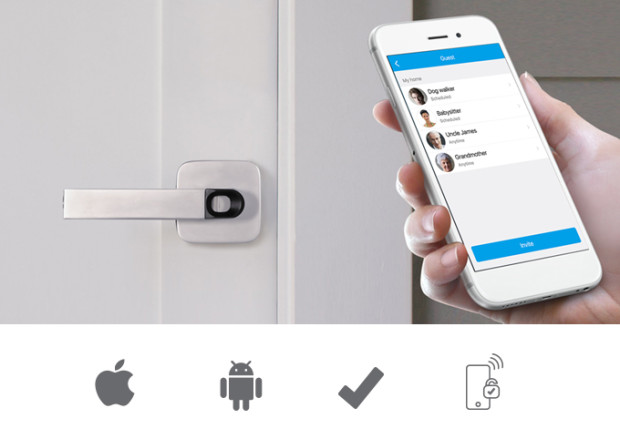 Add or delete users any time with the ability of adding up to ​100 users. If you install a second Ultraloq on another door in your house, use the Clone function in the app to easily duplicate the setting and users.
5 Screws & Done!
Ultraloq UL1 is a painless installation process with no wiring and no drilling. The simple installation takes minutes and only five screws. The handle is reversible for compatibility with both left handed and right handed doors.
UL1 fits any standard American door of regular thickness, regardless of material.
When Safety is Paramount
We don't take security lightly, on our homes or in our data storage. That's why Ultraloq uses a dual encryption process. The Ultraloq uses Bluetooth 4.0 to communicate between your smartphone and the UL1 lock. These communications are encrypted using bank level 128-bit AES via an embedded hardware coprocessor.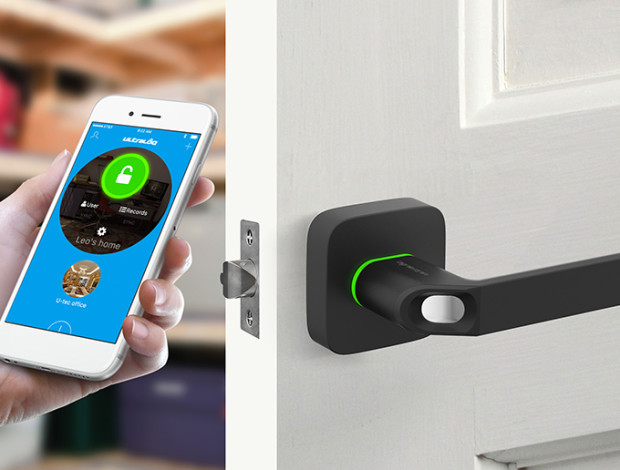 The second layer of protection is the Dynamic Key. This key code is randomized for every single data transfer. Even if somebody were able to capture the AES encrypted data, the Dynamic Key protection would make it impossible to for them to unlock your door.
Bridge Your Home to Your Life
With the optional Ultraloq Bridge upgrade, you can control entry to your UL1 or previous generation, UL3. Simply plug the Bridge into an outlet in your home, and you can grant access to guests and visitors via an eKey for specific dates or periods of time. There is no limit on the number of users you can grant eKey access and no monthly fees!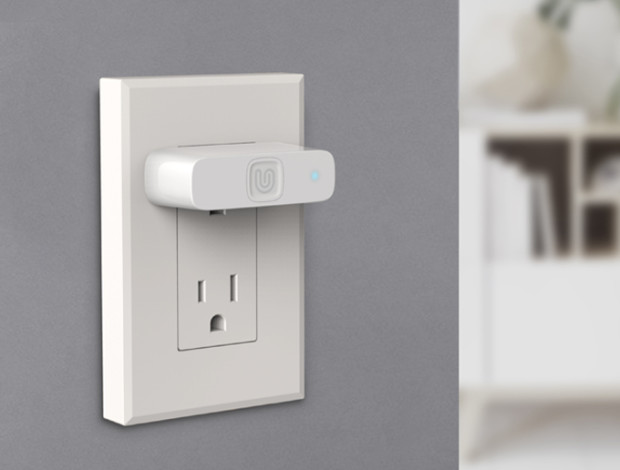 Bridge is ideal for granting temporary access in any situation. You never have to leave work to rush home again. With the Bridge accessory, you can even receive smartphone notifications when someone opens your door for ultimate safety and peace of mind.
Specify Your Level of Security
UL1 features three different locking statuses for your convenience. You can set your lock to one of the following settings:
Auto Relock: UL1 will automatically relock after every time the door is used. Approved guests can unlock using fingerprint ID, key fob, or smartphone. You'll never have to wonder if you forgot to lock the door again.
Privacy Lockout: In this setting, UL1 can only be unlocked by an administrator. This setting is ideal for when you leave on vacation or business trip.
Free Passage: When you're entertaining or know that there will be people in and out of the house frequently, you can set your UL1 to this setting for free passage.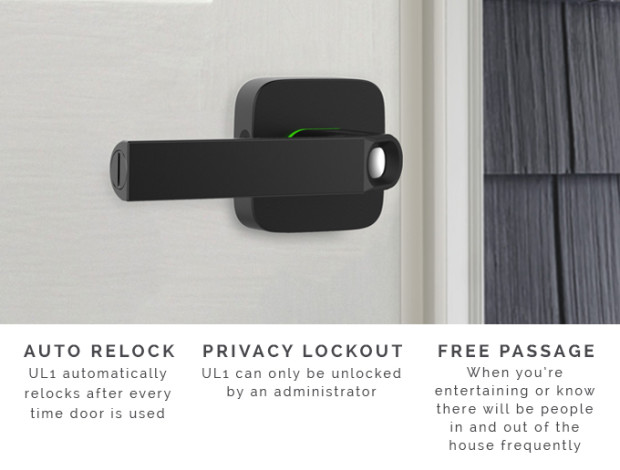 Resilient Enough for Outside Doors
The UL1 is designed to be weather resistant so that you can use it on in and outside facing doors. The fingerprint sensor is completely waterproof, scratch proof, and dust-proof, protected by a layer of quartz with high hardness. The solid zinc alloy lock body can endure harsh winters and rainy monsoons. The fingerprint sensor and the outside lock body is completely sealed to keep water and dust from penetrating any electronics.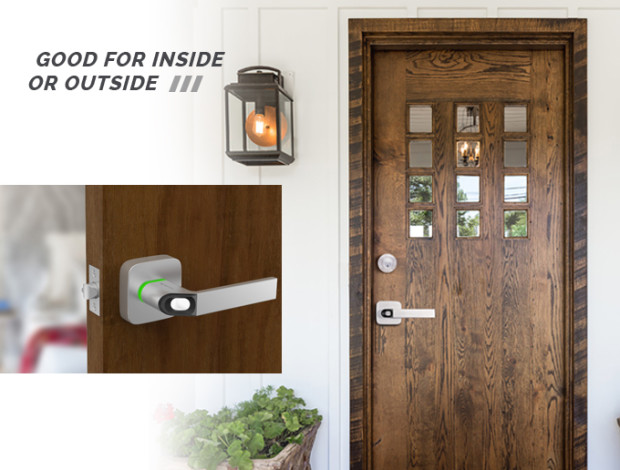 Match Your Home Aesthetic
Ultraloq UL1 is thoughtfully crafted with style and functionality in mind. This handle looks clean and compact on any door with smooth surfaces, curved edges, and narrow size. While the main function of UL1 is safety, we wanted to create a lock that brings usability, simplicity and elegance together.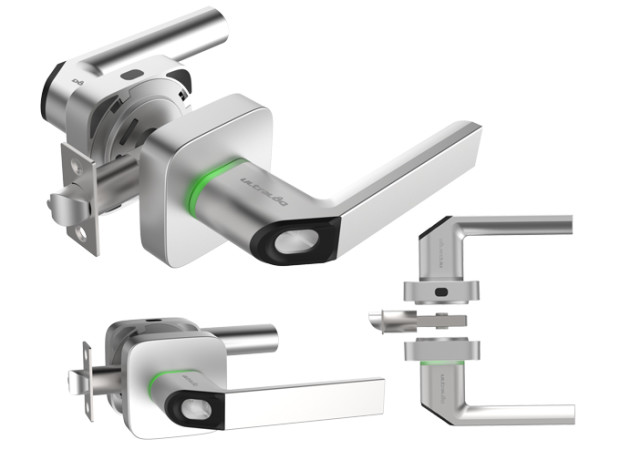 UL1 Fits Any Door, in Size & Style!
One Year Battery Life
To ensure that you're never locked out because of a dead battery, UL1 operates on a dual battery system as well as sends your phone warnings if the battery is low. Thank to Bluetooth 4.0's ultra low power consumption technology, Ultraloq can be powered by four AA batteries with more than one year of battery life through regular use.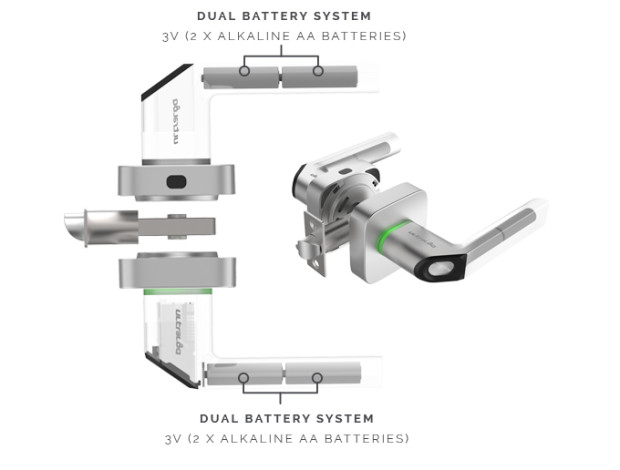 Two AA batteries are in the indoor door handle & two AA batteries are in the outdoor handle.
Real Time Light Response
The tricolor LED indicator shows authorized or denied access, Bluetooth connectivity, and locking status.
Use Cases
Hands Full: Never worry about fumbling around for your keys again. Ultraloq is completely keyless, so you don't have to worry about carrying anything with you.
Forgot to Lock Your Door: No worries! Ultraloq UL1 can auto lock your door for you so your home is always safe.
Any Room: Ultraloq UL1 is ready for indoor or outdoor use but also can be used on any room inside your house that you want to keep private, like offices, wine cellar, or storage room.
Guests: With UL1 and Bridge, you never have to leave work to let in the maintenance worker or your dog walker. Bridge lets you grant access to to guests, the babysitter, or a service provider from anywhere for any amount of time.
Airbnb Home Owners: UL1 and Ultraloq Bridge are the perfect accessories for Airbnb hosts, giving you the ability to grant access to your guests for the period of their stay without physically being there. You can save time and money, while keeping your guests happy and your home safe. With UL1 you never have to worry about guests returning or copying their keys and have the added luxury of keeping private rooms or closets locked away from guests.
Smartphone Notifications: UL1 can send notifications directly to your phone if someone opens your door. See who it is and how they opened the lock for ultimate safety and peace of mind. Now you know whenever your children arrive home.