GREEN by NORTHMATE is a specially designed feeder, shaped like a tuft of grass, that turns your dog's meal into a challenging game.
The desired amount of dog food is scattered across GREEN, and it is up to your dog to push the food out between the many blades of grass.
GREEN by NORTHMATE prolongs eating time significantly and reduces the risk of gulping and bloat. The result is a happier and healthier dog.
GREEN by NORTHMATE is designed for all dogs regardless of weight and breed. It can contain both dry and wet food.
GREEN by NORTHMATE is made of hard plastic (without phthalates) and can therefore be used outside and cleaned in the dishwasher.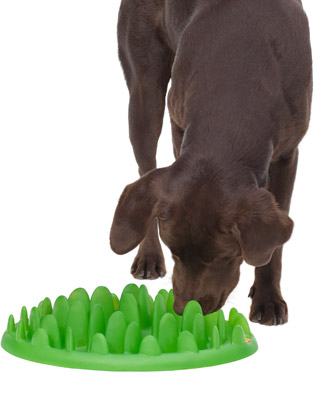 "How often have I bought expensive toys for my dogs only to discover, once more, that nothing compares to the play unleashed when we are going for a walk in our neighbourhood with its lawns, ditches and mouseholes.
My dogs want to be challenged and stimulated and the key ingredient of excellent play is the hunt for food using their noses and paws.
The hunt stimulates their curiosity and spirit of adventure. Using their noses and paws, the dog's most basic senses will be stimulated and when they find and eat the food, they are simply enjoying their prize.
GREEN has been developed with all of these factors in mind, and my dogs love it already. Of course, it can't replace a walk outside but it's wonderful to be able to continue playing and hunting when we get home."
Frederik Lindskov, product developer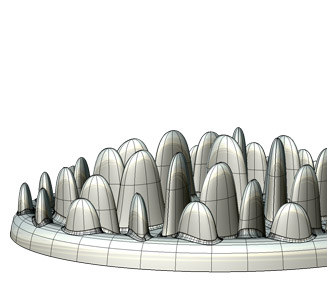 GREEN is a one-piece molded feeder of hard phthalate-free plastic.
GREEN is a one-sized product weighing 728 grams and measuring 40 x 29 cm and between 5 and 10 centimeters in height.
GREEN consists of 43 blades of grass – all of them smoothly rounded.
GREEN has an outer edge allowing wet food and approx. 0.4 liter of water.
GREEN was released world wide at the Nürnberg pet fair INTERZOO in May 2012.
GREEN has won a number of awards including: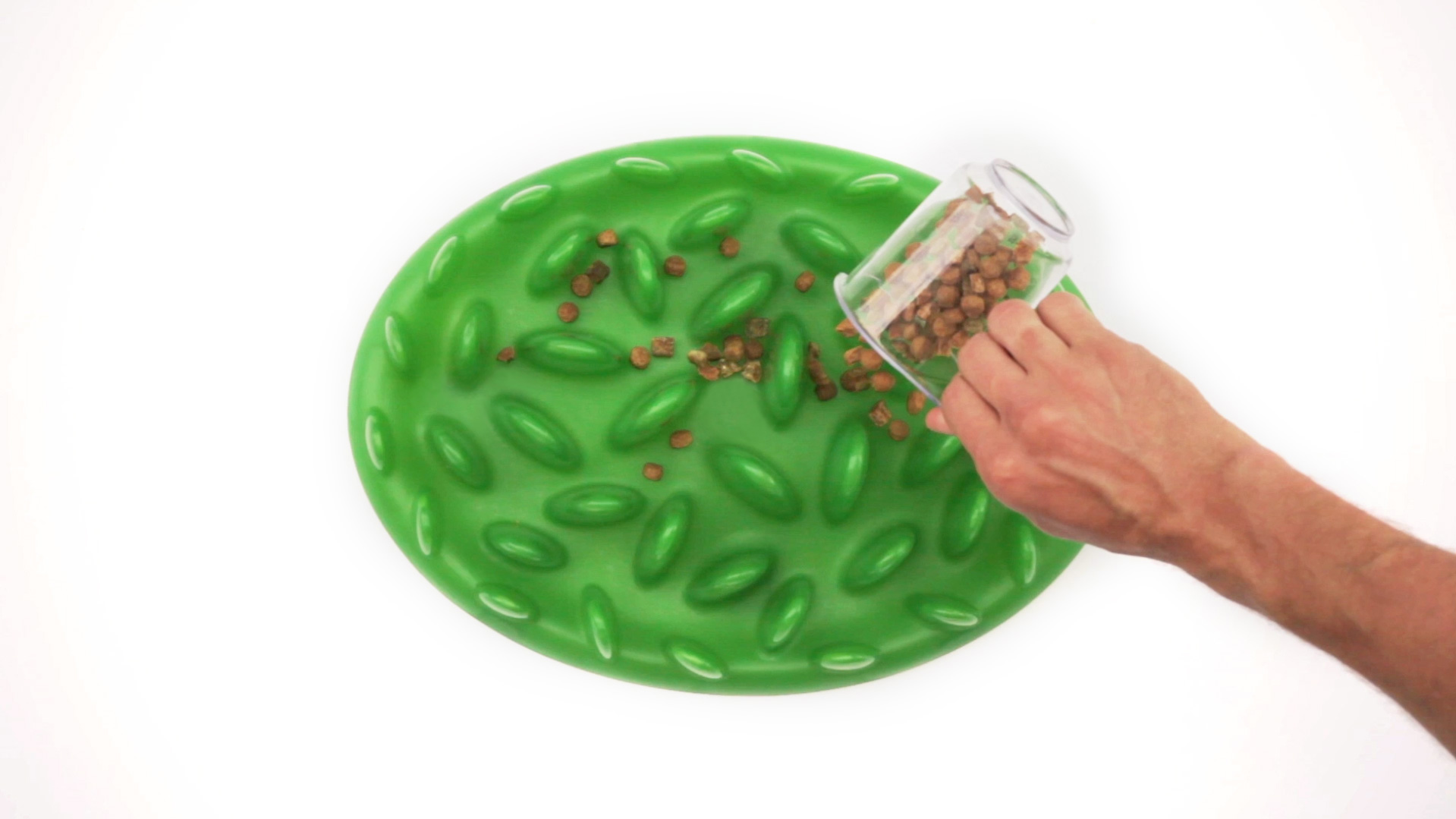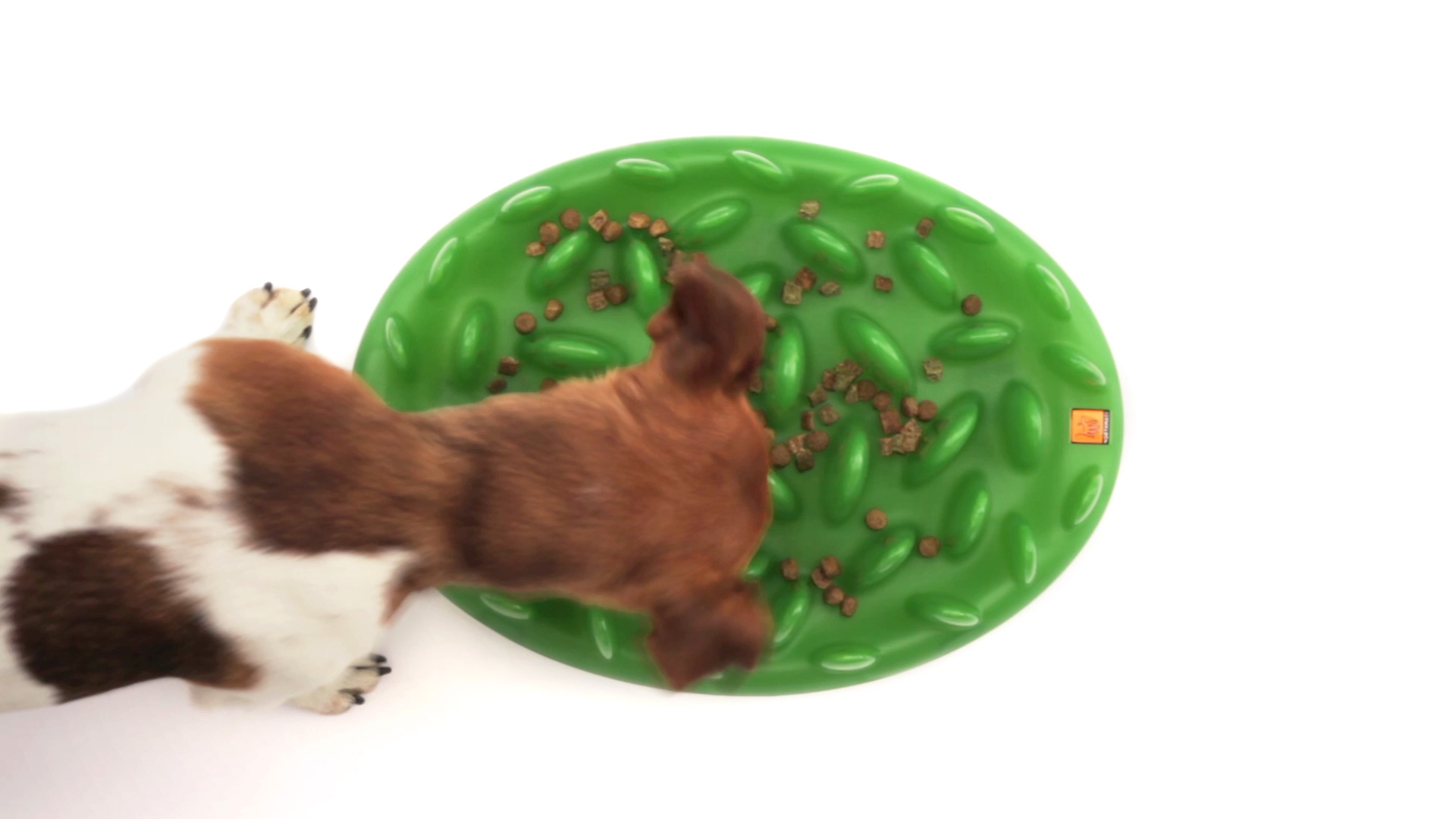 早食いは、愛犬・愛猫の健康に良くない!?
犬や猫は元々肉食動物だったために、よく噛まずにエサを丸飲みにしてしまいます。
そこで、デンマークから届いたユニークなデザインのスローフィーダー「Green」を使って、スローフードを楽しみましょう!
Green にフードを入れることで、芝生にまかれたフードを探すように、食事の時間を長く楽しい遊びに変えてくれます。
犬や猫本来の探索・狩猟本能を呼び起こし、さらに、早食いを防止します。
Green を使用すれば食事時間 最長

20分

!楽しく、効率的なスローフィーダーです。
Enjoy the meals. Lawn-スローフィーダー!
Like swim baits were overflowing in the grass, or seek out new food style!
Projections are for short or long Wang Chan-discovery of the cat-hunting instincts awaken and enjoying the meal correctly, in addition to eating to prevent early.
-No harmful substances, and can be used with confidence in a secure plastic.
-Without care sturdy material, so that while biting, dishwashers use is OK. Because the wash is hygienic.
-Dry food and wet food can put water can correspond to either the VCI is made slightly more so.
-Small size perfect for small dogs! About 250 ml capacity.

■ size: height 22.5 x next 29 x 7.3 cm

■ product weight: 400 g

■ capacity: 250 ml

■ material: polypropylene ( no phthalates )

■ temperature: 80 ° c

■ cold tolerance:-25 ° c

■ color: light green light yellow-green

■ manufacturing country: China planning and design: Denmark

■ How to use
Put the Green on a flat surface, please distribute adequate amounts of food.
Can be used outdoors. Dishwasher and washing machine are available.

■ precautions
-When to use the Green for the first time from the pet eye.
• Use within the reach of owners if Green use during pet chew Green.
• Do not use on pets have a delicate gums and oral diseases.
-If the damage is found to use cease immediately please.
• Do not leave in place when not in use within reach of children and pets.
-Check that no danger around, without the use of open flames near.
-Please use dishwashing detergent for cleaning.