MiaoKids is a play-based learning system for children ages 2-8. Drawing on the theory of multiple intelligences and carefully constructed to foster logical processing, MiaoKids creates the perfect harmony between everyday learning and physical play. It helps kids make the connection between the abstract and concrete while being fun and interactive.
The Upgrades in Version 2.0:
Convenient Stand —

Comes with the Wonder Stand, making it more convenient to prop up and use your smartphone or tablet.

More Portable —

The upgraded Wonder Pad is now smaller and lighter, compared to the previous design.

Games Expansion —

Expanded games with more levels and unique game modes.

English Module —

New add-on English module that develops child's vocabulary and language intuition.

Logic Module —

Helps kids build logic and reasoning skills.

Upgraded Hardware

— Quicker detections and a steadier connection to greatly improve the user experience.
A Standard MiaoKids Wonder Kit (No Add-on)
Transforming How Children Learn
MiaoKids merges tactile exploration with innovative technology, thereby engaging children through a multi-sensory environment and adaptive curriculum.
MiaoKids includes 4 types of tactile blocks(math/logic/shape/letters) that add an important kinesthetic/tactile element to graphics and sounds as part of our award-winning early literacy system.
"The hands-on nature of the fun and learning brings a huge level of engagement that serves to anchor and reinforce the math and logic skills young learners so readily absorb from the app's enormously entertaining educational activities. " -- Tillywig Toy Award
The MiaoKids learning system is composed of three major elements—the app, the Pad, and the blocks. It's very easy to use. Just connect the Pad to your device and then play with our physical game pieces.
(1) MiaoKids App
The MiaoKids' apps are designed to nurture the learning interest of young children. It was designed by early education experts who studied at Harvard University. We currently have 3 individual apps (MiaoKids Logic, MiaoKids Wonder Math, and MiaoKids English) with more than 500 non-repetitive games included.
(2) MiaoKids Blocks/Cubes
The blocks serve as the primary input mechanism for your child to interact with the on-screen games. There are 4 types of blocks: math, logic, shapes, and letters. They introduce a kinesthetic/tactile element to our learning ecosystem.
(3) MiaoKids Wonder Pad - The Wonder Pad ties everything together and serves as a communicative bridge between the App and Blocks/Cubes.
How the MiaoKids System Works...
We dedicate ourselves to providing meaningful, fun learning experiences through incorporating tangible pieces that your child could feel and touch. MiaoKids comes with over 500 curriculum-mapped lesson plans, useful as a supplement to education programs all over the world. It is the easiest way to introduce basic math and logic concepts in early stages of learning.
Beginning learners love to play and explore with our multisensory learning games! The games are FREE to download —with more coming soon.
Hands-on Play With Numbers
With MiaoKids, kids will be arranging physical blocks, including mathematical signs and digits. Our apps instruct them on learning various concepts by assembling the correct assortment of blocks. Kids can play and engage with math without the pressure of time or the fear of getting the wrong answer. MiaoKids' real-time feedback allows kids to learn through experimentation in a stress-free environment, thereby helping them to build confidence.
Our suite of applications are designed for children ages 2-8.
Math Adventure Mode — helps kids track everyday progress of learning.
Creative problem-solving
MiaoKids helps children realize that there are multiple ways to solve problems and gives them the opportunity to select the method that works best for them. This enables them to understand how something works and can then apply it to a variety of other problems later.
Designed for ages 2-8
There are math concepts (counting, addition, multiplication, etc.) suitable for everyone. As kids become more confident in one mode, they can move on to the next, allowing them to learn at their own pace.
MiaoKids Logic and Wonder Math become increasingly complex and interesting with each grade-level. The chart below describes some of the skills that await your child's development.
More games to come
Our portfolio of applications is constantly expanding, and we look forward to bringing even more subjects and learning content to you soon! For more footages of Math gameplay, visit our YouTube channel or download our free MiaoKids Math application.
We have expanded our math curriculum through the inclusion of another app that hosts a variety of logic games designed to expand and exercise kids' logical reasoning and critical thinking. Logic problems present children the opportunity to think through and analyze different solutions, enabling them to realize that there exists many methods to solve a situation. Each problem encourages children to tap into their past knowledge and incorporate them in novel and original ways.
Build Logical Connections Between Things
Younger children base their understanding of the world on what they see and hear, relying less so on logic. MiaoKids helps them to make connections between the shapes and objects, names of numbers and quantities they represent, etc. We encourage children to compare hands-on experiences utilizing charts and graphs to deeply analyze different scenarios.
Identify shapes and objects
Understand Application of Everyday Experiences
Kindergartners are developing the ability to hold information in their minds and drawing upon it to make comparisons. This is a sign of kids straddling the fence between concrete and abstract representations. With MiaoKids logic games, kids can begin to understand how to apply theory to everyday experiences.
Judging by appearances / make predictions
For more footages of Logic gameplay, visit our YouTube channel or download our free MiaoKids Logic application.
Our MiaoKids English letter blocks and application function as a personalized English tutor. The app provides a robust curriculum that gradually scales in difficulty and helps to develop your child's vocabulary and language intuition. Children advance through the curriculum with continuous assessments that track their game progress and performance.
Why the English module
Give your child a head start in honing their linguistic aptitude while harnessing the additional cognitive capacities that your child is already developing.
85% of the neurological connections for language learning develop before age seven.[1]
Early exposure to language impacts learning.
MiaoKids supports reading readiness in children ages 2-8.
For more footages of English gameplay, download our MiaoKids English application, which is available for free.
Here are skills that MiaoKids enhances...
Letter identification
Phonemic sounds
Word construction
Word families
Word onsets
Vocabulary
Lower case letters
Print concepts
Spelling
Tracing and writing
*Please note that the English Learning Kit is an add-on that DOES NOT include the Wonder Pad. It is designed to complement the MiaoKids Standard Kit, which includes the Pad.
Both the Smart Kit and Wonder Math have been well-received professionally with 11 industry awards, including Academics' Choice, Tillywig, and Red Dot.
Given the success we've experienced in the past few years, we want to spread the MiaoKids joy to the entire world. This Kickstarter is the first step towards that aspiration.
We can say with confidence that an ever important skill is mathematics. A better aptitude for math will help children develop the computational capacity necessary to understand the future that has grown increasingly reliant on computer science and information systems. With MiaoKids, your child will be given concrete representations of mathematical and logical concepts.
Our endearing characters and colorful world will ensure that your child is properly stimulated through auditory and visual means. The Wonder Blocks/Cubes provide stimulation to another important sense, touch, and ultimately round out our play-based learning system.
Video provided by Heena Nurmuhammed, Parenting Blogger from London.
A Play-Based Game Mechanism
Students engage the world around them in a host of ways. The MiaoKids ecosystem is constructed around the notion that play-based learning serves as an immensely valuable – and often underutilized – component of a child's education. Recent research suggests that well-structured play-based learning experiences can yield a positive effect in language development and related arenas.[2]
What does this mean for us at MiaoKids? Our goal is to keep learning at the forefront and strive to supplement the learning experiences our community is already getting in the traditional classroom. We jam-pack our games with relevant content that will maintain our users' attention and forge transferable skills. We also build our offerings in a way that invites social collaboration with peers. And finally, to be conscious of screen time health, we construct our physical materials in a way that allows for "away-from-the-app" use in more conventional play environments.
These are a few of our goals to get play-based learning right and make it better for all, and we welcome feedback from our users as we continue to refine what we have to offer.
Video provided by Tre Rubinsky, mom, former teacher.
A special thanks to our volunteers who have participated in our Facebook event and became our early testers!
We're beyond grateful to have your assistance along the way, and we sincerely appreciate the valuable feedback and excellent footages of your MiaoKids experience. Thank you all so much!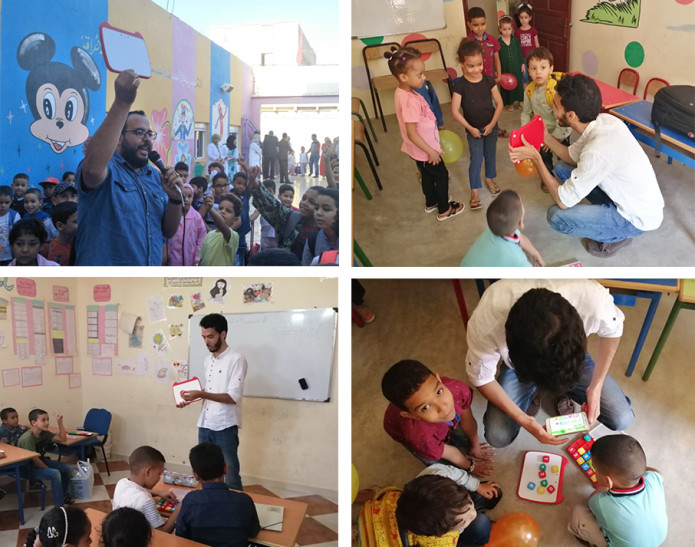 Video provided by Alisanne Colkitt, blogger, mom, and former early childhood educator.
Video provided by Sondra Claflin, homeschool mom.
Video provided by Andrea Lim.