PRODUCT SPECIFICATIONS
| | |
| --- | --- |
| Size | Small/Medium, Large/XLarge |
| Dimensions | S/M is 3" x 1.125" & L/XL is 3.25" x 1.375" |
| Weight | .14 ounces |
| Composition | polyester, nylon, spandex, lycra, and a disc magnet. |
| Statistical Holding Force | |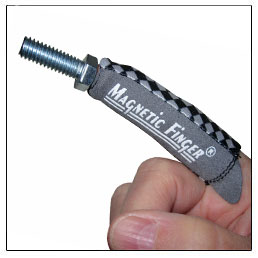 THE FRONTAL ASSAULT MAGNETIC FINGER
The Frontal Assault Magnetic Finger is a variation of TurnPro's original patent pending finger glove. It features the same powerful magnet in the front tip which allows you to hold and retrieve any small ferrous object with precise control. Ideal for tight-fitting and difficult to reach places. We brought this version out since there was a need for a Magnetic Finger that places the ferrous metal object directly out on the tip of the finger. This allows for the metal object to be placed in a tight spot that necessitates that the object goes directly forward.
PRODUCT SPECIFICATIONS
| | |
| --- | --- |
| Size | Large/XL |
| Dimensions | L/XL is 3.25" x 1.375" |
| Weight | .14 ounces |
| Composition | polyester, nylon, spandex, lycra, and a disc magnet. |
| Statistical Holding Force | 1.7 lbs |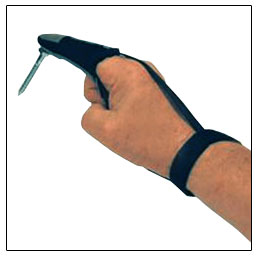 THE INDUSTRIAL MAGNETIC FINGER
The Industrial Magnetic Finger is TurnPro's original patent pending finger glove with a wristband anchoring strap which provides the maximum security that certain jobs require.