It is a spotting scope of high magnification that can shoot it with the iPhone.
The spotting scopes, but is monocular telescope to observe is attached to a tripod,
The video you have peeped from the telescope, is natural, but it can only be seen by one person.
Then, in order to record an image that are not found only in the telescope, and to set the camera, it is very has trouble.
Here, I would like to recommend, very easily, photography in your existing iPhone, is spotting scope that can be movie recording.
Just attach to spotting scope to put the iPhone in a special case.
The video only did not look that except the scope, you will be able to easily taken with the iPhone camera.
In addition, since the iPhone is view monitor, it is possible to be seen without looking through the telescope,
What you did not enjoy only one person, everyone look at the iPhone, you will be able to share the fun.
Dedicated case, and for the iPhone 5 / 5s, for iPhone 6, three for the iPhone 6 Plus.
And magnification 45 times the iPhone mounting eyepiece, since it is 20mm eyepiece two for peek at 18 times the naked eye, but they can also normal telescope to see, except.
Important tripod to install a spotting scope comes with,
All are marked also set into the shoulder bag, it is a high-magnification spotting scope attached is recommended iPhone.
Product introduction
Photographed the image that is seen in the telescope on the iPhone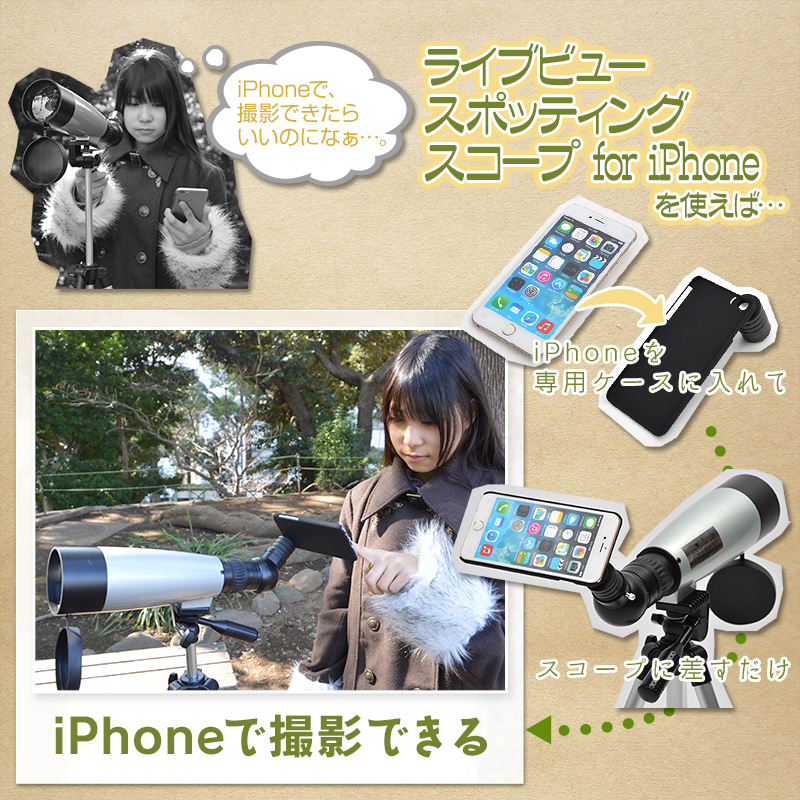 Bird watching and nature and animal observation, Speaking of items that are required in such sports, but it is spotting scope (field scope).
Do not you think you would like the image that has been magnified by the telescope photographed and movie recording without stay away?
To achieve it is this [live view spotting scope for iPhone].
Put the iPhone in a special case, it is only attached to the spotting scope. This only.
The video that was not only see that except the telescope, you can leave the record by easily taken with the iPhone camera.
because iPhone is the view monitor, I can see everyone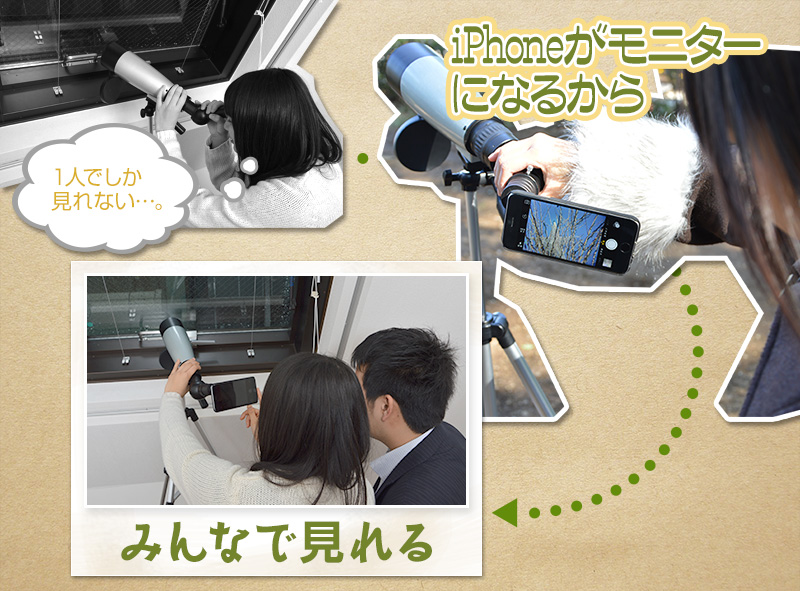 Even Though I do enjoy except for the telescope by one person, to see everyone, do not you think that even good to share the fun?
The Raising up the iPhone camera, so come out the video that has been expanded in the telescope,
As a monitor of the spotting scope, it will be possible to see multiple people together in one of the telescope.
iPhone 5 / 5S, iPhone 6, iPhone 6 Plus support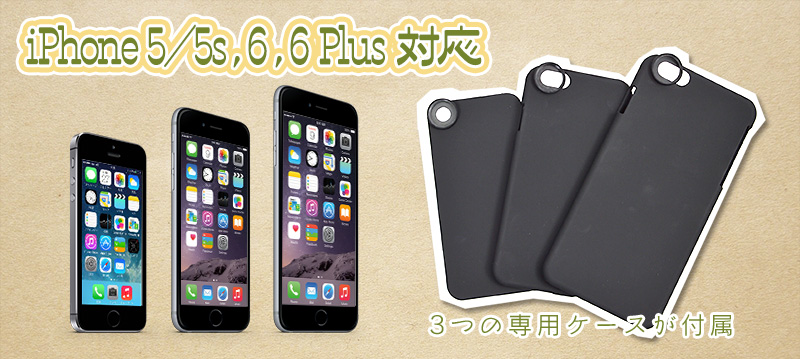 Special case, iPhone 5 / 5S, it comes with are three iPhone 6, iPhone 6 Plus.
You Deki use it now with confidence even in those who are thought to be wonder if trying to change from iPhone 5 to iPhone 6 Plus.
45 times the eyepiece and 18 times eye scope of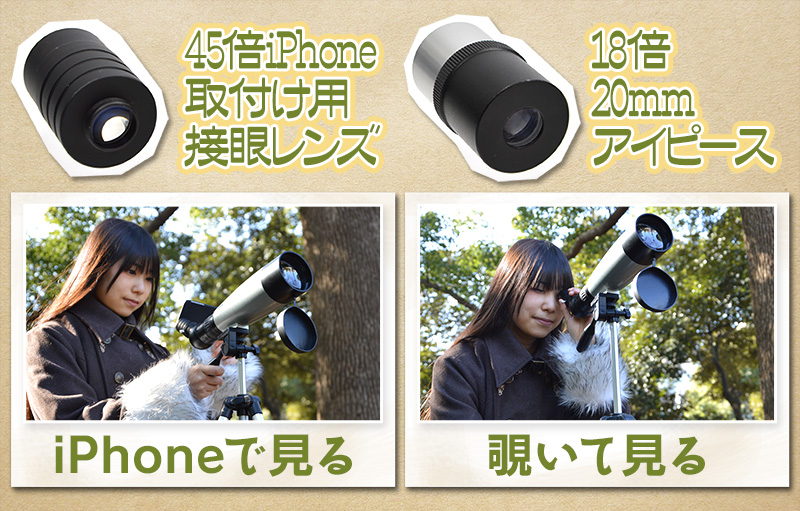 Magnification of the telescope, 45 times of the eyepiece lens for the iPhone mounting. It will be 18 times the 20mm eyepiece for peek with the naked eye.
taken with iPhone, if you use as a view monitor, eyepiece for iPhone mounting.
If one person in how to use that look into the normal telescope, and 20mm eyepiece for peek with the naked eye.
Since the two eyepiece can be easily replaced, you can selectively used depending on the application.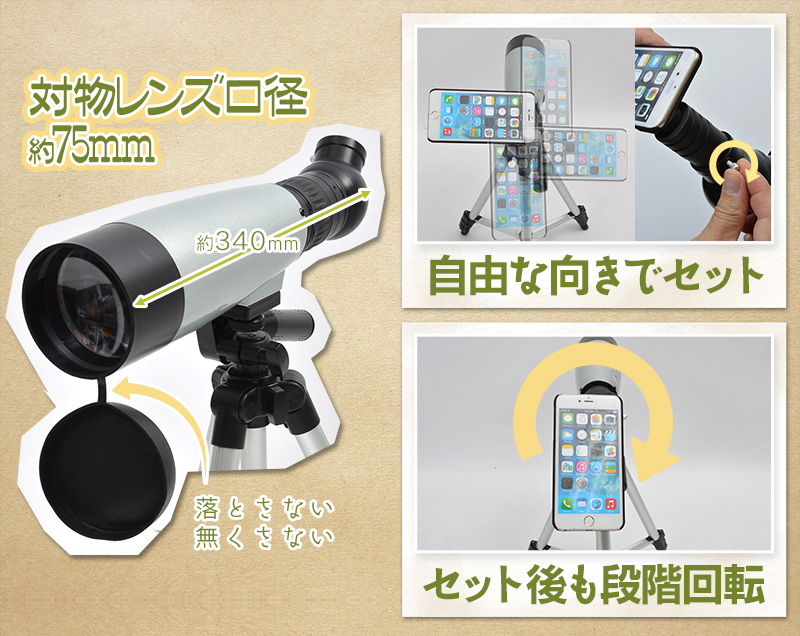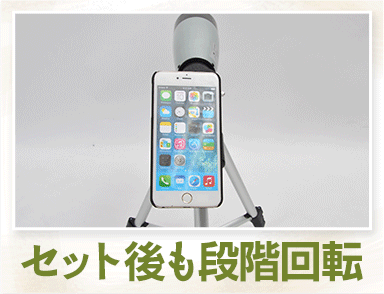 Aperture of the objective lens is about 75mm. Because it is captive tying lens cover, it is not dropped, it is not to lose.
Special case wearing a eyepiece, I will be mounted in a free orientation to slip potting scope.
Even after you have fixed by mounting, it is possible to change the direction in stage adjustment.
I've photographed in [Live View spotting scope for iPhone].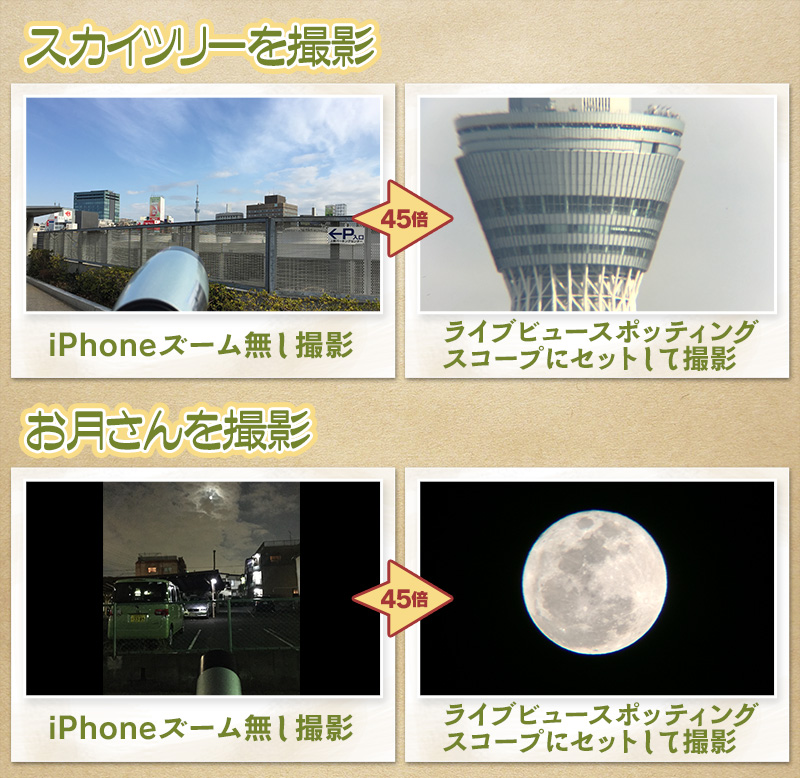 It with a 45-fold iPhone mounting eyepiece, was actually photographed with iPhone 6.
Sky tree and the moon, is a comparison of the photos you have photos taken with the iPhone camera, photographs were taken with a spotting scope, with a spotting scope to shoot with the iPhone of zoom.
In a compact tripod, with shoulder bag all set enter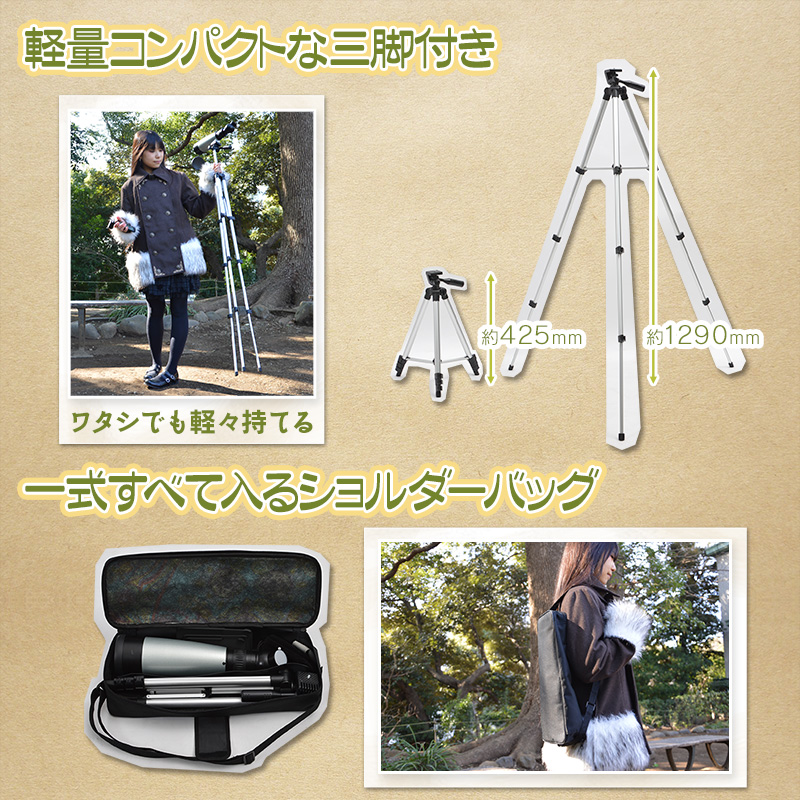 Tripod to bring always as a set with the spotting scope. Since it comes with of course, you do not need to purchase a separate tripod.
In tripod extending from height 425mm up to 1290mm, weight 584g and lightweight.
And,
Set the contents of the [live view spotting scope for iPhone] enters all, It is with shoulder bag.
Including all contents of a set, lightly and weight about 1600g in a compact size of width 440 × height 160 × depth 80 (mm), you can easily carry.
Specification
Size:
Telescope: width 85 × height 85 × depth 345 (mm)
Tripod: width 90 × height 425 ~ 1290 × depth 80 (mm)
Weight:

Telescope: 575g

Tripod: 584g

iPhone compatible models

iPhone 5, iPhone 5s, iPhone 6, iPhone 6 Plus

The objective lens aperture:

About 75mm

Magnification:

Eyepiece (for the chassis-mounted) 45 times eyepiece (20mm eyepiece) 18 times

Contents goods:

Telescope, tripod, (for the chassis-mounted) eyepiece, eyepiece (20mm eyepiece), pouch for eyepiece, attachment case for iPhone5, attachment case for iPhone6, attachment case for iPhone6Plus, shoulder bag, cleaner lens, Japanese manual

Package Size:"

Width 440 × height 185 × depth 100 (mm)

Package Weight:

1763g

Cautions:

iPhone is not included.

Warranty period:

1 year

Release date:

2015/2/6
※ Specifications are subject to change without notice for improvement