It's safe to say this has been the biggest week for this project. With almost 1000 votes in the last seven days we are well on our way to 10,000. Thanks to everyone who voted.
After redesigning the eyes, I couldn't leave well enough alone. I decided to continue my 3.0 upgrade pass and reworked the base of the neck and how it connects to the body. In the original version, I used the X-Wing engine element, which was a bit of mixed bag. While it was a good diameter for the scale of the MOC, there were many weak points and I thought it might be good to explore other options.
I also redesigned the hoses which ended up being a big structural improvement as the old hoses often forced the head to pop of and smash onto the ground.
I decided to go back to the gray neck. The movie has it slightly yellow, but all of the toys have a gray neck, so for now, I'll stick with that.
LonelyKnight suggested I try and go back to using the black radar dish element for the pupils because the shapes were more indicative of WALL•E's signature binocular eyes. I think that is an interesting suggestion, but seeing it here, I'm not so sure. The convex 2x2 rounds warmed up the face a bit and gave it a but more personality at the expense of detail. I'd be curious to hear your thoughts.
Onward to 10k!
Here is an side by side comparison of the old and new heads. Let me know what you think.
After sitting with this WALL•E model for (literally) years, I decided to try and rebuild the head. To be completely honest, I was never really happy with my interpretation of WALL•E's iconic eye sockets, but hadn't been able to come up with anything better.
Fast forward five years. Many new elements have been released since I last worked on the model, and I was excited to try out some new building solutions. Here is a work in progress shot. I'll update the page with new fancy photos once I finish the head properly.
The first images of Lego's upcoming WALL•E set are unbelievably adorable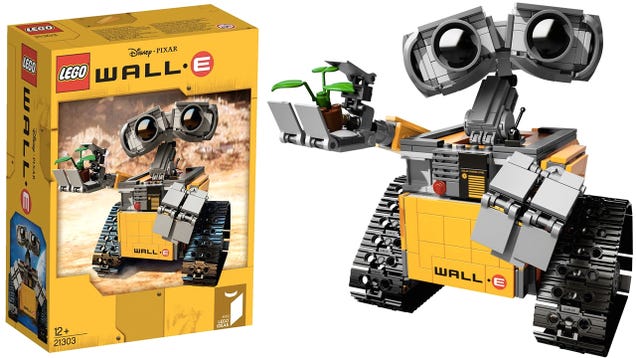 Back in February, Lego announced that it would be putting Angus MacLane's WALL•E Lego Ideas model into production. Which is fitting, because Angus is actually a Pixar animator who worked on the film. And today, courtesy of the SmythsToys website, we might finally have our first look at the official Lego version of WALL•E.
There's a chance these images might be fake, created to serve as placeholders on theSmythsToys website until the real set is eventually released. But that CG Lego model of WALL•E doesn't appear anywhere else online according to Google image search. And it's doubtful that a toy store adding countless items to its catalog every day is going to go to that much trouble to create a placeholder image. So we have every reason to believe these are legit.
Angus' take on WALL•E that he submitted to Lego Ideas was already adorable, but somehow Lego's official builders have managed to make the robot even cuter. It's all in those eyes.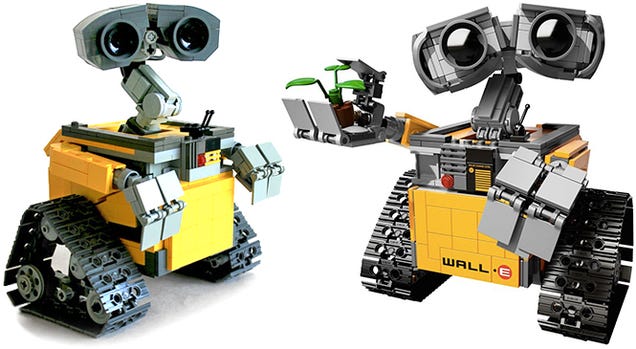 The SmythsToys website also claims the set will be available starting on December 1, with a price tag of €57.99, or about $65 in US dollars. But the folks at Brickset think it will probably be priced like similarly-sized sets at around $40 here. Not that price matters, because WALL•E fans will easily pay a small fortune for this set. It's the waiting until December that's the real problem. [SmythsToys via Brickset]