When word broke that LEGO was continuing the LEGO Legends of Chima Fire vs. Ice theme into 2015, a lot of Chima fans seemed dismayed by the idea of LEGO trying to drag the theme out for another wave. Of course, that was before all the LEGO Chima fan boys (and girls!) out there got to see all the fresh and exciting things LEGO has lined up for the Winter 2014 LEGO Chima sets. I was psyched already when I thought that the LEGO Chima Tiger's Mobile Command 70224 set was just the first Tiger Tribe vehicle–and then I discovered that the set also includes the first-ever LEGO Chima BEAVER TRIBE minifigure…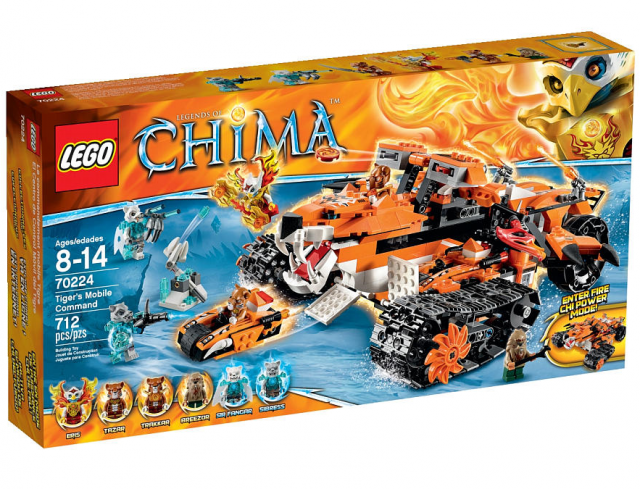 When I watched the LEGO Legends of Chima cartoon series for the first time earlier this year, I was totally thrown by the fairly-prominent existence of a LEGO Chima tribe I had never heard of before: the Beaver Tribe! I instantly liked the workaholic, chore-loving Chima Beaver Tribe, and was totally annoyed that LEGO hadn't seen fit to represent the Beaver Tribe at all in the Legends of Chima LEGO sets.
Well, LEGO was clearly listening to my nonverbal complaints (via telepathy), because in 2015 the lack of a Beaver Tribe minifigure won't be a problem anymore: the Beaver Tribe LEGO Breezor minifigure will be included with the LEGO Tiger's Mobile Command 70224 set!

The Breezor Beaver Tribe minifigure looks outstanding, and I appreciate that LEGO gave him a wrench instead of a weapon and left him neutral. Let's face it–the Legends of Chima Beaver Tribe is made of builders, not fighters.
In addition to Breezor on the heroic side, the LEGO 70224 Tiger's Mobile Command set will also include a Fire Armor Eris minifigure, and the first Tiger Tribe LEGO Trakkar minifigure and LEGO Tazar minifigure. A LEGO Beaver Tribe minifigure and two LEGO Tiger Tribe minifigures in the same set?! You're going to make my heart explode from all this goodness, LEGO!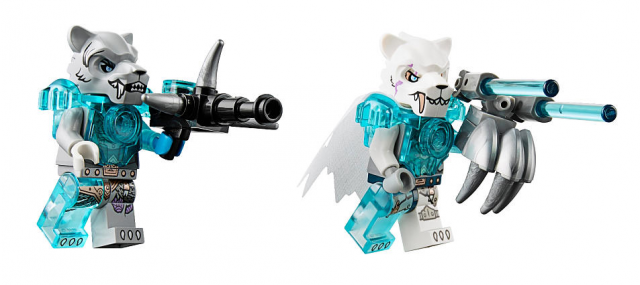 On the icy evil side, we've got another LEGO Sir Fangar minifigure, along with the first-ever LEGO Sibress minifigure. It's always great to get a new representative of a Chima Tribe, especially a tribe like the Sabre-tooth Tiger tribe that was only introduced this summer, so I'm looking forward to Sibress a lot (just not as much as I am the beaver and tiger minifigures).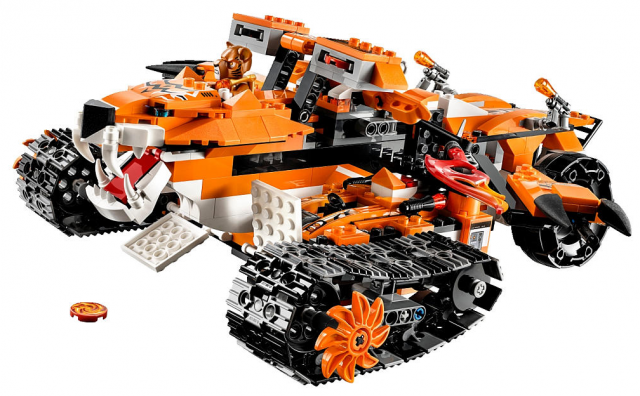 And oh yeah–this set also includes an absolutely gigantic vehicle! The Chima Tiger's Mobile Command LEGO 2015 set features working treads, firing discs, a hinged jaw on the Tony the Tiger head on the front of the vehicle ("They're… GRRRRRRReat!"), and more.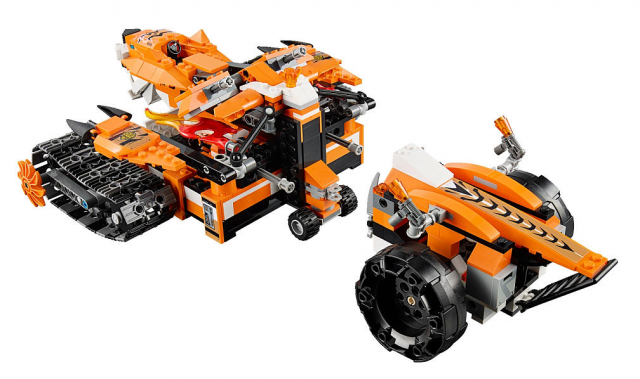 The front and rear halves of this Naruto-colored vehicle can also split off into their own separate vehicles (although the back half really isn't much to look at without the front!). It's a fun feature, and I always feel like I got more for my money when I can separate one big vehicle into multiple smaller ones.
All this tiger-colored goodness does come at a high price, though: the 70224 LEGO Legends of Chima Tiger's Mobile Command set will retail for a pricy $69.99. That's actually a good value for a set containing 712 pieces, as it still comes in at under 10 cents per piece, but $70 is still nothing to sneeze at, value or no.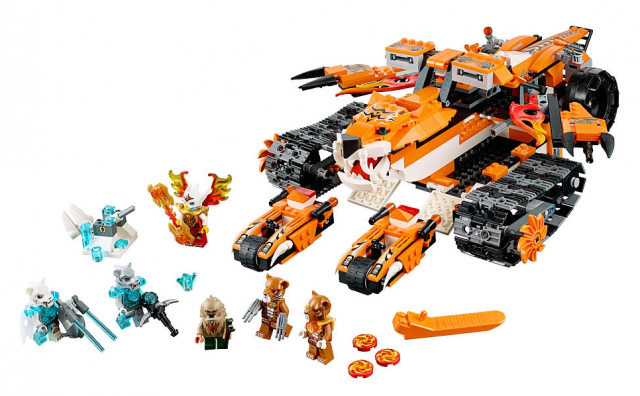 The 70224 LEGO Chima Tiger Mobile Command set is part of the LEGO Chima Winter 2015 sets wave, and is expected to be released in January 2015. This set would also make a greatChristmas present for any Chima fan you love (or yourself), so stay tuned to the Bricks and Bloks Facebook Page, which I'll update as soon as LEGO 70224 starts to appear in stores (which will almost certainly be right before the holidays).
Are you impressed with the first-ever LEGO Chima Tiger Tribe vehicle, LEGO fans? Will you be adding the Tiger's Mobile Command LEGO set to your Chima armada, or does this set not interest you enough to earn your dollars?