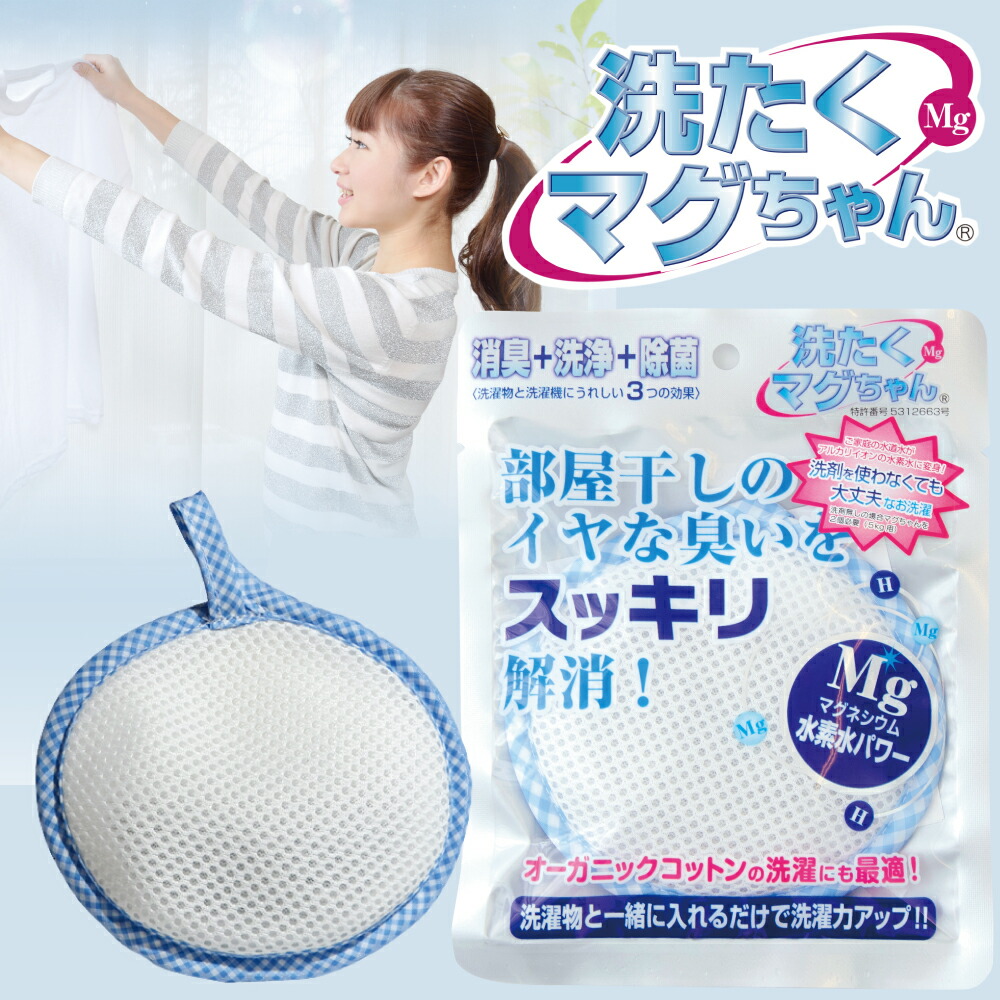 Mamoru Taku Mag-chan® is a trademark of Miyamoto Seisakusho. Moth
A new type of laundry product that uses an unprecedented amount of magnesium to generate alkaline ionized water containing hydrogen using 99.9% of high purity magnesium, and removes mold and dirt that cause unpleasant odor in room drying.
Please try to wash, deodorize and disinfect the laundry and washing machine.
component
Pure magnesium 99.9%
Liquidity: Weakly alkaline net amount: 50 g
Net material: Asahi Kasei Fusion (Nylon Pro Ester)
Usage effect
Eliminate the unpleasant smell of room drying !!

Mold and dirt of the washing tank will fall!




(2 weeks to 3 weeks after daily use)

The dirt of the drainage hose also falls !!
The laundry and the washing machine become beautiful every time you wash. So economical!
how to use
Just put in with the laundry!




Please wash as usual.

Please dry and dry after washing !!

More than 300 times of use (approximately one year)
After using 300 times, please give magnesium to the flowers and trees of the garden that is growing out of the net.
Magnesium is essential for the photosynthesis of plants, and plants become healthy!
<Cautions on Use> Do not use in combination with chlorinated detergents that are indicated as mixed hazards.Please do not use for purposes other than washing.
The Secret of Washing Mag

"It's a new era of washing with magnesium!"

Put magnesium in general tap water.

Magnesium reacts with water to generate hydrogen bubbles and generate alkaline ionized water.




(liH value is around 9.5)

Alkaline ionized water decomposes the oil and fats that adhere to the laundry and makes it soap.

It removes dirt with a surfactant effect that has the same cleaning ability as detergents.
What is the surfactant effect:

It is an action that makes it easy to combine substances that would not mix naturally, such as water and oil.




In general, it is known as [detergent removes dirt] [soap removes dirt from the body].
In other words, it becomes detergent only by putting "washing mug-chan" with the laundry.

!!

The decomposition rate of sebum dirt is as high as 30%, which is the same as commercial laundry detergents !!
Analysis test of sebum dirt

Measure the reduction of sebum dirt (triolein) when using a sample
Wash your mug

Decomposition rate 30%
When used with a detergent, the cleaning power is further improved !!

"I prevent the generation and reproduction of bacteria that cause odors!"
Antibacterial test of Escherichia coli

We measure bacteria count of E. coli put in tap water and washing mug every hour
Tap water

<Start time>

<3 hours>

<6 hours>

<28 hours>
Wash your mug

<Start time>

<3 hours>

<6 hours>

<28 hours>

Because we prevent outbreak, reproduction of fungus, we can clear off unpleasant smell of room drying!
Testing organization: Ibaraki Prefectural Industrial Technology Center

"The dirt on the laundry tub and drainage hose also falls!"
As we are changing the water being laundered into alkaline ionized water with cleaning power
For both <Washing>, <Wrinking> and <Dehydrating>, remove dirt to the end.
Moreover, alkaline ionized water gradually cleans up the mold and dirt of the washing tank and drainage hose. (2 weeks to 3 weeks after daily use)
Mold stain removal test

Measure the removal rate of mold dirt adhering to the drainage hose used for about 3 years
<Before use>




Drainage hose of washing machine used for about 3 years

<After washing 20 times>




Use detergent and washing mug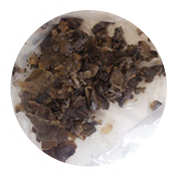 Use of detergent From the washing tank of my home I got so dirty.
Embarrassed • • • •
But after that, no dirt appeared!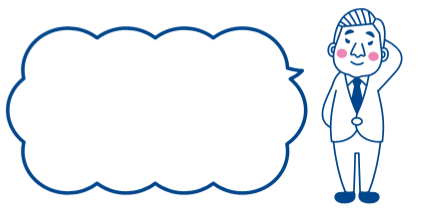 The more you do the washing with "washing mug", the more beautiful the washing machine will be!

The amount of detergent can be reduced by half because the detergency of water is increased.

"Wash basin cleaner" unnecessary.

Cleaning of the washing tub is unnecessary, and the water cost can be reduced.

"It can be used repeatedly for about a year, and it's a great deal!"
After washing, if you wash it at home just by hanging it with the laundry, the effect will last for about a year and can be used repeatedly.
Comparative test of detergency

Measure the cleaning power of the washing mug used 300 times with the new product
※ It is not a combination with detergent, but the result of washing only with washing mug.
<New>



<300 times used>


<Water quality inspection>

| | Brand new | 300 times | Comparison |
| --- | --- | --- | --- |
| amount | 50g | 46g | 4 4 g |
| Raw water | PH 7.4 | PH 7.4 | |
| After one minute | PH 8.9 | PH 8.6 | 0.3 0.3 g |
| 3 minutes later | PH 9.5 | PH 9.2 | 0.3 0.3 g |
| after 5 minutes | PH 10.0 | PH 9.6 | 0.4 0.4 g |
| 7 minutes later | PH 10.3 | PH 9.8 | 0.5 0.5 g |
| After 10 minutes | PH 10.3 | PH 10.2 | 0.1 0.1 g |
| After 15 minutes | PH 10.3 | PH 10.2 | 0.1 0.1 g |
※ Raw water is collected from tap water in Furukawa City, Ibaraki Prefecture
Wash your mag Q & A
For details not described on this page, please contact the manufacturer " Miyamoto Mfg ."
The timing to put it in the washing machine is the same as washing, but if it is put in for a long time, will it be effective?

When the water in the washing tank reaches a certain level of Ph value, it will not be higher than that.
If it is normal washing time (20-30 minutes), the effect is not a problem.
How many kilograms of laundry do you support with a single washing mag?

It corresponds to the standard washing machine.

It corresponds to the washing tank capacity of 6-8 kg with one Mag.
There is the removal of mold in the washing tank, but the dirt that is sticking up now is peeled of, does it not mix during the washing?

Since Mag does not dissolve mold, it may be mixed in the wash while the mold that has peeled off becomes fine.
Will any dirt fall off?

(Baseball uniforms, oil stains, etc.)

As the experimental data of the manufacturer, the cleaning effect equivalent to the commercially available detergent has been confirmed.
Is it okay to put bleach together?

Avoid using chlorine bleach.
Does adding a softener not diminish the effectiveness of the softener?




Is the fragrance of softener left?

There is no problem with using it with softeners. Fragrance also remains.
Will the concentration of alkaline ionized water (Ph value) decrease over time?

There is almost no change.
How should I determine when to replace it?

As we do not know on weight and appearance, please change after a year as a standard.
(For example, put a sticker on the visible place of the washing machine, etc.)
For example, if you wash three times a day (of course you change the water three times), is the effect the same for the third time?

It is the same effect.
Does not waste of magnesium oxide get mixed into the laundry?

There is no waste, so it does not get mixed in with the laundry.
Is there a risk of ignition when magnesium becomes smaller and powdery due to aging use?

There is no danger of ignition, please use with confidence.
In laundry of organic cotton, there were when we put some mug by washing weight,




Does the dirt fall without detergent?

As experimental data of the manufacturer, the decomposition rate of the sebum dirt of the clothes when putting in the clothes and the mug when only putting in the clothes and washing with the detergent, shows almost the same.
If you are washing organic cotton, we recommend using it because it matches the organic cotton product concept of not using detergent = no chemical.
When putting one mug at the time of washing, how long does it take the washing water to become alkaline ionized water of Ph 7.5-8.5?

Is the amount of washing water relevant at that time? (For example, it takes a long time with a large amount of water, it can be done quickly with a small amount)
If it is standard washing time (about 20 to 30 minutes by washing-rinsing-dehydration), there is no problem in the effect.
With regard to the amount of water, a washing tank capacity of 6 to 8 kg can be effective.
As with a drum-type washing machine, the smaller the amount of water, the faster it becomes alkaline ionized water.
Pink Blue