Our powerful smartphone application gives you real-time data on your snoring patterns based on multiple factors. It then communicates with the mask, which monitors your movement with a built-in accelerometer.
Based on the sleep data, the application will decide whether or not to send you a tiny vibrational cue to change positions or increase your expiration pressure, which opens your airways.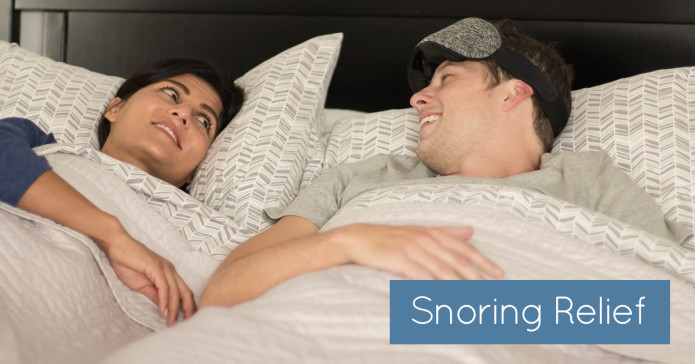 The overall design and system is the result of over fifty user-testing cycles of the Hupnos sleep mask. We have perfected the design. It's different from anything else out there.
It will stop your snoring and leave you and your partner feeling refreshed, rested, and full of energy.
Has Snoring Hurt Your Relationship?
It's the big elephant in the room. Persistent snoring leads to many restless nights and weary mornings for your partner.
At first, it seems harmless or is even a bit cute, but over time, it can affect your work, family, friends, and be a source of tension in your relationships.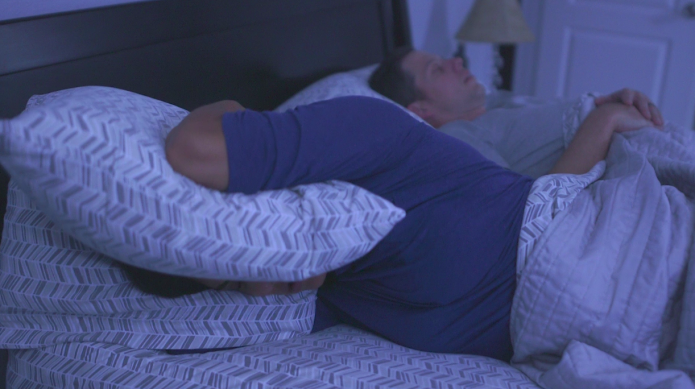 We've heard about many couples relationship stress caused by snoring.
Julie Bane was pestered by her husband for years about losing sleep over her snoring. Constantly having to shake her awake so he could sleep was exhausting for both of them. And the issue spilled into the day, too. "It made me irritable because I wasn't sleeping well, and I'd be crabby the next day," she remembers.
Angela Durrant, 48, was so sleep-deprived because of partner David Bazley's snoring that she struggled to concentrate at work.
"I've often had to explain to my bosses why I'm not feeling my usual self. After being kept awake by David half the night, I struggle to focus because my head is so foggy."
Full-Time mom Christina Koutoula, 31 was so exhausted due to her husband Dimitrios's snoring that she moved into the spare room.
"Dimitrios and I have slept apart on and off for years but four months ago I moved into the spare bedroom permanently. I couldn't take it a moment longer."
This problem has an easy fix. It shouldn't be causing you sleepless nights or affecting your relationship. If you've finally had enough and want to stop you or your partner's snoring for good, then we'd love to tell you a bit about Hupnos.
Hupnos is different from every other solution out there when it comes to snoring. By now, you might have tried mouth guards, special pillows, nasal sprays, nostril dilators, and even herbal remedies.
We did too. They didn't work. Some worked for a little while, but then you'll go back to your old ways. Who knows, maybe your partner is even complaining about your consistent obstructive snoring.
It leads to sleepless nights, weary mornings, and a heck of a lot of stress.
What we've designed is completely different…
Real-Time Snore Detection
The FREE downloadable Hupnos app detects snoring and records it for you. You can easily see all the snoring through your night and track it so that you can figure out which factors hurt your sleep and which remedies help you to sleep perfectly.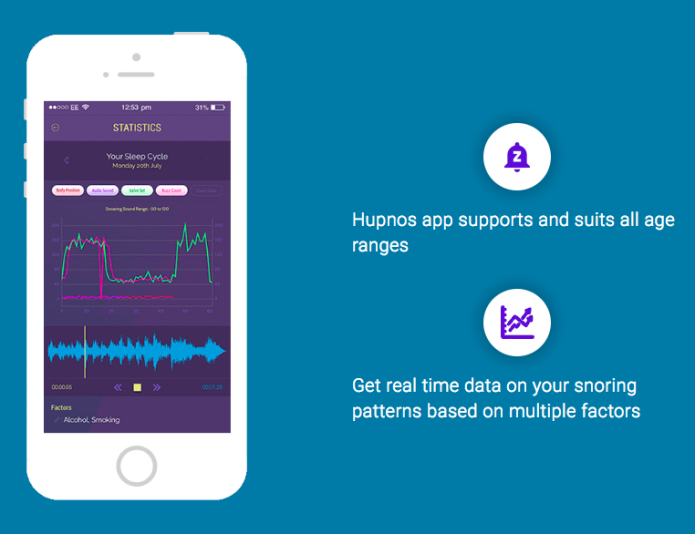 You'll never have to worry about your snoring again. You and your partner can customize the app to your lifestyle, making it easy to see:
The factors that influence your sleep (caffeine, stress, alcohol)
Sleep remedies you are trying and their direct effect
Your recorded sleeping patterns, including body position, snoring duration, and even the audio of your night!
This system combines the Hupnos sleep mask with a powerful smartphone app to give you real-time snore detection.
Sleep Position Optimization
Our mask knows your position throughout the night. You'll get a gentle buzz if you are snoring while on your back. Tiny vibrations cue you to roll over without fully waking.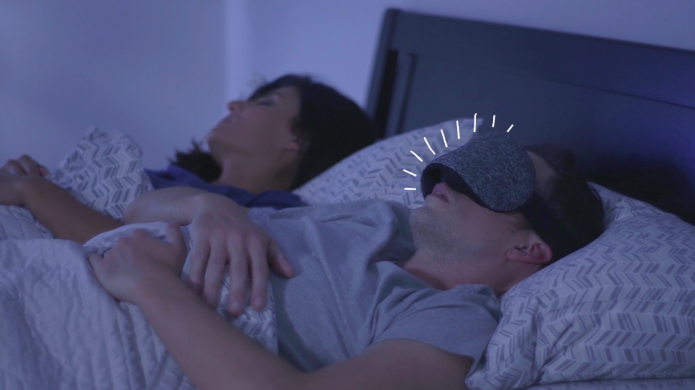 Snoring is caused by many different factors. It can come from mouth construction, where overweight individuals experience a narrowing of their airways due to throat tissue or an elongated uvula.
It can be due to a block nasal channel, chronic congestion, or a deviated nasal septum. Additionally, a "clogged hose" can occur where some patients who have a long soft palate, or large tonsils or adenoids, can narrow the airway and cause snoring.
Frequently, a poor sleeping position will force the closure of your upper airway, putting undue stress on your uvula. The Hupnos app analyzes when this occurs and then, through tiny vibrations, signals your body to change positions and increases the exhalation pressure so you stop snoring.
You don't have to worry about any of this. It all does it automatically and you won't even notice it while you're sleeping.
Comfortable Fit
You're getting a premium microfiber face mask with a easily adjustable rear head strap. We specifically designed Hupnos to be comfortable to wear and give you a luxurious sleeping experience.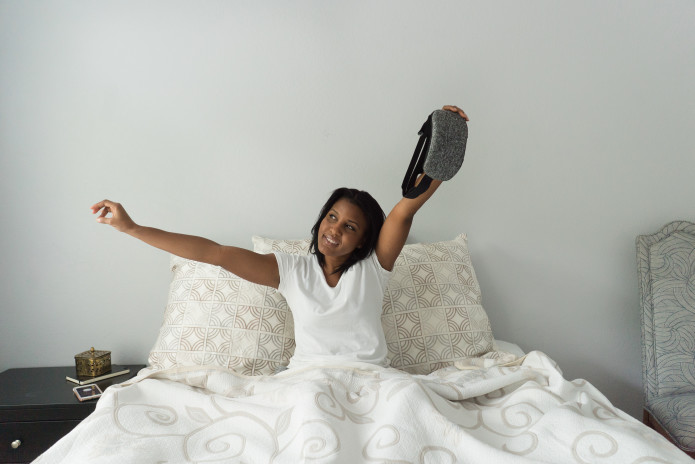 The Hupnos mask is made with hypoallergenic, BPA-free, medical-grade material. It has a soft, gently, and form-fitted design. Based on the clinical study of 4,000 facial structures, Hupnos is guaranteed to fit your face perfectly.
Believe us, it's so comfy, you won't want to take it off!
Respiratory Airway Dilation
Our patent-pending mask will increase your expiration pressure, which opens your airways, so you breathe quietly, WITHOUT SNORING.
Ever notice how you or your partner don't snore when you're awake?
It sounds silly to say, but it's actually part of the core reason why we snore.
Snoring occurs because the muscles in the body relax during sleep, allowing your soft palate, tongue, and uvula to vibrate as air flows by them. When people are awake, these muscles are active, and the structures are much less likely to vibrate during breathing.
By dilating your airways, Hupnos ensures that your snoring is quickly remedied. Your air passages remain clear, leading to a restful night's sleep for you and your loved one.
"Research has shown that chronic snoring has the potential to lead to changes in a person's health including fatigue, headaches, irritability, and even depression. Simple, comfortable solutions to stop snoring can be the first step to enhancing your health," according to Dr. Leah Millheiser of Stanford University.
Travel-Ready and Easy to Clean
Take it with you wherever you sleep. The detachable face mask is machine-washable. The removable silicone nose piece can be washed in the sink with gentle soap.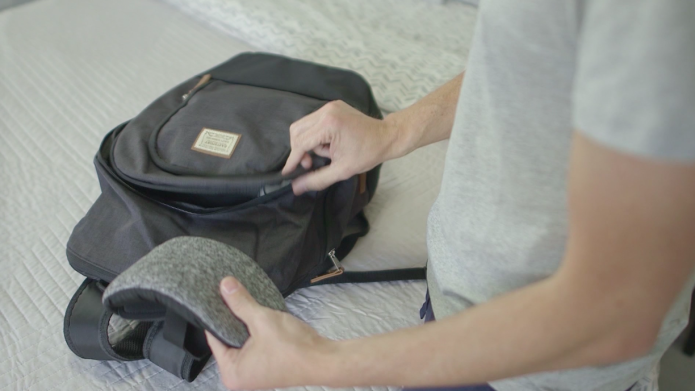 You can take Hupnos wherever you go, including:
On an airplane
At your hotel on a business trip
Vacations with your family
Or even in your office for a quick nap
It fits perfectly into any small suitcase, backpack, or even purse.
How Hupnos Stacks Up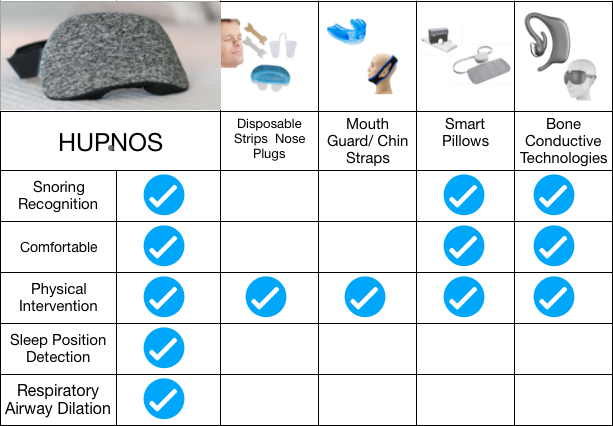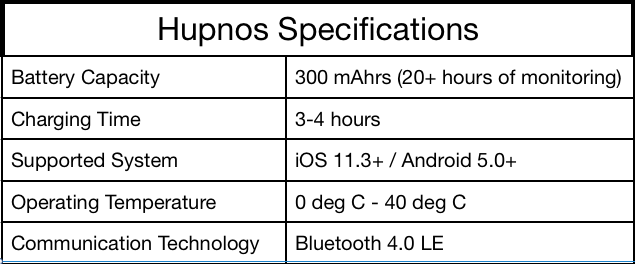 Dimensions
Size: 11in x 4.25in x 1.75in
Weight: 4 ounces
Sensors
Temperature
3-Axis Accelerometer
Connectivity
Bluetooth 4.0 LE Connectivity
iOS and Android
​Power
Charge from any USB port
Battery
300mAh (20+ hours of monitoring time)
What's In The Box?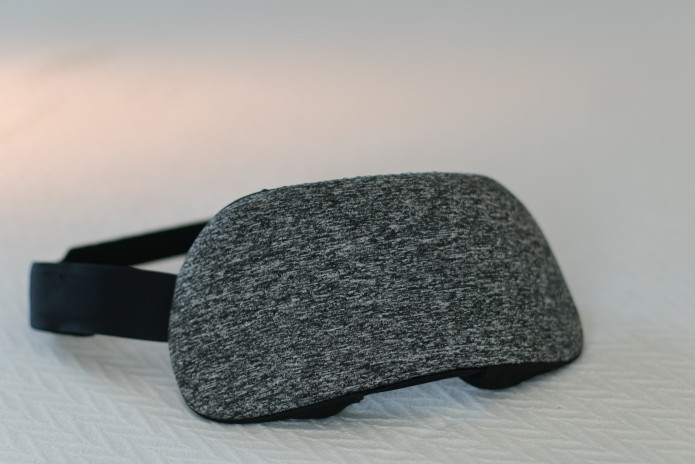 Hupnos Sleep Mask
Removable silicone nose piece can be washed in the sink with gentle soap, and the remaining mask can be machine-washed.
Premium microfiber, form-fitted mask with a gentle, soft feel.
Constructed with medical-grade, hypo-allergenic, BPA-free materials
Adjustable rear head strap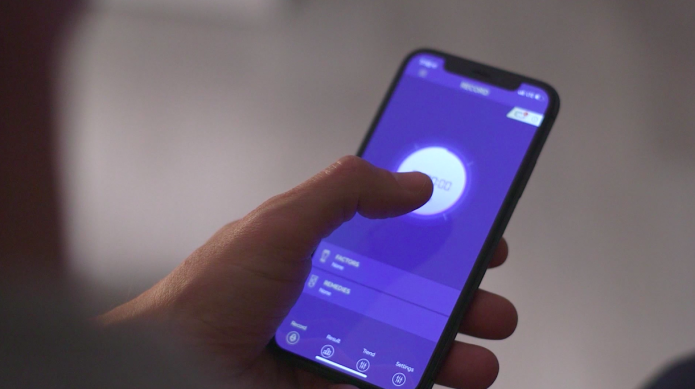 FREE Downloadable Hupnos Sleep App
This app is customizable, easy to use, and can track your sleeping habits. It can help you measure the effect of sleep remedies, record your body position throughout the night, and more.
You'll also get a:
Micro USB to USB cable
Comprehensive Quick Start Guide