The Garrnish Pesticide Purifier is the game-changing way to remove more than 90% of common pesticides, and a massive 99.9% of Chlorpyrifos and Dichlorvos pesticides, from your fruits and veggies. The future of clean eating is here!

Did you know that almost all of your fruits and veggies are covered with pesticides even after you wash them? Regular washing methods just aren't effective enough.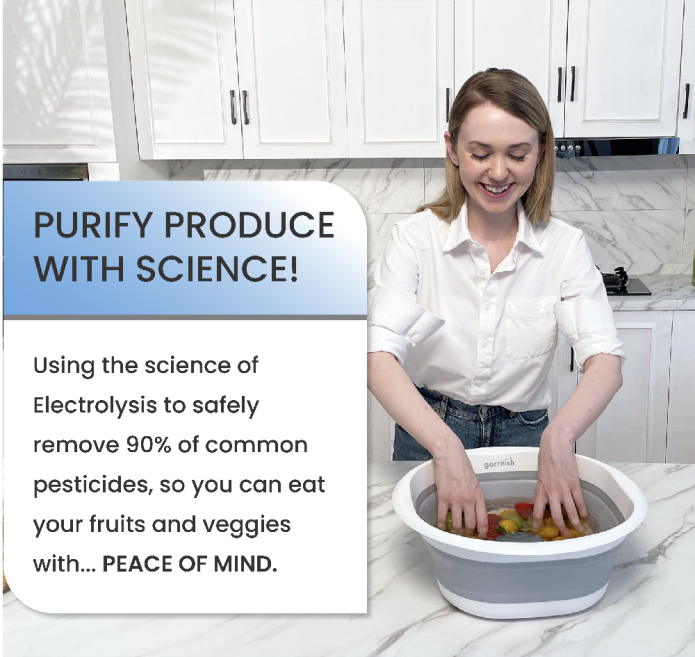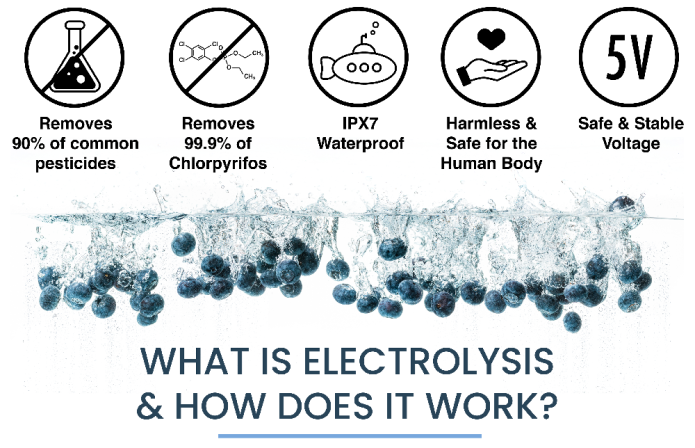 Electrolysis is the process that splits water molecules into (H+) and (OH-) ions and creates a powerful cleaning solution with just a pinch of salt, water, and the push of a button. It breaks down the molecular structure of chemical pesticides and turns them into nontoxic substances that wash away with water.
Gotta Love Science!


Despite how convenient they seem, produce washes and sprays have been tested to be ineffective at removing pesticides. They even tend to leave residues behind, so the Food and Drug Administration (FDA) recommends not to use them.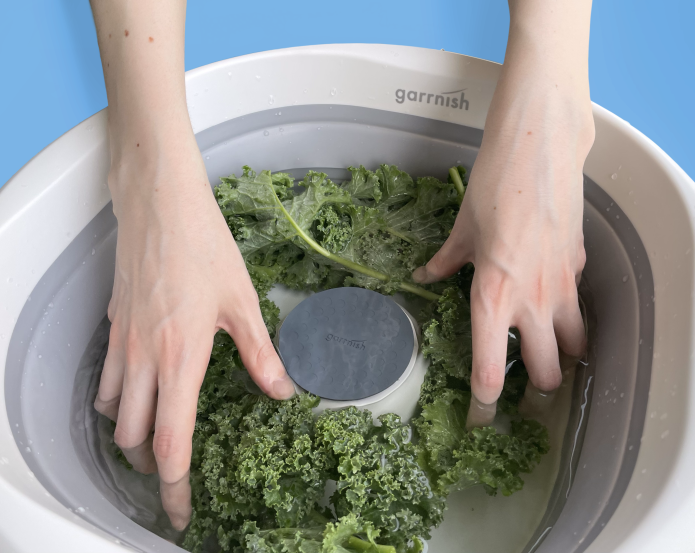 The Garrnish Pesticide Purifier is both effective and easy to use. Simply fill the basin with water, add your produce and turn it on. All you have to do is give it a stir once in a while!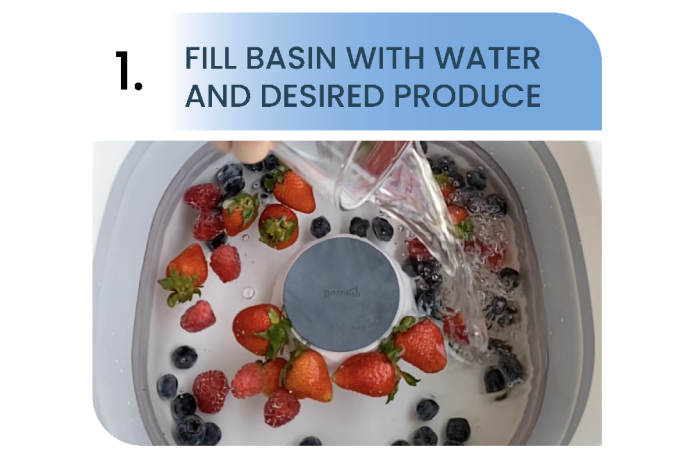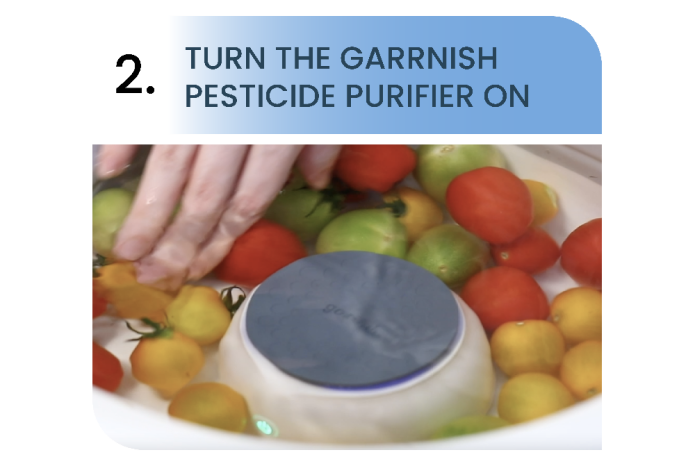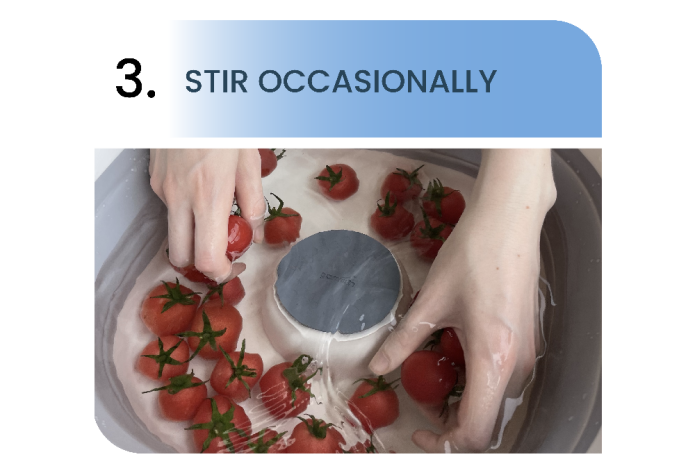 Conventional blueberries can contain as many as 52 different types of pesticide residues! Use the Garrnish Pesticide Purifier on your berries, and EAT CLEAN.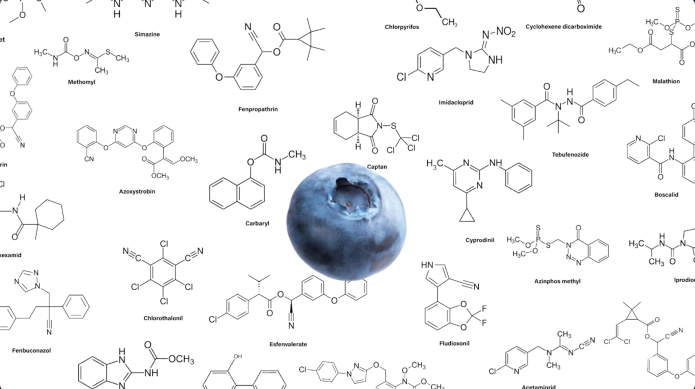 While organic produce is overall better than conventional, there are actually over 20 chemicals used in organic farming. Pesticide sprays from airplanes can also drift onto nearby organic farms.


We sent the Garrnish Pesticide Purifier to SGS, the world's leading lab testing, inspection, and certification organization headquartered in Switzerland.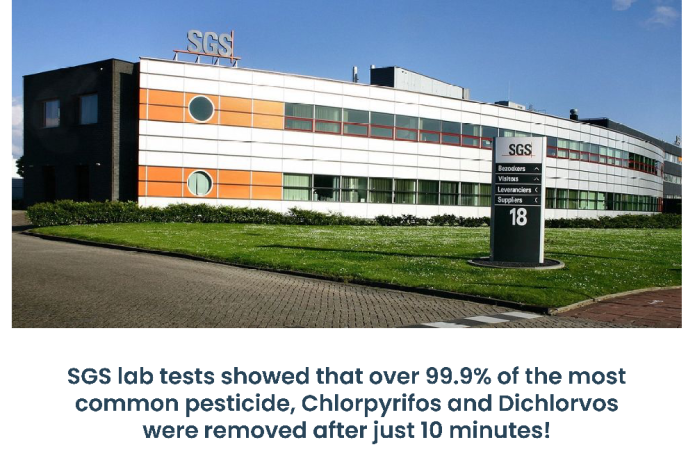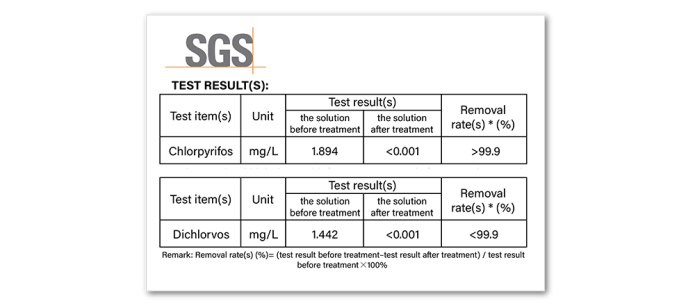 Chlorpyrifos is an organophosphate insecticide. It's used to kill pests on food and feed crops, animals, and buildings. It's one of the most widely used pesticides globally.

Dichlorvos is also an organophosphate insecticide used in greenhouses, food storage facilities, barns, and on livestock.

Each person commenting below has actually used our Garrnish Pesticide Purifier for around 8 months. We gave them prototypes to use in daily life and got their feedback.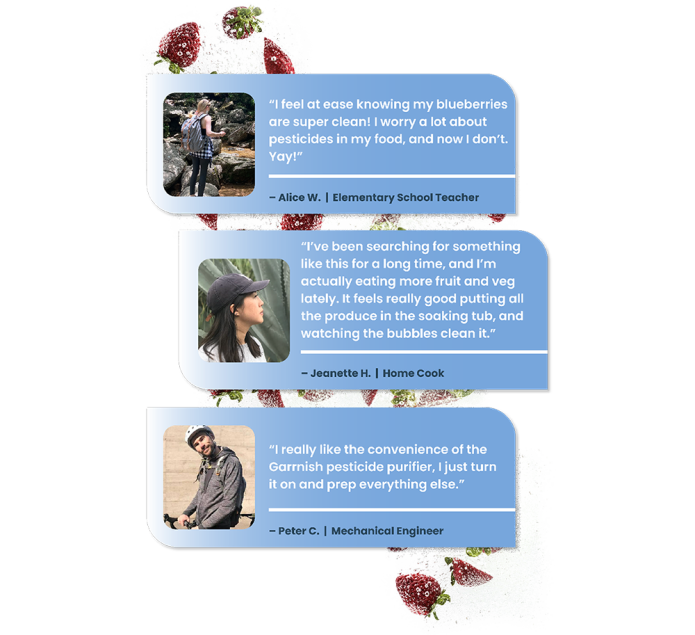 Dispense with the mess and keep your kitchen looking as clean as our purified veggies. After use, just give the purifier a quick rinse and you're good to go.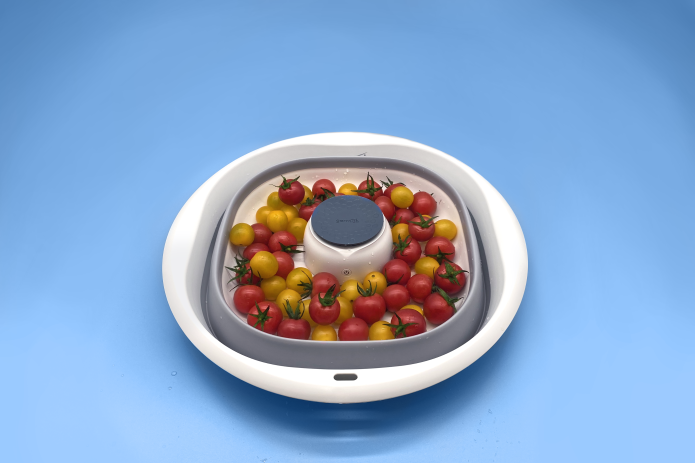 The Garrnish Pesticide Purifier's clean, modern design and wireless charging dock blends into any kitchen, you can even fold it up for easy storage.
What if my water system doesn't have chlorine? Can I still use the Pesticide Purifier?
Yes, absolutely! Just add a few pinches of salt to your water and it will work as intended.
Does the Garrnish Pesticide Purifier need to be plugged in while using it?
No, after the pesticide purifier is fully charged, it can be used many times on the same charge. That's what makes it so convenient and portable for travel!
Do you have 3rd party lab test results?
Yes, SGS is one the most trusted lab testing organizations, and their lab tests showed a 99.9% removal rate of the most commonly used pesticide.
What if I'm outside of the USA?
We are happy to do international shipping for those outside of the US. Our goal is to make the biggest impact possible wherever you are in the world.
What's the capacity of the Garrnish Pesticide Purifier, how many fruits or veggies can it purify at once?
The pesticide purifier can comfortably purify around 20 average sized oranges at one time.
Can the Garrnish Pesticide Purifier be fully submerged in water?
Yes, we are IPX7 rated, so the pesticide purifier is fully waterproof.
How is the product powered? How is it charged?
The Garrnish Pesticide Purifier is rechargeable (with an internal battery like your phone) and is wirelessly charged (USB wireless charging dock provided).
Can it fit in small areas?
Yes! The Garrnish Pesticide Purifier is collapsible into 2 inches in height, making it perfect for small spaces.