parasol × a good take for fans!
Even if ultraviolet rays can be prevented with a parasol, it is hot ...
If it is only fans, it is hot and humid wind in the sunshine ...
It becomes a little comfortable with W use, but both hands are blocked.
Measures against ultraviolet rays and heat in summer are an issue every year.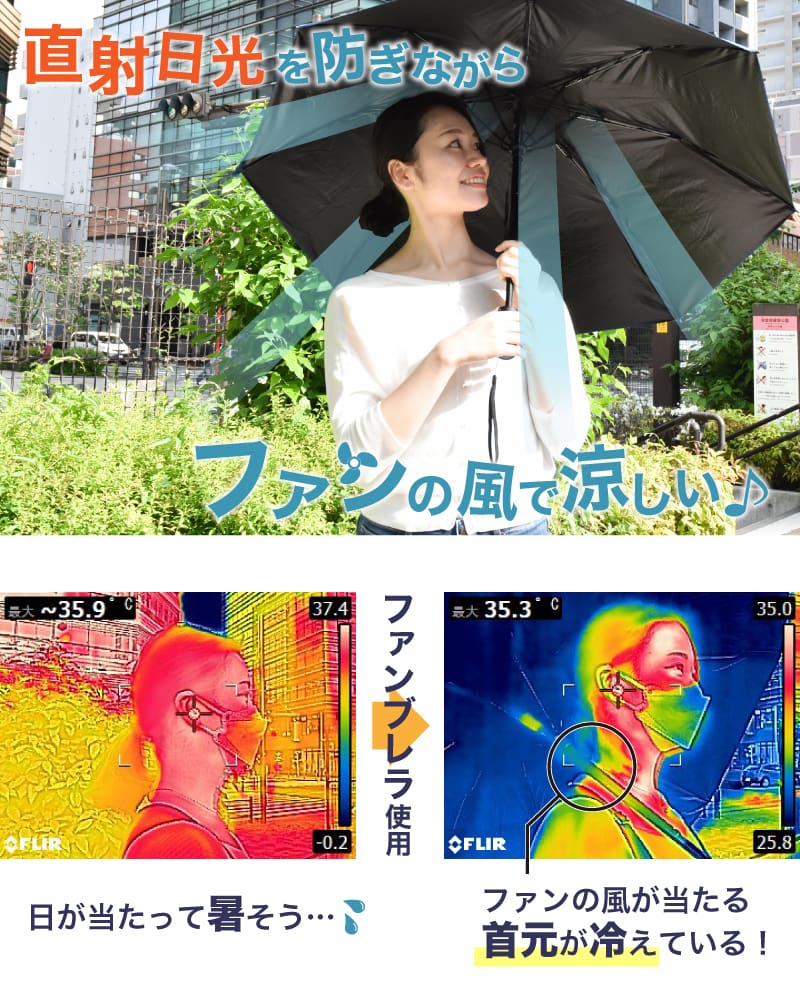 If it is a parasol with a fan "Fanbrella", it is a nice place for parasols and handy fans!
A fan attaches to a parasol with UV cut effect, and it is a parasol that cools in the wind while avoiding the sun!
perfect for uv and heat protection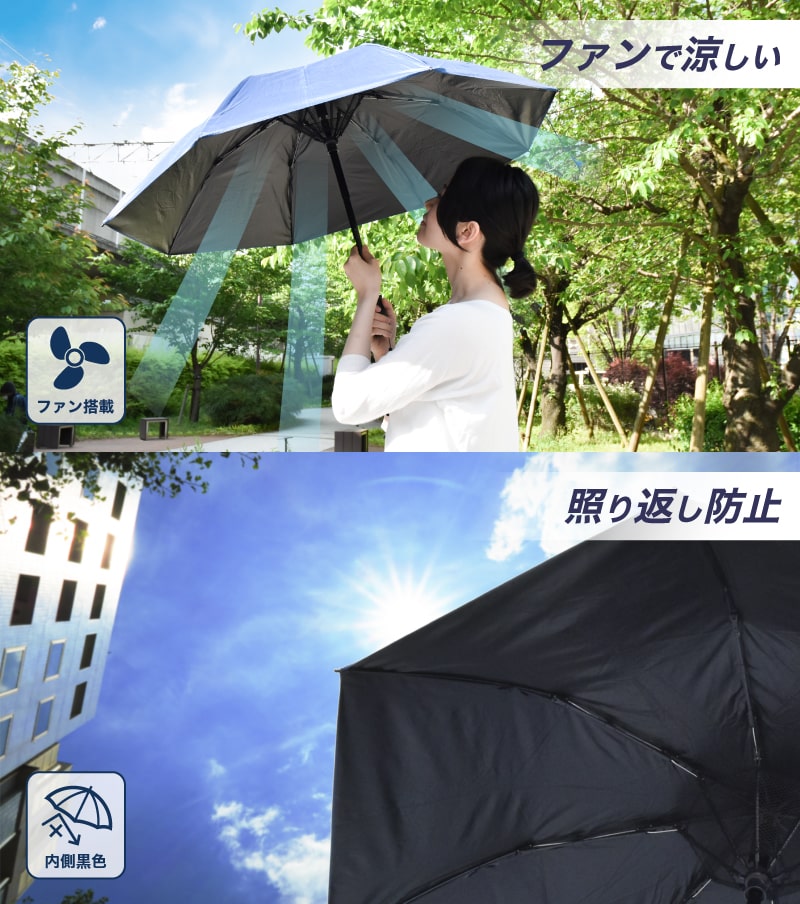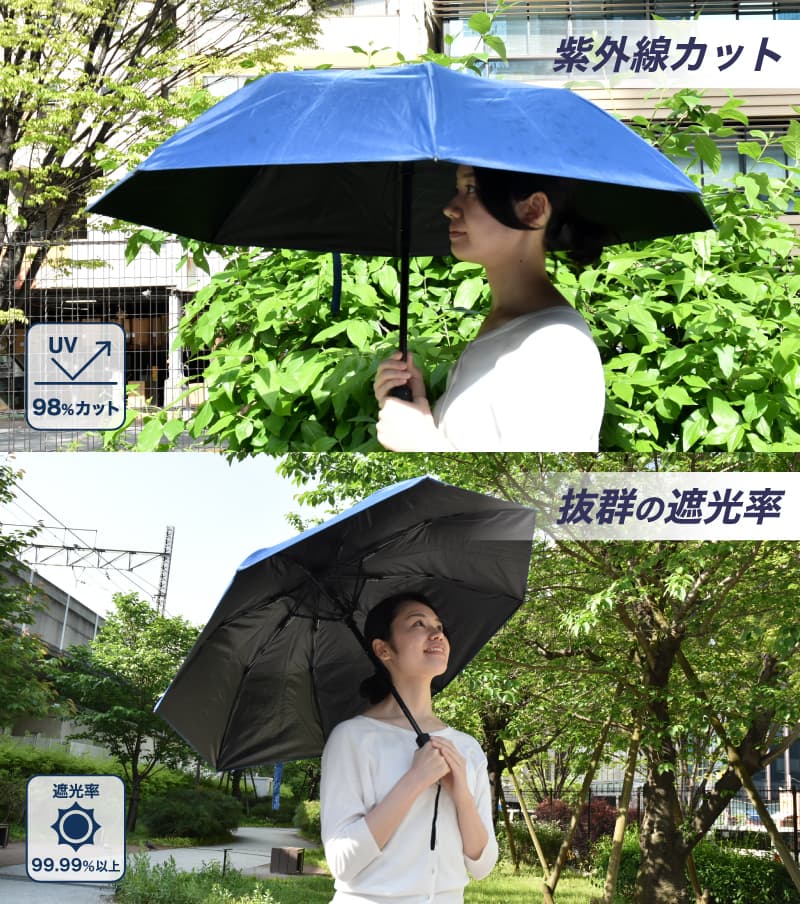 Not only is it cool in the fan's wind, but also as a parasol.
With a 98% UV cut effect, it is perfect as a UV countermeasure.
In addition, the design that can prevent sunburn due to reflection from the ground because the inside is black is also a point of commitment.
the fan's wind power is also strong, so you can ♪ feel the wind firmly
even rainy days for both sunny and rainy days

of course, it can be used both sunny and rainy, and it can be ♪
used conveniently on rainy days with a charging port. it is safe with waterproof specifications.
it is a perfect product during the rainy season when it is smeadied.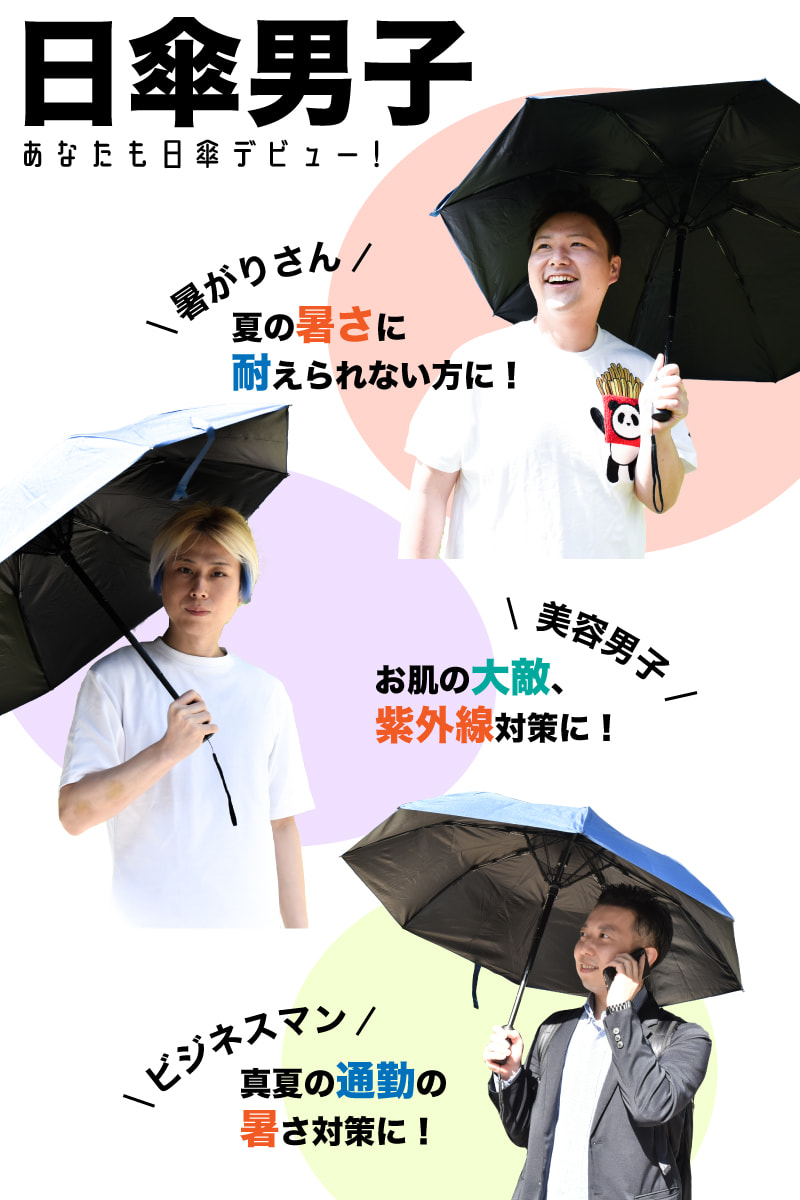 fanbrella recommended for men.
it is characterized by a calm color and a large size that can be used by men, such as those who are concerned about hot weather, those who are careful about beauty,
and those who seek coolness.
functionality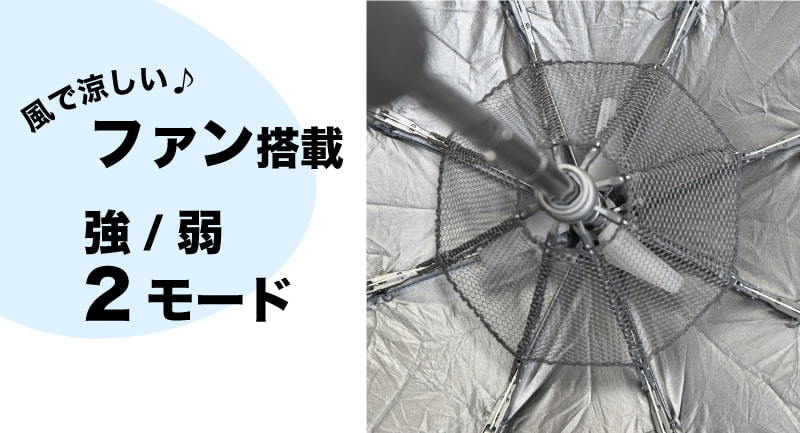 how about making your men's debut with a parasol?
functionality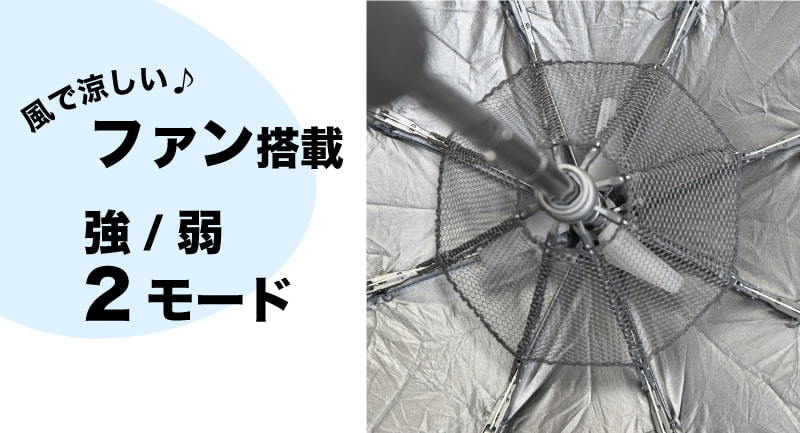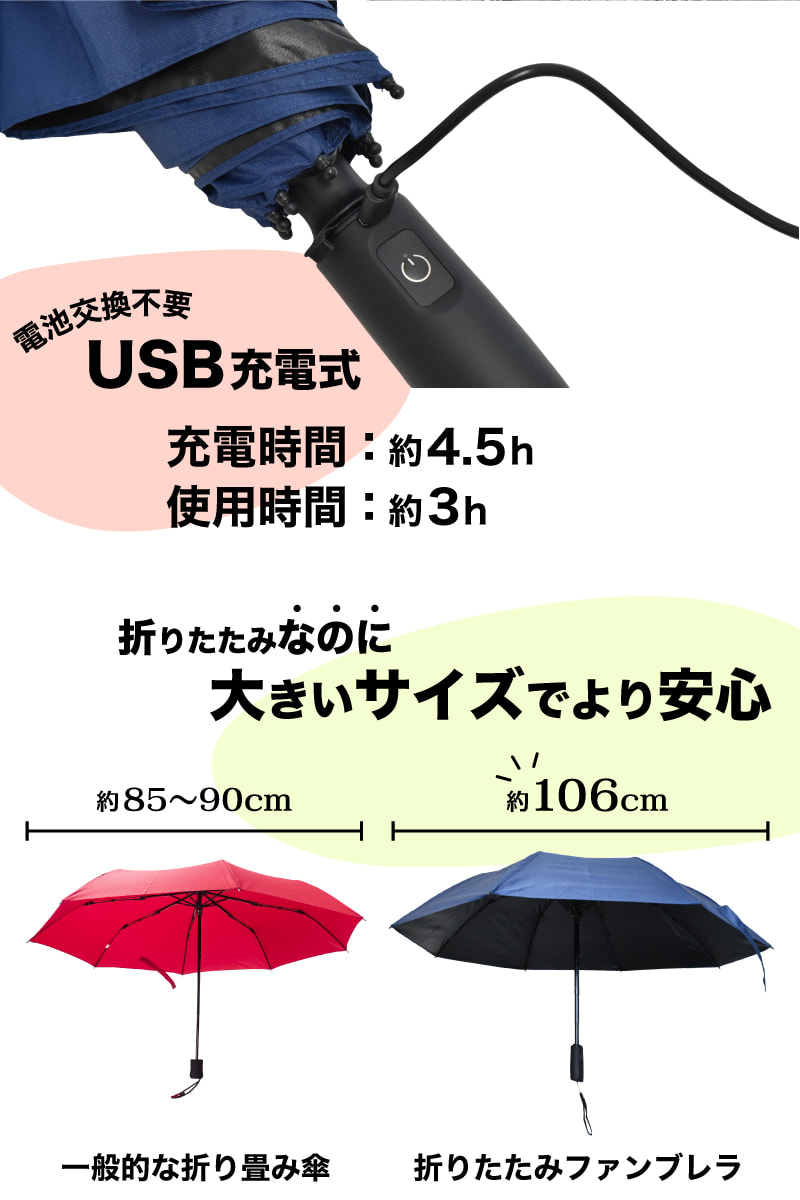 Usb rechargeable eliminates the need for battery replacement.
The size of the umbrella spread is much larger than the general folding one!
It is a big making that is safe even on a rainy day, excluding the day firmly.
size details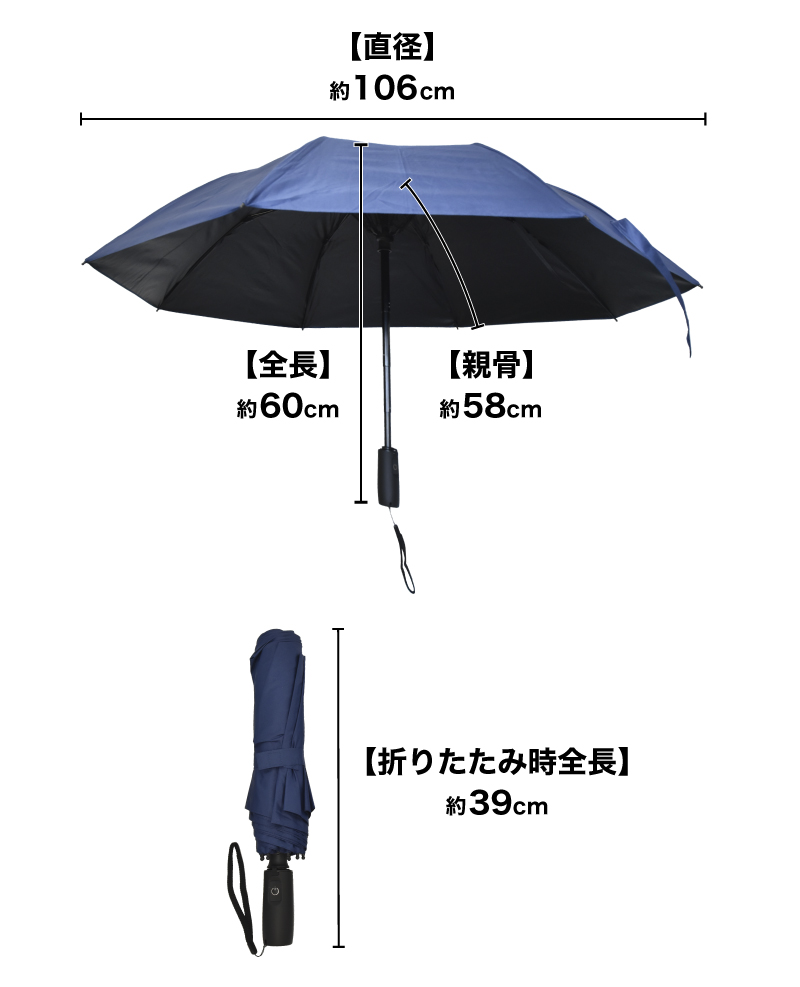 specification
size
total length (when using): about 60cm
total length (at the time of storing): about 39cm
diameter: about 106cm, length of the parent bone: about 58cm
weight
approximately 460 g
contents
main body, storage bag, charging cable, japanese instruction manual
cable length
approximately 80cm
power
CHARGING FROM USB (1A OR MORE RECOMMENDED)
battery
3.7V 2600mAh Li-ion battery
material
bone: fiberglass, cloth: polyester
charging time
about 4.5 hours
drive time
weak: about 3 hours strong: about 2 hours
air volume adjustment
2 levels (weak and strong)
contents
main body, storage bag, charging cable, japanese instruction manual
notes
○pleased to prevent hands and hair from being rolled in by fans.
○there is no locking mechanism, so please stop it with a hook and loop fastener after folding.
○this thing other than the one described in the contents product is not included.
○ please store and use out of reach of children.
○ damage/failure of goods caused by the use of this product is not covered by compensation.
○ do not disassemble.
○ do not drop or subject a strong impact.
○ do not store or use near high temperatures, humidity, or fire.
○ if you feel an abnormality, please stop using it and contact customer support.
○ specifications are subject to change without notice for improvement.
package size
width 64× height 393× depth 64 (mm)
packaged weight
560g
warranty period
12 months from the date of purchase
release date
2022/5/9
※ specifications are subject to change without notice for improvement.