FODI is a paper thin, multi-purpose stand that uses a carefully designed origami structure that can hold your smartphone, laptop, books and more. Origami, which is a Japanese traditional art form of paper folding, is not only a beautiful piece of art, but also has use cases in engineering and architecture. Even NASA is using Origami structure on their satellites!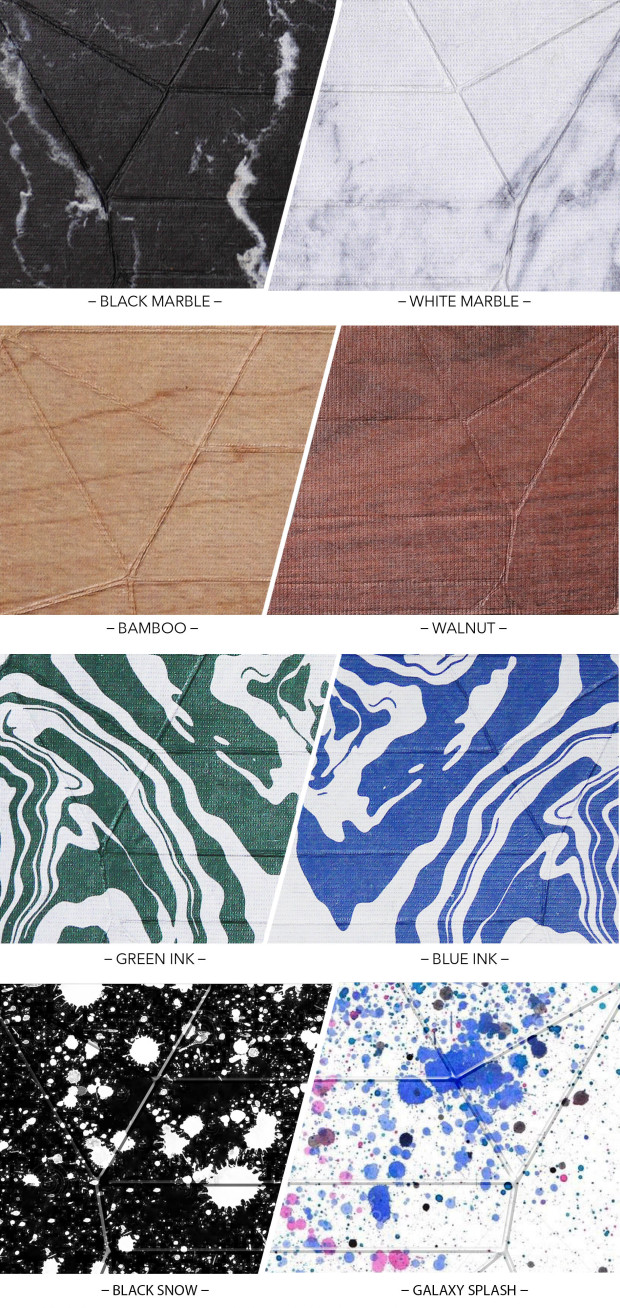 The different colors of FODI can complement your style.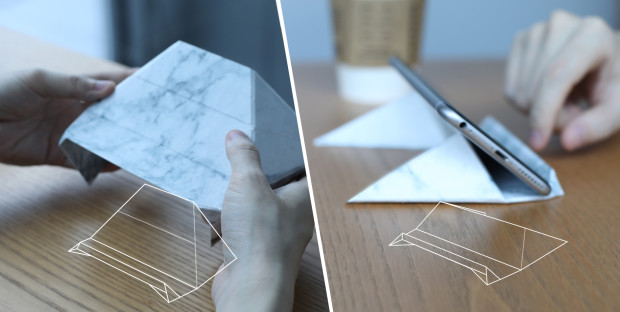 FODI can hold Switch perfectly.
FODI can hold up iPhone, iPad, iPad Pro and much more.
The world is multi-dimensional and so is FODI. Despite having a strong structure, FODI weighs only 0.08 lbs (40g), which means FODI can quite literally transform into a piece of paper when laid flat. With a thickness of only 1mm, you can easily put FODI in your bag, laptop or even use it as a bookmark!
With our unique patent-pending origami structure, FODI can hold up to 44 lbs (20kg) of weight! As you can see from the photo above, FODI can easily hold 4 stacks of A4 papers.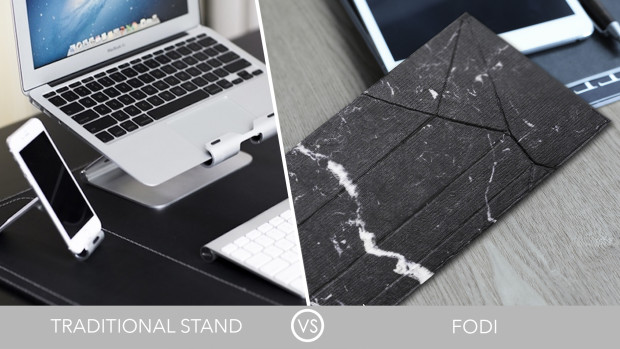 Compared to an ordinary stand, FODI is extremely light and easy to store!
FODI comes with 2 magnetic buckles - in 2 different sizes so they will fit all charging cables. They come on and off easier, absolutely no glue or tape needed! Buckles get rid of tangling and it holds the cable firmly, making sure you don't drop it! The powerful buckles can also pin memos and note to the FODI when you are not recharging. Multitasking just like FODI itself.
Made with environmentally-friendly fibre paper, FODI is water and stain-resistant, which means you can easily clean it. There's no hassle, even if you accidentally spill your coffee all over your desk!
Laptops, tablets and smartphones are designed for our convenience, yet their extensive usage, especially while sitting at a desk, can lead to various health issues. These include bad posture, stiff neck and back pain. With FODI, you can continue using your devices, all while keeping a comfortable, and most importantly, healthy posture.
FODI is not only good for your health, but can also improve your device's condition. By increasing space between your laptop and the surface, FODI improves the natural convection of air, thus reducing the risk of overheating.
Unlike ordinary paper, our patented fibre paper offers multiple advantages. Made of polypropylene fibre, the texture is much stronger than that of normal paper, it is water and stain resistant and can even withstand up to 248 degrees Fahrenheit or 120 degrees Celsius. Additionally, FODI is not wood-made, so there is no mold threat.
FODI doesn't just support your electronic devices, it also supports our earth. The outer layer of FODI is made of patented polypropylene fibre paper, which is very durable and most importantly recyclable.
During the early stages of product development, we decided to use the origami technique in order to succeed in designing and creating an ultra-slim product form. Our fibre paper has enabled us to create FODI without compromising on any of the product's features.
Keeping in mind the small-scale, neat design of popular laptops and tablets available on the market, we made FODI as compact as possible. After countless adjustments, we came up with the ultimate size for all users and devices, guaranteed to meet your individual needs.
Kade Chan - Designer of FODI, is a professional origami artist and product/graphic designer. Kade Chan has been recognized for his design work and has been rewarded with various origami awards and honors on several occasions. Most notably, in 2012, he received the Eric Joisel Award from Origami Canada, and in 2013, the Yoshino Issei Fund from the Japan Origami Academic Society. Kade was also invited to be the special guest of Korea Origami Convention 2015 and Origami USA Convention 2016.
Now Kade Chan has more than 100 original origami designs and over 10 years of experience in origami teaching. He has also organized more than 60 public events/exhibitions and collaborated with many famous brands such as Berluti, L'Eau de Chloé and TOD's.
Kiho Satoshi, is an aspiring artist and designer. Born in Hyogo, Japan. Currently studying in university. Started video-shooting in 2015. Passionate about innovation. "Simple is the best" is his motto.
The packing of FODI may looks minimal, but we believe less is more. We have designed the protective packing to do its job with the least material - so less gets thrown away. Our design ensures FODI to arrive perfectly straight and unscratched.
A BIG THANKS to everyone who helped a lot in this project!
We have put thousands of hours into this project to make it live! But now we need to get it in front of the right people. We would love you for you to help spread the word by sharing on social media. Thank you!