FLIR ONE Thermal Imaging Camera For iOS (Gen 3)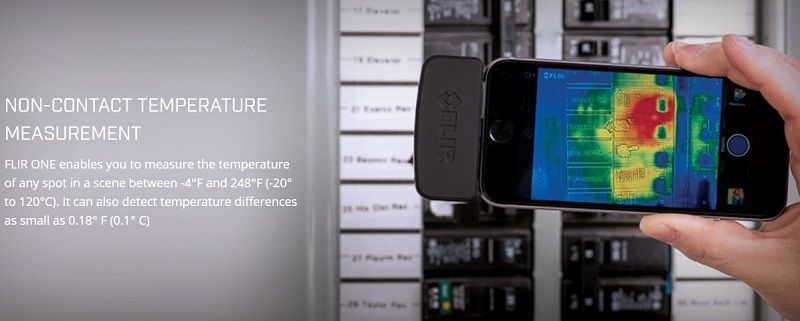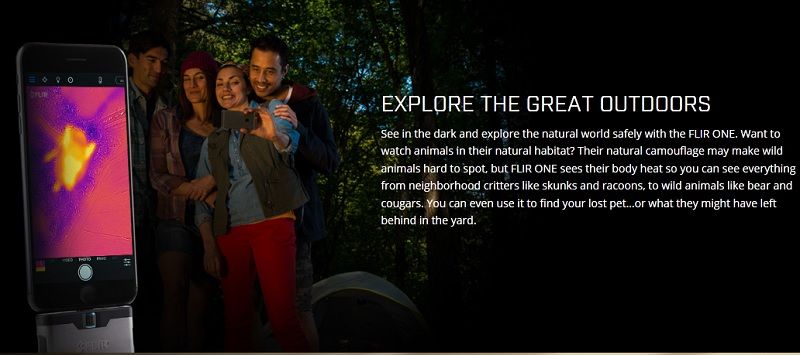 Descriptions:
Thermal accessory for your Apple iPhone or iPad with lightning connector.
Turning your smartphone into a brilliant phone.
Powerful thermal imaging camera gives you the power to see in total darkness, find problems around the house, and explore your world in a whole new way
The all-new third generation Flir One continues to hone the formula of the ultra-portable thermal camera. At a good price, the new Flir One is here to outshine its older generation models.
With a sturdy new design, we've taken everything that made the previous models of the Flir One so successful and have added in a few tweaks to this third generation model.
Our latest model is perfect for those new to thermal superpowers. Explore the neighborhood, solve problems around the house, and see the world from a new perspective. With the new Flir One app, viewing real-time heat maps of your surroundings has never been easier.
FLIR ONE allows you to see and measure temperature differences accurately and from a safe distance
Exclusive MSX technology blends thermal and visible spectrum for more detail and enhanced resolution because two cameras are better than one
One Fit adjustable connector allows for use with compatible protective cases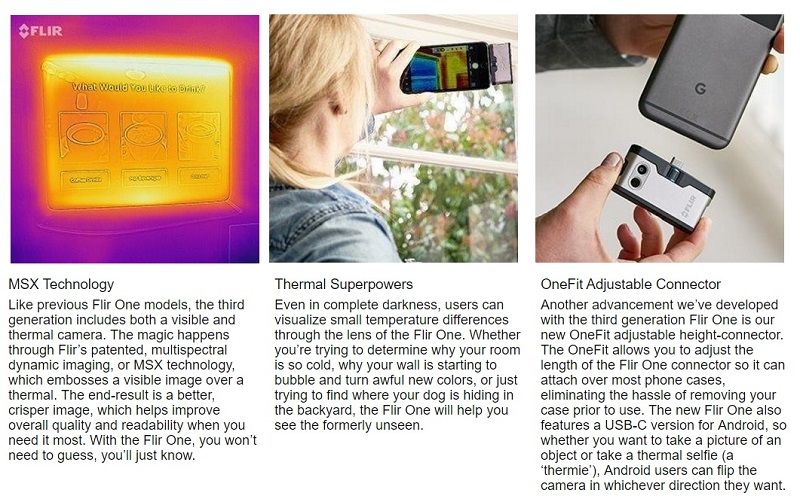 Specifications:
Operating temperature: 0 °C – 35 °C (32°F – 95°F),
battery charging 0 °C – 30 °C (32°F – 86°F)
Non-operating temperature: -20 °C – 60 °C (-4°F – 140°F)
Size: 67mm W x34mm H x14mm D (2.6in x 1.3in x .6in)
Mechanical shock: Drop from 1.5m
Video: Thermal and visual cameras with MSX
Thermal sensor: Pixel size 17µm, 8 – 14µm spectral range
Thermal resolution: 80x60
Visual resolution: 1440x1080
HFOV / VFOV: 50° ± 1° / 38° ± 1°
Focus: Fixed 15cm – Infinity
Radiometry
Scene dynamic range: -20 °C – 120 °C
Accuracy: ±3°C or ±5%, typical
Percent ofthe difference between ambient and scene temperature.
Applicable 60s after start-up when the unit is within 15 °C – 35 °C and the scene is within 5 °C – 120 °C.
Thermal sensitivity (MRDT): 150mK
Matte: 95%, Semi-Matte: 80%, Semi-Glossy: 60%, Glossy: 30%
Reflected background temperature is 22°C
Shutter: Automatic/Manual
Power
Battery life: Approximately 1h
Battery charge time: 40min
Interfaces
Video: Male Lightning (iOS), Male USB-C (Android)
Charging: Female USB-C (5V/1A)
App
Video and still image display/capture
Still images – radiometric jpeg
Video – MPEG-4 (file format MOV (iOS), MP4 (Android))
Capture modes: Video, Still image, Time lapse
Palettes: Gray (white hot), Hottest, Coldest, Iron, Rainbow, Contrast, Arctic, Lava and Wheel.
Spot meter: Off / °C / °F. Resolution 0.1°C / 0.1°F
Adjustable MSX distance: 0.3m – Infinity
Battery charge monitor:
0 – 100%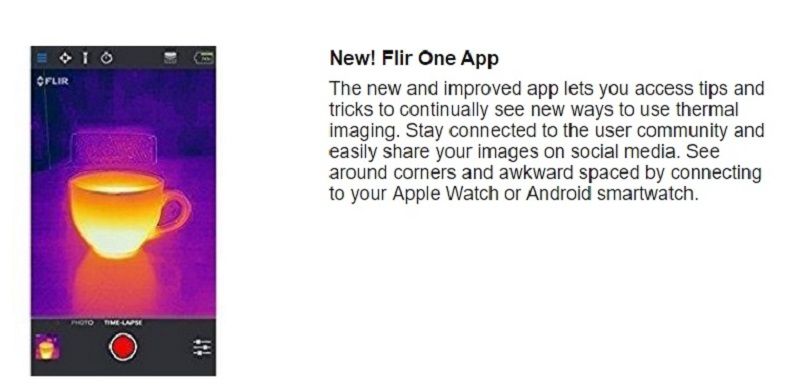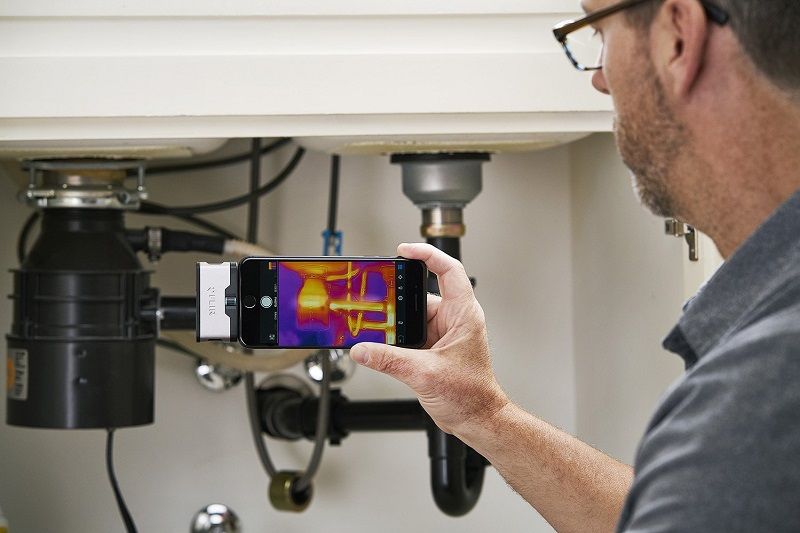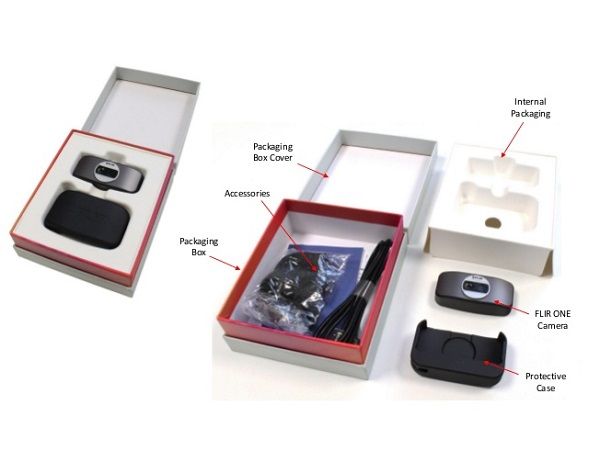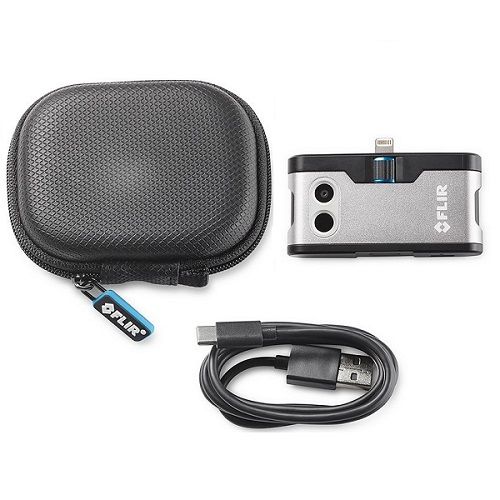 FLIR ONE Gen 3
MODEL: FLIR ONE GEN 3 - ANDROID (USB-C)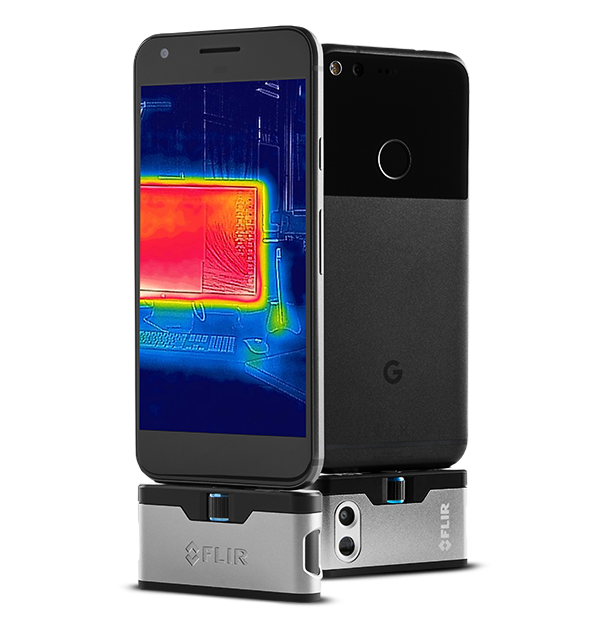 There's an invisible world right next to the one you see every day, just waiting for you to explore it with the FLIR ONE. Whether you're seeing the world in a while new way or just finding problems around the house, FLIR ONE's thermal camera gives you a new view of your everyday world. Discover what's been around you all the time, with FLIR ONE. The FLIR ONE app requires sign in, which enables automatic warranty registration and access to all the latest updates from FLIR.
Thermal Imaging Camera Attachment
THE DIY'ERS BEST FRIEND
Find problems around the home fast, like where you're losing heat, how your insulation's holding up, electrical problems, and water damage – all of which are point-and-shoot easy to find
EXPLORE THE GREAT OUTDOORS
See in the dark and explore the natural world safely with the FLIR ONE. Watch animals in their natural habitat and even use it to find your lost pet ... or what they might have left behind in the yard
EXPAND YOUR WORLD
Detecting tiny variations in heat means that you can see in total darkness, create new kinds of art, and discover new things about your world every day... or help your child with their science fair experiment.
SPECIFICATIONS
Non-Operating Temperature

-20 °C – 60 °C (-4°F – 140°F)
Scene Dynamic Range

-20 °C – 120 °C
Spot Meter

Off / °C / °F. Resolution 0.1°C / 0.1°F
Dimensions (H x W x D)

34 x 67 x 14mm (1.3 x 2.6 x 0.6in)
Phone

Android