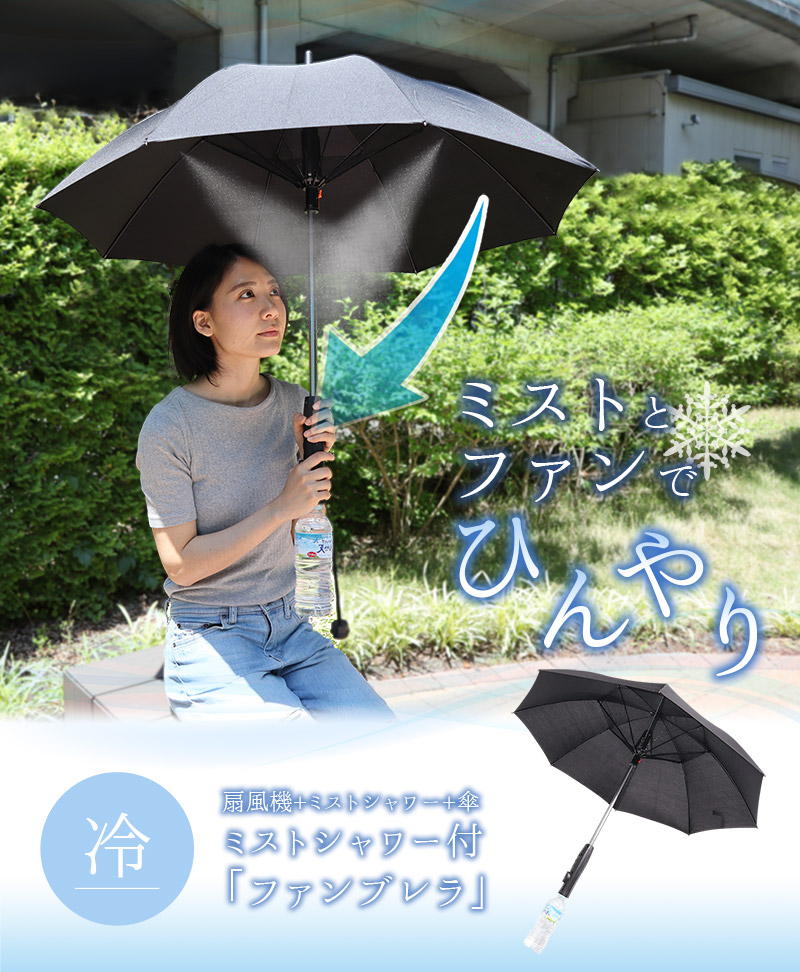 It's strong sunshine and it's hot outside!

Japan, where hot summer days have become commonplace. It is very hot this year too!
It is very dangerous to go out during the day to reach 40 ° C.
Sweaty, UV rays, and heat stroke worry.

But I have to go around in my business ....
You must go out by all means ....

Products for solving such troubles have appeared!
That is the "fanbrera" from which the mist comes out.

This "fanbrera" looks like a normal parasol, but with a fan on the top of the umbrella, it's a good thing that sends cool air!
Furthermore, that's not all. This item "Mist" is released.
There is a cool mist shower on the ceiling at theme parks etc.

The "mist shower" is installed in this fanbrera.
The temperature drops strongly with the fan and mist shower!

You can now ride Japan's hot summer!
hot!

Recommended at that time!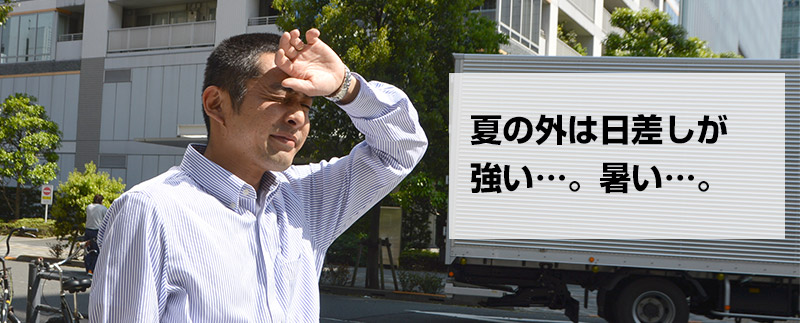 Recent summer is really hot, isn't it?
Japan has become a familiar word that the heat sun.
Already, parasols are becoming commonplace in heatstroke and ultraviolet measures.

However, parasols only block direct sunlight, and can not prevent asphalt reversion and heat from outdoor units in buildings.
After all the heat is hot and hot.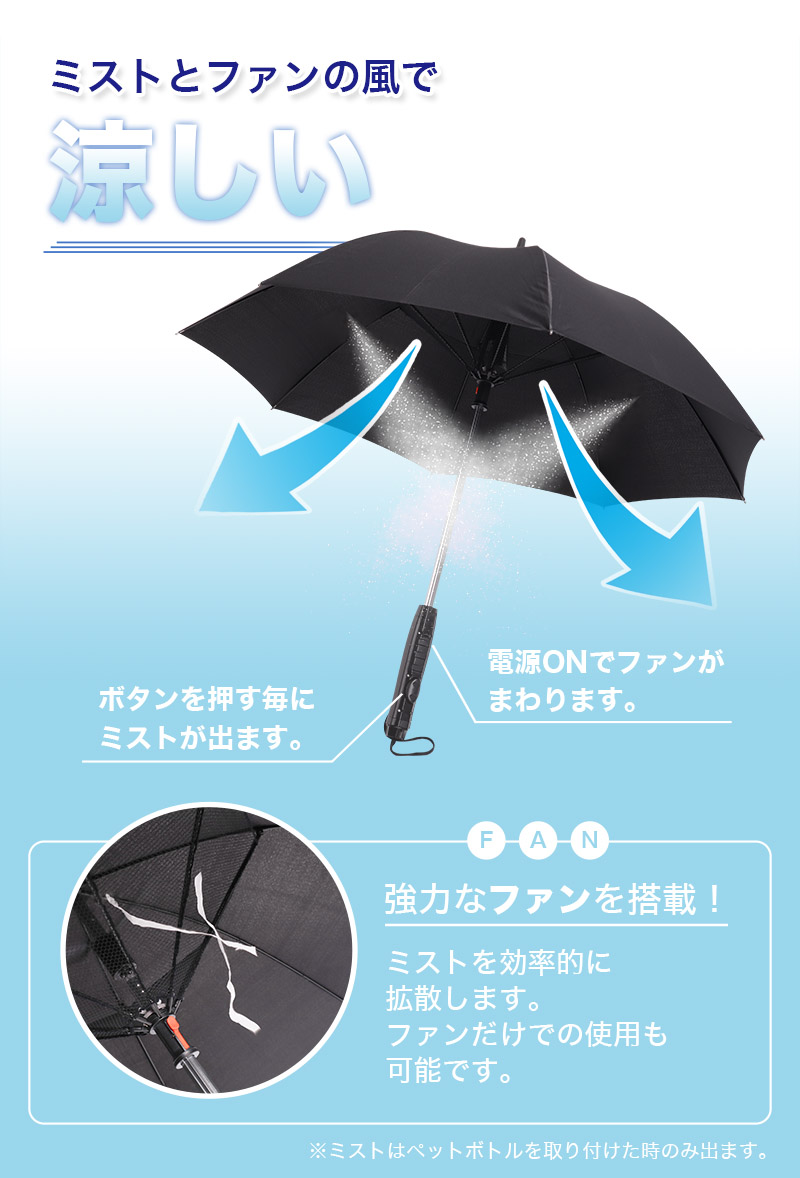 It is this "fambrera" from which this mist comes out to avoid the heat outside such a day.
There is a cool mist shower on the ceiling of the theme park and this item, and the mist comes out each time you press the mist button.
Not only that, there is a fan-like fan on the top of the umbrella, and the cool air created by the mist is delivered by the wind.
It's really cool when you try it.

I hope you will experience this coolness.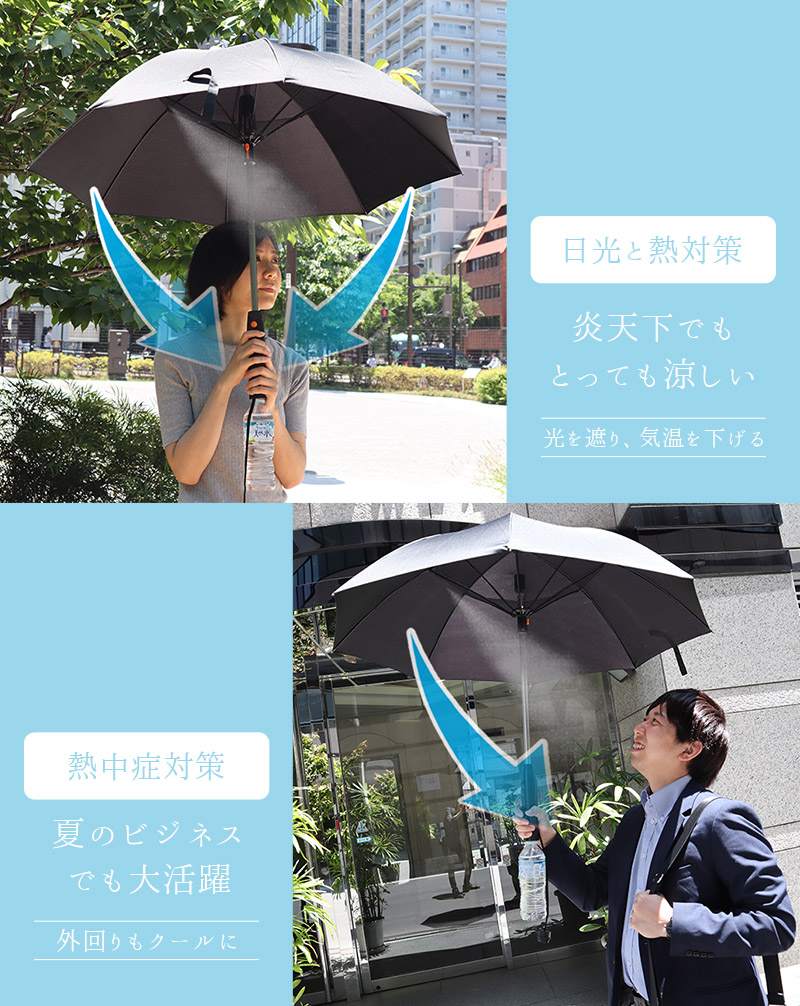 With a mist shower, the fanbrera works well in a hot day.
As the cool wind is sent just by turning on the power switch and pressing the mist button, daytime activities such as waiting under the sun or moving around will be easier.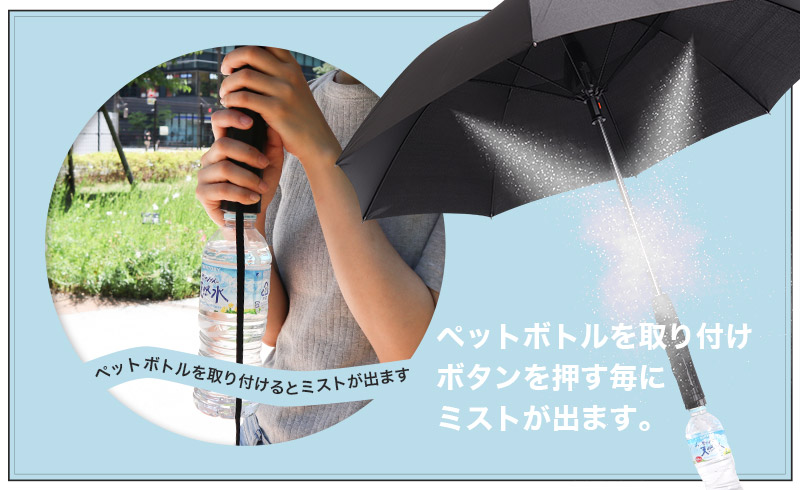 Mist attaches a plastic bottle to the lower part of the umbrella and comes out simply by pressing the mist button.
Just buy cold "natural water from the Southern Alps" at a convenience store, and attach it to make it possible to create an air of hiehie around you.

※ The plastic bottle corresponds only to Suntory's "Natural Alps natural water".
Please check the manual when using a regular plastic bottle.
Chill with the heat of vaporization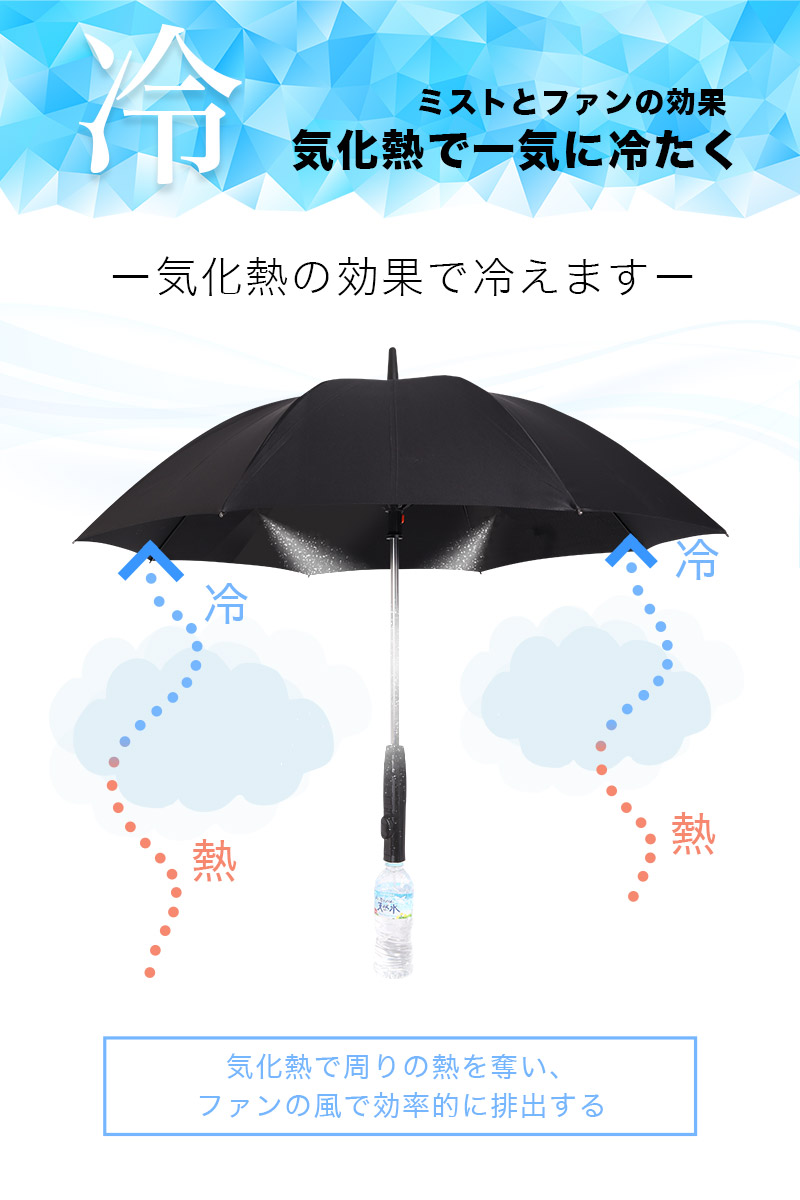 Mist in the mist shower takes away the air around with the heat of vaporization and creates cool air around you.
Not only mist but also this product is equipped with a fan, so the heat is dissipated more effectively.
You can experience cooler-like coolness even in an outside environment that is likely to exceed 40 ° C.
Please experience this coolness.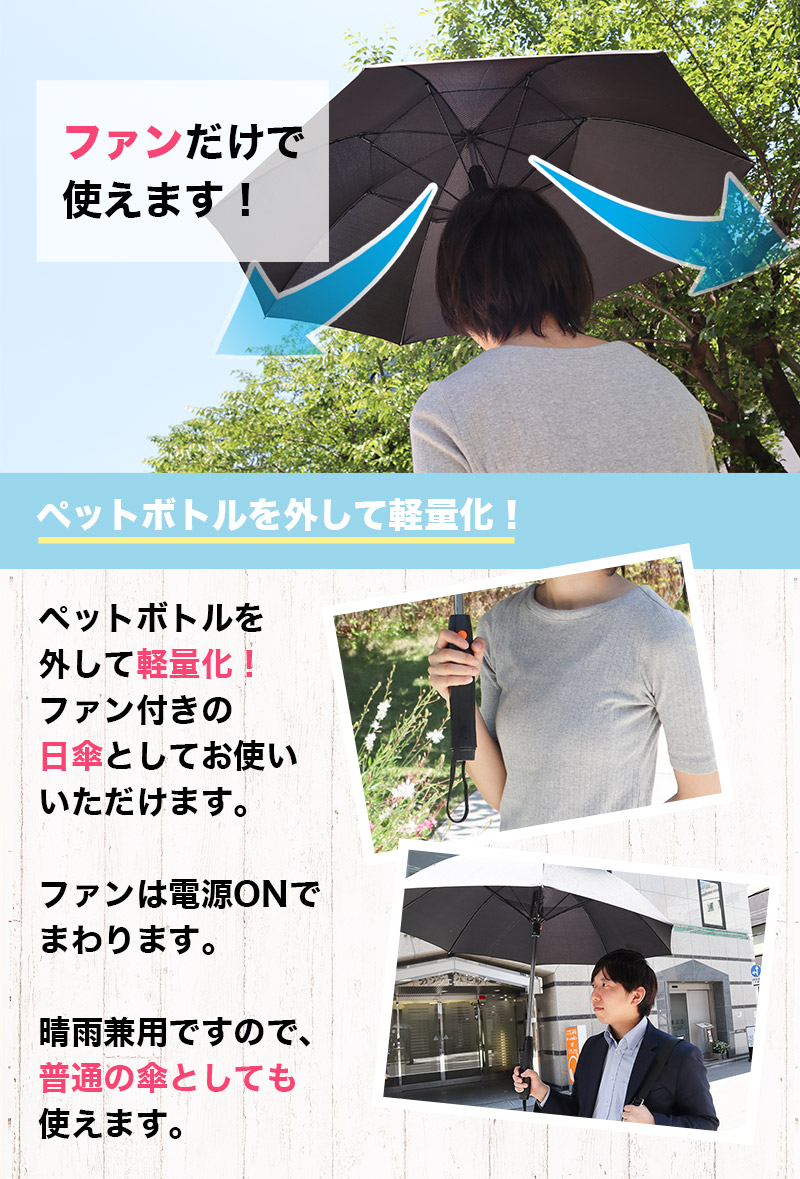 Of course, you can use it only with the fan of the fan.
If you remove the plastic bottle, it will be a bit heavier than a regular parasol, so it can be used as a parasol with a blast function when cool wind comes.
Because it is a combination of fine weather, it is also suitable for everyday use.
A combination of sunny and rainy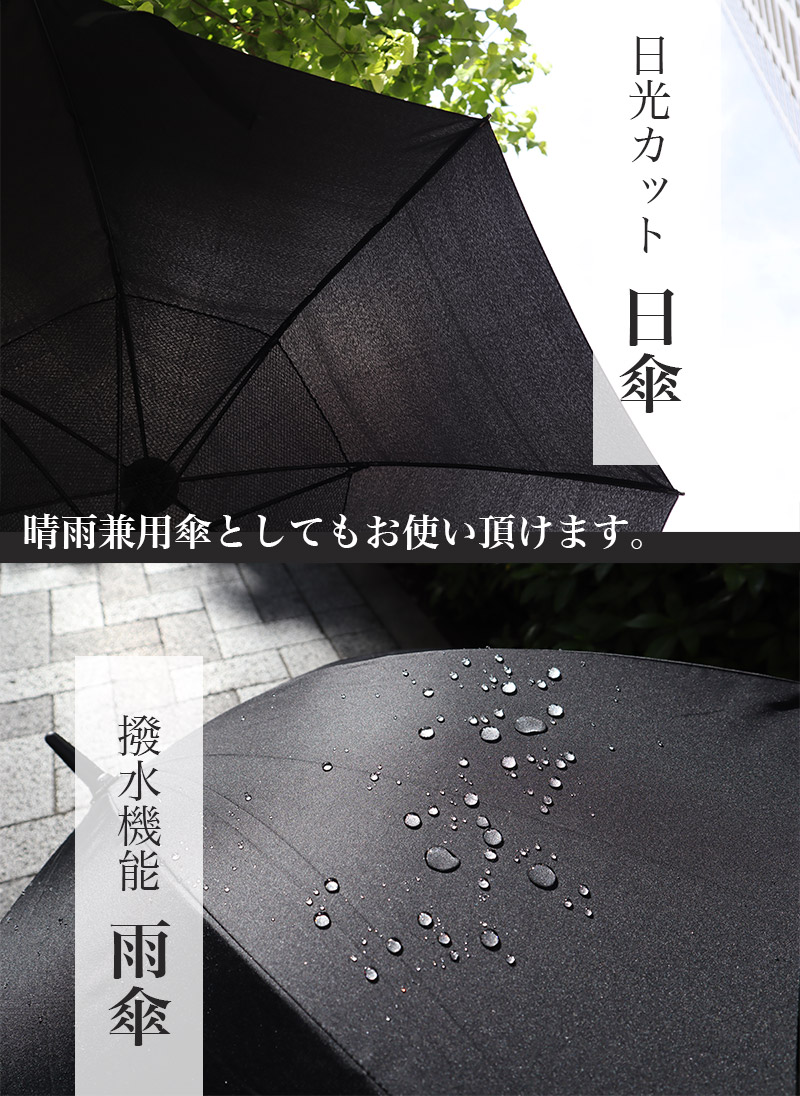 This product has a basic function as a parasol, too.
Because the inside of the umbrella is also using a black material, it does not burn in the sun by the light of reflection.

There is also a water repellant function, so it can be used as an umbrella for both sunny and rainy weather.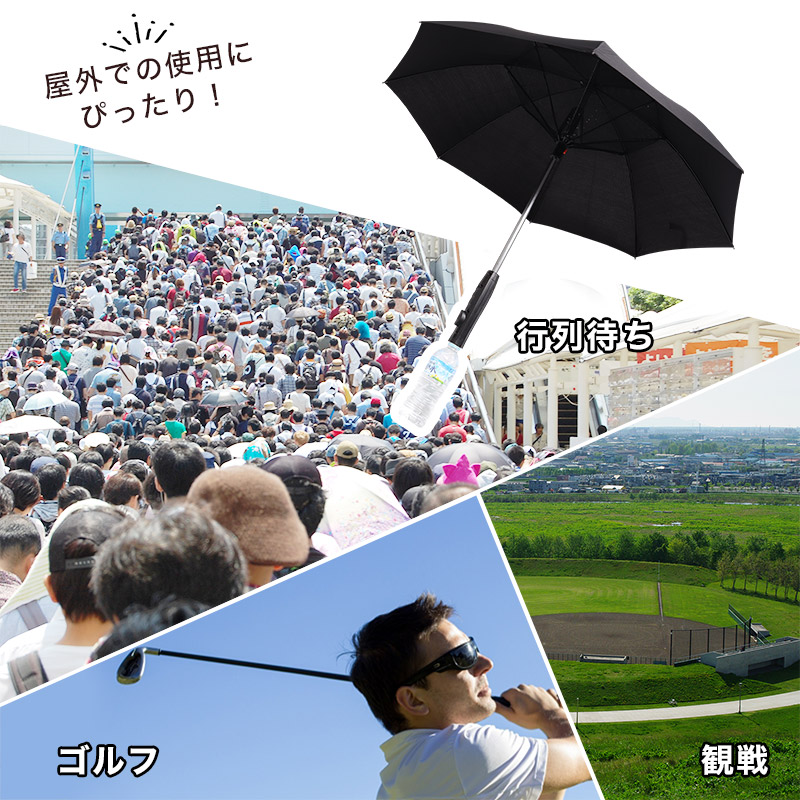 It blocks direct sunlight and cool winds come in, so it is effective when you line up in a row under a scorching sun, watch sports, use on a circuit, or play golf.
Please use it as a heatstroke measure when you must stay outside for a long time.