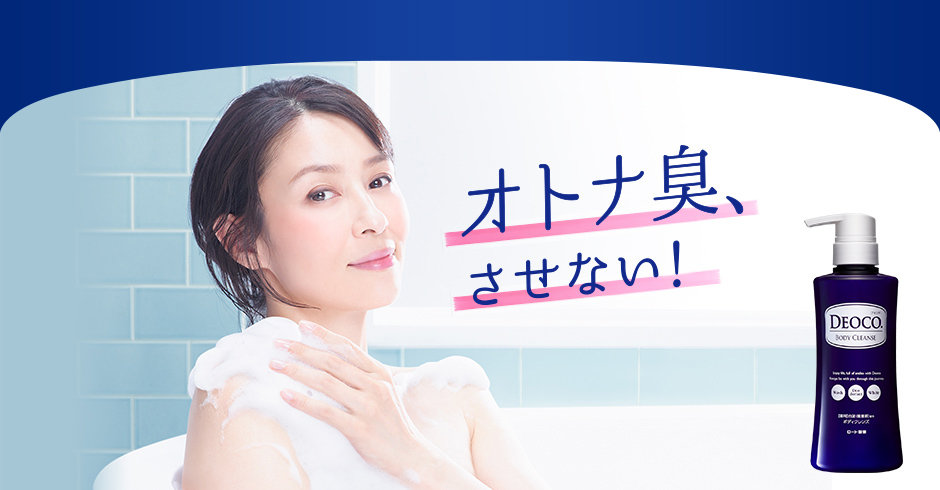 The age when women play an active part.
How to work, As a mother and as a woman,
I want to support a woman who works hard every day from the heart.

Rohto Pharmaceutical I feel refreshed every time I use it,
I can do my best again, We have launched Deoko® as a brand that supports adult women's sense of cleanliness.

Discovery from Roto Pharmaceutical's odor research.
It is inherent to women as they get older
Itwas a fact that"achange occurs in the odor of the female body."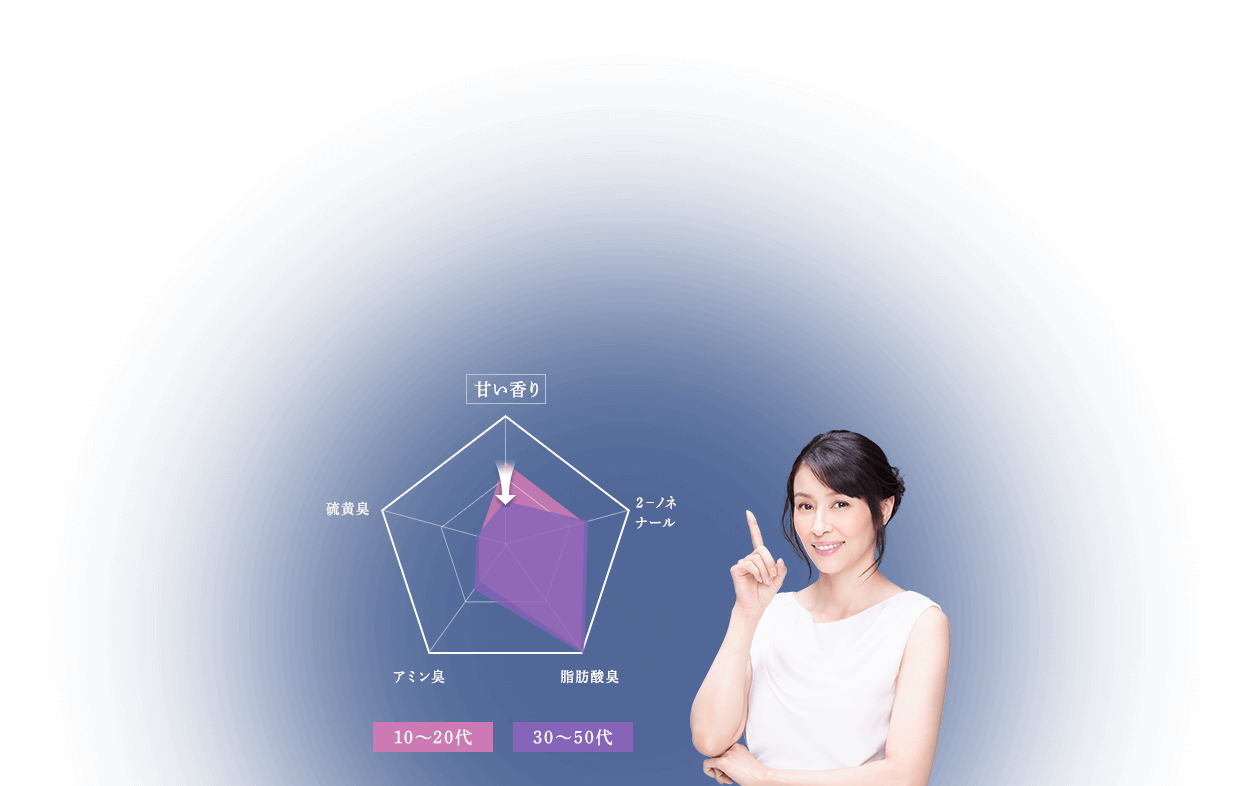 Source: Roto Pharmaceutical announces at the 51st Annual Meeting of the 2017 Japan Society for Taste and Smell.(N = 50)
We discover that "sweet smell of the young days" decreases by aging!
One of the causes of the change in odor of women with aging was that this "sweet smell" decreased.

Discover the odor of a young woman!
We found that "lactone", the source of the odor, peaked in the late teens and decreased with age.
This fact is related to changes in body odor in women that change with age.
The lactones emitted by young women give off a peach-like scent and a coconut-like sweet scent.
The fact that these feminine scents are diminished by the reduction of these scents was identified.

Roto Pharmaceutical Co., Ltd. makes a presentation at the "2017 Japan Taste and Smell Society 51st Conference".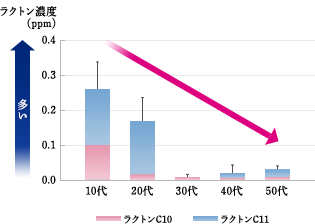 Test method: As a result of analyzing and identifying sweet smell in body odor by HSS-GC / MS, it is found that it is lactone C10 / lactone C11, and the lactone C10 / lactone C11 concentration in body odor in each generation is measured and totaled Was graphed.
(N = 50 Rohto Research Institute)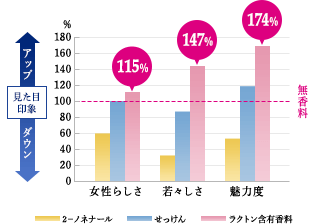 Test method: While presenting photographs of different women to 52 men and women, they randomly smelled non-flavored, 2-nonenal, soap, and lactone-containing perfumes, and scored an impression for each scent and surveyed. It is assumed that no fragrance is 100.
(September 2017 2017 investigation of the funnel)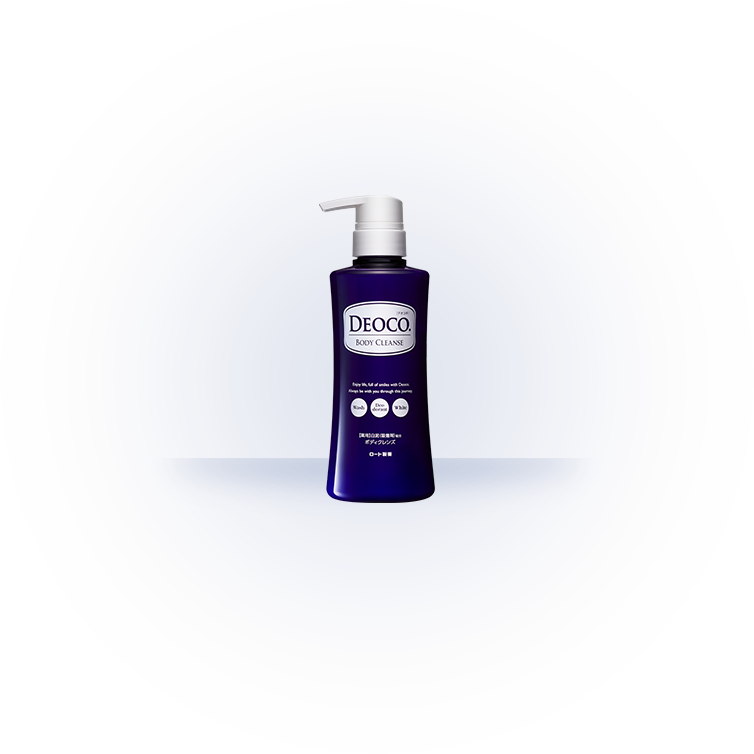 Roto medicated body soap L
Elucidation of the mechanism ofquasi-drugodor
Completed in pursuit of an approach for women
Medicinal body soap "DEOCO®".
Fine white mud (white clay) * 1 It absorbs even the origin and dirt of the smell of the back of the pore that could not be taken away with ordinary body soap.
The body odor changes with age. Contains vitamin C derivative (moisturizing ingredient), Smooth and transparent skin.
Don't worry about odor troubles, have a comfortable daily life!

Containing a germicidal active ingredient * 2.
Sterilize odorous bacteria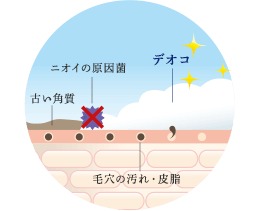 Sterilize the cause bacteria of the odor,
Prevents the generation of body odor and sweat odor.
White mud (white clay) * 3
Contains vitamin C derivative * 4.
Every time you wash, you have a clear skin.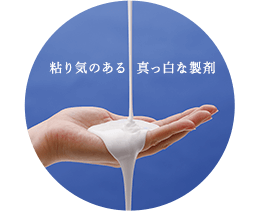 It adsorbs the dirt and sebum that is the source of odors, and of course it sweats and flushes off the body odor that has changed with age. And, it removes dullness * 5 and leads to the skin with a sense of transparency.
A sweet floral scent containing a young sweet scent (lactone) that decreases with age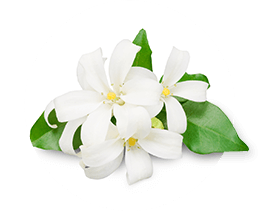 How can use?