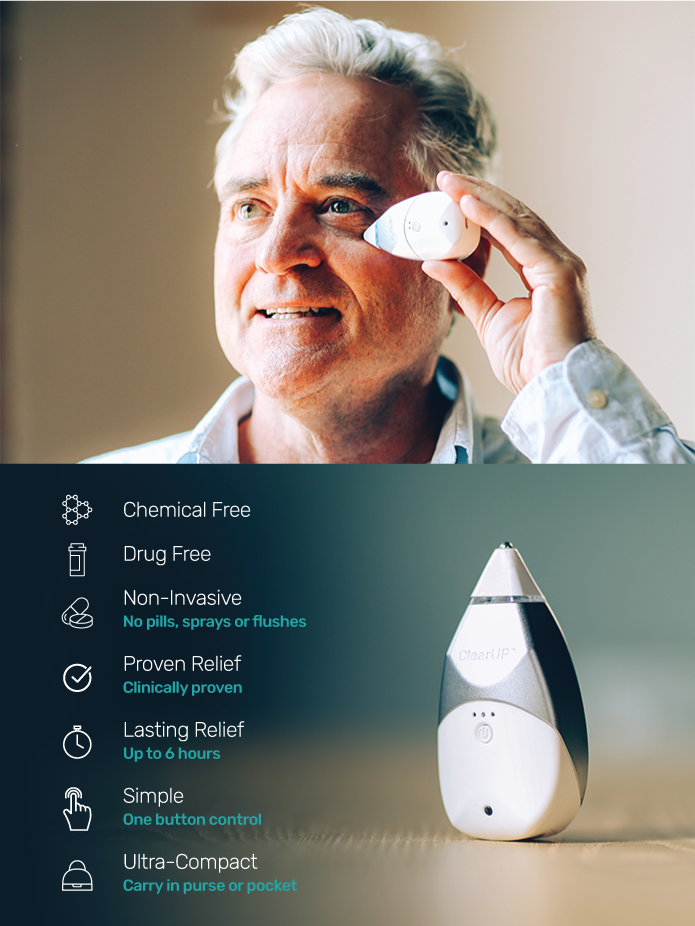 ClearUP gives you relief from allergy sinus pain using microcurrent waveforms—low-current electrical stimulation proven to relieve pain. √ 510(k) clearance by the FDA √ Clinically proven: 82% prefer ClearUP to their current treatment √ All-natural relief without medication √ A 5-minute treatment lasts up to 6 hours √ Rechargeable, reusable, and portable √ Battery lasts 1-2 weeks on a single charge when used 4 times daily √ One-year warranty


A Modern Solution To Frustrating Allergy Pain
ClearUP Sinus Pain Relief is the first and only US bioelectronic device designed to alleviate allergy sinus pain. Tivic Health's state-of-the-art innovation works with the body's natural bioelectricity, using low-current electrical stimulation about 1/1000 of the level of traditional TENS therapy. ClearUP emits a proprietary microcurrent waveform onto the outside of the sinus passages that stimulates the underlying sinus nerve fibers. ClearUP also has 510(k) clearance by the FDA.
Results from the clinical study showed that 3 out of 4 users experienced a reduction in sinus pain after a single 5 minute treatment.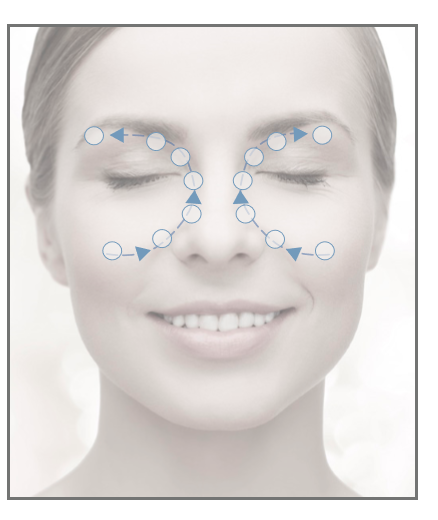 Our goal is to provide a medical device that's medically and scientifically grounded, so we conducted a robust clinical study at a premier U.S. science research center. The results were quite dramatic.
Results from the clinical study showed that 3 out of 4 users experienced a reduction in sinus pain after a single 5 minute treatment.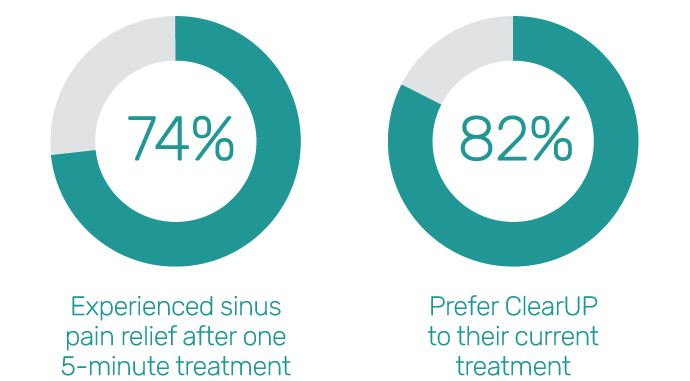 The ClearUP Difference
ClearUP is non-invasive and chemical-free (no chemical side effects). It's portable and offers customized delivery in quick 5 minute treatments. Relief lasts up to 6 hours and the device can be used up to 4 times per day. Visit our website to see a chart comparing ClearUP to other treatment options → Click here.


Click and hold the power button

to turn ClearUP on.

Glide device tip

slowly

on the cheek, nose and brow bone. Keep the tip in contact with your skin at all times.
When you feel a subtle vibration,

hold it in place

until the vibration stops. The soft vibration means that ClearUP has detected a treatment point and is delivering low-level, electrical microcurrents through your skin to underlying sinus nerve fibers.

Continue gliding ClearUP

in a circular path. ClearUP will guide you to the next treatment point where it will vibrate again.
After 2 ½ minutes, switch ClearUP to the other side of your face to complete your treatment.
Please note that ClearUP is for adults 18+ years. Do not use if you are pregnant, have a pacemaker or a metallic implanted device. A small percentage of users experience brief, mild skin irritation. Not to replace current medical treatment. Consult your doctor before use.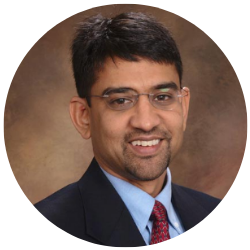 Dr. Subinoy Das, ENT
"I have witnessed the Tivic Health product dramatically relieve sinus pain. I plan to recommend to 100% of my patients with sinus pain. Game-changing."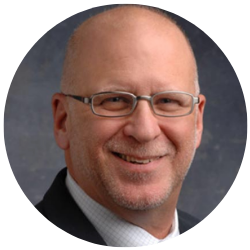 Dr. Alan Goldsobel, Allergist
"It's very exciting to have this whole new form of treatment using extremely safe neuromodulation as a way to address the needs of the patient."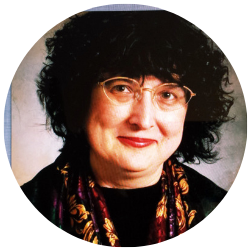 Jacquelynne Corey, MD
"As a physician, I like the concept of ClearUP because it's non-invasive and drug-free. I'm sure my patients will like it too."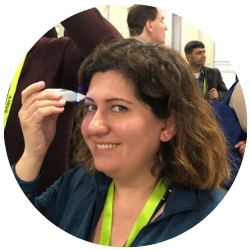 Silva A. From California
"I just used it for 5 minutes and now I can breathe. I don't have any obstruction of my nose and I literally feel no drip in the back of my throat anymore. I would easily use this every day."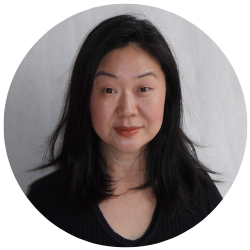 Julie Pak
"I've been suffering from allergies all my life. Just going outside has always been a chore for me; anything could trigger my allergies. I've been using ClearUP three times daily for the last five days now, and I have to say I love it! I can use it almost anywhere since I carry it in my bag, and now I can say I use fewer meds!"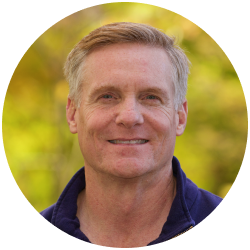 Kevin Wiley, Colorado
"All I can say is, wow! All last week I was suffering from a lot of sinus pain and pressure. So I treated my sinuses and I would say at the end of about 3 to 4 days after using it, maybe twice a day, all of the symptoms were completely GONE! Absolutely gone. I'm not one to take medications for any of these conditions so this was absolutely a perfect device for me. It just speeds up the natural healing."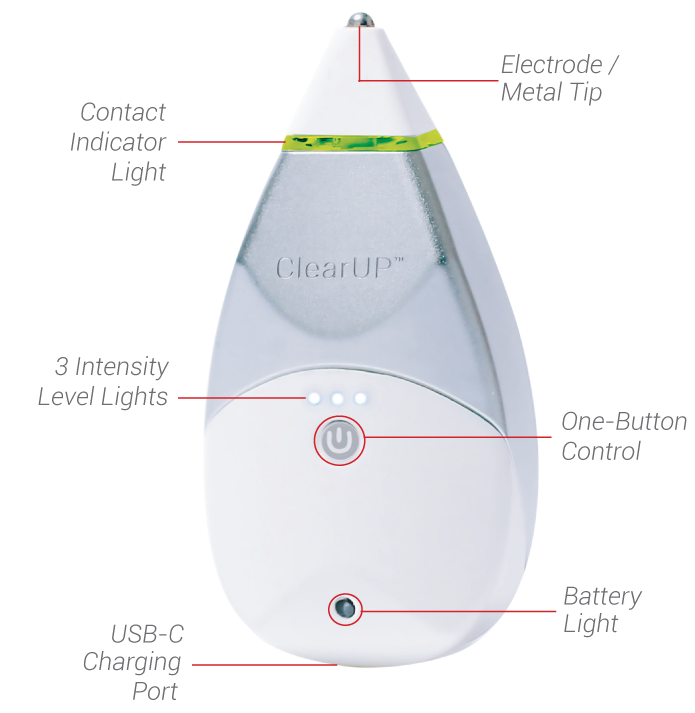 Final device may have slight variations from shown.
The unique shape of ClearUP is ergonomically designed to fit comfortably in the hand while gliding across the face. It fits in smaller places, like around the contours of the nose and nooks near the eyebrow bone.




Watch Tivic Health CEO and Co-Founder, Jennifer Ernst, tell the story of how it started.
_________________________________________________________
Years ago, I suffered from a serious back injury that left me in severe pain. I tried various forms of therapy, but nothing seemed to work. I did not want to rely on pain medication due to the side effects and possibility of developing a dependence on them. The only treatment that left me pain free was using microcurrent. I was amazed at the ease of use and level of relief this technology afforded me without any medication.
When I heard about John Claude's new way of using microcurrent to relieve allergy-related sinus pain, I was immediately intrigued. This same amazing technology that freed me from my back pain could also be applied to one of the most frustrating symptoms of allergies. I wanted to share this technology with everyone!
As I dove into the market, it became clear that the old methods of treating sinus pain were still dominating most people's options. Nasal flushes have been around for years, and as messy and uncomfortable as they are, people were still relying on them. There had been no new innovation, no new technology, in sinus pain treatment—and that had to change.
We are happy to bring true innovation to the industry through the use of microcurrent therapy, a safe and effective method of relieving sinus pain due to allergies. This is a radically different option that we have discovered, and we are ready to bring it to everyone's allergy relief toolkit. We have developed a superior design and conducted a robust study with outstanding results, and now we need your help to bring ClearUP to the 40-60 million people who experience allergies. Thank you for helping us bring innovation to sinus pain relief technology!
I would love to hear your allergy sinus pain story or answer any questions about ClearUP. You can reach us at tivicmarketing@tivichealth.com.
Jennifer Ernst
CEO and Co-Founder

The people behind Tivic Health are dedicated to empowering those with chronic conditions. Our goal is to deliver heath-tech medical devices that help you stay in control of symptoms at home without drugs or chemical side-effects. Our engineers, product designers, healthcare advisors, and researchers work together to harness the body's bioelectric system to create therapeutic benefits.
From design to manufacturing, we have partnered with top tier professionals to bring you the best possible device. Tivic Health has created ClearUP to be efficacious and meets users' needs as a device that's well-built, well-designed, and supported with strong manufacturing and supply chains.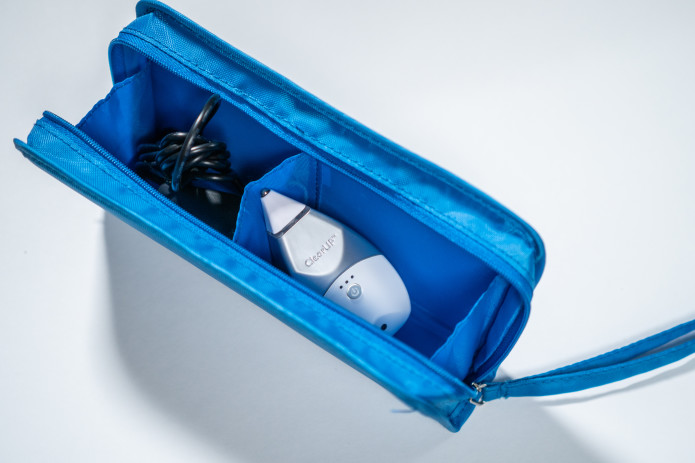 Reusable, rechargeable device. No batteries needed, charging cable included. Comes with a portable pouch for storing at home, carrying to work, or while traveling.



Mass production is in progress and shipping will be in September 2019. There are risks that may be out of our control. However, If there are any delays, we promise to communicate with our backers right away. We will keep each backer in the loop about the final shipping date.