Due to over 13,500 of you and over $650,000 in pre-sales, glass bottle production has commenced, but we need your support to guarantee nation-wide distribution! Your pre-order is the only way to ensure you'll receive Clearly Canadian and it will help us get back into stores sooner.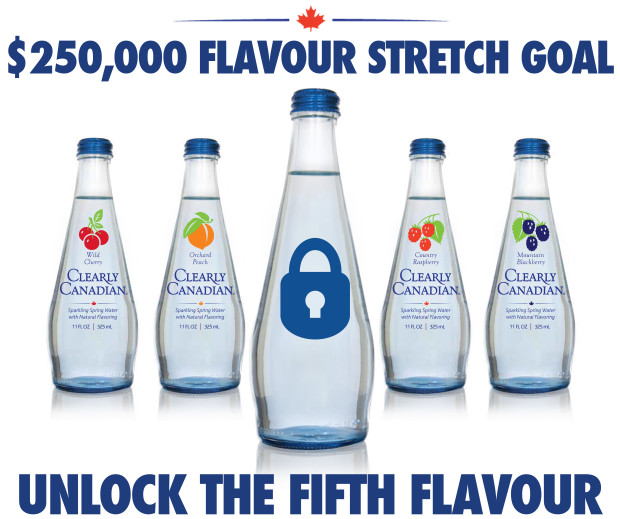 If we hit a stretch goal of $250,000, we will bring back one additional classic Clearly Canadian flavour!
And get this - all pre-order
backers will get to vote on the fifth flavour
, choosing between
Summer Strawberry, Western Loganberry, Coastal Cranberry and Green Apple
. There are no plans to bring back any other flavours in the future, so this is your chance to tell us which other classic we should add. The winning flavour will be available when we start retail distribution.

For the first time in over a decade all-natural Clearly Canadian will be produced once again in our iconic glass bottles thanks to the support of our amazing fans. Since distributing through local retailers will take time, there's no guarantee that we'll be in stores near you any time soon. Buy now to ensure you get your Clearly Canadian early, and please ask your local grocers to carry us. Them hearing from you is what this is all about!

Are you a backer of the original pre-order campaign?
First, THANK YOU! We wouldn't be here at all without your support and devotion. And don't worry, as an original backer, you are the first in line when we start shipping orders. This stretch campaign is a result of your hard work and remember, the more orders we have the faster we can bring Clearly Canadian back for good.
Clearly Canadian - The North American Premium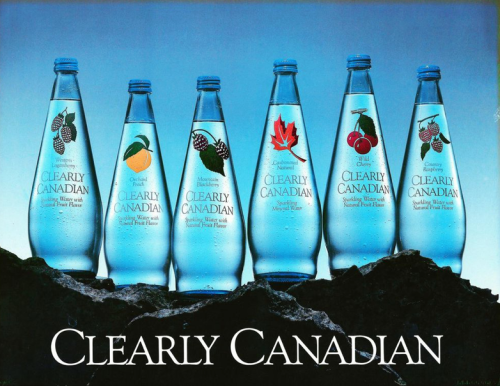 Thanks for your support. We can't wait to share a bottle of Clearly Canadian with you soon. Until then check out this classic 1994 commercial. Thumbs up for the first national CGI commercial ever made in North America.

Clearly Canadian is entering production thanks to you!
Over the last year, 11,000+ Clearly Canadian supporters pre-ordered cases directly from our website. Thanks to this incredible, growing community of fans - including YouTube stars Rhett & Link and their viewers who stepped up BIG TIME - we sold over 25,000 cases and, as of May 4th, are entering production for the first time in years! To those supporters who pre-bought early on: thank you! Clearly Canadian could not have been revived without you!

Risks and Challenges
Like most things in life we rely on outside suppliers that we do not control. The exact delivery dates will depend on how quickly we're able to receive key outside supplies like our iconic glass bottles and natural flavorings. Everything is in full swing, so we anticipate meeting our delivery goals.

FAQs
Q: I made my pre-order. When do I get to choose my flavours?
We will contact you at the end of this campaign with details on how to select your flavour choices.
Q: I don't live in the US or Canada, will you ship to me?
Q: I'm a backer of the original campaign. What does this new campaign mean for me?
It means that your support got us back into production! Thank you. Now, we are offering a short opportunity for anyone who missed out on the original campaign to pre-order. Original backers will receive their orders first. And you will still be the only backers invited to the Rhett & Link special toast event later on this year.
Q: Will you bring back other flavours?
We don't have plans to bring back any other flavours from the original lineup. Only Wild Cherry, Orchard Peach, Mountain Blackberry and Country Raspberry will be available for the foreseeable future. We will add a backer-chosen 5th flavour if we reach our stretch goal. That product will be available as we start to ship Clearly Canadian to retailers in 2016.
Q: Will you be bringing back Orbitz?
Q:
How many bottles are in a case?
Q:
What ingredients are in Clearly Canadian Originals?
Canadian Spring Water, Pure Cane Sugar, Natural Flavouring, Citric Acid – keeping things simple.
Q: Are Clearly Canadian Originals non-GMO, gluten-free, all natural & the original formulas?
Q:
How much cane sugar is in a bottle of Clearly Canadian Originals?
Q:
Where do you source your spring water from?
Q:
What type of bottle are you using?