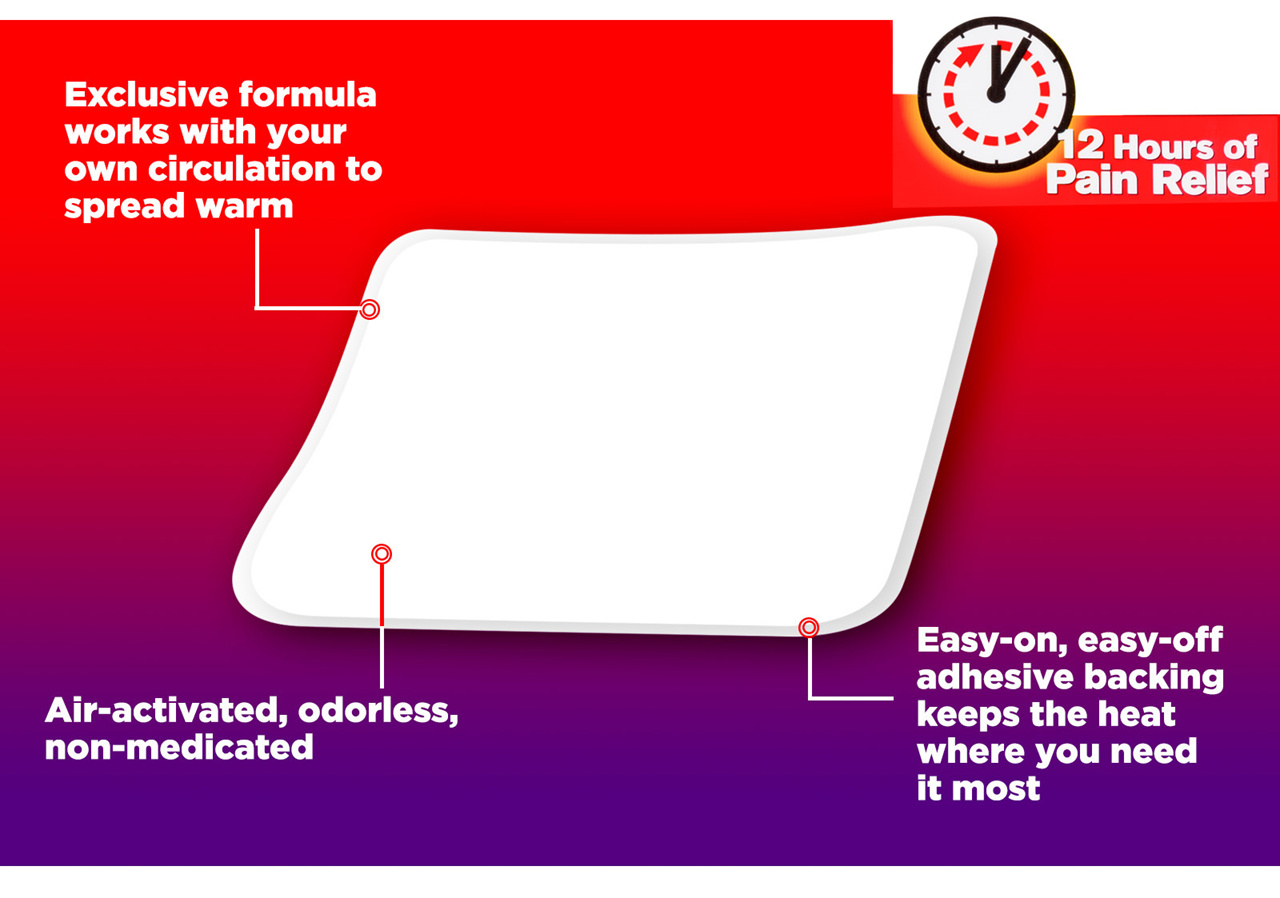 muscles and joints
BodiHeat®

Box of 24
Just peel, stick and relax.
Beyond BodiHeat® sticks to your clothing for 12 hours of pain relief for sore, aching muscles, and back and joint pain.
Designed to be worn over clothing.
Easy-on, easy-off adhesive backing keeps the heat where you need it most.
Exclusive formula works with your own circulation to spread the warmth.
Pads are air-activated, odorless and nonmedicated.
Directions for use:
Open the package and expose the pad to the air. No kneading or shaking is necessary. The pad will heat up within 20 minutes after opening.
Remove the paper from the adhesive backing to adhere the pad to clothing. DO NOT adhere the pad directly to the skin. Remove the pad immediately if it becomes too warm and uncomfortable.
Once the pad has cooled or you are finished using it, gently peel it off clothing and discard it properly.
DO NOT open pouch until ready to use.
Storage:
Store in a cool, dry place.
CAUTION:
Never place directly against skin as burns may occur.
Do not microwave.
Ingredients:
Iron powder, water, activated carbon, vermiculite, salt, super absorbent polymer, Purge natural mineral powder.

Safety Information
Supervision is required when using this product on the elderly, children, and physically disabled or handicapped individuals.
Do not use more than 12 hours in any 24-hour period.
Do not use on infants, on frostbitten or desensitized skin, while sleeping, on bruising or swelling that has occurred within the last 48 hours.
High-temperature burns may occur if not used correctly.
Keep out of reach of small children.
Do not eat. In case of ingestion, consult a poison control center immediately.
Do not use with medicated lotions, creams, gels, ointments or in combination with other heating devices.
Consult your doctor if you are diabetic, have poor circulation, have rheumatoid arthritis or are pregnant.
For external use only. Do not puncture pad. In case of accidental eye contact with contents, rinse thoroughly with water.
How It Works.
When you open the BodiHeat® pouch and expose the ingredients to oxygen, the iron powder, water and activated carbon start a chemical reaction commonly known as oxidization. This is what generates the heat that delivers long-lasting pain relief to sore muscles, aching backs and knees. No kneading required, BodiHeat begins to activate the moment you open the package and will be ready within 15 to 30 minutes.

BodiHeat is a safe, nonmedicated pain relief pad that works with your own body to spread its pain relieving power beyond the area where it is applied. Its patented, Purge natural mineral powder works with other ingredients to purge pain without medications, smelly creams or messy ointments.

Just 1.3 ounces, BodiHeat packs a lot of pain relief in pads that are lighter, thinner and less noticeable under clothes. Put pain relief where you need it – and keep it there as you move through your busy day.

No fuss. No fumes. No fears.
Frequently Asked Questions.
Q1: How does BodiHeat® Work?

A: The main ingredients of BodiHeat® are iron powder, water, and activated carbon. When you open the pouch, these ingredients are exposed to oxygen in the air that starts a chemical reaction, commonly known as "oxidization." Water, activated carbon and other ingredients accelerate the oxidization and it generates heat, while the iron powder turns to rust!


Q2: What is a low temperature burn?

A: Low temperature burns can occur when a certain amount of heat contacts your skin for a prolonged time, especially if you have sensitive skin. It may cause reddish areas or blister skin. In order to avoid low temperature burn, follow these instructions on the package:

• Do not adhere directly to the skin.
• Remove BodiHeat immediately if it becomes too warm or uncomfortable.
• Use supervision when using BodiHeat on the elderly, children, the physically disabled or handicapped individuals.
• Do not use on infants, frostbite, desensitized skin or while sleeping.

If you get a low temperature burn, cool the area of burn with water or a wet towel for at least 30 minutes, and consult your doctor.


Q3: Can I use expired BodiHeat?

A: The expiration date is the manufacturers guarantee period that BodiHeat works properly as indicated. Expired BodiHeat may have shorter duration of heat or lower maximum temperature. If BodiHeat hardens, it will not heat.


Q4: I put BodiHeat in the laundry.

A: If the pouch is not broken, you can just throw it away. If the pouch has opened the ingredients will not dilute in the water and are not hazardous. Throw away the contents.


Q5: How should I dispose of BodiHeat?

A: You can dispose of BodiHeat with regular trash, heated or unheated.


Q6: How should I store BodiHeat?

A: Please store BodiHeat at room temperature. Make sure that the plastic pouch will not get damaged, since it may start to activate.


Q7: What if BodiHeat gets wet?

A: Excessive moisture may cause BodiHeat to not activate properly. Small amounts of moisture, such as sweat, should not affect the performance.


Q8: BodiHeat is too hot. How can I lower the temperature?

A: Please try BodiHeat over a thicker layer of clothing.