Light beauty care instruments where waste hair care and beautiful skin simultaneously come true
Beauty rulu clear veil mini is an optical beauty machine using light called IPL. The intense light called Intense Pulse Light exerts its effect on unwanted hair!
In addition, the light used in IPL is also effective for beautiful skin, prepares disordered texture and tightens the skin. In other words, the topic 'Light Beauty' will be accepted every time when waste hair care is taken!
Mechanism of unwanted hair care by IPL
There is a growing cycle (hair cycle) on hair. It is a mechanism to do unwanted hair care by irradiating IPL according to that cycle.
Unlike lasers, IPL can irradiate a wide range, so it takes less time and there is no need to worry about burns, so it is a waste hair care method that many specialty salons are adopting.
Beauty rulu clear veil mini can easily care at home so troublesome to go to the salon, troublesome to make a reservation, embarrassment to show the skin to the people all canceled! In addition, even if you use whole beauty Ruru clear veil mini, the expense is only for the main body! So, it is kind to your wallet. Let's enjoy fashionable and date by floating time and money!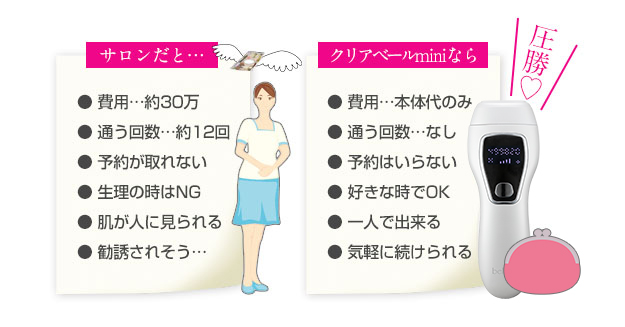 Approximately 1,400 people were unwanted hair waste by 350,000 irradiation!
What?
The number of shots installed in the initial cartridge of beauty rulu clear veil mini is 350,000 times. About 50% of the human skin area, supposing that there was unwanted hair. With an irradiation area of ​​3 square centimeters, even if you estimate much of your body's care, it will end in 30 to 40 shots. Considering this as one set, about 8 to 12 sets of irradiation are required before waste hair care is completed, so the number of shots required for one person to complete carefully is 240 to 480 shots. In other words, if it is 350 thousand times it is a calculation that can complete as much as 1,400 care! If there is only this, it is alright! That is.
Care completed at about 300 yen.
The electricity cost is 0.6 yen per irradiation!
So, how much does the electricity cost cost? I actually measured the amount with electricity measuring instrument!In connection with the outlet, it is 0.1 yen per hour. Even during irradiation, it is cheap 0.6 yen per hour! I can understand that it is definitely more profitable than going to the salon.

In other words, if it is said that completion of unwanted hair care at the salon takes about 300,000, care can be completed at beauty rulu clear veil at about 300 yen! about it.

Production at the same factory as salon
"I know what is good for your skin, but who is your best?" Please be assured. Beauty rulu clear veil mini is a light beauty machine that is produced at the same factory as the business machine actually used in specialty salons! Effectiveness, performance, safety are strictly checked, and only those that passed are manufactured. You can receive authentic waste hair care at hand easily at home, reasonably.

Compact and light!

Easy operation
Beauty rulu clear veil mini is a handy type only light beauty machine that does not need the body part of the placement type in response to that voice!
Compact & lightweight, even small women with hands can do button operations with one hand with one hand. Power / level selection · Irradiation can be done with one button!
Easy operation with one hand

Compact design that fits comfortably in the hands of women and design without waste.Power supply · Irradiation level selection · Irradiation can be done with one button.

Selectable irradiation 5 level level

The power of irradiation can also be selected with one button. You an choose according to your own hair strength! The indicator lights each time you press it.
Not too wide, not too narrow, the particular range of irradiation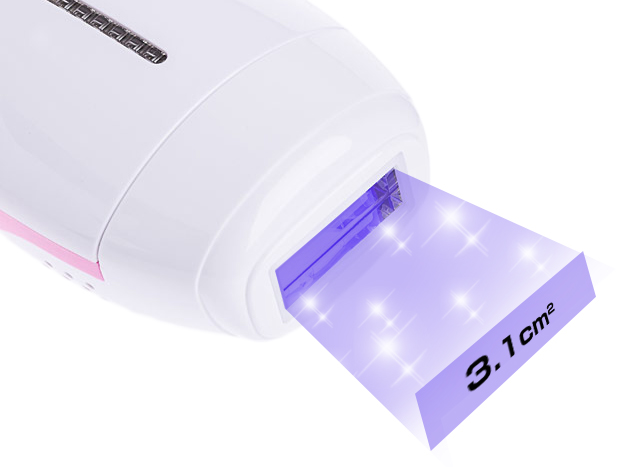 Beauty rulu clear veil mini also stuck to the size of the irradiation mouth. If it is too wide, you can not irradiate fine parts such as fingers and mouth. If it is too narrow, irradiation of a wide area takes time.
In other words, it is best for mouth hair care that is not too wide and not too narrow.Beauty rulu clear veil mini, regardless of the impact of the numbers, made about ease of use.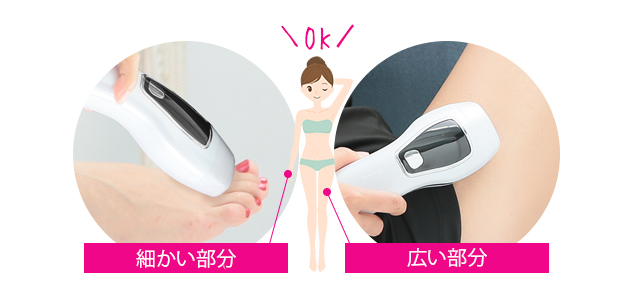 We also recommend a beautician!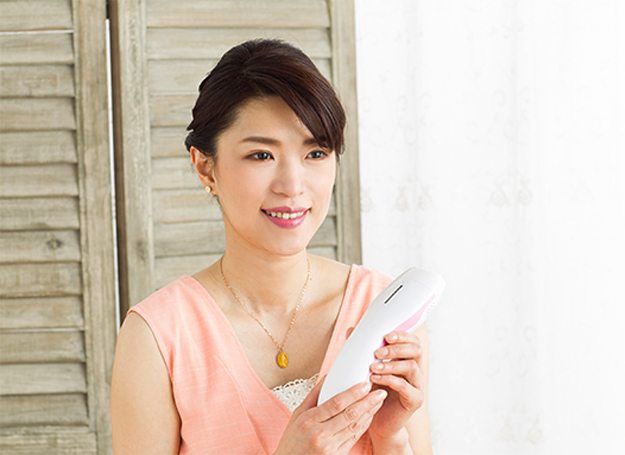 You can care for W at once!
It is a nice product for women!
It is small and easy to use, it is manufactured at the same factory as for business use, so it is excellent in safety and it is a very good product. Moreover, it is glad for women that we can become beautiful not only for waste hair care, but also be pleased and beautiful.
There is an image of "painful" for waste hair care, but this was comfortable here. I went to a salon, but I gained the same feeling as a salon.
HAIRDRESSER / COSMETICS CONCIERGE YUKARI
Specification · Product overview
| | |
| --- | --- |
| product name | Beautiful clear veil mini <belulu ClearVeil mini> |
| Part number | KRD-1031 |
| Power system | Code expression |
| number of shots | 350 thousand times |
| Irradiation area | 3.1 square centimeters |
| Switch level | 5 steps |
| set content | Body, cartridge (waste hair care), light shielding glass, clean cloth, AC adapter, with warranty Instruction Manual |
| body size | H (height) 225 mm × W (width) 70 mm × D (thickness) 60 mm |
| Body weight | 281 g |
| output | 35W |
| Voltage | AC 100 V to 240 V |
| Power frequency | 50/60 Hz |
| Color | Pink, Blue ※ Color may not be handled by stores. |