What is babahu X1 Smart Toothbrush
babahu® X1 smart toothbrush is the world's first AI-powered fully automatic toothbrush that can brush your teeth perfectly using Intelligent Artificial Algorithm. With its built-in nine-axis sensor and self-developed accurate localization algorithm, babahu cleans your teeth at different frequencies, providing the most efficient clean at a suitable level of comfort.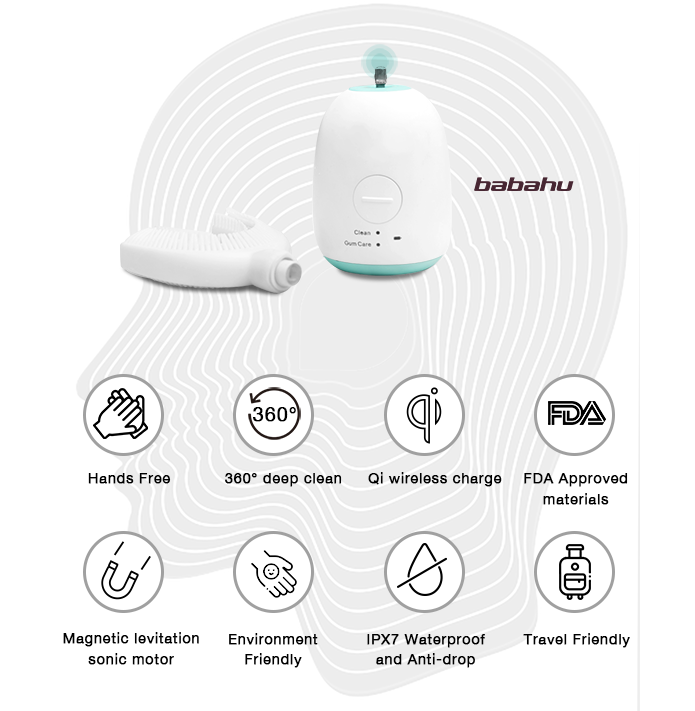 Why babahu® X1 Smart Toothbrush
Most of us may think that brushing teeth every day is boring, and most people cannot brush their teeth properly! According to research, 90% of adults do not know how to brush their teeth correctly, and 73% do not have the habit of brushing their teeth twice a day. For the kids, the caries rate has reached a staggering 70%. All of these may cause a series of dental diseases and problems, and that's why we created babahu toothbrush to maintain good dental health.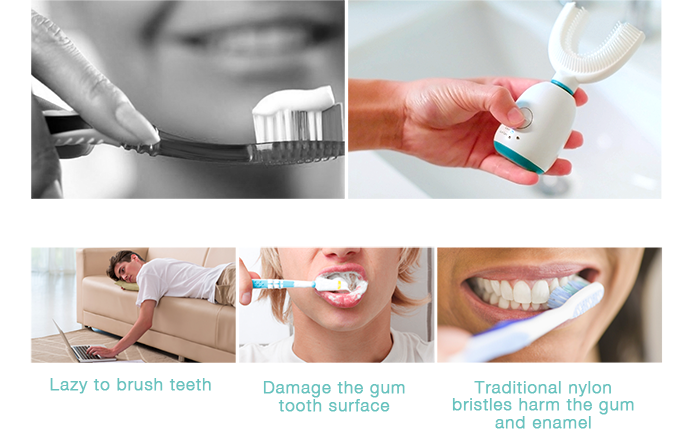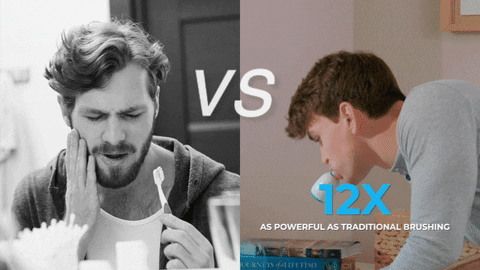 What Can babahu® Bring to You
Much efficiency
The built-in AI-powered smart chip, Babahu X1 can adjust the vibrational frequency according to your teeth cleanliness, which kills 99.99% of oral bacteria in 20 seconds, and gives you hands free brushing experience.
Safety & hygiene
FDA medical approved brush bristles are made of liquid silicone gel which is molded into the unibody at a high temperature of 300 degrees Celsius. The unibody can reduce the germs embed into the gap among toothbrush bristles.
Intelligent brushing
The Bass method is recommended by 80% of dentists worldwide and well-known. Designed on Bass technique, the 6D soft bristles cover your teeth at a specific 45° angle and provide 360° deep clean. Each bristle's vibration amplitude is at only 1 mm. It is easy for us and the kids to brush teeth intelligently without learning.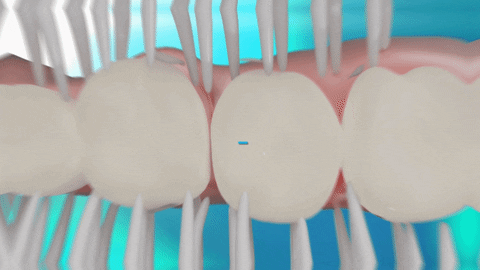 More fun
Built-in audio alert for kids to identify different operation circumstances, like "Great","Keep it up", "Please bite gently", "See you next time", etc. It can encourage our kids to brush.
When To Use
Before going to work
The pace of life is fast. Most of the time, you don't have too much time for brushing. Do not worry, babahu X1 hands free smart toothbrush helps you to save time to deal with more work.

Before going to Bed
Most of us are tired from work after every busy day. According to the research, 73% of us don't have the habit of brushing before bed, and it seems reasonable but bad for teeth health. With babahu X1 AI powered toothbrush, you can brush teeth in each corner of your home and only 20 seconds, you can get intelligent brushing without extra fatigue.
Pack it for travel
babahu® X1 adopts unique wireless induction type filling design, with Qi wireless fast 2-hour charging then 30-day standby. While you are in travel, we don't need to worry about the toothbrush energy problems. The compact and portable design, it is very handy for travel.

Special version for children
The cartoon design and intelligent voice reminder can attract your kid's fun for brushing teeth. Children can brush their teeth efficiently with the intelligent Bass method, and prevent tender teeth from harmfully brushing.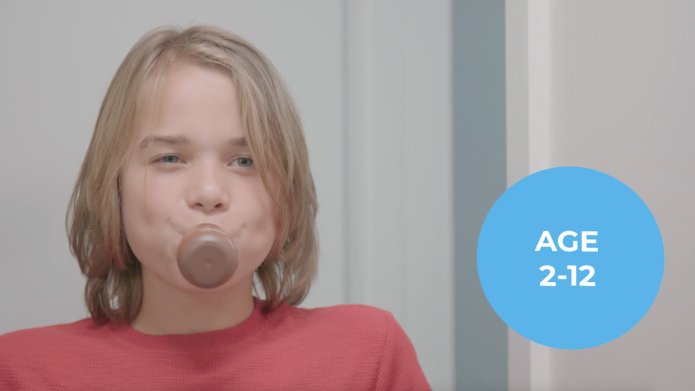 What's in the Box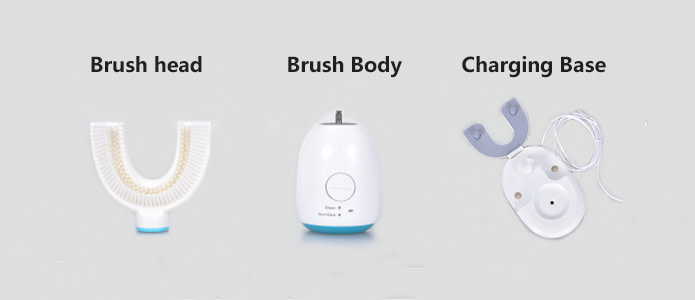 Toothbrush Head
Medical Grade Silica Gel
The brush head is made out of an edible medical grade silica gel containing bacteriostat that is molded into the unibody of the brush at a high temperature of 300 Degrees Celsius. This design effectively stops the breeding of harmful bacteria that is usually found on traditional toothbrushes. This makes it easy to repeatedly clean and disinfect, even at high temperatures.
U-shape Mouth Design
babahu® has its own patented U-shape mouth design featuring 6D bristles at a 45 degree angle with the teeth. The bristles can fit perfectly on the surface of teeth, cleaning them at 360 degrees. In just 20 seconds you can brush your teeth properly and efficiently that removes 99.99% of the bacteria in your mouth. When brushing, the conical design ensures the pressure on the gums is zero which makes it especially suitable for periodontal disease patients and children.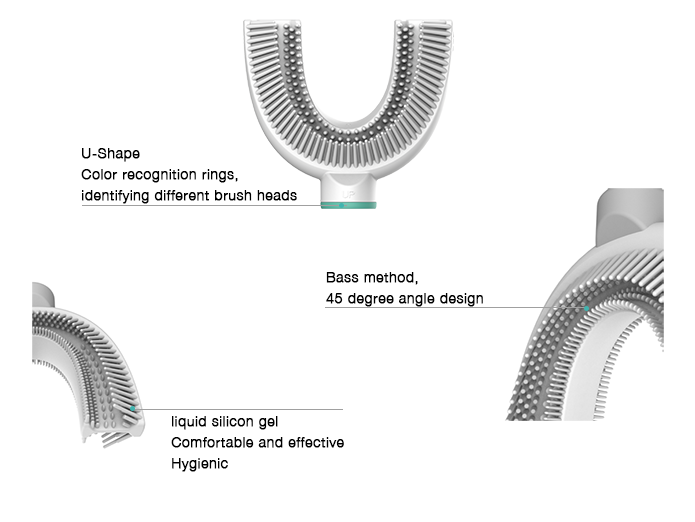 Replacement
As with regular manual toothbrushes and electric toothbrush heads, the mouthpiece should be replaced every 3-6 months. Many studies prove that used bristles are less effective in terms of plaque removal. A single mouthpiece will cost $15.
Toothbrush Body
Maglev Sonic Motor Power
The brush body adopts a magnetic levitation sonic motor with a vibration frequency of 18,000-40000 per minute (2-6 year old children: 18000-21800/minute, 6-12 year old children: 21800-31800, over 12 years old: 31800-40000), which is suitable for various oral conditions and applies the AI algorithms automatically that recognize when the brush head is connected. The algorithm in the brush body can identify the brush head intelligently according to different age periods.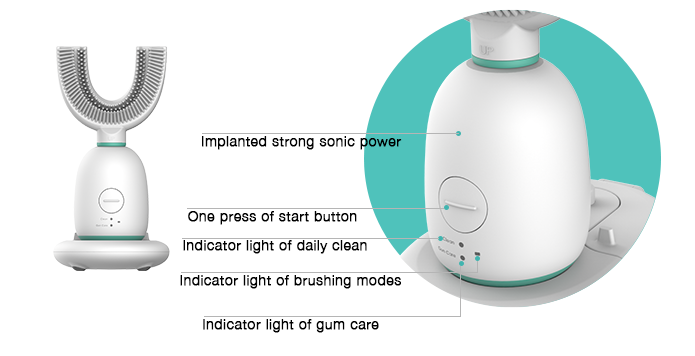 Clean Modes
There is one key operation mode and two modes of Clean and Gum Care. Children' version has an in-built voice algorithm: bite strength alerts, brush head usage and brushing stage details. Users can also customize voice memos later.
IPX7 Waterproof and Anti-shock
babahu X1 toothbrush can be immersed in 1 m water for up to 30 minutes. It can survive accidental drops up to 1m, thanks to its anti-shock function. It's made to handle everyday usage scenarios with ease.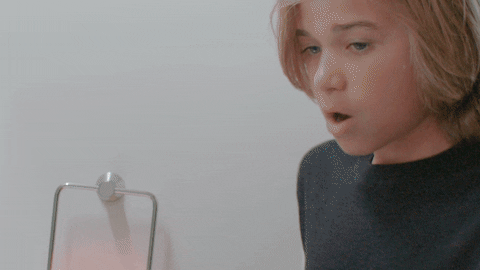 Charging Base
The charging base adopts a unique Qi wireless induction design with a flexible placement ofmultiple brush heads. It can take up to 3 brush heads at a time and charges in just 2 hours which provides up to 30 days of standby.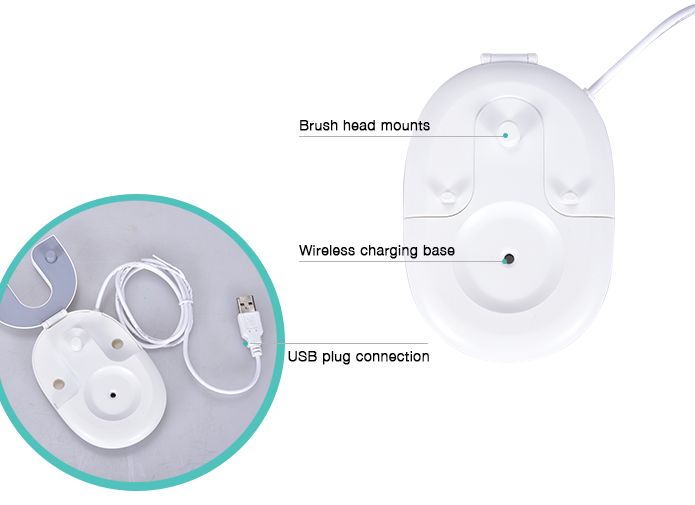 Media Records



How To Use babahu® X1?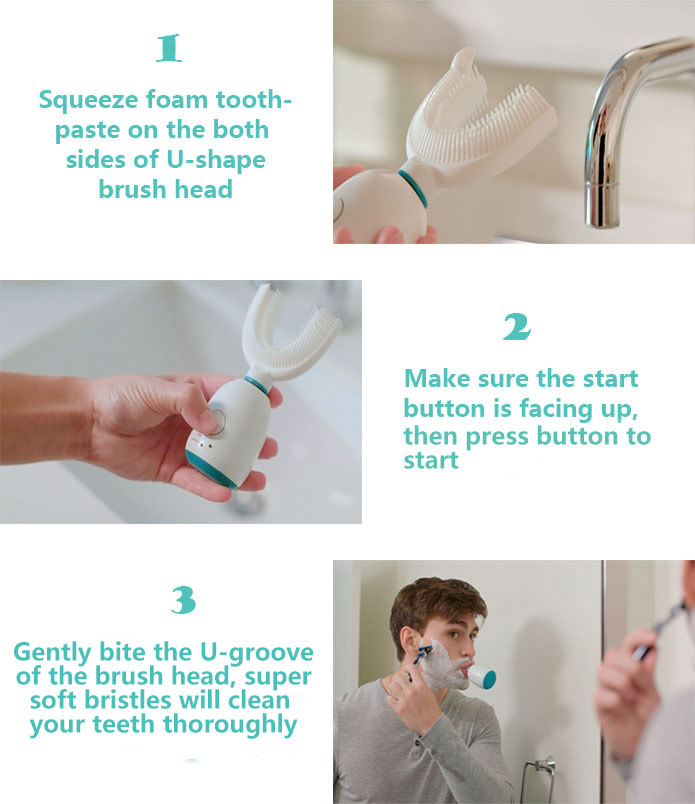 Why We Set 20 Seconds of Brushing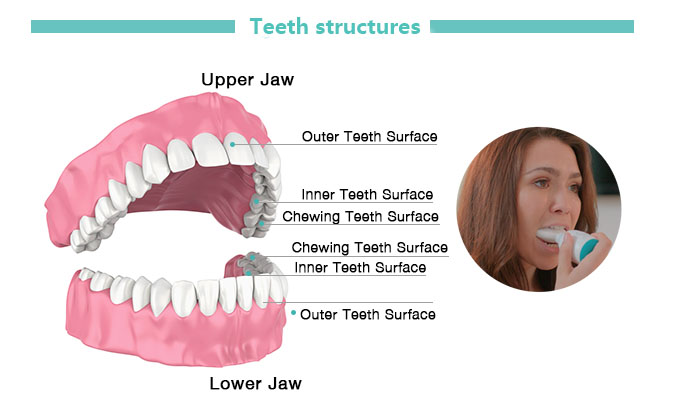 The babahu® X1 is more effective than a traditional toothbrush. With a regular toothbrush (ultrasonic or non-ultrasonic type), you're told to brush the outer surface, inner surface and chewing surface with the bristles aligned at a 45 degree angle on each tooth for at least 6-10 seconds. An adult has 32 teeth that take an estimated brushing time of 3-5 minutes.
The maximum strength child teeth can withstand is 100G and for an adult it's between 120-150G. However, in the case of other smart toothbrushes, their average motor strength is around 175G which is above what is considered to be the safe limit. This is why the recommended brushing time is usually under 10 seconds. If you use them for a long period of time, you could damage your teeth.
babahu® adapts its strength automatically and strictly observes the tolerance of teeth surfaces to make it more comfortable. Given that babahu® brushes your teeth gently with soft intensity, we suggest that 20 seconds of brushing with the babahu® is the ideal time for cleaning your teeth properly.
Design Options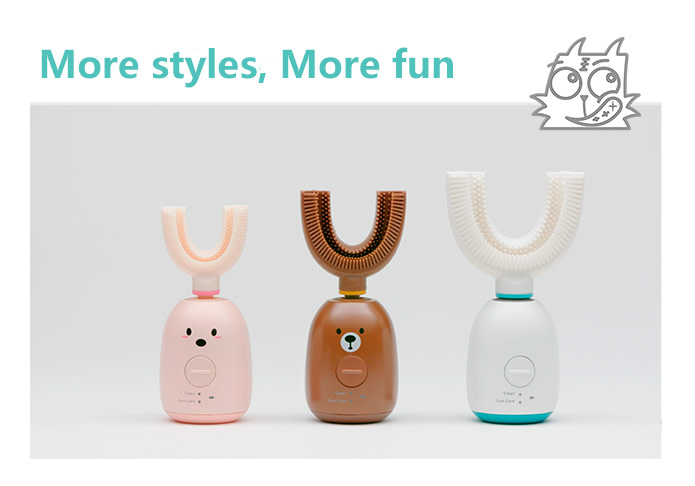 Design Award
Golden Pin Design Award 2018
babahu won the Golden Pin Design Award for presenting the most authoritative and well-known professional design. It is called "top design award in the global Chinese market" and "Golden Horse Awards in design industry" by media. babahu adheres to the innovation concept, designing much best potential and aesthetic toothbrushes.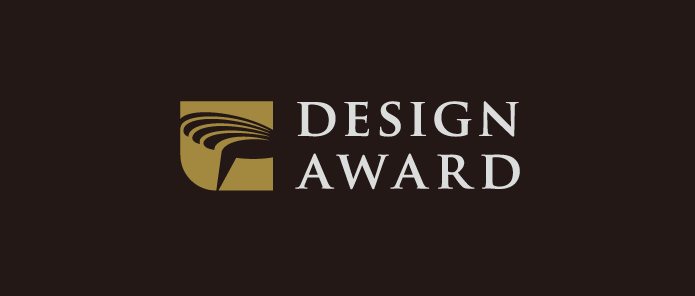 babahu® VS Philips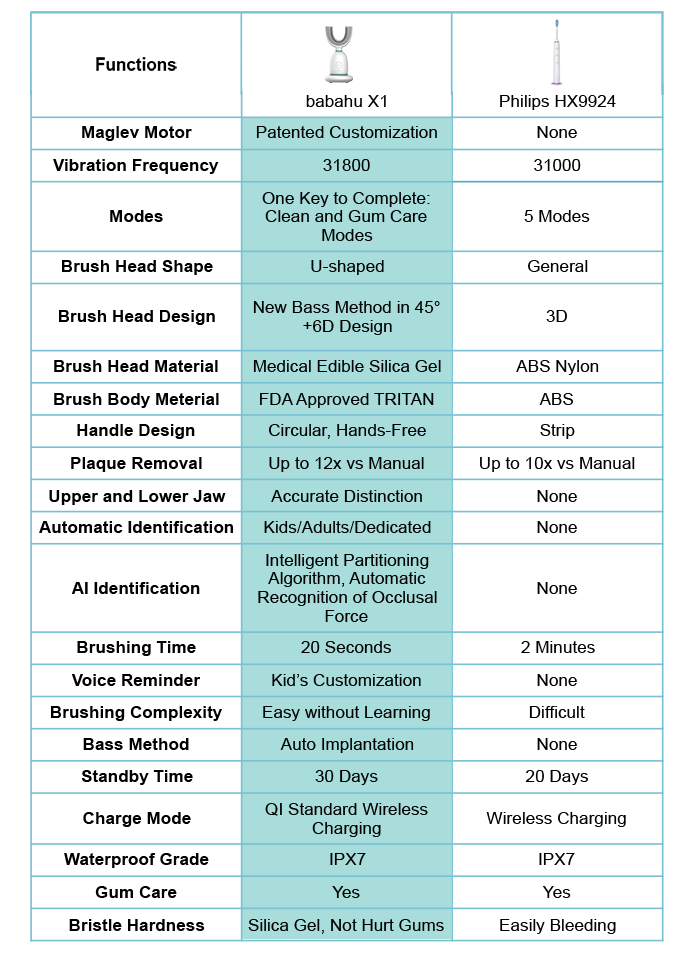 babahu®

Adults & Children

Specifications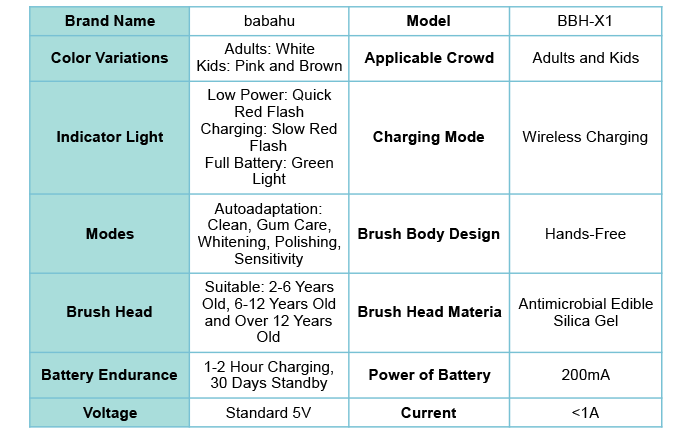 Authority Approved