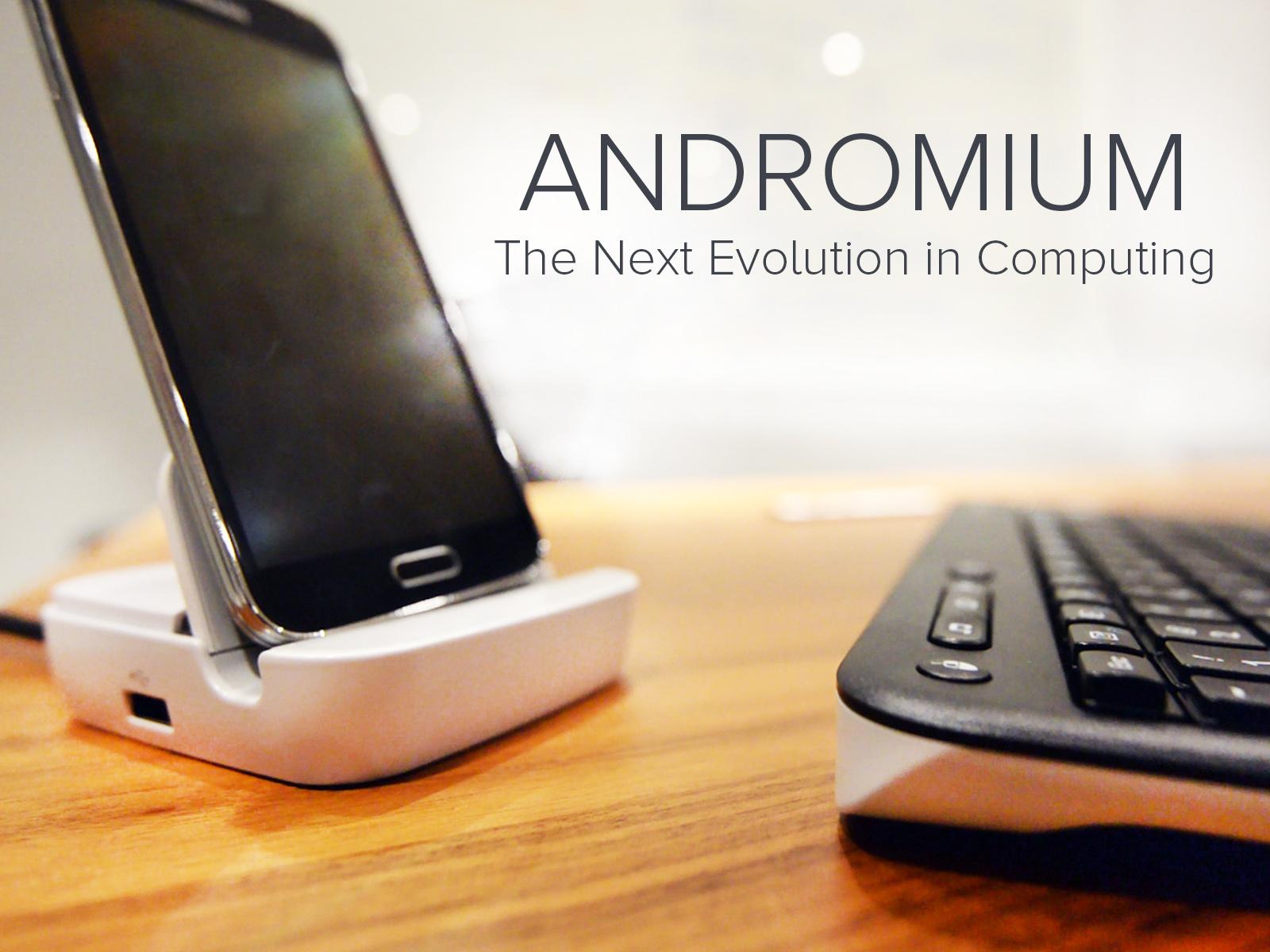 New Andromium User Interface combines Mac OSX simplicity and Windows 7 familiarity
Today's smartphones have power.
A lot of power.
The Snapdragon CPU inside many of your devices is faster than the number one supercomputer in the world in 1996! And it could be just sitting idly in your pocket right now, as you browse Kickstarter on a clunky desktop computer.
However, while smartphones have become incredibly powerful, they still lack the functionality of a desktop.
… That's why we built Andromium.
Our mission is to democratize the desktop: making it affordable and highly accessible.
Andromium seamlessly turns your Android device into a desktop computer. It's affordable, and devilishly easy to use; simply install the app, and plug your phone into the dock.
Andromium dock charging the smarthphone
Hardware:
The Andromium dock embodies sleek, clean design. It's a combination of the best aesthetics: beautiful, ergonomic, and pleasing to use. We built the Andromium dock with you in mind. We included three full-sized USB ports for all the accessories you would need on a desktop computer, including gaming devices. We've also integrated a port for a power cord, so your phone is always charged.
We specifically designed the dock with portability in mind. We've given it a light, durable, travel friendly design with a flip cover to protect it during transport. On top of this, the dock has been designed so to fit your device without having to remove its slim, protective case.
And Andromium comes in any color. So long as it's white.
(We're incorporating new colors as stretch goals!)
Wireless Keyboard and Bluetooth Mouse
Software:
Much of Andromium's appeal is its software. Gordon – previously a Senior Engineer at Google – left the company to pursue his dream of making handheld desktops a reality. He built an incredibly sophisticated Android application and complete Operating System, that has turned this dream a reality. The Andromium OS works in synergy with the dock to turn your phone into a full-fledged desktop computer.
The application integrates seamlessly with your phone, and can be entered and exited simply. While in desktop mode, your phone can still receive calls, text messages and push notifications - so you keep its complete original functionality.
The User Interface is receiving a completely updated redesign to make it even friendlier. We've built out all the functionality, and we're ecstatic with how it works. We've teamed up with some of the best User Interface and User Experience designers in the industry to take Andromium's aesthetics up to the quality of its performance. Adopting the best elements of Windows 7 and OSX UI paradigms, we're creating a sleek, intuitive experience that highlights Andromium's functionality and power.
Game Time!
Why Andromium is perfect for you:
In our modern world, many people own multiple computers. It's not uncommon for someone to have a work laptop, a home desktop, a home entertainment system, and a smartphone. Up until now, this may have been necessary. However, with the power of Andromium, everything changes.
You can now watch movies, edit spreadsheets, create PowerPoints, and do your work, all from your phone! And, you can do all of this without sacrificing the efficiency and usability of a full screen desktop interface, or wasting money on buying extra computing hardware. As the power of smartphones evolve, the home is evolving with it.
"With the power of Andromium, everything changes".'
Andromium enables TRUE multitasking with a desktop browser
What you can do on Andromium:
Andromium turns your smartphone into a personal desktop computer. No catch. Play your favorite games with friends – Super Smash Bros, GTA, or Legend of Zelda. We can't promise Andromium will get you past the water temple in OOT, but it will certainly allow you to try.
Make your work entirely mobile. Any time, anywhere there's a TV/Monitor and your smartphone, you have your entire desktop, OS, and files there with you. Create, edit, or collaborate using all of the programs of the Office suite. Andromium is optimized to allow you to use powerful and sophisticated programs without a worry, and without the limitations of a five inch screen.
Andromium desktop UI
Devices compatible with Andromium:
Andromium is designed for the most popular series in Android phones, the Samsung Galaxy. It works with both the Galaxy S and Note series (S3 - 2GB RAM version, S4, Note2, Note3, Note4). Currently S5 does not fit in the dock due to the USB port cover, but rest assured - we are supporting S5 also, via Chromecast.
Update (12/20/2014): To our backers, we heard you! We are expending our supported devices list: HTC One M8, LG N5/G3, Motorola Nexus 6, and One Plus One will be supported via Chromecast (see http://andromiumos.blogspot.com/2014/12/andromium-os-chromecast-nexus-6-support.html for more information on Chromecast support). We are also in the process of designing a new docking station for LG N4, HTC One M7 phones that can also be used for the devices listed above. (We are designing a new docking station because Samsung HTC/LG/Moto devices all uses different and incompatible USB video-out connectors, so 2 new dock design is required). Andromium OS will be Chromecast ready for our Late Jan 2015 Andromium OS Playstore release. We are targeting summer 2015 (July timeframe) to ship out the new docking stations for the LG and HTC devices, for user who want to use docking station instead of Chromecast.
Andromium Lockscreen
Project Inspiration
In part, Andromium is built on the legacy of Motorola's 'Webtop', and Ubuntu Edge. However, these projects were heavily governed by brand exclusivity, and non-modular software; meaning they would likely only ever be compatible with the specific device they were built for. Unlike these projects, our dream at Andromium is to develop this hybrid platform and make it ubiquitous, bringing it to as many models of Android smartphones as possible. We want to provide the option of a portable desktop from your smartphone, while still allowing users to choose their favorite phone. We want to break down the asymmetries between technological access in the developing and developed world, and the best place to start is maximizing compatibility.
Future Goals
Internet is the great equalizer of the modern world.
Our driving motivation and key medium term goal is to bring Andromium to developing nations where it can have the largest impact. This year, an estimated 224 million smartphones were sold in India alone. 92% of those sales were made to people who had never owned any computing devices before. Due to their relatively low cost, broad distribution and multi-purpose functionality, smartphones have proliferated throughout the developing world at rates much faster than traditional computers.
Most families in these nations share a single entry level smartphone for their internet access. Their children are at an educational disadvantage. We want to empower those families to access a higher grade of technological opportunity at marginal costs. By making it possible for families to hook up their device to existing TVs, Andromium unlocks the full power of the Internet, computers and the opportunities these provide.
We hope we can extend this equality to families, providing them with access to powerful platforms to work, learn and play; natural extensions of desktop computing that the developed world takes for granted. We want to empower the billions of people who will own entry-level smartphones to access a higher grade of technological access at marginal costs.
The power of Smartphone
Project Update:
As requested by few supports, we have included a video to provide a more details look of the Andromium Platform as well as OS walkthrough
FAQ
Small and portable! 91mm x 91mm x 28mm
What size is the Andromium OS/Application?
The current OS/application is well under 30MB and we plan to stay under this limit as we upgrade the UI.
The Andromium OS will be available from the Google PlayStore, and Kickstarter backers will receive a serial key to activate the OS, along with their dock.
Which versions of Android does it work on?
4.4.2 and above.
We would love to in the future! Our current focus, however, is to bring Andromium to as many Android devices as possible first.
Check out the reward section on Kickstarter. It depends on the reward tier, but our first shipment to early backers will be Mid February 2015
Will my smartphone still work when in desktop mode?
Yes, absolutely! Andromium has been designed so that phone calls will come through, and if users choose to, they can answer the call directly without even undocking the device. Your phone will also still receive text messages and push notifications.
Will the software receive updates after launch?
Yes! The software will update directly from Google Playstore, just like any other app. We are also releasing the Andromium Developer SDK and Andromium App store in June 2015.
What are the requirements for using Andromium?
Monitors:
- 1080p TV/Monitor capable of supporting 1080p60 (60hz) or 1080p30 (30hz) input (most modern HD TVs and computer monitors).
- An Andromium OS compatible phone (see the campaign main page for the list of Android Phones that we currently support).
What accessories should I have to get the most out of Andromium?
We've decided to let backers use their own favorite accessories, rather than shipping any with Andromium.
- A keyboard and mouse! Whether USB, wireless USB or Bluetooth. To get the full desktop experience you obviously need a keyboard and mouse. (Andromium does not come with a keyboard and mouse).
- A power cord and adaptor which you can plug into the micro-USB slot, so your device charges as you use it.
- Game Controllers. Optional but if you want to experience the gaming potential of Andromium, we recommend USB or Bluetooth gaming controllers. (Andromium does not come with a controller).
- External speakers if your monitor doesn't have one built in. (The dock does not come with speakers).
How many Android Apps work with Andromium?
Most Android apps in the Play Store will work in conjunction with Andromium Apps. Once we release our SDK in mid 2015, we look forward to other developers bringing their own Andromium apps to market.
What is the difference between Andromium Apps and Android Apps?
Andromium Apps can run in window mode. You can run multiple apps side by side or one on top of each other, just like on a traditional computer. Android Apps can only run in full screen mode. Andromium Apps can run on top of Android Apps, if users want to switch between them.
What Andromium Apps are currently available?
We currently have a full suite of apps ready for our users, including a full featured, modern browser, office style apps, video and music players, file system and more.
We will continue to bring more Andromium Applications to our supporters with your help through our KS campaign. Plus once our SDK and App store is available in Mid 2015, we will work with third party developer to build more Apps for the platform, or convert their existing Android apps.